New Patient Abuse Allegations At Tomah VAMC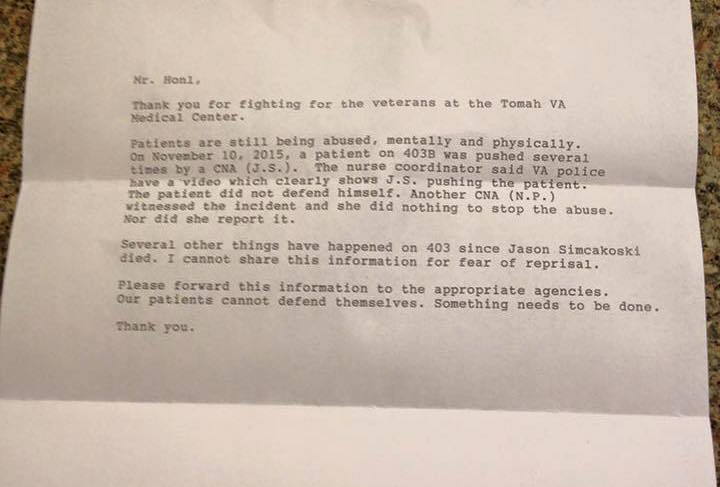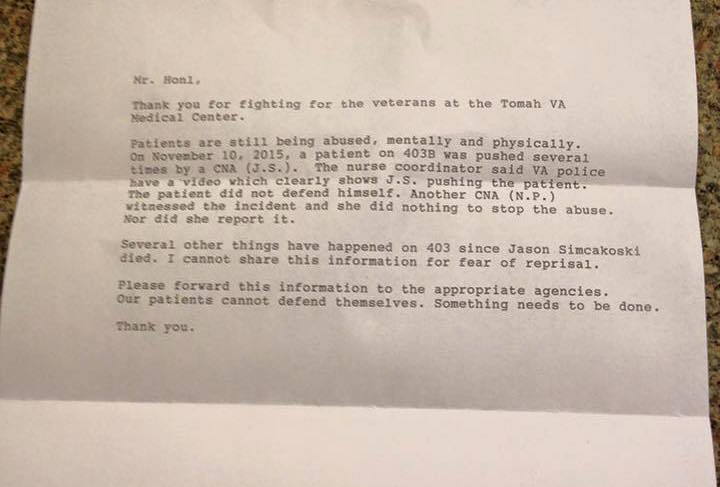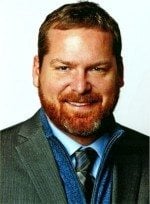 An anonymous Tomah VAMC employee just leaked information about patient abuse by nursing staff at the facility. One VA employee was caught on table abusing a patient. Another VA employee "witnessed the incident and [] did nothing to stop the abuse."
Apparently, this kind of behavior has been ongoing despite massive oversight of the facility. Shockingly, "Patients are still being abused, mentally and physically" even while press and Congress are intently watching the facility.
Ryan Honl, a former VA employee and harassed whistleblower, received the anonymous letter earlier this week and relayed it to me. The letter claims VA employees at Tomah VAMC are still victimizing veteran patients at the facility. If true, this shows Tomah VAMC has failed to fully reform its practices related to abuse of veterans and employees.
RELATED: New Drug Deaths Linked To Tomah VAMC 'Candy Land'
'CANDY LAND' SCANDAL BACKGROUND
Tomah VAMC has been a hotbed of scandals over the past year following a VA OIG whitewash of drug abuse and whistleblower harassment. Further scandals revealed deficient stroke treatment and emergency protocols that resulted in the death of numerous veterans. The chief of staff, Dr. David Houlihan, was eventually fired. Most recently, VA employees were caught on video playing Human Hungry Hippos on the heels of a doctor credentialing scandal.
RELATED: Tomah VAMC Caught Falsifying Doctors' Credentials
TOMAH VAMC LETTER
This new allegation within the letter stated one patient was pushed numerous times by a VA staff member. A nearby employee witnessed the incident but failed to report the abuse even though VA policies mandate reporting instances of patient abuse in a medical center.
RELATED: Corny Human Hungry Hippos Video From Tomah VAMC
TOMAH VAMC LETTER CONTENTS
The letter to Ryan Honl stated:
Thank you for fighting for the veterans at the Tomah VA Medical Center.

Patients are still being abused, mentally and physically. On November 10, 2015, a patient on 403B was pushed several times by a CNA (J.S.). The nurse coordinator said VA police have a video which clearly shows J.S. pushing the patient. The patient did not defend himself. Another CNA (N.P.) witnessed the incident and she did nothing to stop the abuse. Nor did the report it.

Several other things have happened on 403 since Jason Simcakoski died. I cannot share this information for fear of reprisal.

Please forward this information to the appropriate agencies. Our patients cannot defend themselves. Something needs to be done.

Thank you.
I filed a FOIA on the subject last night after Thanksgiving Dinner to be sure my request was lodged before Tomah VAMC destroys the video or related records. Two weeks ago, I filed a FOIA with the same facility for surveillance footage of the human Hungry Hippos teambuilding exercise and will report back once I hear something.
My formal request for comment from public affairs officer Matthew Gowan is still pending comment.
@VeteransHealth - Time to clean up Tomah VAMC!
UPDATE TOMAH ABUSE
Public affairs office Matthew Gowan confirmed the allegations of patient abuse following my inquiry:
Good afternoon Mr. Krause,

A Nursing Assistant has been cited for Disorderly Conduct (carries a $250 fine and $25 administrative fee) based on a VA Police investigation into this matter. Additionally, the Nursing Assistant was removed from patient care duties during the VA Police investigation and will not have patient care duties during the ongoing Administrative fact finding.

Regards,

Matthew

Matthew Gowan

Public Affairs Officer

Tomah VA Medical Center

(608) 372-7759 (office)

(608) 567-1316 (cell)