Next VA Secretary? 84 Percent Veterans Prefer Jeff Miller To Scott Brown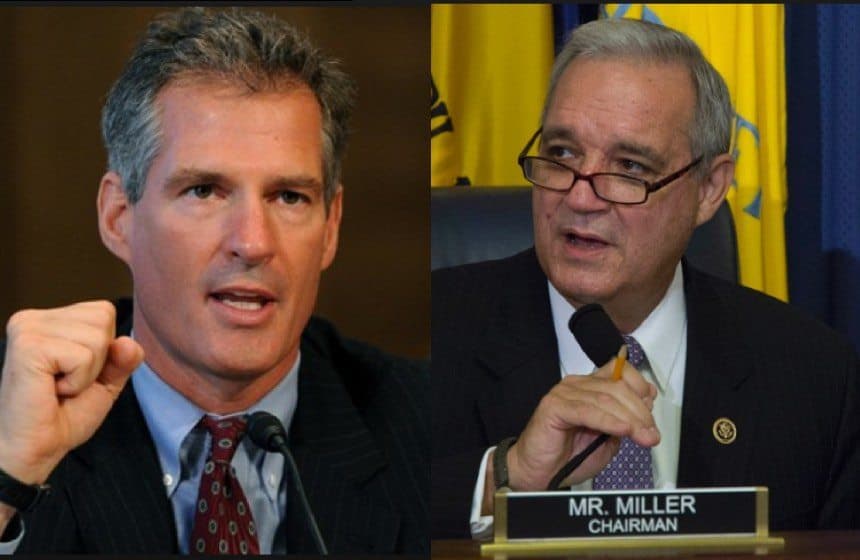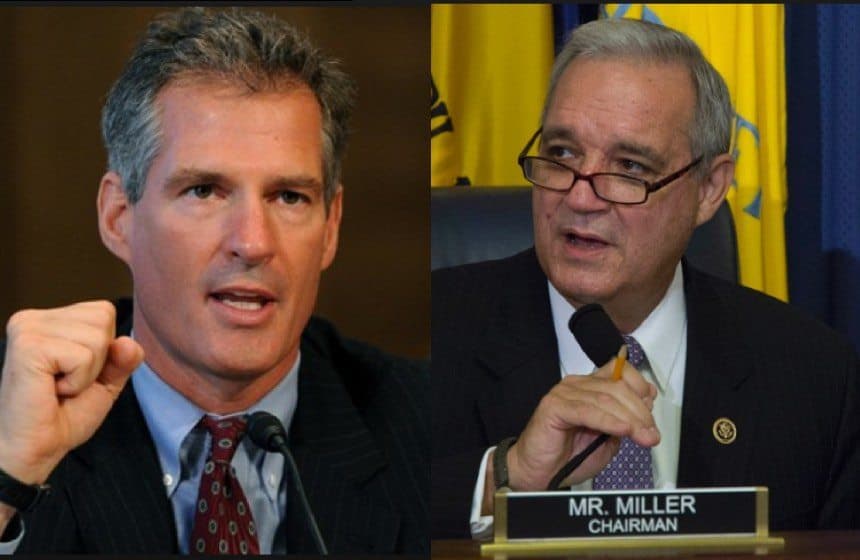 One interim survey revealed 84 percent of veterans prefer Rep. Jeff Miller (R-FL) over one-term Senator and retired Army Guard JAG Scott Brown (R-MA).
House Committee on Veterans Affairs (HVAC) Chairman Jeff Miller was long believed the favorite for taking over the top job at the Department of Veterans Affairs under President-Elect Donald J. Trump.
On Friday, reports surfaced that former Senator Scott Brown was also being considered for the position. Those were joined by quiet rumors that Mitt Romney is also being considered for the slot, but this seems unlikely given his consideration for Secretary of State.
Sunday, I created an interim survey of veterans on social media to get the conversation started in veteran circles at a grass roots level. My goal was to not only see what veterans think but to also pull our voices into the conversation.
RELATED: About Scott Brown
RELATED: About Jeff Miller
Rather than allow just bureaucrats and DC insiders to push and pull on this vital choice, it makes the most sense to see what veterans think about these two choices. So I wanted to start doing that – – first on social media and then today on the website.
While my assessment is not complete, we can at least discern that veterans likely prefer Miller over Brown in part because most do not know anything about Brown.
[see new poll at bottom of article]
Interim Results Summary
By and large, veterans knew little about Scott Brown while seeming confident that Miller would do a better job given his experience as head of HVAC and strong position against agency corruption. But the feedback was not all roses for Chairman Miller. Some veterans questioned his ability to really get things done and called for an outsider like Allen West.
My Take
VA Secretary Jeff Miller
Personally, I would like to see Jeff Miller get his hands dirty after spending the past six years blasting VA from Congress. He knows the names of the scoundrels and would hopefully put an end to some of the accountability problems within the agency.
He also has a close relationship with the Committee, which I think might increase opportunities for greater deal-making between the Executive Branch and Congress.
Now, I was disappointed by the Committee's inability to pass legislation that improved on presently lax accountability laws. There is no question more needs to be done, and perhaps within the agency, and Miller could push back against poor union rules that protect bad workers.
But we will need to wait and see if Miller as VA Secretary could successfully navigate those murky waters.
VA Secretary Scott Brown
Brown, on the other hand, is a career Army Guard Judges Advocate (JAG) who spent some time in local politics but did not have a lengthy career at the federal level.
He replaced the last Sen. Ted Kennedy for three years but was unsuccessful at landing a seat when he moved from Massachusetts to New Hampshire in a later Senate bid.
Direct Feedback From Veteran Policy Community
I also reached out to a few policy experts familiar with grass roots issues veterans have been facing for the past few years. These folks have their finger on the pulse of veterans' sentiment of the majority of veterans who voted for Trump this election cycle.
Chris Neiweem
"Both are strong considerations," said Iraq war veteran and policy analyst Chris Neiweem. "Of the two proposed candidates, I strongly prefer Jeff Miller based on his proven substantives experience working on veterans issues during his tenure as House VA Committee Chairman.
Neiweem continued, "I have found his engagement to be thorough, passionate, and effective. He is the right candidate to solve the very real problems at VA today."
Brandon Coleman
Brandon Coleman, a well-known VA whistleblower, had this to say:
"I do like that Scott Brown is talking about using private providers to give mental health treatment because the VA has failed horribly in this area and their failure has resulted in the deaths and suicides of countless untold veterans.
"But I will say Jeff Miller has been a bulldog. He knows how purely evil management at the VA is because they have continued to lie to his face or plead the 5th during his hearings on the subject.
"Whoever President-Elect Trump chooses, I hope he will use outspoken whistleblowers like myself who risked all to continue to tell the truth."
Veterans Voices On VA Secretary Selection
"I think Scott Brown would be the same old," said female veteran Christine Totten-Dunn. "Miller would do a better job."
Another veteran, Sandy Linden, said, "I like Jeff Miller." He seems to have set a tone for not covering up the dysfunction of the VA." She continued, "He calls them out for excuses and ongoing poor healthcare and ridiculous benefits system that works against the vet."
One veteran who would pick Brown over Miller said, "Wow, stuck with these two? I'd be leery of Miller. I wouldn't want anyone who has been there in the past ten years involved. I'd go with Brown over Miller." That came from one of the curators of the popular PTSD awareness Facebook pages called Peter the PTSD Penguin.
Some veterans thought both choices were unacceptable. Steve Harrison said, "I pick neither! I don't want to continue to have the VA in between me and my freedom to choose wherever I want to go for treatment. It's healthcare on a budget v.s. healthcare for profit. Which one do you think would take better care of all of us?"
VA Is Lying Facebook Group
Veterans on the infamous VA Is Lying Facebook group said:
Ronald Wayne Childers – "JEFF HAS BEEN FIGHTING ALL ALONG. HE KNOWS THE PROBLEM."
Gordon Bergelson – "Jeff Miller is a known and certainly understands the VA's problems. I really don't know anything about Scott Brown."
Michael Stinfer – "Jeff is a man of words and a critic, not one of action. We need someone as far a way from D.C. as possible."
Ronald Wayne Childers – "We need someone who comes in and tells all at-will employees he needs a letter of resignation on his desk in 5 minutes and THEN does a review of their actions in office…. Jeff is quite capable of doing that."
Linda Terry – "I don't even know who these people are."
Main Stream Press On Next VA Secretary
On Jeff Miller
New York Times covered the possible selection of Jeff Miller in its article, Under Donald Trump, Harsh Critic of V.A. May Become Its Leader. There, the Times highlighted Miller's sharp attack against accountability failures but also cited VA insiders who say "most people really like the V.A. The care is very good."
Here is a telling excerpt:
Leading the House veterans committee, Mr. Miller has pounded on the department, holding many more hearings than his Senate counterpart and accusing the agency of a "rampant lack of accountability."
His sometimes tense hearings have focused on failings of the agency's 1,200 health care facilities, including long wait times, overuse of opiates, unsanitary conditions, and executives who dodged discipline and collected bonuses even as scandals unfolded.
Many V.A. employees and veterans acknowledged the system's problems, but they said critics were cherry-picking negative stories that mischaracterized a health care system that studies had shown was as good as or better than private care.
"The rhetoric does not match up with the reality," said Dr. Kenneth Kizer, a former under secretary for health at the V.A. who now works for the University of California, Davis, Health System. "There are problems, and you can't ignore that, but most people really like the V.A. The care is very good."
Mr. Miller introduced bills making it easier to fire executives, but the measures languished in the Senate after being passed by the House. Disheartened by a lack of progress in Washington, Mr. Miller, 57, announced last spring that he would not seek re-election in his solidly Republican district in the Florida panhandle.
In April, he became one of the first members of Congress to support Mr. Trump, calling him "the only person who has what it takes to shake up the status quo and entrenched bureaucrats in Washington." He added, "I am more and more convinced that he has the ability to reach in and right the wrongs in the Department of Veterans Affairs once and for all."
On Scott Brown
The New York Post covered the possible selection of Scott Brown just before the weekend. Its article titled, Trump team eyes Scott Brown for Veterans Affairs secretary, the possible nominee's relationship with Mike Pence was highlighted.
Brown indicated he would accept the position if selected in part because, "The VA is in trouble. Soldiers are dying while waiting, employee morale is low and it needs to be fixed."
Brown added, "Having served for 35 years in military, last 4 years at Pentagon, serving on Armed Services, Veterans and working on these issues for decades, it would be a great challenge to fix and a great honor to serve if asked. Time will tell."
Here is an excerpt from the Post:
Trump went on to win the New Hampshire primary — and the Republican nomination.
Brown helped Trump by handing over his fundraising lists from his Senate campaigns, a source said.
And Brown has grown close to Vice President-elect Mike Pence, who is currently leading the Trump transition team, another source said.
Getting Senate confirmation for Brown would likely not be a problem.
"Sen. Brown has a deep concern for military men and women and a commitment to addressing their needs," Sen. John Thune (R-S.D.) told The Boston Herald this week.
"With 35 years in the National Guard and having served on the Senate Armed Services and Veterans Affairs Committees, he would be an excellent choice to run the VA," he added.
Others in contention for the VA secretary slot include Rep. Jeff Miller (R-Fla.), chairman of the House Committee on Veterans Affairs, and Mitt Romney, the former Republican presidential candidate.
Trump made reforming the VA bureaucracy a key element of his presidential campaign.
In comparing the two positions, it is interesting to note Brown highlights veterans' struggles with the wait list but also highlights the low morale of VA employees. Does this strike you as strange, as though somehow the workers of the agency deserve equal consideration to the veterans the agency is supposed to serve?
This statement alone, which appears to be a couched statement made for the benefit of union employees raised my concerns about his consideration. Immediately, Brown seems focused on the wrong population and reinforces the bias where veterans believe many of the agency's union employees believe the veterans are the problem with VA.
Now go back to read the excerpt for Chairman Miller. Did you see any statement from Miller where he discusses his concerns about the feelings of VA employees at work?
Honestly, this reminds me of my summer conversation with VA Secretary Bob McDonald. He was supremely worried about the feelings of his employees in a way that at times seemed obsessive and obnoxious.
Beyond this issue, the NY Post article highlights that Brown gave Trump's campaign access to his New Hampshire supporters list. I would be disappointed if Trump made this selection merely based on Brown's contribution to his campaign's success in New Hampshire. Brown needs to have more that he brings to the table than a list of donors.
The future of the Department of Veterans Affairs and our benefits deserves deeper consideration, and I pray we get it.
On Mitt Romney
I do not consider Mitt Romney a serious candidate for VA Secretary. He never served and he had little to no involvement in veteran causes over the past few years.
In my mind, this makes either Miller or Brown a superior candidate.
Nonetheless, his name was circulated by Townhall in its article, Trump Should Hire Turnaround Specialist Mitt Romney to Fix the VA.
According to writer Guy Benson:
"To his credit, Donald Trump made improved treatment of our veterans a centerpiece theme of his campaign since day one. The VA is a big, bloated, dysfunctional entity that is failing far too many people in very damaging ways. Mitt Romney is a widely-renowned turnaround artist whose calling card is hyper-competence. He's a patriot and a gifted, savvy technocrat who fixes things. This has been true of the businesses he rescued, as well as his extraordinary work saving the 2002 Winter Olympics. Because of its enduring failings, the VA doesn't simply need to be run or presided over by someone. It needs root-and-branch reform and repair through excellent, focused management. Mitt Romney would be an exceptional choice to lead that effort. I hope the president-elect considers this as an option, and the two men discuss it on Sunday."
Donald Trump, if you or your pundits happen to read this, do not select Mitt Romney for this role, because most veterans would see his selection as a slap in the face.
We largely believe whoever comes in to run that agency must be intimately familiar with the veteran experience, either as a veteran or one who works closely with the community.
Mitt Romney is neither.
Speculation On Romney / Brown Consideration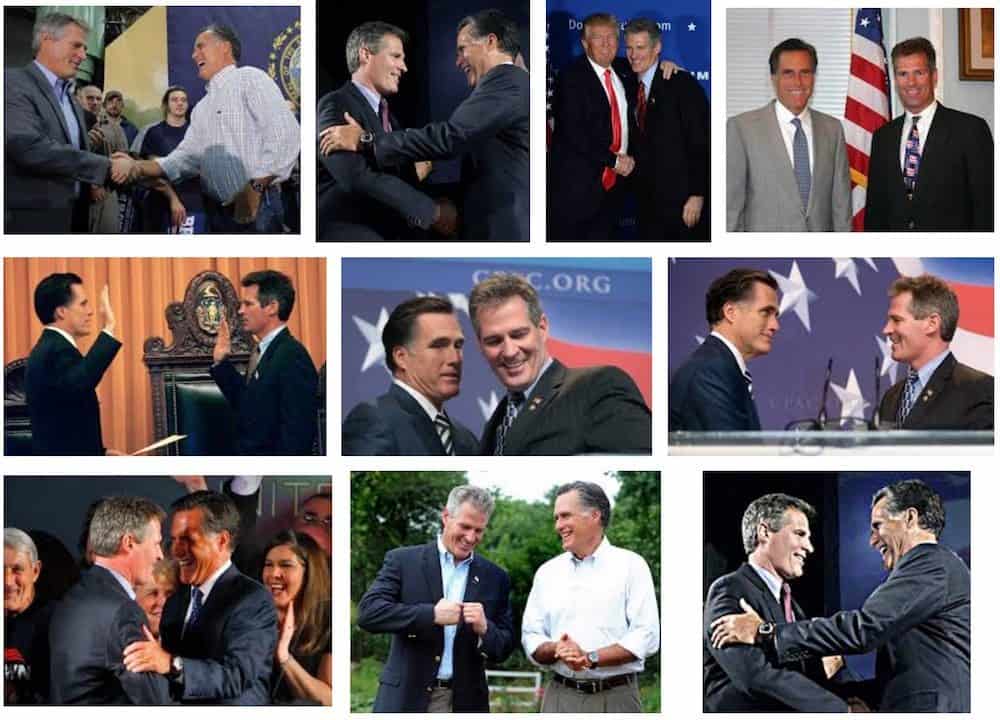 Though it is interesting to see numerous photographs with Romney and Brown throughout various election photo ops in the past making me wonder why the Romney / Brown alternative to Miller was presented.
[In a quick Google search, I was able to pull up numerous photos of the two that I posted above with one Trump – Brown photo that snuck in there.]
There are certainly more qualified candidates for the position than either Brown or Romney. The Miller option seemed to be a lock since Miller first stood beside Trump in support of the candidate many months ago.
But now these alternatives are being presented.
Where is the interest coming from and why? Is it being put forth by AFGE Union operatives with the goal of evading accountability under Miller? Why are both Romney and Brown being circulated for VA Secretary suddenly?
Do they have a connection from Massachusetts? Romney was the governor there and Brown was a Senator.
While this is pure speculation, the questions need to be considered.
Your Take?
Be sure to take the quick survey above. I will report on the results and even send them to Trump if he has yet to make his decision by the time I conclude the survey.
If you are passionate about the outcome of this selection, please share this post on social media to as many people as possible.
Please take 20 seconds to answer the 4 questions below for the poll I created for this article. Once you click "Send" you will be able to see the results.
Then sound off below to let other readers know your thoughts.
Oops! We could not locate your form.