Outraged Veterans Protest Flag Removal At Elite College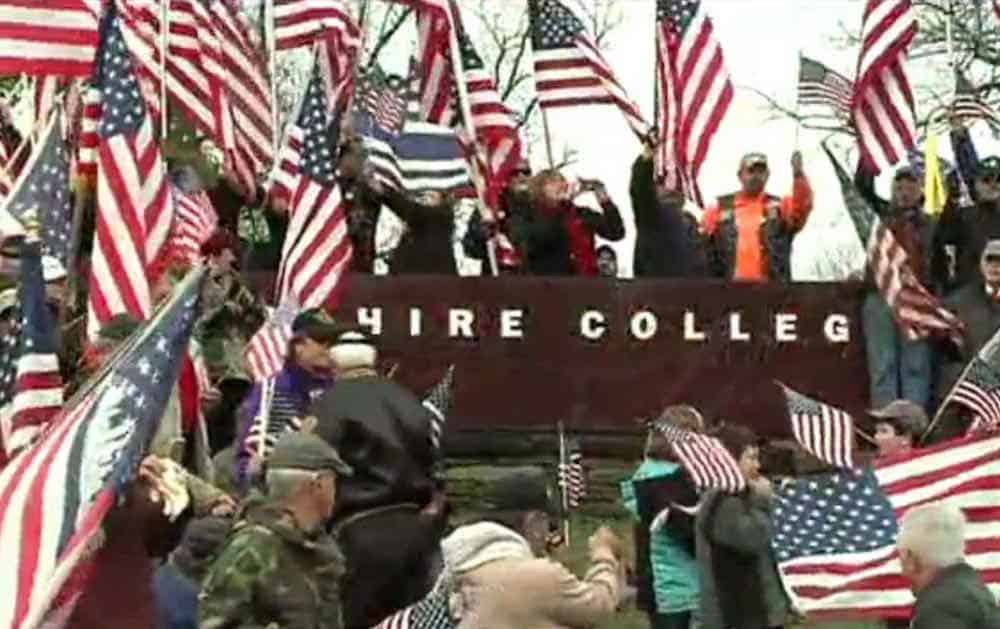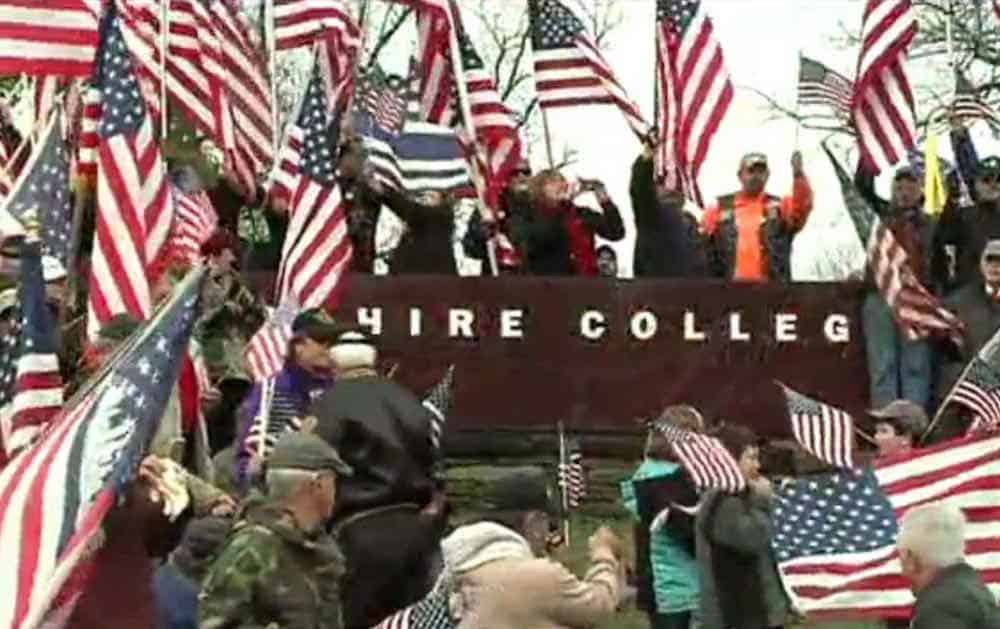 Over 1,000 outraged veterans protested a decision at Hampshire College to remove the American flag because Donald Trump was elected.
On Veterans Day, someone reportedly burned the college's American flag. In response, the college put up a new flag but kept it lowered to half-staff. That led to college administration ultimately removing the flag.
'Why?' you may ask. This sequence of events would seem strange given that our flag is normally flown at half-staff out of respect for a dead official. So who died?
The only thing that died was the dream of Hillary Clinton running the White House.
Reasoning For Flag Removal
Instead, the decisions were made out of an exclusive concern to show respect to the students afraid of Donald Trump's presidency who were also sad that Hillary Clinton lost – – to the apparent exclusion of everyone else who believe the flag should be flown high, including campus veterans.
However, that concession was not good enough.
College leadership then decided to consider whether to remove the flag entirely to help sad college students recover from Hillary Clinton losing the election. And one week later, the college removed the flag entirely.
One student commented, "If our president is Donald Trump, I don't think any school, especially this school, should really support his ideas by raising the flag."
According to Hampshire College president Jonathan Lash, the flag's removal would remove the conflict over the symbol, "If we could remove the conflict over the symbol and get to the real issues underneath, there would be a chance for real learning."
Hampshire's website describes Lash as an internationally recognized expert on practical solutions to global sustainability, climate change, and development challenges.
Whatever that means in laymen speak is beyond me, but his practical solution here flew in the face of veterans attending the college.
College Keeps Federal Funding
The school's president made no comment about whether its decision to remove the flag would also be mirrored in a decision to reject federal funding for the school.
Each year, Hampshire College, an elite East Coast college, charges students over $60,000 for tuition, room and board. It also enjoys a federal financial aid budget of $30 million.
Much of that funding is paid out to the students. Some of those students are now ironically arguing for removal of the flag… but apparently not refusing to accept federal grant monies.
I have never been clear about how politically correct protestors can separate the red, white and blue of Uncle Sam from the greenbacks paid to students by Uncle Sam.
Should the liberal arts college also refuse federal funding, or is the position on the flag divorceable from the green from taxpayers loading the college's coffers?
Veterans Protest Flag Removal
Veterans insulted and hurt by the school's position protested the move over the weekend chanting, "Freedom isn't free," during the peaceful protest.
"They took down my flag, they have a right to that, I'm here to defend their right to do that but I want them to understand how bad that hurts me," said veteran Jerry Maguire.
Iraq War veteran David Soucy stated, "I was in Iraq 18 months. I got hurt, spent time at Walter Reed. I came home and there's no way I'll let anyone take down the flag, no way. It means a lot to me and my brothers."
One commenter on the story, Rob Smith, wrote in, "Students burned [the] flag on Veterans Day…," a relevant fact the ABC and CW news broadcasters covering the story failed to mention.
That's right. The flag was burned on Veterans Day, and rather than replace it, like new, the college put up a new one at half-staff but then removed it due to hurt feelings.
As for the protest, Hampshire president Jonathan Lash refused to show up. Apparently, the elite college is more concerned about the feelings of non-veterans than veterans.
Luckily, the president's lack of attendance did not stop veterans and their supporters from speaking their mind traveling from across New England.
Hypocrisy Of Do As I Say, Not As I Do
Anyone ever hear the story of the college professor decrying the oil industry? Anyone ever hear the story about the college professor investing their retirement in TIAA-CREF to include great returns from the oil industry?
This hypocrisy reminds me of the college professors I knew during the Iraq War build-up who protested war profits from the Big Carbon oil industry but enjoyed massive 401k returns in large part due to Big Carbon profits through TIAA-CREF.
RELATED: TIAA-CREF Buys More Exxon Shares, Increases Ownership To $1.3 Billion
Whenever asked, those same professors would feign ignorance, similar to that of Harvard-trained physician Jill Stein of the Green Party.
During her campaign, Stein belched rhetoric against Big Carbon decrying its greed while being called out in the press for her hypocritical investments:
"On Oct. 26, 2015, Stein's campaign sent out a statement calling for Exxon to get the death penalty for its "climate-change fraud." (it should be noted that Stein has called for the abolition of the death penalty for human beings). She has also repeatedly called for public pension funds to divest from companies in the fossil-fuel industry.
"Yet Stein has invested $995,011 to $2.2 million in funds such as the Vanguard 500 fund that maintain significant stakes in Exxon and other energy companies like Chevron, Duke Energy, Conoco Phillips, and Toho Gas, a Japanese company that engages in the sale of natural gas, tar, and coke, a fuel made from coal."
Remove Flag, Refuse Federal Monies?
Colleges should have a right to take the flag down, but taking the flag down should not be a mere publicity stunt in response to snowflakes unable to process losing an election. Such colleges should also refuse to accept federal funds
Otherwise, the gesture is hollow. If you reject the flag, you should reject the money it represents in the form of federal funds.
Should the two go hand in glove? Fly the flag or refuse federal funding?
I say we align economic incentives to evaluate just how fearful protesting students really are of a Trump presidency. My hypothesis is the same students wanting the flag removed would suddenly come to terms with their fear.
Maybe the "real learning" Jonathan Lash should give his students is, "Actions have consequences."
How many students would be "fearful" of a Trump presidency respond their grant money is cut off after they remove the flag to create a "safe space" for them?
Sources:
https://www.wcvb.com/article/massachusetts-college-removes-american-flag-from-campus/8351880
https://wwlp.com/2016/11/27/veterans-protest-flag-removal-at-hampshire-college/