So Working At Phoenix VA Made Deborah Amdur Sick Enough To Retire?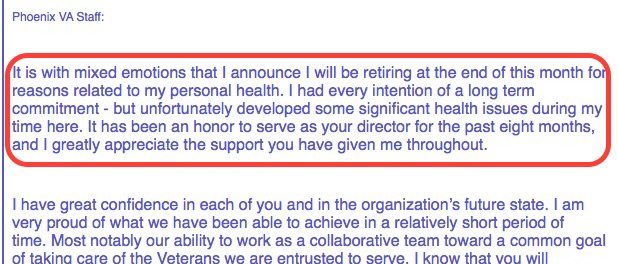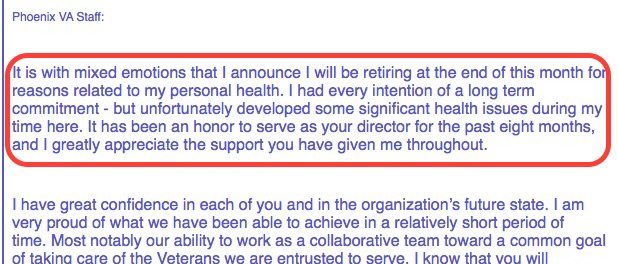 In a whirlwind today, Deborah Amdur just sent our her personal retirement email after I leaked the earlier decision email. She now cites health complications that started AFTER working at Phoenix VA.
Did working at Phoenix VA make her sick? Apparently, not only is the hostile environment at Phoenix VA making veterans sicker, but it is also causing VA employees to drop like flies, too?
Is there a vaccine for working with a-holes? I am sure someone like Ray Schinazi will invent it and sell it back to VA for millions.
RELATED: VA Hep C Profiteer Sells Drug For $400 Million Profit
This was quite a turnaround.
DEBORAH AMDUR BALLET COMPANY – PHOENIX VA
Just days ago, Channel 12 News produced a story about Steve Cooper, a retired Army veteran suffering from advanced stage prostate cancer at 44. VA allegedly missed his cancer, and as a result, Cooper may die. Adding insult to injury, Phoenix VA was unable to schedule Cooper for health care consults in a reasonable time. In response, Cooper armed himself with a recorder to take action.
When he finally got an appointment, Cooper confirmed that Phoenix VA is still overloading its doctors and making it near impossible to schedule appointments by eliminating call options for primary care doctors.
This morning, we knew Amdur would need to break out her best ballerina shoes to walk the tightrope this time – – it is her third scandal VA brought her in on to clean up – – so I am sure she thought she was up for it.
But by this morning, the decision was made that she would retire. The first announcement came out to internal employees and indicated Amdur had a new health condition that caused her to need to suddenly resign. Apparently, SUCKING AT YOUR JOB is now a health condition.
RELATED: Phoenix VA Announcement Amdur Retirement
Her formal announcement was set to go out next week, but after I published the internal email that she was out, she then sent off the most recent announcement. That announcement outlines when she apparently got too sick to keep going.
In the newest email, Amdur cites health complications that apparently started only after starting her work at Phoenix VA. Did the hostile atmosphere at Phoenix make Amdur sick?
DEBORAH AMDUR RETIREMENT LETTER