Shulkin Confirmed As White House Excludes National VSOs From Meeting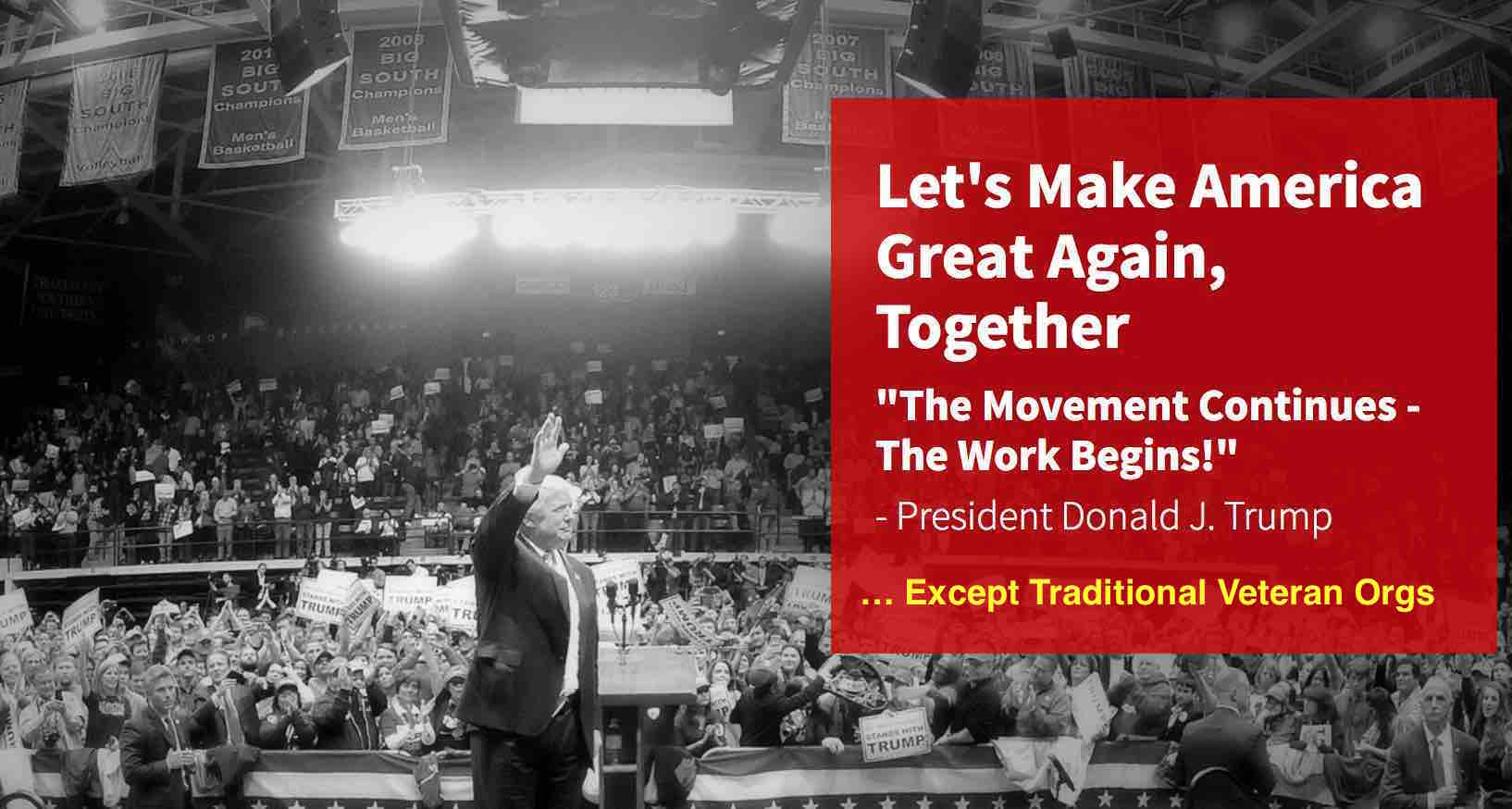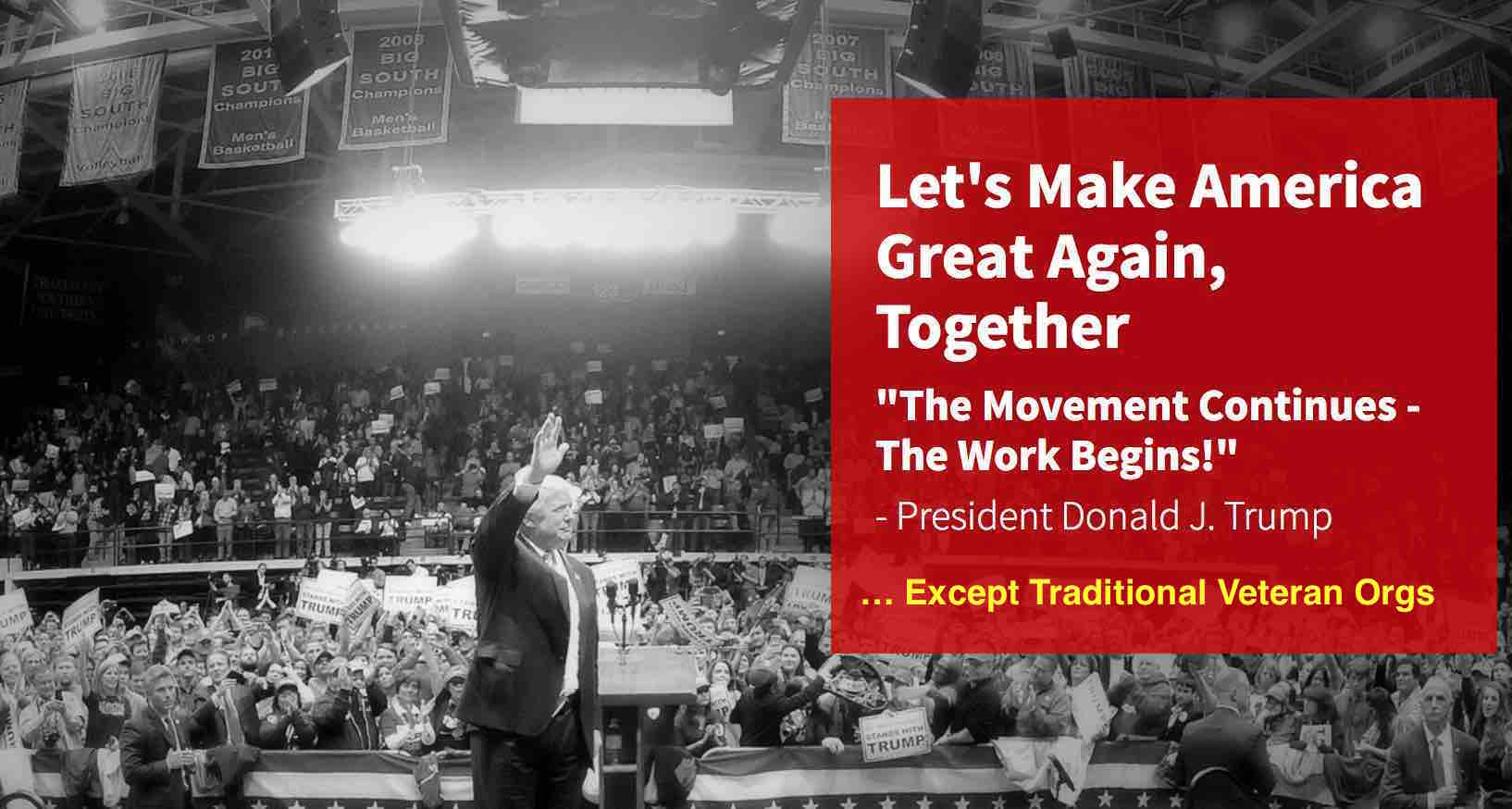 While the David Shulkin confirmation yesterday was no surprise, the simultaneous White House veteran "listening session" raised some eyebrows by excluding vet orgs.
Following what was described as a "breezy" confirmation hearing, David Shulkin MD was confirmed to lead VA yesterday. During the hearing last week, Shulkin seemingly rejected President Donald Trump's position on allowing all veterans to choose where they get their health care but he maintained some degree of agreement on Trump's 10-point VA reform plan.
Shulkin also seemed to support the tight relationship between VA and the traditional veteran organizations (Disabled American Veterans, American Legion, Veterans Of Foreign Wars all aka Iron Triangle) that have largely rejected Concerned Veterans For America (CVA) because of the organization's support of full choice for health care, not just the present and limited Veterans Choice Program.
Background On Anti-Choice For Veterans (Not To Be Confused With Abortion)
For some background, traditional veteran organizations have existed for many decades and generally support expansion of VA services, union jobs, and spending, which pits them against expansion of full choice. This group tends to be "Democrat" in party alliance.
Under their watchful eye in the past decade, we saw an explosion of the wait list scandal where hundreds of veterans were killed by execution of a fraud scheme. We saw a ballooning of disability compensation backlog. We saw the rise in veteran suicides. And we saw countless fraud and scandal go largely unchecked by leaders in position of authority under both Democrat and Republican administrations.
Though VA scandals are nothing new, and they have largely spanned the past 80 years since the Veterans Administration was created during the New Deal expansion of the 1930's.
The general argument against full choice for veterans is supported by Democrat-leaning special interests including the traditional veteran organizations and unions.
The interesting irony of this position is that Democrats strongly believe a woman should be able to choose what to do with her body, including seeking medical help from a doctor of her choosing to abort a fetus.
Meanwhile, many of those same Democrats align against a disabled veteran having a choice to seek the medical care they are guaranteed from doctor of their choosing. Instead, if they seek the benefits guaranteed by service including healthcare, they must use a VA doctor at a VA facility.
The argument against allowing veterans to received non-VA care is that it will remove some financial resources from VA and negatively impact the veterans who choose to only receive VA care.
I disagree with this argument and believe veterans should have a choice and that VA should be forced to compete for resources by putting the needs of veterans first (to include the need to select the doctor you want), not to be confused with the needs of special interest groups who oppose choice for veterans.
Sometimes, these two groups – – veterans vs the special interest groups – – have competing goals, which includes not necessarily putting the needs of veterans ahead of putting more money in their own coffers. That is how I see it.
These groups, excluding CVA, seemed to be getting their way after the election despite promises from President Trump to put a reformer into lead VA.
The only hang up now was the President's refusal to have an audience with the Iron Triangle after his election while his team assessed the needs of veterans. He instead sent the traditional vet orgs to speak with his transition team.
That aside, Trump's selection of Shulkin was seen as a compromise by largely retaining the same team put in place by former President Barack Obama.
So, the traditional veteran organizations won, so they thought.
Not So Fast On White House Listening Session
That was until the White House announced its "listening session" with veterans that excluded the traditional veteran orgs that started just before the Shulkin confirmation, yesterday.
While the Iron Triangle was stuck watching Shulkin get confirmed, President Trump had a meeting underway about next steps with the VA to which they were not invited.
The decision was likely made because of the anti-Trump position taking by traditional veteran orgs during the election cycle and while the transition team tried to find a replacement to lead the agency.
If his treatment of the press is any indication of how Trump treats groups that oppose his presidency, the Iron Triangle should expect a cold shoulder for the near future while organizations supporting full choice, like CVA, get a front seat.
That meeting consisted of a different group of veterans and advocates including hospital executives that excluded the press.
The President reportedly passed on the traditional photo ops with veterans during the meeting by kicking out the press, which is something of a regularity over the past few weeks. Now, traditional veteran orgs can join the club.
Toby Cosgrove, Cleveland Clinic CEO, was in attendance at the meeting. He said the discussion ranged "from governance to modernization to accountability across the organization."
Toby Cosgrove was a top pick to lead VA before suddenly removing himself from contention.
Kellyann Conway, a top Trump advisor, said the President's meeting was a "very productive conversation."
David Shulkin was also there for a little while before the confirmation hearing, but none of the traditional veteran orgs were invited.
Behind The Scenes
I initially had serious reservations about Shulkin's selection in light of the President's strong position and promise to pick a reformer.
Instead, Shulkin seemed to support the status quo of submitting to union leadership, traditional veteran orgs whims, and government contractor demands ahead of veterans.
My initial conclusion may be quite true, but a bigger plan may be afoot.
A reliable source informed me that David Shulkin's selection was a compromise with various Senators to help streamline approval of President Trump's more controversial Cabinet selections.
I can say unequivocally that one of those nominees is none other than Jeff Sessions to lead the Department of Justice.
Now, what could Sessions do about the VA accountability problem?
VA Accountability Problem
As you may recall, numerous VA executives and leaders were implicated in agency investigations ranging from fraud to possible negligent manslaughter over the past two years while the Department of Justice did little to nothing by way of prosecuting the wrongdoers.
While then-Secretary McDonald said you could not fire your way to greater accountability, you can certainly prosecute fraud to ensure greater accountability.
If you do not, you will encourage the same scandalous behavior that let to VA winning the award in 2016 for being the most secretive agency or person in 2016.
I will say that again, VA was so corrupt and fought transparency so hard, that it won the Golden Padlock Award in 2016 from a major journalist organization.
Here are a few examples.
Remember Kim Graves and Diana Rubens, the two women who rigged the system as senior VA officials who pushed out two of their subordinates so they could retire in the locations of their choosing while also fraudulently receiving moving bonuses to take the orchestrated demotions?
Gen. Allison Hickey (ret) and Danny Pummill both resigned in the wake of their scandal as it unfolded for knowing about it and even taking steps to facilitated the moves.
No one was prosecuted. Graves and Rubens kept their jobs after a scuffle with the agency that really went nowhere. Despite evidence of fraud, the agency was unable to fire the duo because their superiors were implicated in the scheme but not punished.
Then there is the infamous wait list scandal first exposed in 2014.
Over 200 veterans were killed due to wait time manipulation fraud where patients were denied access to VA healthcare to help VA leadership get fraudulent bonuses.
No one was prosecuted for the deaths, including Sharon Helman, though she was prosecuted for failing to report kickbacks from a government contractor.
Then there is the National Vietnam Veterans Foundation scandal.
One VA attorney, J Thomas Burch, Jr, ran the sham nonprofit while working as a high-level VA attorney. His operation investigated and shut down last year. Despite confirming various allegations of wrongdoing, Burch was allowed to retire.
Burch was not just any attorney. He was the head of integration between Department of Homeland Security and VA.
He was a high-level VA attorney who used VA resources to further his nonprofit that in turn earned a "worst" rating from a leading nonprofit evaluation organization.
Burch's nonprofit repeatedly raised million each year while only donating a few thousand to veterans. The majority of the money was retained by the robot fundraising company Burch hired to robo-dial donors.
RELATED: VA Attorney Allowed To Retire Despite Sham Charity
No one was held accountable within VA, at least in the manner any normal civilian would be held accountable for the same or similar wrongdoing.
Veterans voted for change when they voted for Trump. Part of that hope is for a strong prosecutor to go after corrupt federal employees rather than letting them off the hook by allowing them to simply retire.
These same veterans were largely disappointed with President Obama's lack of prosecution of wrongdoers in the agency and federal government, more generally.
Curiously, despite rampant scandals, the Obama White House prosecuted fewer public corruption cases than the previous two presidential administrations despite having some of the largest scandals.
Rep. Matt Salmon, an Arizona Republican and member of the House Freedom Caucus, said highlighted this unusual pattern under Obama in an interview with The Daily Caller.
"What's really interesting is that corruption is not a partisan issue," Salmon told TheDCNF. "Republicans, Democrats, independents all demand integrity in their government. Yet during this administration, we've seen Fast and Furious, we are still waiting for answers on Benghazi, the IRS scandals, over and over and over again."
He did not even call on DOJ to prosecute the Wall Street executives who trashed our economy in 2008 but ensured they received massive bailouts that led to incredible bonuses despite the crash.
The Administration seemed more concerned with prosecuting whistleblowers than any other group.
RELATED: Obama's War On Whistleblowers
Can Sessions Fix VA Via Prosecutions?
Will Jeff Sessions do it?
Only time will tell, but I suspect we can only expect more accountability after eight years of little accountability under the previous Administration.
For the past decade, there have been whispers within the legal community that VA is a walking Civil RICO action waiting to happen – – maybe even an actual full blown RICO.
In 1970, the Racketeer Influenced and Corrupt Organizations Act (RICO for short), closed a perceived loophole that previously allowed superiors in a criminal organization to evade accountability when they ordered a subordinate to commit an unlawful act.
They evaded accountability because the superior did not actually commit the act in question that they ordered.
At the time, RICO was intended to prosecute organization crime syndicates like the New York Mofia, but use of the legal framework has been expanded.
Now, it is possible to prosecute a VA executive for orchestrating a criminal enterprise via conspiracy to retaliate against a whistleblower by concocting fictitious legal complaints against them for cooperating with the Office of Special Counsel or the VA Office of Inspector General.
One recent example is the whistleblower retaliation against Joseph Colon at San Juan VA in VISN 8 by director DeWayne Hamlin in 2013. Colon reported Hamlin for wrongdoing. Hamlin concocted a scheme whereby he unlawfully pressured a subordinate to falsify criminal allegations against Colon in retaliation,
Colon reported Hamlin for wrongdoing. Hamlin concocted a scheme whereby he unlawfully pressured a subordinate to falsify criminal allegations against Colon in retaliation, Rosayma Lopez.
Lopez refused, which resulted in Hamlin then retaliating against her using the same scheme of false allegations. When that did not work, he ultimately tried to pay her off inappropriately using facility funds to orchestrate her departure from the agency.
If Hamlin worked with another person in a conspiracy to engage in the unlawful acts, it is possible he could be prosecuted under RICO.
Just recently Hamlin was removed from federal service after a two-year investigation, but there is no word he will be charged criminally for his obvious and confirmed criminal acts.
Can Sessions fix VA by prosecuting wrongdoers?
I would think so, and maybe he should start by hammering Hamlin.
For decades, VA employees have evaded legal accountability because of significant prohibitions against suing individual VA employees in civil court under 38 USC § 511.
Perhaps replacing VA executives golden cufflinks with silver handcuffs might bring about a new set of reforms in the agency that veterans desperately need.