Advice For Peter O'Rourke, Ex-CALIBRE Exec Turned Acting VA Secretary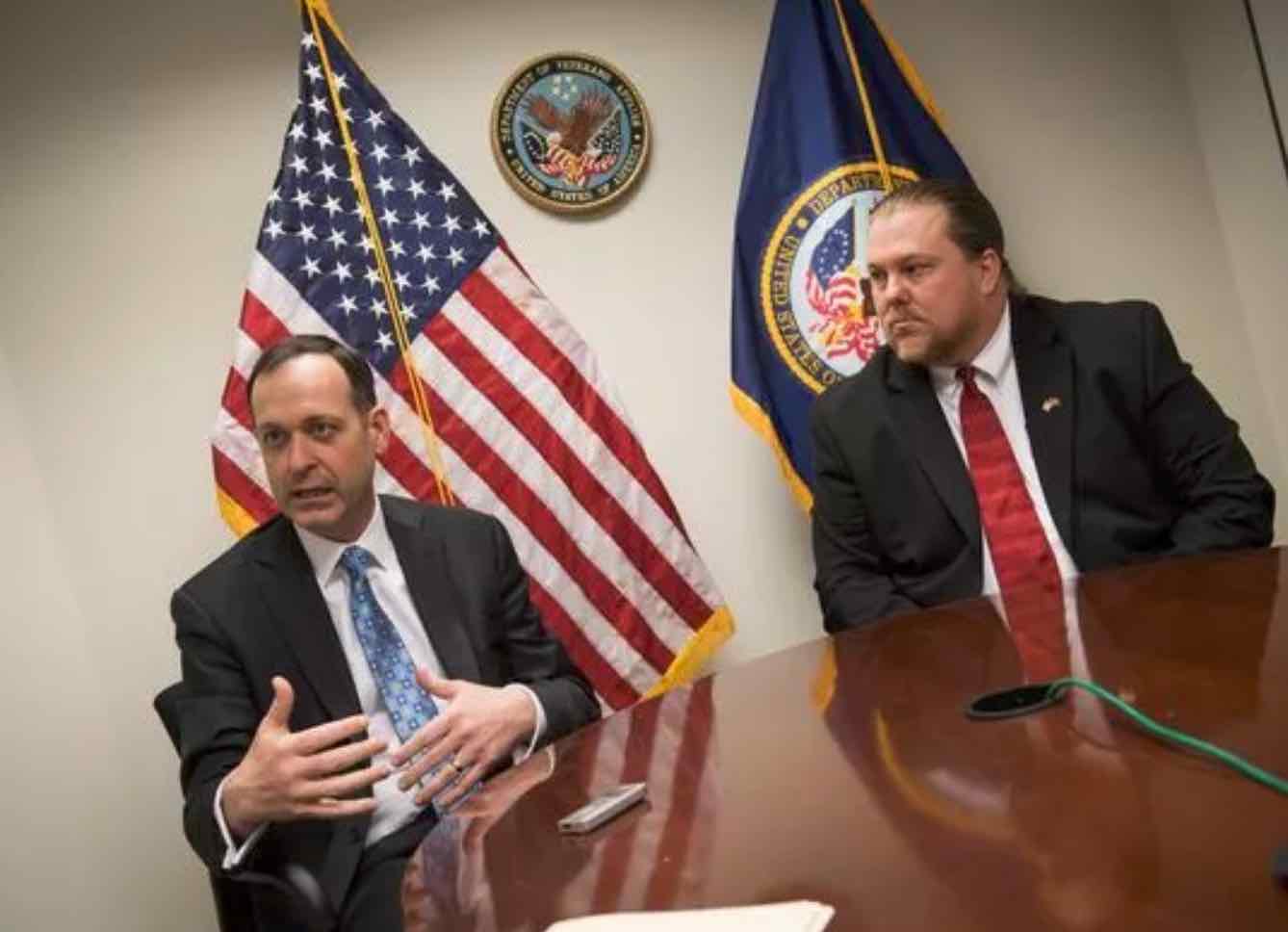 Peter O'Rourke, the ex-CALIBRE employee and Trump campaign insider who helped stand up the Office of Accountability and Whistleblower Protection will now serve as acting VA secretary until Robert Wilkie's confirmation.
I made a joke a while back asking a friend, 'Is CALIBRE really running VA?'
Maybe not technically, but a large number of its former executives are running key offices, and yes, that now includes the top slot as acting secretary of what retired chairman Jeff Miller once called the most corrupt agency in all of government. While CALIBRE is obviously not running the show in a legal sense, the company's DNA is certainly spattered all over like a Jackson Pollock painting.
Yesterday, Department of Veterans Affairs announced a curious set of chess moves in one day that were rumored to be in the works for some time.
Inside the agency, O'Rourke went from being a transition team member to running the Accountability Office to being the VA chief of staff to now being the acting VA secretary, after which time he will assume his new role as VA deputy secretary. At the same time, Robert Wilkie went back to DOD while waiting for confirmation and Tom Bowman retired, which coincidentally set up the opportunity for O'Rourke to move into the top slot, at least for now.
I can honestly say that after covering VA news for over 8 years that I have never seen someone outside VA get promoted so quickly and into so many different roles.
So much for working your way up from the mailroom after 30 years, right?
I only say that tongue in cheek.
Many professionals are more than talented enough to rise to the top and run so many departments across one of the most corrupt agencies in the federal government. I just cannot think of any who can do it with sustained success.
Corruption blew Shinseki out the door. An inability to shut down that corruption sent McDonald and Gibson packing. Now Shulkin hit the unemployment line as the first non-Veteran to run the agency and the first secretary in a long time to get fired from its helm.
Wouldn't it be nice to finally see one of these well-intended businessmen or former generals succeed in rooting out at least the majority of corruption and mismanagement?
My Advice To Peter O'Rourke
Dear Peter,
Congratulations. You and your team have the awesome opportunity to truly reform the agency – – both its employees and its corrupt contracting practices – – to ensure all funds allocated by Congress go to the veterans who deserve the support.
I trust you will make the most of the opportunity as Sec VA and Dep Sec.
Just between you and me and everyone reading this, I really want to help you rid the Department of Veterans Affairs of all the corruption now that you are the man at the top. I think you can do it, and I even wrote about it a couple months ago, What To Expect With Peter O'Rourke As VA Chief Of Staff.
But please be aware that some real swamp creatures exist within the bowels of VA, and if you are not careful, they will hang you up in some kind of scandal and make you look like a fool like your predecessors.
Just look at what happened to Shulkin. Yes, we all know it was dumb to take his wife to Europe on the taxpayers dime and to accept those Wimbledon tickets. However, where was his chief of staff to step in and advise him about the legal mess that might result?
You may know Allison Hickey. She had so much promise before being duped by her subordinates into signing off on their moving scheme. I am referring to Diana Rubens and Kim Graves where the two orchestrated their own demotions while keeping their pay and even receiving bonuses for moving. Hickey signed of and her ousting/resignation from the agency was complete once the House Committee on Veterans Affairs caught wind of the scheme.
It was around that time former chairman Jeff Miller called VA the most corrupt agency in the government (paraphrasing, of course).
I met with Allison once and warned her about trusting her staff too tightly for fear she would be duped and her mission canceled. Then it happened. I talked to Secretary Bob about it. Gone. Once selected, Shulkin swiftly had his staff reach out to me for insight and help, but I do not think his staff took it seriously. A couple reached out but the talks fizzled – – they did not give me the information I needed to make the opportunity the most it could be.
I assure you, Acting Secretary, I should be taken seriously, as should the few other journalists and bloggers who regularly fight against agency corruption by exposing fraud, waste and abuse. We mean business and have a great deal more insight into institutional corruption than most outsiders.
Consider my offer, and I suggest you also review the rest of this article when you have a moment.
Ben
Wednesday's Events (for the readers who missed it)
In case you missed the news yesterday, after signing the Cerner electronic health record deal, the now nominated VA secretary Robert Wilkie moved back to DOD and present Deputy Secretary Thomas Bowman retired. The sudden move opened up an opportunity for O'Rourke to take over as acting VA secretary after serving as the Accountability Office director for around 10 months and chief of staff for two.
RELATED: Cerner Deal Signed Early, Wilkie Nominated To Lead VA
Some of you may recall what happened in the run-up to today's announcement.
VA's Reality TV Drama
What I am about to describe might seem more like a boring version of MTV Road Rules, but trust me, the drama and high stakes tension was no doubt even more interesting behind the scenes than anything you'd see on MTV.
Firing Drama
In February, reports surfaced that Tom Bowman would be fired to knock Shulkin down a peg or two. This turned out to not quite be accurate as a coup to unravel Shulkin was revealed in emails.
Europe Drama
Then more reports surfaced including an IG report confirming that former VA secretary David Shulkin took inappropriate gifts and misused federal resources to take his wife on a trip to Europe summer 2017.
Coup Drama
Once the reports surfaced, Curt Cashour and John Ullyot cut off Shulkin's contact channels with the press to effectively prevent Shulkin from defending himself at the direction of the White House. Shulkin went on a public relations blitz to counter allegations, in turn, claiming he was set up as part of some internal coup by individuals attempting to privatize VA at the expense of his career and good reputation.
RELATED: Ullyot On Vacation After Failed Coup Of Shulkin
Hacking Drama
President Trump saw to it Shulkin's trusted chief of staff retired / resigned quickly after it surfaced that she may have altered some emails concerning ethics advisements. Shulkin claimed the emails were altered through a hack, but no one has confirmed the allegation.
RELATED: Coup Attempt Allegedly Behind Chief Of Staff Retirement
Babysitting Drama
Former head of accountability Peter O'Rourke was named as the replacement for Shulkin's chief of staff on a permanent basis. The stated reason was to keep an eye on Shulkin to make sure he implemented the policies the Trump Administration wanted (i.e. Cerner HER deal to replace VistA).
Firing Drama
President Trump complained about the negative press surrounding the substantiated allegations and ultimately fired Shulkin asserting the mess was a distraction to the agency.
RELATED: VSOs Snub Trump, Hold Party For Fired Secretary
What has occurred since is arguably even worse as far as drama goes.
Hire, Sign, Retire Drama
Shulkin put DOD official Robert Wilkie in charge as acting VA secretary, which was a move in violation of standard succession stipulations indicating the new acting VA secretary should have been Thomas Bowman. However, Bowman was noted as skeptical of the Cerner deal. Wilkie obviously was not and signed the contract two weeks ago ahead of schedule.
Withdraw Drama
The previously nominated replacement for Shulkin, Rear Admiral Ronnie Jackson, MD, withdrew his name from the running after allegations of unprofessional behavior surfaced from Senator Tester's office.
Lawsuit Drama
A group of advocacy groups also lodged a lawsuit against the Trump Administration alleging Bowman was the proper individual to run VA in the interim, and that Trump lacked the authority to selecting his own acting secretary because Shulkin was fired instead of resigning.
That lawsuit could still have massive effect despite Bowman retiring because it could unravel all decisions made by Wilkie since he should not have been in the role to begin with.
Resignation Drama
During the interim, Scott Blackburn resigned, likely as a result of the Cerner deal being pushed through, which many VA officials allegedly opposed and some officials from DOD.
Kung Fu Chess Drama
Now, in a final chess move, likely in light of the lawsuit concerning Wilkie's move into the lead spot at VA, Bowman announced his retirement and Trump then selected O'Rourke to serve as acting VA secretary while Wilkie works on preparing for his confirmation hearing.
Trump was able to select O'Rourke for the top slot only because Bowman retired. Had Bowman not retired, he may have taken the top slot and canceled the Cerner deal.
Now, if Wilkie is confirmed, O'Rourke will revert to Bowman's role as deputy secretary of the agency meaning he will likely gain active management over the agency in much the same way Sloan Gibson did under former VA secretary Robert McDonald.
Shulkin claimed his staff and Trump insiders coordinated a coup against him, and it seems likely, if he was right, that the coup is playing out exactly as planned with the exception of the Bowman appointment lawsuit that could undo the Cerner deal.
Let's not forget DOD issued a scathing report against the Cerner electronic health record that agency is attempting to implement in an effort to unify VA with DOD medical records systems costing taxpayers tens of billions of dollars. Some experts in the field of electronic health records believe the transition at VA alone could cost around $30 billion rather than the $10 billion currently budgeted.
CALIBRE Demand And False Allegations
Now, some of you may recall CALIBRE hired an attorney at the Virginia law firm Odin Feldman Pittleman PC who goes by the name F. Douglas Ross.
I think we all now know why the rush happened to silence my criticism of agency corruption at least in part because CALIBRE's name was included in the IG report that substantiated allegations of improper payments that I later wrote about.
RELATED: The Swamp Giveth, And The Swamp Taketh Away: The Margarita Devlin Story
Ross was apparently directed to demand I apologize for writing an article criticizing corrupt agency officials involved in a contracting deal investigated by IG that implicated his client.
RELATED: CALIBRE Blows Swamp Gas At Krause Company
That IG investigation substantiated allegations of "improper payments" to CALIBRE and other irregularities that raise a great deal more questions than it answers. So, no, I will not apologize for telling the truth and writing about facts. That would be dumb.
Margarita Devlin – Promotion to VBA #2
That contract was between VA and CALIBRE (with some subcontractors), and the VA official in charge of the deal, Margarita Devlin, was recently promoted to the #2 slot within Veterans Benefits Administration the same day current Under Secretary Paul Lawrence started his new job there.
Many inside and outside the agency were shocked by Devlin's promotion and concerned as to how agency (mis)management may result. And, part of being shocked is that Devlin's credentials and known performance in other roles shows she was not the best pick for the job, at least in my view.
It is believed Peter O'Rourke signed off on the Devlin promotion despite her linkage to the mismanaged CALIBRE contract deal that was confirmed by IG.
Some Coincidences?
Is it a coincidence that Devlin was responsible for that contract and that O'Rourke happened to be working at CALIBRE while the contract was being performed? Perhaps.
Is it a coincidence that O'Rourke was promoted following the alleged agency coup against Shulkin? That seems unlikely since he was placed by Trump directly into the slot of Shulkin's former chief of staff to allegedly keep an eye on Shulkin for the White House.
Is it a coincidence that Devlin was selected to the #2 slot in this context even though she appears under qualified for the role? I will let you answer that for yourselves.
FOIA Of Devlin Promotion
I wrote the article about Devlin's promotion May 16, 2018, and subsequently submitted FOIA requests about her promotion and the demotion of Thomas Murphy.
Nothing happened.
Suddenly, last Friday, May 25, CALIBRE took issue with my using the term "corruption" to explain how VA officials mismanaged that contract even though that term is a reference to public officials or others in positions of authority, and not for-profit corporations.
Now, do not forget that FOIA I mentioned and the concept of "coincidence."
Adding to this issue is a curious coincidence I noticed this week involving the attorney CALIBRE hired and letters I received from VBA staff dated May 23 that I received Tuesday, May 29.
To recap, last Friday, the law firm forwarded a letter making false allegations against the publication my company Armo Press published about Devlin and her promotion May 16.
Rather than sending the retraction demand letter to the correct legal entity, this law firm forwarded the demand to the WRONG company, my law firm, Krause Law PLLC.
The difference between the two companies is obvious, as are the differences in the contact information, terms of use on this website, and the noted ownership of this website being Armo Press, LLC.
What kind of lawyer would make that kind of a mistake on behalf of CALIBRE, the former employer of the present acting VA secretary? When you are citing an article on a publication, is it not obvious what company published the story? What kind of attorney would not send a demand notice like that to the right legal entity?
Hold that thought.
Tuesday, I received not one, not two, but FOUR responses to the May 16 FOIA requests I submitted to Veterans Benefits Administration on behalf of Armo Press, a recognized representative of the news media.
Not one of those FOIA responses, dated May 23, were addressed to the correct legal entity, Armo Press. Not one. Keep in mind I have submitted and received countless FOIA requests over the years and VA rarely if ever forgets those requests are coming from Armo Press.
Let's also not forget VA paid for me to become a lawyer and for my law practice.
If anyone knows the difference between my research company Armo Press and my law practice Krause Law, it is Veterans Benefits Administration since they created me and PAID for me to become what I am today – – a pain in their backside that encourages the agency to abandon its corrupt practices in favor of helping all veterans the way its supposed to.
Instead, two of the four were sent to my law firm and the other two were addressed directly to me, as an individual. And, again, those letters were dated two days before I received the demand letter from CALIBRE's attorney addressing the same topics.
So what is new? Why did VA fail to respond to the right legal entity? Why did CALIBRE hire a lawyer who would do the same? Why would this peculiar process happen just days before the assentation of Peter O'Rourke to the agency's top slot?
Some of you reading this know the answer.
CALIBRE is a contractor working for Veterans Benefits Administration whose former executive, Peter O'Rourke, was just selected to run the agency after hurdling numerous scandals within one year and numerous other executives likely more qualified for the position. That same individual likely had at least a hand, if not a foot or a whole leg, in the selection of Devlin to the #2 VBA slot despite being under qualified.
Does someone not want this coincidence talked about?
Beyond that, who is managing the VBA's FOIA system? Did VBA's FOIA office coordinate the responses with CALIBRE or that firm's attorney?
Why did both Odin Feldman Pittleman and VBA FOIA send FOIA responses to FOIA's submitted by Armo Press to my law firm, instead? What are the odds that this would happen?
I can assure you, the odds are quite slim.
Again, let's remember these companies I founded years ago are totally separate legal entities with separate phone numbers, different websites, different mailing addresses, and different tax ID numbers.
So what do you suspect is going on in the narrow context of the past month? How about since February's alleged coup? And why are they communicating with the wrong company?
Obviously someone is upset that I read the press releases from VA and IG and then ensured my company, Armo Press, published the findings of our research online.
What Company Do You Keep?
On the subject of company…
Growing up, my mom would often remind me that I would be judged by the company I keep. At the time, I thought it was fun to hang out with some friends who did not like to follow the rules as much as my mom hoped I might.
I had to learn a few lessons the hard way, and ultimately, it helped me develop a deeper faith in Jesus.
Maybe, next time around, CALIBRE might think more deeply as to which agencies it does business with should they be worried about being named in any subsequent IG investigation or report?
I now know my mom was spot on, and so was Jesus.
While we hope for accountability to suddenly shine through the corruption that has long plagued the agency, VA still has a long way to go.
The agency has struggled with corruption since its inception 80 years ago, so it is unlikely the systemic issues have much to do with any particular contractor and more to do with the culture of the agency, itself.
Speculation
That aside, the recent events in the agency reveal more of a reality TV drama than what we expect from taxpayer-funded enterprises.
As in the past, we have a lot of newcomers into the agency, not just from CALIBRE, but from a variety of other sources. These professionals are moving into positions of authority within the agency without the institutional knowledge of who the corrupt actors are within the agency.
Meaning, buyer beware – – gentle as a dove but cautious as a serpent.
When Shulkin started working at the agency, he immediately had his leading staff reach out to me for feedback about the agency. The mistake of his agency was the failure of leaders to follow through with his request, and he likely was too trustworthy of his own swamp critters blowing gas right at him.
At the same time that his staff first reached out, I exposed a massive scandal involving the agency fraudulently denying non-VA emergency room claims of thousands of disabled veterans including myself.
The agency's scheme there impacts almost 100,000 veterans each year to the tune of $1 billion in denials, and even GAO admits the agency is engaged in wrongdoing for a large number of those claims. The story was blasted across the news in various regions across the nation, and the impact of that story is still unfolding.
RELATED: VA Emergency Room Billing Issues Still Unfolding
My suggestion to CALIBRE and our new acting VA secretary?
If you want to do the right thing, rather than bother me with your Virginia law firm, why not clean up the enormous mess within the agency's insurance systems?
Don't harass a small business owner fighting for the rights of veterans by exposing fraud, waste and abuse of corrupt agency officials.
If you want feedback from someone who likely knows more than you about what agency trends are who will not charge you an arm and a leg, consider reaching out. Just do not back away after I expose agency corruption during the process.
Failing to fight for veterans, my friends, is uncool, and it may put you on Santa's naughty list.
Below is the official press release.
VA Announces New Acting Secretary, Retirement of Deputy Secretary
Today, the White House named Peter O'Rourke as Acting Secretary of the U.S. Department of Veterans Affairs. Mr. O'Rourke previously served as VA Chief of Staff and prior to that as executive director of VA's Office of Accountability and Whistleblower Protection.
O'Rourke succeeds former Acting Secretary Robert Wilkie, whom the president has selected for nomination as VA Secretary. Wilkie has returned to his prior position at the Department of Defense, where he serves as Under Secretary of Defense for Personnel and Readiness.
Jacquelyn Hayes-Byrd will serve as VA Acting Chief of Staff while Mr. O'Rourke serves as Acting Secretary. She previously was VA Deputy Chief of Staff.
In addition, VA Deputy Secretary Thomas G. Bowman is re-entering retirement effective June 15, 2018. VA is thankful for Mr. Bowman's dedication and commitment in serving our Veterans as Deputy Secretary. His contributions over the past year have been instrumental in helping VA achieve its legislative priorities.
Bowman will maintain his longstanding commitment to VA by providing valuable insight and experience as an expert consultant to the Acting Secretary. His VA experience spanned more than a decade, including assignment as Chief of Staff to two previous VA secretaries. Mr. Bowman looks forward to continuing his service to our nation's Veterans.
###