PTSD Vets Suffer while Congress plays Political Football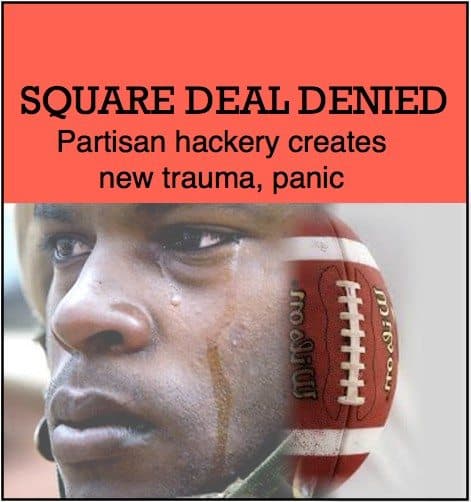 Last night, House Democrats blocked a bill to fund disability benefits for veterans.
What now results is a game of political football, not with ideology, but with the lives of the veterans who risk losing everything.
Senator Harry Reid (NV-D) supports a unified Democratic position that avoids "cherry-picking." Unification pushes the ball forward to reopen DC. The goal then is to fund Obamacare. As a result of the strategy, House Democrats refused to budge an inch.
That is, with the exception of passing legislation for funding our military. No one debates that funding our troops is wise, especially in light the ongoing conflicts in the Middle East.
However, it is similarly wise to fund veterans benefits to support the troops after returning from duty wounded. The country is, after all, engaged in active wars.
The Honoring our Promise to America's Veterans Act would have done just that. Sadly, the vote failed, coming in at 264-164, which is shy by 22 votes of the 2/3 majority needed for its passage to the Senate.
The Act promised that veterans would receive their square deal – the veterans benefits they were promised. Its passage would have ensured funding for disability compensation, GI Bill, and other critical benefits during a prolonged shutdown.
Veterans and House Republicans were dismayed by the hardline position taken by Democrats.
Rep. Jeff Miller (FL-R), Veterans Committee Chairman, stated,
"Our veterans have already gone above and beyond for our nation. The last thing they deserve is for the country they courageously defended to abandon them. It's unfortunate that some in Congress seem to be fighting to ensure that happens."
Instead, House Democrats believed voting against piece-mealing support for veterans programs was a strategic necessity. Implied in this strategy is that the threat of veterans going without benefits will result in Republicans passing the overall budget bill, including funding Obamacare.
According to Laura Ingraham yesterday, the partisan moves by Democrats and Republicans should be called the "Countdown to Cave-In." On the Fox and Friends, she predicted that Republicans would cave due to "sob stories" from veterans. She theorized,
"It's only a matter of time, in my mind, before the Republicans say 'We can't keep doing this' because the sob stories are going to start coming out. You're gonna have camera crews on veterans' counseling centers where you're gonna interview, 'Yeah, your appointment's been canceled today, who do you blame?' I think Republicans are going to feel the heat more than Democrats."
In the end, the overall dysfunction here is that Congress and the Obama Administration fail to acknowledge that their game of political football has a greater impact than mere rhetoric.
Many disabled veterans, including many suffering from extreme Post Traumatic Stress Disorder (PTSD), will be impacted. Even now, afflicted veterans are suffering from increased anxiety that could increase risk of homelessness and suicide.
Sadly, our elected officials are aware of this danger and persist in partisanship.
Here is some background. Last Saturday, VA, under the direction of the Obama Administration, reversed its position on veterans benefits. This was following over one year of guarantees about funding veterans disability benefits.
The new position is that a failure to fund Obamacare will result in 3.5 million vets not getting their disability benefits if the shutdown lasts longer than 3 weeks. The last shutdown under the Clinton Administration did last about that long. This one could last longer.
The impact of this political game of chess is far reaching, and is immediately apparent on social media. One such impassioned plea can be found in one such discussion group, Protect Veteran Benefits.
The post reads:
Government Shutdown is all the talk right now. We've heard the response from the VA and I want to tell you, the comments on these posts show very clearly this is having a tremendous impact on veterans with PTSD. We all know about the fight or flight response but only a few remember that "freeze" is the third response. For soldiers most are trained into the fight response and one they get PTSD they have a tendency of the reactions of people to their symptoms to force them into a flight response. Then after much negative re-enforcement against that they just get stuck in the freeze response.

Veterans with PTSD right now are screaming in absolute fear that with out their benefits payments they are going to end up in the same situation as the veterans I'm fighting for whose benefits are illegally stolen,,, homeless. Once you go homeless, it's nearly impossible to get out of it. Some have made comments that they will commit suicide before going homeless or going homeless again. So while I really push them to think of the "Spartan Pledge", I'm going to ask everyone here to please, once again think of our troops and please take the following pledge to call your congressmen.
 https://www.facebook.com/ProtectVeteranBenefits
To subject veterans to this kind of treatment is nothing shy of abuse.
Uncle Sam congratulates veterans after fighting the good fight with a pat on the back with his right hand. Later, his left hand swats them away from getting their benefits when they are needed if its politically convenient. Only then do these veterans learn that their promise of a square deal after service was a lie. This is abusive behavior.
Something must be done.
While there may be no end in the near term, the nation and its veterans need to rethink their political alliances.
It is time to take a hard look at how our nation's politicians quickly turn on veterans, despite being engaged in numerous active wars.
In September's Labor Day, America's leaders acted proud of those who have sacrificed for us on the battlefield. In October, these same leaders allow veterans disability benefits to be at risk. These are benefits many severely disabled veterans and family members rely on to survive. Cutting these benefits puts their lives at risk.
Failing to protect these benefits is a failure to abide by the wishes of the American public.
VA, headed by the Obama Administration, has failed its veterans by failing to predict that disability benefits would be at risk. This kind of calculation is something an intern with a $5 calculator could have discovered three years ago, when talks of VA funding were circulating.
This failure prevented true discourse about the real impact of a shutdown.
Our elected officials have in turn failed to ask the right questions that would have uncovered these inadequate safeguards. Both Veterans Committees refuse to place VA officials under oath when they testify, since the 1980's. Meanwhile, VA has been caught in numerous frauds of American tax dollars.
Why is this allowed?
This 3 decade laissez-faire type treatment of VA has led to this current crisis and countless other complications. No elected official or presidential appointee can escape blame.
Veterans need to realize just how tenuous their access to benefits truly is and take action. All it takes is one gridlock over an unrelated issue to drive a stake through their claim.
It is sadly possible that this same stake will result in more veteran homelessness and more veteran suicides.
These veterans and this nation deserve better. This coming election, voters should take a good look at their party of preference: be it Democrat or Republican.
If your elected official is taking part in this partisan hackery, push to vote him or her out of office. Otherwise, it sends the wrong message to these infants commonly referred to as the United States Government.
It's time for accountability.
Sources:
###
Here are more social media statements from veterans who are impacted:
"This is how this government shut down is affecting me and my PTSD. I have not slept in a week. I have had my night sweats return with some of the worst nightmares I have ever had and this is a first for me now it is affecting my sex life with my wife. Now she thinks that it is her fault and it is not. I wish the ass holes on capital hell not hill would start thinking about the people of this great country and not themselves. This has become a damn circus and I am willing to bet that the rest of the world is laughing at us."

"Thanks for the links brother, I wok certainly weigh in with my 2.5 cents……. I am one of those PTSD Vets scared shitless about my benefits this month……"

"… [D]on't be naive and think for one second that our checks will always be there. If there's one thing I've learned over the past few years, it's to save as much as you can because NOTHING is EVER guaranteed!!! People with your mentality are often left scratching their heads, don't be one of those people…"

"Die by suicide, not commit suicide."

"I too doubt anyone is quaking in fear but I will say that none of us deserve this worry. Sure it may be the straw that broke the camels back in a few rare instances, but then if you are at that point anything could push you over the edge. Oh, and PTSD is a physiological and psychological response not limited to combat vets. Spend a few months at Walter Reed as they "study" you as I did and tell me you don't have PTSD from the experience. I can't even go to the dentist without breaking out in a cold sweat and feeling like I'm going to pass out. True story. They did awful, awful things to me….and then "lost" my records because it directly linked my GWI symptoms with something that happened between weeks 1 and 7 of basic training. This was in 94 when they were working hard to suppress this data. Sigh…."