Mailroom: How To Show Voc Rehab You Need A PhD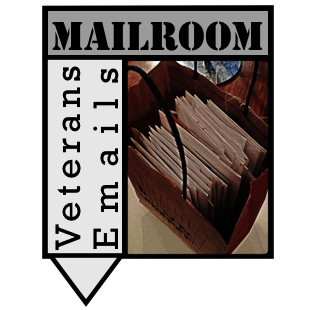 Summary: this veteran received a "thumbs up" approval from the counselor. Then the counselor came back and asked the veteran to prove it.
Question: what do you do if the Vocational Rehabilitation Counselor renegs on your training goal (one that was only verbally agreed to) after you get in?
Teaser: if you are sharp, you might be able to get your PhD paid for without needing VA or Voc Rehab funding. I'll explain more about that at the end of this post.
Every week I write about one email I get from a veteran needing input on Disability Compensation or VA Vocational Rehabilitation.
Here's the drill: I take out all the identifying information from the best emails and post them here with the answer. If you have a burning question about your veterans benefits, sent me a note selecting the contact tab at the top of this page. If I think your situation will be helpful for other veterans, I will repost it here.
* If you do not want me to write about your situation, please feel free to let me know within the email. I have no problem keeping a lid on the situation, too.
Email from Veteran:
Hi, I'm a disabled vet with a 70% disability rating.  Over the last year I have used VA Voc Rehab to pay for my Masters Degree in Economics.
During the Fall 2013 semester a VA Voc Rehab rep came to the school to check on our progress.  At that time I asked about a PhD and she advised me "it shouldn't be a problem.  Once your excepted just request an extension."
So the good news is that instead of doing a terminal master's degree I have been accepted into the PhD program.  That saves about a year of schooling and is really quite an honor.  Instead of a master's thesis I will begin my dissertation proposal.
After being accepted I sent my Voc Rehab rep an email requesting an extension.  At first she just said no but later said:
"I would need to understand how this PhD would benefit you in terms of employment based on your SCDs more so than a master's degree? What would be the cost of this program be per year. I am wondering if it would over my allowed limit per employment plan?"
My plan is to teach at the university I am currently attending.   I have over 20 years of experience in finance and have a pretty good shot at getting hired.   What I can't figure out is how to answer her question.  It seems she is looking for a way to justify the extension for the PhD based on my disability limiting employment.
I don't want to make the same mistakes some have mentioned on the blog and have my request rejected.  Any ideas how to word my request for extension to support the PhD?
Answer from Benjamin Krause (me):
There are three main questions I need to know more information about:
How many months of benefits have you used from either the GI Bill or Voc Rehab?
Is your IWRP goal on your VA paperwork to be a university professor, specifically?
When did you separate from the military?
For the purposes of this post, I will make some assumptions and explain why each one is important:
1. I assume the veteran has used 48 months of educational benefits. This point is significant because veterans can only use up to 48 months of combined educational benefits in most situations.
The primary exception comes into play if the veteran has a higher disability rating. In Voc Rehab, there are two main ways the program splits veterans when qualified for the benefits. They are either deemed to have an "Employment Handicap". Or, they are deemed to have a "Serious Employment Handicap".
These are terms of art and are defined within 38 CFR Part 21.50-52. The latter, "Serious Employment Handicap," will allow the counselor to extend the veteran's training beyond 48 months. As a rule of thumb, if a veteran has a greater than 40% disability, or has been unemployed for longer than 6 months, the counselor may make a determination that supports a "Serious Employment Handicap".
Given that the veteran here has a 70% rating, he probably could be deemed to have a Serious Employment Handicap.
2. I assume the goal is to be a professor or to teach in a related field. It can be difficult to change your long-term goal, which depends in great part on his Voc Rehab counselor's willingness to fight for your case. He will need to convince Voc Rehab that the decision to add additional training for a PhD is a worthwhile cause. If the goal is different on your IWRP from being a university professor, it may be more difficult to change the schooling time. For this exercise, I will assume "professor" is the goal.
3. I assume the veteran separated from the military within the past 12 years. Generally, the Chapter 31 Voc Rehab program likes to see veterans get into it within 12 years of separation or 12 years of your disability-rating grant, whichever happened last is what the regulations say holds. There are certain exceptions for veterans with higher disability ratings or with problems finding employment for long durations of time.
In this situation, the veteran is in better shape because he already has been approved for the goal. In today's market, getting a PhD to teach at a university is a must. Otherwise, the veteran will be stuck as an adjunct professor.
Ways to document the "need" portion is important. You need to answer the follow question for the counselor so that it will help them go to bat for you against their boss: "Why should Vocational Rehabilitation pay for an additional degree when you already have a pretty good degree?"
The answer to me is simple. You cannot be a professor at a university in most cases unless you have a PhD.
I'd say that the most solid argument would come from the school he is hoping to work at. The school can be the best resource for an answer, "Can you be a full professor without a PhD in your situation?" The school's Dean of Faculty could answer that question and provide the veteran with a letter verifying that fact.
Last, can the cost exceed the usual limit for Voc Rehab? The cap is around $25,000 per year for tuition. However, Voc Rehab can lift the limit with the necessary approvals. If the veteran can create a good enough case for lifting the limit, then the veteran will be well on their way to a PhD.
Another alternative could be to get accepted at a higher ranked university where the PhD programs are free. If the university is ranked within the top 20 nationally, odds are their PhD program will be free of charge and it will pay a living stipend while you work on the PhD that is much higher than what we get from Voc Rehab.
And that's a wrap from this week's mailroom.
Update: I need to add, most counselors will not want to approve this direction. For that reason, you will need to stick to your guns and be willing to fight for the PhD option. This means filing a "request for reconsideration" which is really an informal way to appeal. You can also file an Administrative Appeal. I talk about both of these in my guide, "The Voc Rehab Survival Guide." No matter what, if you really believe being a professor is the way to go, the only way to get "substantive employment" is to have a PhD – meaning if you want full time employment, etc., a PhD is usually necessary.