Say What? Senator Admits To VA Nominee Stall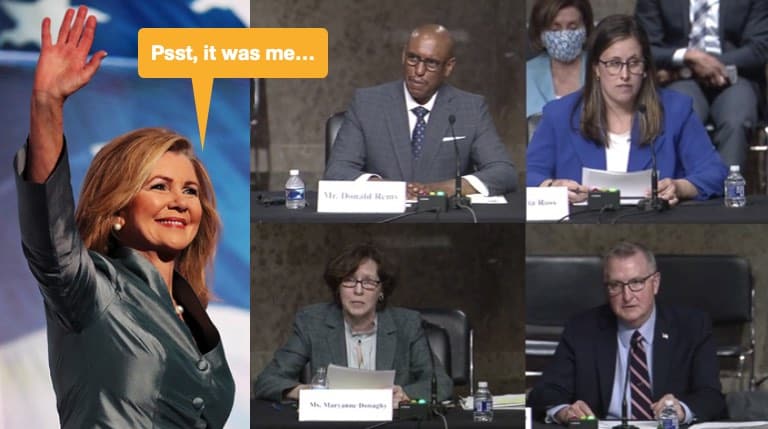 Last week, we heard an anonymous senator put a hold on confirmation votes delaying the confirmation of four individuals nominated for top slots at the Department of Veterans Affairs.
This week, that senator has a name.
As reported by Stars & Stripes, Sen. Marsha Blackburn, R-Tenn, is the lawmaker responsible for the stall. Blackburn argued Tuesday that she will delay confirmation until the agency indefinitely. That is, until VA provides its official position on the cost and implementation of the Comprehensive and Overdue Support for Troops of War Act of 2021.
The confirmations impacted by the hold or stall include:
Donald Remy: nominated to be the Deputy Secretary (top middle)
Matthew Quinn: nominated to be under secretary for memorial affairs (bottom right)
Maryanne Donaghy: nominated to lead VA's whistleblower protection office (bottom middle)
Patricia Ross: nominated to be assistant secretary for legislative affairs (top right)
The Act in question would dramatically expand benefits to veterans impacted over the past 31 years by respiratory illness or cancer. It would automatically grant VA health care to about 3.5 million veterans of the Iraq and Afghanistan wars. It would also reform how VA presently (mis)handles toxic exposure disability claims.
Otherwise dubbed the COST of War Act, the legislation proposed May 2021 is "shaping up to be the most consequential legislative effort on the veterans' space in an entire generation," according to Blackburn. The lawmaker is concerned that the proposed legislation, if passed by Congress, would overwhelm VA with new claims and extensions of health care and benefits.
"I will continue to keep my hold on these pending VA nominees until I receive the official views on the Cost of War Act," Blackburn said. "What we're doing is standing up for these veterans and saying to the VA, 'Get your act together. Provide this information.'"
Sen. Jon Tester, D-Mont, chairmen of the Senate Veterans' Affairs Committee, attempted to push through the nominees last week by unanimous consent but was blocked by Blackburn.
The two exchanged barbs over the stall but Blackburn refused to budge.
"We can sit here and play these games of holding up nominees to fill critical agency positions and say we're doing it on behalf of veterans, but that is bull. Total bull," Tester said. "The bottom line is, if we want a VA that can function, then we must have it staffed up. We've got a job to do here, folks."
The Act's Unveiling
When the Act was unveiled last month, Sen. Tester was proud of the Act's scope without knowledge of the bill's cost if approved. Stars & Stripes reported:
"Decade after decade, our service members have returned home from war only to be met with a piecemeal process as they try to cobble together health care and disability benefits they've earned," Tester said on a phone call with reporters. "I'm proud to unveil my comprehensive and overdue support."
Tester is anticipating pushback on the bill because of its cost, which remains unknown but is likely significant. The Congressional Budget Office, which provides cost and economic information to Congress, has not yet shared its cost estimate for the legislation.
Tester said he's willing to make some changes to the bill based on feedback from the VA and other senators. However, he said multiple times Tuesday that lawmakers need to acknowledge this a cost of sending service members to war.
"I don't know what this costs," Tester said. "But I'm going to tell you how I approach this: We have to make this thing work financially. … We have an all-volunteer military. If we expect people to step up, we have to make sure we hold up our end of the deal and ensure promises are kept."
Long Wait?
Given the current positioning by Blackburn, this could be a long wait.
When asked about the delay, VA through its press secretary Terrence Hayes provided the following comment:
"It is extremely important and necessary that these leaders arrive to VA as quickly as possible. They serve in critical roles at the Department – roles that will only help us in our efforts to deliver the absolute-best health care and access to benefits to Veterans."
Given the scope of the bill in question, I think its unlikely a comprehensive response can be provided within the short term, especially when the proposed head of legislative affairs had her nomination stalled.
Leading me to my next question.
Is it reasonable to believe the VA secretary would have a substantive answer about the scope and cost of the COST of War Act three weeks after the Act was unveiled to the public?
If the answer is "no," then this stall may be more of a tactic with an alterior motive. It could then have more to do with the nominees or with some other form of jockeying behind the scenes than the information Blackburn hopes to receive from the VA secretary.
Now What? Let's Do Some Research
We could do nothing but wait for VA to provide the information sought – Blackburn wants the VA secretary to provide her with his official view of the proposed legislation.
Like most things within the huge bureaucracy, this could take a very, very, very, very, long time.
On the bright side, the delay may give us time to get better acquainted with the nominees who may be leading our VA over the next few years.
I'll enlist my readers to start digging into backgrounds to see what we can learn.
From what I can tell by digging into at least two nominees, if I read the tea leaves correctly, so to speak, it appears the Biden Administration has selected at least two senior attorneys with extensive experience protecting the interests of large clients with deep pockets. Those same attorneys appear to have limited public service experience helping the average Joe.
While this may be good for Biden and his team, would this strategy be good for veterans and agency personnel?
SEE: Senate Hearing on Pending Nominations
Deputy Secretary Nominee – Donald Remy
The Biden Administrations touted Remy's "problem solving and crisis management abilities." Based on my own review of his background, Remy's ability to direct crisis management is likely off the charts.
But, is crisis management what VA needs right now?
There are a few things I really like about Remy as I dig, but I do have some reservations, too.
I like that he is a veteran. I also like that he has an extensive background both in the public sector and private sector. His time at the NCAA over the past decade likely could not be more challenging as it relates to crisis management, and I am confident he learned invaluable lessons along the way.
But, do we need another attorney in this spot versus a business manager with a proven track record?
The last deputy secretary, James "Jim" Byrne was formerly the chief privacy officer before coming to VA. He was fired from the job in 2020 after being confirmed for five months. He previously served in an acting role as deputy secretary as well as lead attorney on the Office of General Counsel, prior. Some of you may recall a lot of push back from me and others that resolved from VA's massive evolving privacy policy reforms back in 2019.
It is something to consider, and I spend a bit more time on Remy than the other three stalled nominees since the role of deputy secretary is so important at VA. This is the person who will be essentially running the behemoth of an agency for the foreseeable future.
Starting with his written testimony to the Senate, it did not reveal much background, but his Wiki page was somewhat useful.
Remy, a previous Obama Administration nominee, has worked for NCAA as the chief legal officer and chief operations officer since 2011. The longtime attorney started his public service in the US Army where he worked as the assistant to the Army general counsel in the early 90's. He later served in the DOJ as a deputy assistant attorney general working on legal matters arising from the sieges at Waco and Ruby Ridge.
READ: Making An Early Mark At Justice (Washington Post, 1999)
By 2009, he was nominated by the Obama Administration to serve as the Army attorney general but his name was withdrawn. The Washington Times reported Remy omitted the name of a former employer, Fannie Mae, from a key application document provided to the Senate Armed Services Committee resulting in a "flap."
READ: Army Lawyer Pick Faces Resume Flap (Washington Times, 2009)
Prior to his nomination, Remy worked as the chief compliance officer and general counsel for Fannie Mae from 2000 to 2006.
The Washington Times reported that in 2006 the enormous housing lender reported "billions of dollars in accounting errors." Apparently, one of Remy's forms referenced Fannie Mae "only as 'a major U.S. company" instead of directly by name. Remy stated this was a mistake.
The company's accounting errors were investigated by the Office of Federal Housing Enterprise Oversight (OFHEO) in 2006 and explained in greater detail within that report. Later, Fannie Mae was reported as a client of Remy's to the Office of Government Ethics while he worked as a partner at Lathan & Watkins.
Remy has driven legal and operations at NCAA through some of the organization's most challenging periods. This includes managing blowback from the Sandusky child abuse scandal and current attempts by college athletes to unionize.
Remy and the NCAA have argued against unionization, which is inconsistent to the current position taken by the Biden DOJ on the same matter.
Back to you.
Is Remy's nomination a signal that the Biden Administration is forecasting new scandals? Or, is the Administration simply positioning itself to protect against blowback should a scandal arise?
What do you think?
Assistant Secretary of VA for the Office of Accountability & Whistleblower Protection (OAWP) – Maryanne Donaghy
Maryanne Donaghy is an attorney and senior advisor at the Biden Institute at the University of Delaware, the same university that houses the president's Senate papers.
There is not a lot of information available online about Donaghy.
According to the White House:
"Donaghy has counseled numerous organizations, including non-profits, large corporations and governmental agencies, on response to federal, state and congressional investigations, and on building effective compliance programs," the White House said Friday in its announcement. "Among other responsibilities, she has worked with a large university involving Title IX investigations, counseled a large pharmaceutical company under federal and state investigation involving marketing practices and provided advice to a hospital system regarding research misconduct allegations."
This is the background boasted about by the Biden Administration on its White House website. Before going further, does this background seem somewhat hollow? Does this background or experience lend itself to protecting whistleblowers?
Based on this, it looks like her experience is almost exclusively to protect large organizations from oversight or overreach by external investigators or from civil litigations. Generally speaking, we can conclude the following:
She advised one large university with a Title IX investigation.
She advised one large pharmaceutical company under investigation for marketing practices address investigators.
She advised one hospital system against research misconduct allegations.
Is this the kind of attorney that would be well equipped to run an organization aimed at protecting whistleblowers and holding senior official accountable for retaliation against those same whistleblowers?
VA has faced mounting pressure to reform its OAWP due to apparent conflicts of interest where the organization is charged to investigate while also protecting whistleblowers. Over the past 4 years, countless reports have emerged suggesting OAWP was misused and instead facilitating greater whistleblower retaliation, not less.
READ: VA Accountability Office Says It's Improved, But Whistleblowers Aren't So Sure
Donaghy's background as stated by the White House suggests she lacks any military experience or experience working with veterans. It true, this suggests she likely does not bring cultural competency to the table much less a background of significant public service generally preferred for such roles.
However, her testimony to the Senate reveals some material information, at least about cultural competency. Donaghy comes from a military family with multiple family members who have served.
Was that a slight oversight by the White House press team?
One could say that since she looks like a pick to lead an arm of the Food and Drug Administration versus someone who would be pro-whistleblower at VA based on what the White House said.
So, why did the White House position her background in the announcement to make her appear pro-pharma or pro-big medicine without reference to her military family background or accomplishments supporting average people?
Something I infer from her White House biography is her role as an advisor to the Biden Institute at this pivotal time where some reporters wanted more transparency from then candidate Biden, not less. It appears Donaghy was an advisor to the Biden Institute during the period (2020-2021) the former presidential candidate refused access to reporters concerning his Senate papers and the list of foundation donors to the institute.
Did she play a role in that decisionmaking?
If I were a senator, I would want to know more about her role in those investigations touted by the White House as well as her various roles as a senior advisor to the Biden Institute over the past couple years.
What do you think? Is she a good choice for the OAWP?
Under Secretary for Memorial Affairs – Maj. Gen. Matthew Quinn (Ret.)
Matthew Quinn is a retired Major General who served as the Montana National Guard adjutant general. His service spanned 37 years. I understand he has done a good job, but there is not a lot of information about him online.
His written testimony did not reveal much beyond what I could already dig up on Wiki.

Where you able to find much?
Assistant Secretary for Legislative Affairs – Patricia Ross
Patricia Ross presently serves as the senior policy advisor in the Office of the Speaker Nancy Pelosi, D-Cali, where she has worked since 2011. According to the White House, Ross has spearheaded bipartisan agreements in major arenas including "the COVID-19 response, CHOICE Act, MISSION Act, Forever GI Bill, Blue Water Navy Vietnam Veterans Act, Deborah Sampson Act, Every Student Succeeds Act, 2014 and 2018 Farm Bills, and ending the Widows and Kiddie Tax."
It is a bit ironic that Ross, if confirmed, would be the person to likely collect the data and respond to Sen. Blackburn.
So, what do you think of the stalled nominees? Are these the right people for the job right now?
My Takeaway
I am still looking around for information on these nominees. If confirmed, I hope the Senate does evaluate relevant information prior to voting. I agree with the sentiment of the VA press secretary, the agency needs leaders to arrive to VA as quickly as possible to move the agency forward.
The two attorneys nominated, Remy and Donaghy, have a lot of experience protecting the intersests of the organizations and companies they serve. I am not clear how that will translate to protecting the interests of Americans and the veterans served by the Department of Veterans Affairs. I am also not clear how this will translate to managing hundreds of thousands of union personnel with an annual budget of over $200 billion and hospitals across the country.
As for Ross, I understand she is a solid pick for the role and has a significant amount of experience negotiating bipartisan legislative solutions to the problems faced by veterans.
I also understand Quinn is a solid pick, but I do not know much about him.
Let me know what you find.