SECURITY ALERT – National AFGE Union Snoops On 'VA is Lying'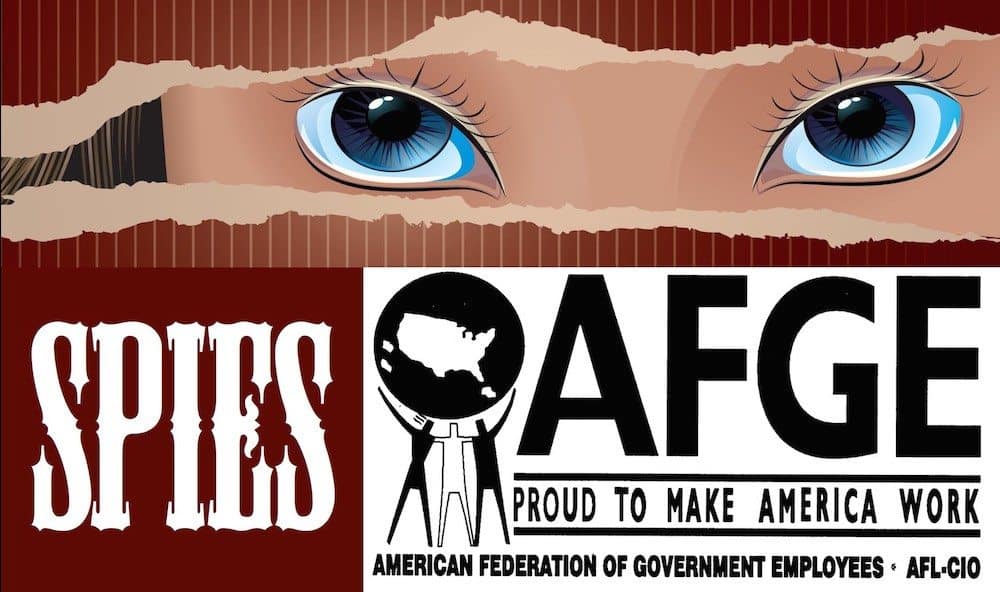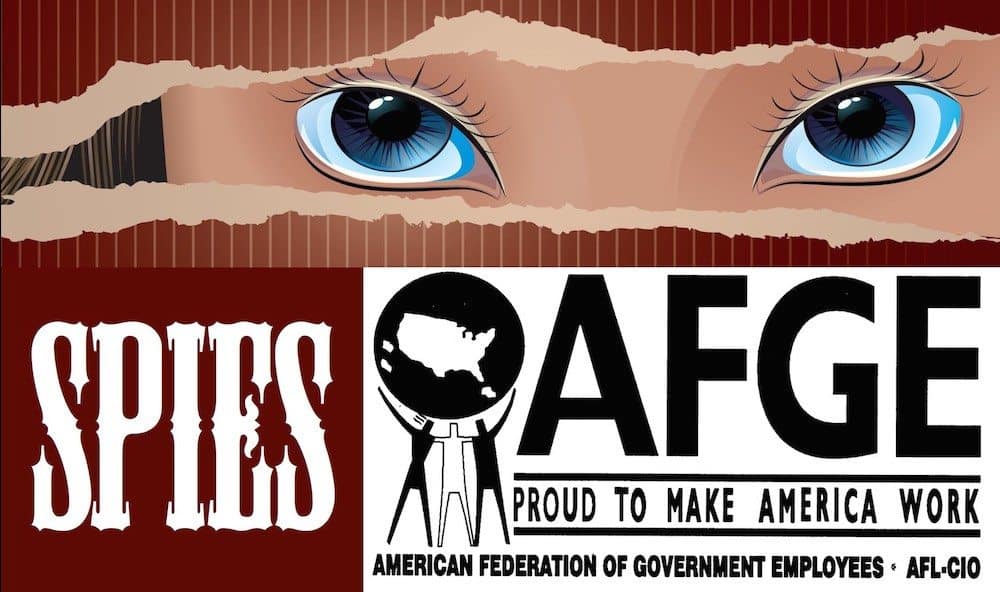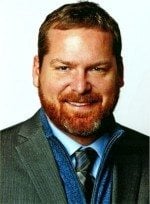 On October 1, 2015, lobbyist Mike Rosenblatt sent out an email to national union members of the National American Federation of Federal Employees (AFGE) headquarters requesting that members start snooping on the 'VA is Lying' group.
The founder of 'VA is Lying', Ron Nesler, asked me to reach out to Rosenblatt after we received an email leaked from his Gmail account. The email came from AFGE's "Security Alert" inbox. Since his initial email, I have sent National AFGE lobbyist Rosenblatt numerous communications to help him and the national AFGE office not waste time chasing red dragons.
Do you think those clowns will give me a call? Nope.
But, I would appreciate a call from National AFGE in case some of the clowns at National misunderstand what the campaign is all about. Perhaps they miss the point and need some straightening out. Still, that may be too simple since Nesler has nothing to hide.
@afgenational - You guys just picked a fight with the wrong crew...#VAisLying
The reality is that National AFGE is completely disconnected with the needs of many local VA employees and especially its whistleblowers. Many front-line VA employees are good, solid, honorable employees helping veterans across the nation like Brandon Coleman or Lisa Nee. These folks who were local AFGE members, became whistleblowers when VA leadership refuse to do the right thing. National AFGE failed to step in to help in any meaningful way.
My understanding from numerous sources is that National AFGE, like VA executives similar to the criminal Diana Rubens, are more concerned with status quo than helping veterans. I personally guarantee both National AFGE and VA executives that we will ensure they have no job once the scandals are exposed to the fullest extent possible.
Most recently, my friends and I exposed a confirmed scandal at Edward Hines Jr VA Hospital where the Office of the Medical Inspector (OMI) confirmed wrongdoing and criminal behavior of VA doctors. Despite the confirmation, VA OIG refused to investigation and ignored the findings. And national AFGE
Apparently, to VA OIG and national AFGE, veterans lives do not matter as much as other lives.
Personally, I am done playing nice with these clowns. Join me in our quest to light a fire and bring some semblance of justice to DC. I have some friends who are local AFGE employees, and they hate what the national platform is doing to hurt veterans across the country. There is no accountability.
What are you willing to do? The easiest thing is to research the full backgrounds of all VA executives to help the light shine on their careers at all points. Then, let me know what you dig up on Rosenblatt…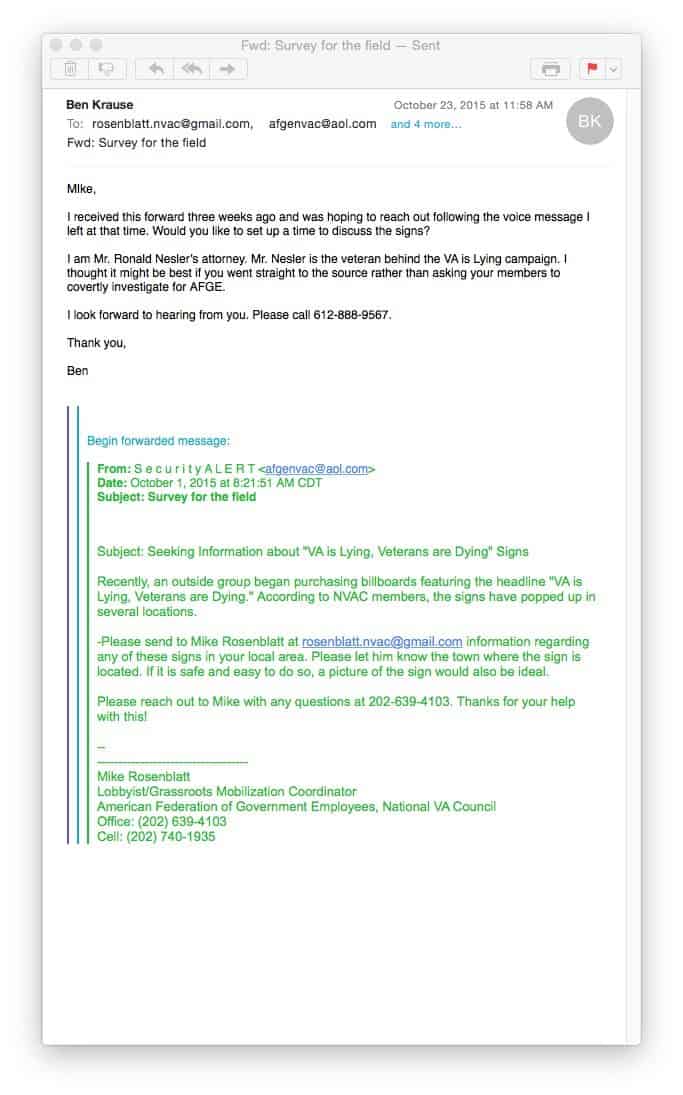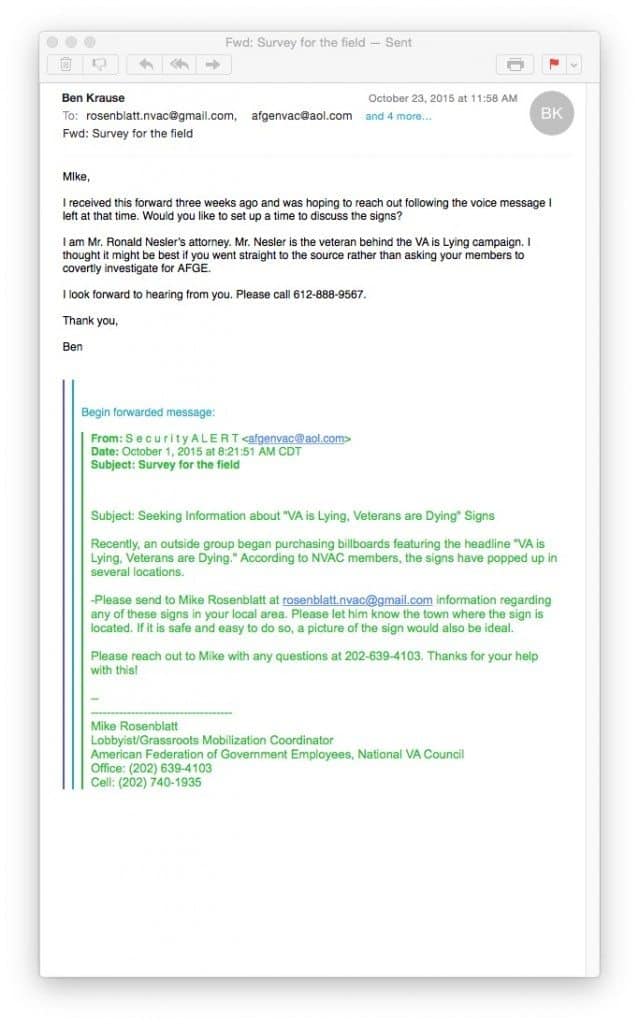 _______________________
Mike,

I received this forward three weeks ago and was hoping to reach out following the voice message I left at that time. Would you like to set up a time to discuss the signs?

I am Mr. Ronald Nesler's attorney. Mr. Nesler is the veteran behind the VA is Lying campaign. I thought it might be best if you went straight to the source rather than asking your members to covertly investigate for AFGE.

I look forward to hearing from you. Please call 612-888-9567.

Thank you,

Ben
__________________
Begin forwarded message:
From: S e c u r i t y A L E R T <[email protected]>

Date: October 1, 2015 at 8:21:51 AM CDT

Subject: Survey for the field

Subject: Seeking Information about "VA is Lying, Veterans are Dying" Signs

Recently, an outside group began purchasing billboards featuring the headline "VA is Lying, Veterans are Dying." According to NVAC members, the signs have popped up in several locations.

-Please send to Mike Rosenblatt at [email protected] information regarding any of these signs in your local area. Please let him know the town where the sign is located. If it is safe and easy to do so, a picture of the sign would also be ideal.

Please reach out to Mike with any questions at 202-639-4103. Thanks for your help with this!

—

———————————–

Mike Rosenblatt

Lobbyist/Grassroots Mobilization Coordinator

American Federation of Government Employees, National VA Council

Office: (202) 639-4103

Cell: (202) 740-1935