Sexting, VBMS and the Fast Track Program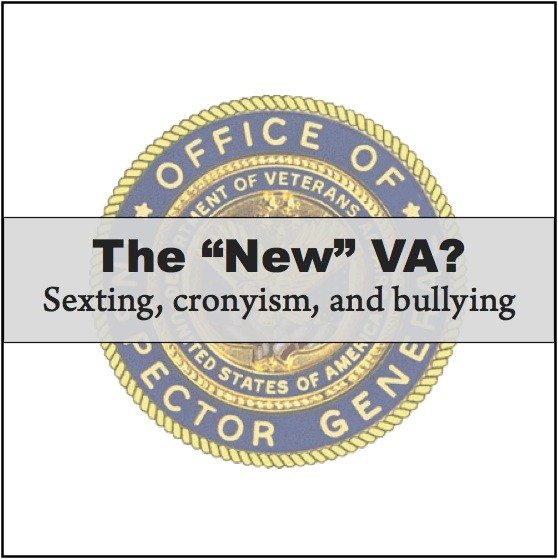 Just in. The VA OIG confirmed allegations that a VA Director was caught covering up unethical behavior of a subordinate which included "sexting" on a government laptop. Yes, I said "sexting," but wait, there is more.
The investigation centered around activities involving VA's coveted VBMS program and its Fast Track solution during Under Secretary Allison Hickey's push to solve the backlog last April, 2013. The employee was spoken of as a bit of a golden child when it came to testing that system, and was even allowed to telecommute from a hotel at taxpayer expense. When pressured about the matter, former head of VA Center for Innovation Jonah Czerwinski attempted to promote the bad actor. While his name is redacted, the employee's actions and the resultant cover-up is quite extensive.
Not only did the employee "sext" on the laptop, but he installed special unapproved software to allow sexting. The employee, a VBA Rating Veterans Services Representative (RVSR), also helped himself to over $30,000 in unauthorized travel funds, misused official time, and misused his VA position and resources. Further, VA officials attempted to create a position for this individual within central office amidst an OIG investigation into his questionable behavior.
The OIG report reveals that two senior VA officials resigned as a result of the scandal:
Mr. Jonah Czerwinski – Director of VAi2 and Senior Advisor to Shinseki
Mr. James Alan Bozeman – VBA head of VBMS system redesign
The name of the bad actor was redacted, but the individual was cited as being the lead tester for VA's Fast Track program. VA has touted its Fast Track program as being one of the primary ways VA would fix the backlog. Under Secretary Allison Hickey and Nashville VARO Director Travis Kraft were also mentioned in the OIG report.
On the surface, this looks like a mere folly, but the OIG report reveals a deeper problem with tentacles reaching to the top of VA. It was titled, Administrative Investigation Failure to Properly Supervise, Misuse of Official Time and Resources, and Prohibited Personnel Practice, VA Center for Innovation, VA Central Office.
Since this one goes pretty far into the realm of "truth is stranger than fiction" I thought posting OIG's summary of the incident as it appeared in my email inbox would be useful:
The former (resigned) Director of VA's Center for Innovation did not properly detail and supervise a GS-12 VBA Rating Veterans Service Representative (RVSR), which led to the RVSR misusing official time, unauthorized travel, misusing about $31,000 in travel funds, misusing a VA position and resources, and installing unapproved software to a VA laptop for sexting. The former Director also engaged in a prohibited personnel practice when he pressured VBA officials to create a non-competitive GS-13/14 position to give preference to and promote the RVSR; however, he intentionally did not tell the VBA officials of an ongoing OIG investigation of the RVSR for misconduct so that they could make fully informed decisions. Further, VBA officials engaged in a prohibited personnel practice when they failed to make proper considerations in their personnel decisions and created a position to promote the RVSR without question and solely due to the former Director's request.
The actual OIG report included mention of the reprimand of the former Director of VA's Center for Innovation (VACI). This is the part of VA responsible for funding new technology initiatives selected improve the agency. The former Director pressured – aka bullied – staff to create a new GS-13/14 position for the special RVSR, but failed to inform VA staff that the RVSR was being investigated by OIG for misconduct. The report also implied that favoritism and cronyism was at the root of the deceptive practice.
Check out the link above for the main report or here on the VA OIG website.