How Did Sharon Helman Earn 33% In Bonuses?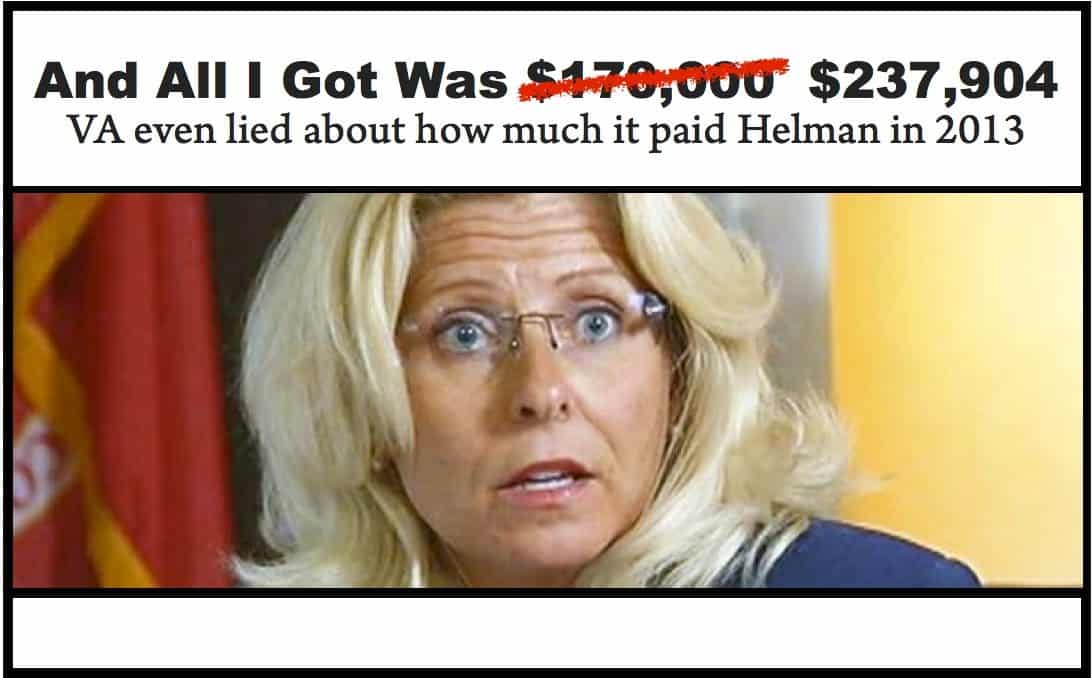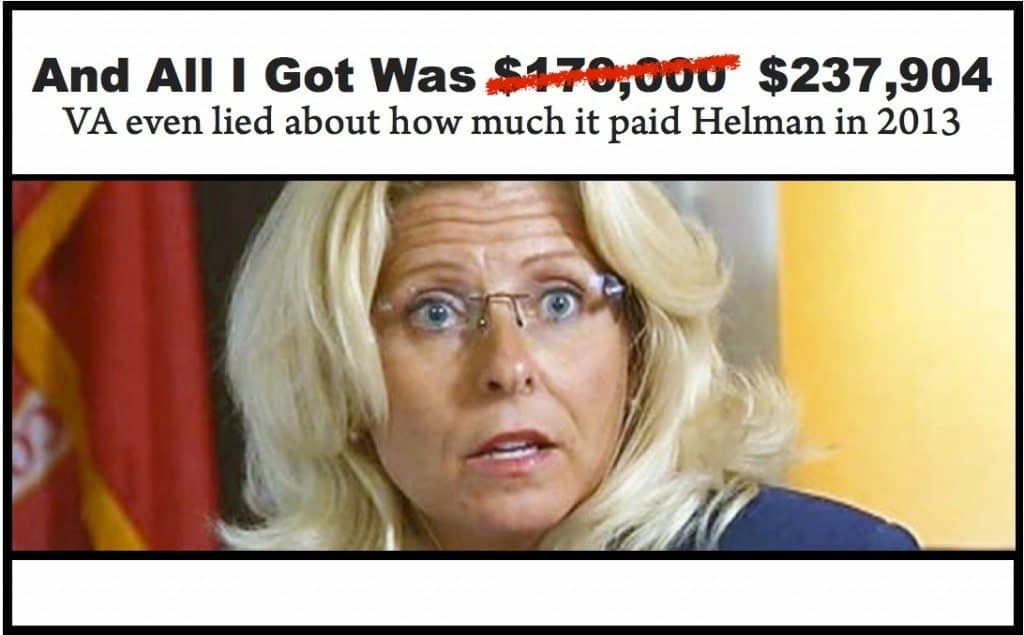 In this picture, Sharon Helman looks about as surprised as I was to learn she pulled in a cool quarter million dollars the last year leading up to the Phoenix scandal.
The bonuses beyond Helman's base pay were more than 33%, which is a staggeringly generous performance incentive for most employees in any economy, much less a down economy in an agency that is failing its formally declared duties. To avoid direct comparisons, VA redefined its bonuses as "employment incentives" and then failed to bring the change to the attention of Congress when asked about it.
However, The Arizona Republic received documents from VA that confirmed suspicions that Helman received base pay of $170,000 plus another $57,000 in other forms of incentives to bring her total compensation to $237,904 in 2013. These additional forms of compensation are essentially bonuses by the common Investopedia definition – apparently for a job well done. But how and what exactly was that job she did so well at?
According to The Arizona Republic:
The VA has said Helman has a base salary of about $170,000, but records newly obtained by The Arizona Republic under the Freedom of Information Act show her total compensation for the fiscal year that ended Sept. 30, 2013, was $237,904, higher than the VA previously disclosed.
This is a stunning lie and another example that Congress cannot expect VA to be honest about how much it is paying employees. I have checked various websites to examine base pay of employees and none of them report the kinds of fantastical pay schemes that seem only to be revealed through sleuthy reporting and FOIA requests.
You may recall that in April, CNN uncovered one of the biggest scandals in VA history where employees at the Phoenix VA were caught manipulated wait lists for appointments. The manipulations resulted in numerous veterans dying untimely deaths or being harmed from a lack of timely health care. VA director Sharon Helman was linked to some of the misrepresentations at the center of the scandal as well as whistleblower retaliation.
Once the scandal was exposed, VA auditors revealed the wait list was a nationwide problem where VA scammed veterans out of needed health care. America still does not know the depths to which VA had sunk to defraud taxpayers with artificially high performance numbers for the sake of earning ludicrously high bonuses.
I have promised to bring readers as much information as possible about Sharon Helman until she is held accountable for what transpired in the walls of the Phoenix VA. And that is what I am doing here.
Last Monday, I summarized some of the largest VA lies that have surfaced this summer from VA. I did not include recent revelations that VA director Sharon Helman was paid over $57,000 in employment incentives beyond her base salary of $170,000 in 2013 because I thought it was worth highlighting separately.
Now I have questions on this bit of outrageous behavior:
Did someone in VA executive management truly believe she was doing such a bang up job that VA needed to pay her a bonus greater than 33% of her base pay? If they did, what exactly did they know she was doing to deserve such a payout?
Read More: https://www.azcentral.com/story/news/arizona/investigations/2014/08/08/obama-signs-va-reform-bill-new-chief-visits-phoenix/13762861/