Thanks VSOs: Lawyers, Veterans Should Be Nervous About Upcoming VA Cuts, Up To 20 Percent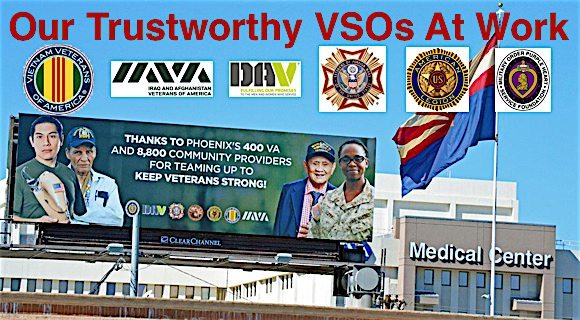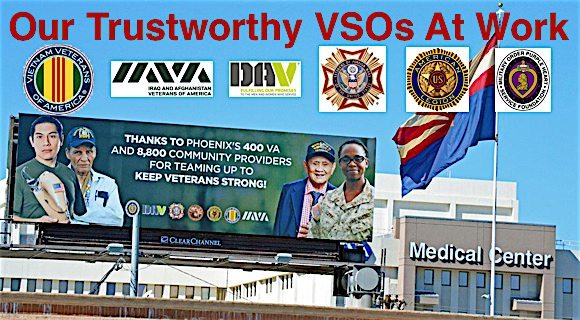 Rumors are circulating Capitol Hill that The Big 6 veteran service organizations (VSOs) and VA negotiated a massive and covert budget cut coming soon.
According to a reliable source, Secretary David Shulkin, MD, recently met behind closed doors with what are known as The Big 6 VSOs. None of the smaller advocacy groups were said to be invited.
In the meeting, Secretary Shulkin allegedly discussed certain upcoming policy changes. These changes will be painful for the veteran community.
To help get the policy changes through, VA allegedly extended concessions as an olive branch to The Big 6 so long as they do not obstruct upcoming budget cuts.
My source indicates those budget cuts may be as high as 20 percent, or $34 billion, off the VA's existing $170 billion budget.
If true, veterans will lose big but our trusty VSOs will not feel the hurt, at least as much.
"The Big 6" VSOs consists of Disabled American Veterans (DAV), Veterans of Foreign Wars (VFW), American Legion, Paralyzed Veterans of America (PVA), AMVETS and Vietnam Veterans of America (VVA).
Concerned Veterans of America (CVA) was not reportedly invited and is not considered one of The Big 6, which are generally thought to support more left-leaning policies. Meanwhile, CVA is considered conservative-leaning.
Some Background On Budget Cut Games
Social welfare cuts are not new, and they are not always a Republican thing, though that political party tends to take them on more frequently than Democrats.
When Democrats cut budgets for social welfare systems, the cuts tend to be more covert, behind the scenes, to avoid the optics.
We have known for years that former President Obama and Republicans (Paul Ryan specifically) eyeballed massive budget cuts at VA well into the billions.
In the past, former President Obama and Republicans supported VA's use of a lower cost of living index that would effectively shave $23 billion from disability compensation payrolls over the course of 10 years.
RELATED: Obama, Republicans Seek $23 Billion Disability Cut (2011)
Each year, veterans and Social Security recipients receive a cost of living increase.
The increase could be higher or lower than real inflation, depending on which measure a government uses. When the increase is lower than real inflation, the value of each subsequent increase is outstripped by inflation.
The recipient of the payout loses because they can buy less with the slight increase as in the past. Through fancy banking, the government wins by paying out less.
The new cuts will likely be more immediate in nature than this scheme I illustrated above.
Based on a reliable source on the Hill, the new cuts will also target disability compensation payments as in the past. Only here, VA bloated the appeals process to justify modifying appeals language, which will effectively reduce real benefits received by veterans along with the payout scheme using the lower inflation metric.
This makes sense given what we have seen in the past. Benefits payments are reduced slowly over a few years using various insurance adjudication schemes so no one notices any abrupt changes other than the bean counters in VA finance.
Funding for benefits is reduced slowly over a few years using various insurance adjudication schemes so no one notices any abrupt changes other than the bean counters in VA finance. Less overtime reduces the number of claims processed.
Less overtime reduces the number of claims processed.
Bad quota policies force employees to adjudicate more claims in less time resulting in an uptick in bad initial agency decisions.
The newly proposed appeals language will restrict a veterans rights, and ultimately the monetary and health benefits they receive while promising quicker adjudication to the masses.
Those unaware of the insurance scheme being perpetrated will see the new legislation as a win.
Should we expect anything less from the same agency formerly called The Bureau of War Risk Insurance? VA is an insurance scheme, plain and simple.
Today, we see regional offices rushing off bad decisions because VA policy mandates quick processing of claims rather than accurate processing of claims.
Executive bonuses and accolades are dependent on rushing out claims decisions, even bad claims decisions.
The five-year appeals backlog virtually guarantees that no present adjudicator or executive will get reamed for faulty decisions.
Instead, only veterans and their families harmed by the economic injury of a faulty decision are left to bear the burden of the bad policy.
VA Backlog Brief History
VA created a backlog in the initial claims process that justified immediate implementation of an electronic claims processing system to fix that backlog. This was the silver bullet fix former Under Secretary Allison Hickey lauded to Congress over and over from 2011-2014.
During that time, VA regional office started fast tracking claims which resulted in the backlog of initial claims going down. However, poor quality adjudications then resulted in more appeals and more initial claims to fix the fast track errors of claims missed by the adjudicator.
VA now asserts these increases are the fault of greedy veterans AND greedy lawyers trying to suck more money out of the agency. Its poor union workers cannot keep up.
[I am not kidding; this is the gist of VA's present position.]
Now, we are stuck with both a rising initial claims backlog and a huge appeals backlog where the Board of Veterans Appeals is now forced to resolve a new backlog of appeals.
It would be important to note that President Obama and now President Trump have failed to nominate a Chairperson to run the Board since 2011. That is six years.
Why such a delay?
Some speculate the refusal to appoint anyone is all about politics.
As long as no political appointee sits over the problem, VA is able to push more deficient processes and bad claims decisions onto the Board's plate without an appropriate backlash.
This means the regional offices can push through erroneous adjudications prematurely into the appeals process with premature certifications to the Board with little or no ramification for the regional office executive or her superiors.
It will now take five years for a remand, so the regional office workload is smaller in real time and the backlog at the Board is someone else's problem.
This means Under Secretary of Benefits Thomas Murphy (an Obama nominee and holdover) wins because his numbers look good and veterans lose because no one is accountable for the glut of unadjudicated appeals shoveled onto the doorstep of the Board.
Make sense?
It only makes sense to someone who lacks ethics and the ability to know the difference between right or wrong.
Phase 2 – VSOs Support Legislative Fix For Backlog VA Created On Purpose
Now, enter phase 2.
VA worked with The Big 6 and some other stakeholders to create new appeals regulations that will significantly expand the statutory proposals we see from Congress.
On the surface, the appeals reform language is being sold as a normal modernization, but it will functionally result in veterans receiving fewer benefits as a whole.
Veterans of future wars and those still planning to file benefits claims will largely take it in the shorts. While this should concern VSOs, those in power right now will probably not take the same heat as those in the future, a VSO kicking of the can, so to speak.
The newly proposed language will also revoke certain rights to later develop claims after VA initially screws with the evidence gathering process and VA's duty to assist.
Some of that language is contained in various appeals modernization bills floating around the Hill since at least 2016. These are embodied in the present legislation coming out of the House Committee on Veterans Affairs.
READ: HR 611 VA Accountability First and Appeals Modernization Act of 2017
As you may recall, Congress pushed through an Accountability law in 2014 that many in Congress used as a basis for reelection. The White House signed the bill into law but then refused to follow the law.
This sent Congress back to the table.
During that same period, The Big 6 was working with Congress and VA to create new statutes to reform (ie remove rights) from veterans during the appeals process due to the appeals glut VA created on purpose.
Those reforms were embodied in S. 3328 Department of Veterans Affairs Appeals Modernization Act of 2016, which was put forth by the Senate Committee on Veterans Affairs and its Senator Richard Blumenthal (D-CT) last year.
VA is now waiting anxiously in the wings with its regulatory interpretations of those same statutes this year, which makes sense since VA basically wrote the Bill's language for Congress both times.
Initially, the election of President Trump left all vested interests wondering if appeals reform would be possible, but a backroom deal to keep Obama's team at the help in VA has resulted in a glorious opportunity for all.
You may recall Senator Johnny Isakson's insistence that Bob McDonald be held over following the election? While McDonald and Trump did not see eye to eye, Trump instead selected David Shulkin, MD, to lead the agency.
What was the trade-off behind the scenes? Trump's cabinet nominees would get green-lighted (not to be confused with gas-lighted) and not obstructed by the Republican establishment or Democratic establishment.
Now, not only will the union get screwed with the new Accountability Act but veterans will also get screwed with the added language of Appeals Modernization.
And what we are seeing is the Genesis of legislation driven by Democrats and Republicans under a Democrat president to be implemented under a Republican administration.
See how this works? They work for themselves. We pay them tax dollars. They hold onto those tax dollars for the next war.
All this equals the HR 611 VA Accountability First and Appeals Modernization Act of 2017 linked to above.
Special interests who have eyeballed benefits reductions and union reductions now win should this get through Congress and onto President Trump's desk.
How do we know? Well, Senator Richard Blumenthal (D-CT) drafted a similar Bill last year, and he is a Democrat. Both parties are pushing for this reform.
Look At Section 8
I remember Sesame Street as a kid. "One of these things isn't like the others; one of these things just isn't the same."
You will want to pay special attention to Section 8, which appears to have nothing to do with the rest of the other sections.
On the surface, Section 8's language modernization appears to be what the reform is about.
However, as previously mentioned, VA has already created the regulations interpreting the statutory changes in the Act, which are more restrictive than what the statutes let on.
The big take away is that many claims will no longer receive earlier effective dates in the same way and a veteran's ability to develop the claim later in the appeals cycle is limited.
This will effectively force veterans to accept the due process they receive from VA the first time around. Sadly, you cannot hire a lawyer at that stage and are instead dependent on your own legal knowledge or that of a veteran service officer.
Criminals and illegal immigrants can hire a lawyer whenever. A veteran cannot.
Passage of the Act, or something like it at a later stage, will result in less disability compensation payouts and less health care benefits.
Let's not forget that veterans only qualify for certain benefits dependent on what disability rating they receive or what condition is diagnosed.
Veterans without a rating for traumatic brain injury from the agency will have a tough time receiving health care to rehabilitate from their traumatic brain injury (TBI).
RELATED: VA Caught Using Unqualified Doctors To Diagnose TBI, 25,000 Vets Affected
Even after VA was caught using unqualified doctors, the agency apparently hired contractors that use inappropriate exam metrics to still deny TBI claims.
Pesky Lawyers
This is where lawyers enter the picture.
Yes, we are the ones who kick VA in the pants whenever its employees get out of line, at least that is what we are supposed to do.
Normally, lawyers would fight to push back this position, but the only lawyer organization able to do so has been sidelined on the matter.
Apparently, the National Organization for Veterans Advocates (NOVA) left the negotiating table once the deal was queered, leaving The Big 6 to hammer away a deal with VA largely unimpeded.
The bad news is, both veterans and lawyers can guarantee any such deal will include some erosion of a veteran's ability to hire a lawyer when the veteran wants because The Big 6 and VA both think lawyers should get out of the game.
VSOs are still pissy about lawyer involvement in their sweet monopoly despite 8 decades of veterans receiving generally poor help and poor reforms of VA. On the other hand, VA, of course, does not like attorneys ruining their Splendid Isolation from court induced reforms since 1989.
Only since 2007 have veterans been able to hire attorneys for compensation at reasonable rates, but illegal immigrants can hire an attorney whenever they choose.
And while some veterans still think the best help is free help, until law school is also free for lawyers, we will still need some form of compensation from someone.
Major VSOs pay their employees via dues from veterans, grants, and in-kind donations from VA. VA helps fund VSOs and pay its employees through taxpayer dollars. Few individuals are really working for free here.
The last nail in this catastrophic conspiracy coffin will allegedly include covert messaging against lawyers representing veterans. I am not clear how this will work, but the end result will be VA paying out substantially less money to veterans in the appeals process.
Not only will disabled veterans be hammered for greedily filing appeals and new claims, but lawyers, who help veterans as a profession, will also get hit as profiteers.
Veterans lose, The Big 6 and VA wins.
Let's not forget DOD also wins because it will be cheaper for 'Merica to go to war when veterans are unable to get the benefits they were promised.
That same "winning" includes government contractors who will revamp the IT systems VA says it needs to implement the scheme. And like Charlie Sheen, our VA is very, very sick.
Meanwhile, if the scheme is successful to flush some lawyers like myself out of the system, lawyers who dedicate their practice to helping veterans, disenfranchised veterans will be stuck having to go to law school to fight their own claims, like I did.
We will call this, "Not-Winning".
So Why The Sudden Push?
There seems to be a trend.
Remember when former President Bill Clinton cut the military and gutted VA spending in favor of private industry solutions right before a Republican took office following an upset election?
Remember when we went to war in Afghanistan, Iraq and later Egypt, Lybia, and now Syria under Republican and Democratic presidents?
At the time those first wars started, VA and our military were tremendously understaffed and outdated. President Cheney, er, I mean Vice President Dick Cheney told Congress the war in Iraq would be over quickly and cost $60 billion because we would get to sell Iraq's oil to pay for the war.
President Cheney, er, I mean Vice President Dick Cheney, told Congress and the NY Times the war in Iraq would be over quickly and cost $60 billion because we would get to sell Iraq's oil to pay for the war.
Remember that? Remember who was actually selling that Iraq oil? ISIS.
Yes, ISIS was/is selling the Iraq oil.
Remember who will actually pay for that war?
Your grand children's children's children.
Make American Great, Again?
Great for whom?
Now those wars, which are still not over, are estimated to cost taxpayers around $4-5 trillion and counting. Much of that money went into the coffers of big banks and the defense industry.
The bill for these wars is basically a can being kicked down the road, too.
Oh, and wouldn't you know a major war is just over the horizon?
Whether with North Korea, Syria, Russia or China, things are looking bleak for veterans who are harmed while serving the special interests con-trolling (typo on purpose) our country?
Is this merely serendipitous timing by the establishment for VA to ramp down benefits while ramping up reforms or do they know something we do not about upcoming military struggles?
Either way, we need to take a second look at the appeals reform being pushed forward in HR 611 before we count THAT Accountability Act as a win.
I am all for holding bad employees and executives accountable. I am just not clear we will ever see real accountability within our federal government in my lifetime.
It would make too much sense.