Tit For Tat: Union Says VA Sec 'Disparaging' Veterans Suffering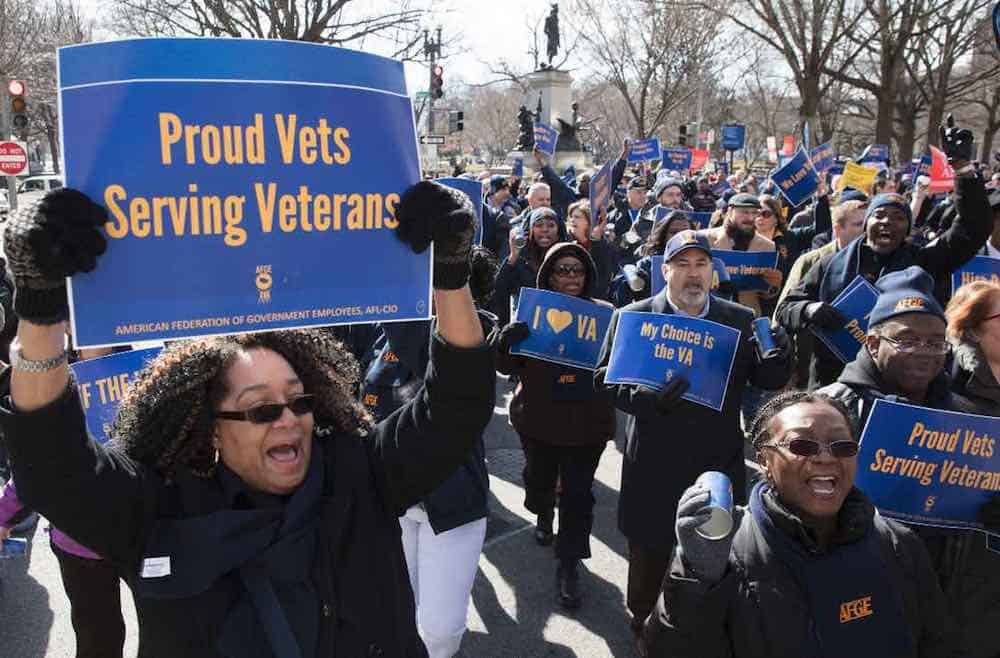 The AFGE Union president J. David Cox published a scathing press release accusing Secretary Robert Wilkie of "disparaging" veterans who are "suffering" from the shutdown.
The press release further states Wilkie's response to union pressure to end the shutdown was "despicable." In the letter referenced in the press release, Cox says the Secretary's earlier remarks on veteran suicide were "absurd."
Cox, a former VA psychiatric nurse, lambasted Wilkie, "You have no standing to lecture me or anyone else about the factors that have created an epidemic of veteran suicide in this country."
For some background, two weeks ago, AFGE Union issued through proxies numerous attacks against President Donald Trump fixated on veteran suicide. The allegations basically asserted that the shutdown will result in more veteran suicides.
Fun With Pundits
For example, one local AFGE Union president, Edward Canales, promised in an ABC interview, "If the shutdown does not stop, we are going to have fatalities. We're going to have suicides." Canales also said the shutdown was "shameful," akin to "slapping every veteran in the face who has served their country."
Hyperbolic Much?
In response, Wilkie issued a press release chastising AFGE for using veterans as pawns in its fight to reopen the government based on veteran sentiment. He was especially incensed about the use of the veteran suicide issue as leverage to garner public support to end the shutdown.
That same day, Wilkie doubled down when he published an op-ed that included an interview at Fox News to highlight the bang up job VA is doing to resolve the high number of suicides. This comes on the heals of two months of bad suicide press for the agency including a GAO report calling out VA for failing to spend monies intended for anti-suicide propaganda.
I wrote about both parties using propaganda strategies fixated on veteran suicide to further either agenda two days ago.
Now, AFGE's Cox is punching back, at least in writing, and this is not the first time.
Previous Cox Threats
Three years ago, Cox threatened to "whoop" former VA Secretary Bob McDonald. In a statement to AFGE members, Cox stated, "But I am also prepared to whoop Bob McDonald's ass. He's going to start treating us as the labor partner… or we will whoop his ass, I promise you…"
In the most recent brush up, Cox is punchy as ever.
"Secretary Wilkie should be ashamed of himself for tarnishing the honorable name and reputation of Edward Canales and accusing him and other AFGE leaders of treating veterans as victims," Cox said. "It is a fact that many veterans are among the 800,000 federal employees who are not getting paid during this shutdown – and no amount of shaming Mr. Canales will change that."
The issue here, as noted above, is Wilkie's critique of Canales for stating the shutdown would result with more veterans committing suicide.
I personally thought the AFGE's use of veteran suicide in this manner was distasteful. However, VA also makes use of veteran sentiment in the same manner, making the ironic situation a bit like a pot calling a kettle black.
The tactic used by AFGE to amplify their message is rather textbook, as was VA's.
Cox wrote Wilkie a letter making various allegations. That letter was published on AFGE's website. The organization then repurposed the publication in a press release on PRNewswire. Now, the mainstream media, social media, and everyone else will run with the new fodder in a typical amplification of spin.
How much is AFGE spending on their spin to end the shutdown? Lots.
How much is VA spending on their spin to deflect responsibility over high suicide numbers? Lots.
Are both organizations directly or indirectly using taxpayer dollars and like-kind donations to fund their respective spin?
Absolutely.
So what do you think? Is this an effective discourse? Overall, doesn't the spin by both parties negatively impact the very real problem of high veteran suicide?