Too Inclusive? VA Replaces Military Service Flags With LGBT Pride Flag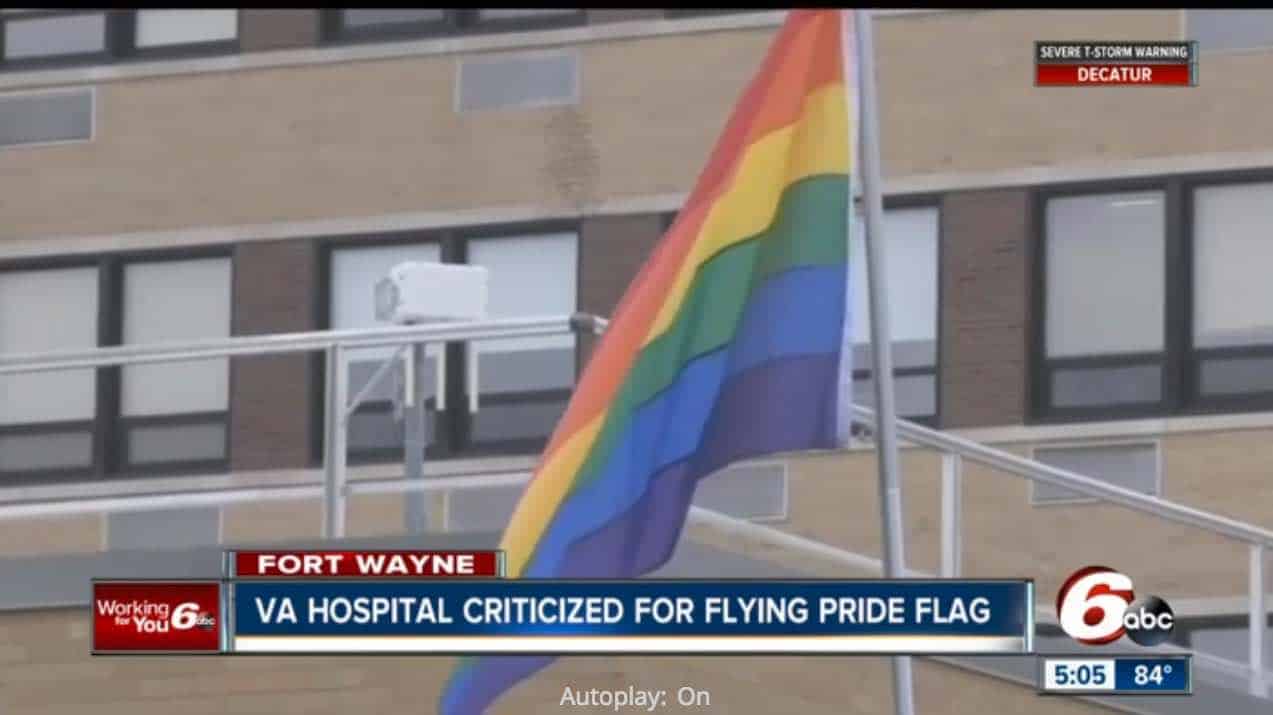 The Department of Veterans Affairs is getting flack for one of its hospitals removing all its military flags in favor of flying an LGBT pride flag in an effort to maintain the appearance of being inclusive without truly being inclusive of the disabled veterans the agency is supposed to serve.
Now, some northern Indiana residents are questioning the agency's decision to remove its military flags to instead fly an LGBT pride flag Tuesday.
Veterans seeking care that morning were treated to the unusual removal where the solitary flag flying in their place was the rainbow flag in honor of LGBT pride at VA Northern Indiana Health Care System – Fort Wayne Campus (aka Fort Wayne VA).
"It's certainly worth recognizing the veterans who are from that community who have served," Jarrod Schwartz, a veteran, said. "It's a little odd, it's certainly different — definitely questionable — why they would remove the branch flags."
This is where we see VA logic kick in.
When asked for comment, a VA public affairs officer said the agency wanted to put up a rainbow flag to honor LGBT veterans. However, they noticed there were not places to add the 'pride' flag amongst the military flag pools erected at the facility.
So, some moron thought it would make sense to remove the military flags and replace them with a 'pride' flag. To ensure all military branches were shamed equally, the removed all the flags and then erected the solitary 'pride' flag.
VA planned to remove the flag by the end of the day and to replace it with the military flags, but someone else had a different idea.
Someone, likely a pissed veteran, lowered the 'pride' flag at some point in the afternoon and drove off with it. How is that for inclusion?
Most believe agency needs to be inclusive of veterans and mindful of what their mission is related to those they are supposed to serve. That includes veterans who are part of the LGBT community and every other "community" out there.
But by removing the military flags in favor of the solitary 'pride' flag, did VA take its inclusivity too far?
At least one veteran thought so.
Are there any other groups VA has attempted to honor in this way? Know of any other examples?
VA Public Statement On LGBT Pride Flag
The VA released the following statement:
"We are aware of concerns voiced by some of our employees and Veterans about the Service Flags removed outside of the Fort Wayne campus. As we are committed to serving all Veterans and June is LGBT awareness month, we are flying the flag that represents and honors these Veterans as a display of solidarity and respect for their service.
We all serve this nation.
"Due to limitations in the number of flag poles outside our VA, the Service Flags were lowered temporarily. Rather than take one flag down temporarily, it was determined to lower all the flags so as to be equal. The one flag will fly for the day until 5 p.m. and signify that we treat all our Veterans equally. We greatly appreciate our Veterans' and employees' passion and loyalty for their individual services.
"Today, we honor our LGBT Veterans and their service."
How Is VA Doing On Inclusion?
We know the agency still struggles to address racism in its ranks. Veterans suffering from military sexual trauma still face daily battles in securing benefits and quality mental health care. Many in the LGBT community are going without the benefits they deserve just like every other veteran suffering from the long-term effects of war.
By flying the 'pride' flag, it is almost like VA is attempting to appear inclusive while failing to remove barriers veterans struggle with on a regular basis.
Source: https://www.wpta21.com/story/38405818/fort-wayne-va-temporarily-removes-military-flags-to-fly-lgbt-pride-flag