UPDATE: Veterans Affairs Gets Partial Hiring Freeze Exemption After Outcry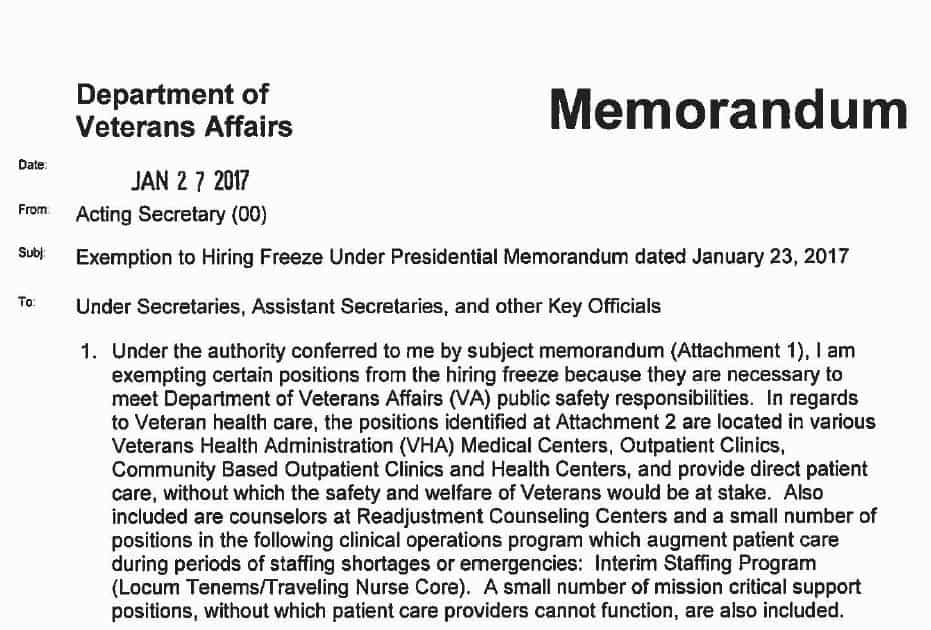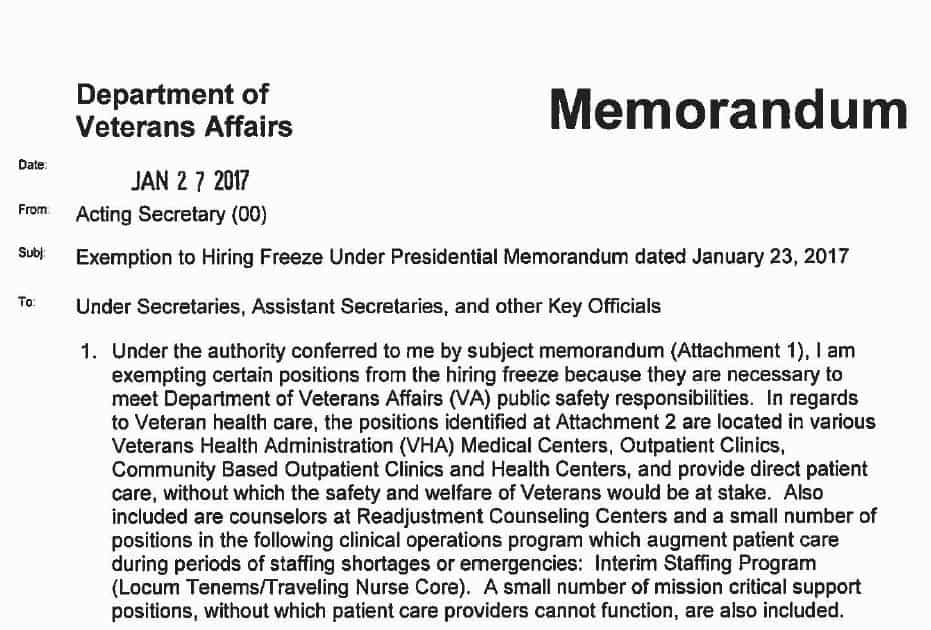 In response to widespread outcry, Veterans Affairs will be partially exempt from hiring freeze for health care professionals and others.
"The Department of Veterans Affairs intends to exempt anyone it deems necessary for public health and safety, including frontline caregivers," acting Secretary of Veterans Affairs Robert Snyder said in a signed memorandum. "The president and VA remain committed to seeing that our veterans receive the quality care and benefits they've earned. This is the right thing to do for our veterans."
In that signed memorandum from the Department of Veterans Affairs, released earlier today, Secretary Snyder approved numerous positions for exemption from the hiring freeze. Mainly positions "necessary to meet Department of Veterans Affairs (VA) public safety responsibilities" will still be eligible for continued hiring.
The memorandum identifies health care clinician positions, operational staffing positions at new VA facilities, and national cemetery positions directly involved in burying eligible veterans and family members.
Background Of Present Hiring Freeze
This effort is in response to President Trump's hiring freeze that he enacted earlier in the week that affects all branches of the federal government except the military. However, that decision did allow room for agency leaders to exempt hiring of positions based on public safety needs.
VA then created a satisfactory list of employment positions it needs filled to continue its mission, which I provide below.
Relevant Hiring Exemption Documents
I am attaching various documents related to the hiring freeze for you all to review. I just received these and wanted to pass them on:
Below is a listing of all exempted employment types included as attachments in the memorandum linked above:
VA Hiring Exemption List Of Occupations
Veterans Health Administration
Series and Occupation
0601 General Health Science/Chiropractor
0601 General Health Science/Expanded Dental Function
0602 Medical Officer
0603 Physician's Assistant
0605 Nurse Anesthetist
0610 Nurse
0662 Optometrist
0668 Podiatrist
0680 Dental Officer
0101 Social Science / Licensed Prof Mental Health Counselor (includes Suicide Prevention positions)
0101 Social Service/Marriage Family Therapist
0180 Psychology
0185 Social Work
0601 General Health Science/Blind Rehab
0601 General Health Science/Nuclear Medicine Technologist
0601 General Health Science/Registered Respiratory Therapist
0601 General Health Science/Therapeutic Medical Physicist
0620 Practical Nurse
0621 Nursing Assistant
0630 Dietitian and Nutritionist
0631 Occupational Therapist
0633 Physical Therapist
0635 Corrective Therapist
0636 Rehabilitation Therapy Assistant/Occupational Therapy Assistant
0636 Rehabilitation Therapy Assistant/Physical Therapy Assistant
0640 Health Aid and Technician/Certified Respiratory Therapist
0644 Medical Technologist
0647 Diagnostic Radiologic Technologist
0648 Therapeutic Radiologic Technologist
0649 Medical Instrument Technician
0660 Pharmacist
0661 Pharmacy Technician
0665 Speech Pathology and Audiology
0667 Orthotist and Prosthetist
0669 Medical Records Administration
0672 Prosthetic Representative
0675 Medical Records Technician
0679 Medical Support Assistance
0681 Dental Assistant
0682 Dental Hygiene
08S8 Biomedical Engineering
0018 Safety and Occupational Health Management
0060 Chaplain
0081 Fire Protection and Prevention
0083 Police
008S Security Guard
0089 Emergency Management
0181 Psychology Aid and Technician
0186 Social Services Aid and Assistant
0187 Social Services
0188 Recreation Specialist
0189 Recreation Aid and Assistant
040S Pharmacology
0413 Physiology
0601 Health Science Specialist – Veterans Crisis Line
0622 Medical Supply Aide and Technician
0636 Rehabilitation Therapy Assistant (Title S}
0638 Recreation/Creative Arts Therapist
0640 Health Aid and Technician (Title S)
0642 Nuclear Medicine Technician
0645 Medical Technician
0646 Pathology Technician
0651 Respiratory Therapist
0670 Health System Administration – Medical Center Director
0673 Hospital Housekeeping Management
0690 Industrial Hygiene
0683 Dental Laboratory Aid and Technician
0698 Environmental Health Technician
0962 Contact Representative
3566 Housekeeping Aid
5026 Pest Controller
7304 Laundry Worker
7408 Food Service Worker
Major Construction
Series and Occupation
0340- Project Manager
0800 – Professional Engineer
1102 – Contracting Officer
1170 – Realty Specialist
National Cemetery Administration
Series and Occupation
0303- Cemetery Representative
0303- Program Support Assistant (AO) (Scheduling Office Only)
1630 – Cemetery Administrator
3502 – Laborer
4701- Operations Supervisor
4749 – Maintenance Mechanic
4754 – Cemetery Caretaker/ Foreman
5026 – Pest Control
53S2 – Industrial Equip Mechanic
5703 – Motor Vehicle Operator
5705 – Tractor Operator
5716 – Engineering Eqpt Operator
5803 – Heavy Mobile Equip Mech
5806 – Mobile Equipment Service
5823 – Automotive Mechanic
6904 – Tools And Parts Attendant
6907 – Materials Handler