VA Caregiver Program Purges: Who Is Behind What?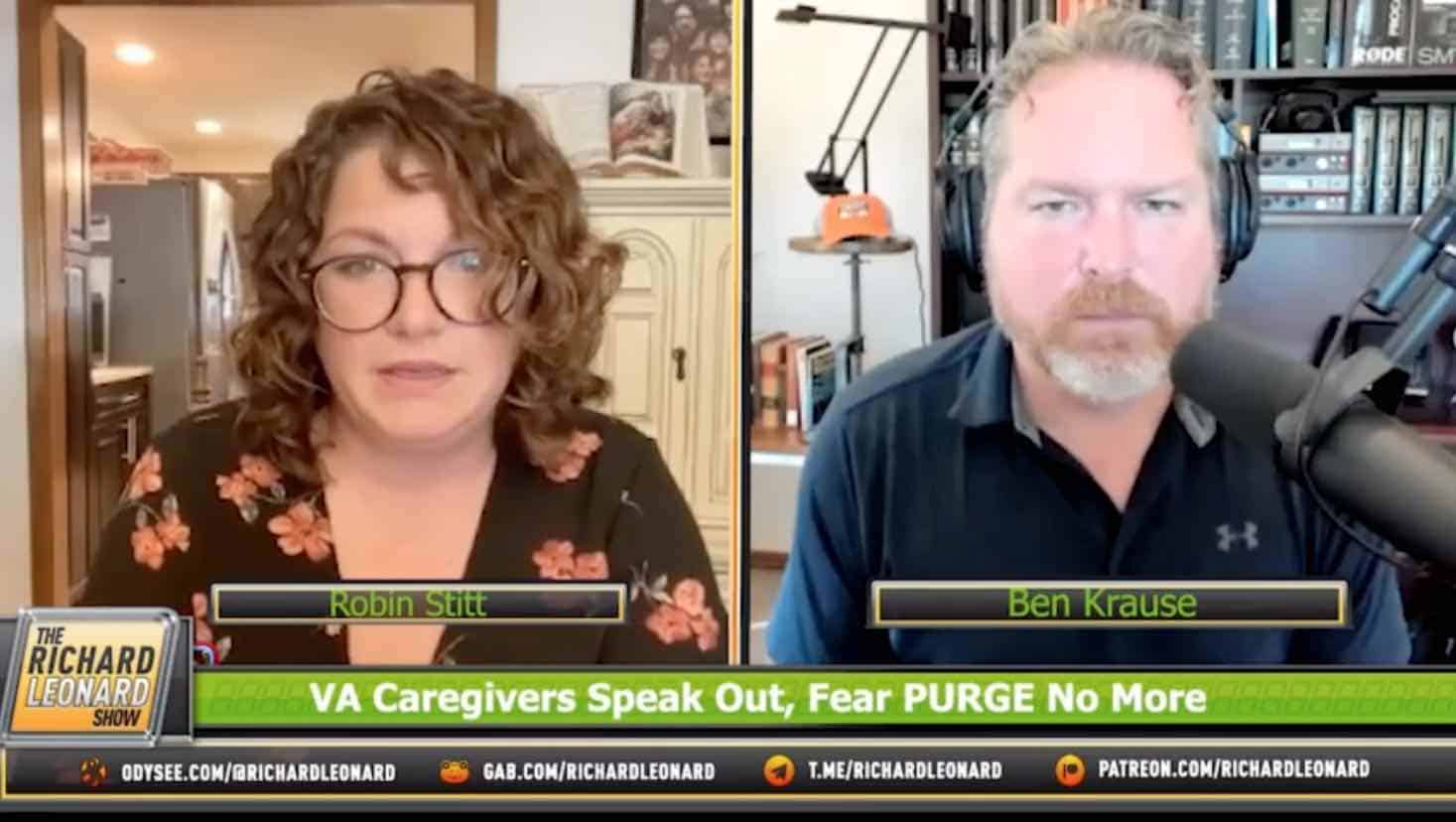 Spouses stepping in the gap between VA Caregiver Program purges and the services their veterans need are taking the agency to the courtroom of public opinion in a big way.
Their goal? To expose who is behind what curtain.
Subscribe to our weekly newsletter and stay up to date.
Curtain One is the organization or individuals at work to repair the damage caused by the recent attempts to purge 90 percent of legacy caregivers from the agency program.
Curtain Two is the magician behind the erratic and harmful policies resulting in caregivers being purged from the program over the past six years.
Fellow caregivers Kristie Sheets and Robin Stitt sat down for an interview last week to discuss their experiences with the VA Caregiver Program. While the interviews pre-dated the announcement by VA of an interim rule change, the concerns expressed by these legacy caregivers are still valid except one.
There is no pending purge as of the interim rule change submitted last week – it is instead pushed out to 2025 – while not a perfect fix, this is a better position. That aside, the caregivers are punching back at harmful agency policies impacting their lives and the lives of others. The conversation with them begins to pull back the curtain on who is behind what.
But who is behind Curtain One (hooray) and Curtain Two (boo-hiss)?
RELATED: VA Announces 3-Year Purge Pause
Answers to this question are touched on in the interviews that aired Sunday evening.
Starting with the remaining core issues: 1) VA use of unqualified social workers to conduct reassessments frequently addressing complicated polytrauma well outside their scope of practice; and, 2) agency attempts to remove caregivers from the program only to replace their services with those of strangers in the home.
Why Caregivers Matter
When addressing anything "caregiver," it is important to remember these caregivers save taxpayers roughly $13 billion annually using 2013 numbers per a RAND study sponsored by the Elizabeth Dole Foundation. Annual payments to caregivers is under $400 million while the VA Caregiver Program receives an annual budget of around $1.9 billion.
At the micro level, caregivers receive around $1,500 monthly on average plus healthcare insurance. Many of these caregivers provide 24 hour care due to concerns of veterans wandering off or starting fires in the home on account of residuals from traumatic brain injury (TBI) or some other disability.
RELATED: Concerned Caregivers Fight To Have A Voice
The cost of in-home care through a licensed provider for 24 hours per day could be up to $15,000 per month. While not all veterans require this level of attention, the daily cost of even a few hours per day is still significantly more than the cost to pay the caregiver who already likely lives in the home.
The takeaway so far? Caregivers help veterans remain at home, which is better for them psychologically in most instances. And, caregivers save taxpayers billions of dollars.
Who would not want these caregivers to continue marching on in their mission and who really has their back?
VA Caregivers Interviewed On Rumble
The interviews were part of a multi-part video coverage provided by The Richard Leonard Show over the past month.
RELATED: Caregivers Take Fight To McDonough
Leonard was kind enough to lend his platform and provide coverage after mainstream media sources like Military.com and Military Times failed to timely cover concerns of disenfranchised caregivers. Many veterans rely on those publications to cover challenging topics, but their respective editors and reporters failed to get the job done, here.
Less than 24 hours after airing this interview, Kristie Sheets received a six-month suspension from one of the caregiver support groups Hidden Heroes administered by the Elizabeth Dole Foundation (EDF). In the interview, Sheets was critical of EDF, its CEO Steve Schwab, and VA SES Meg Kabat.
Reassessment Challenges
About #1. Any reassessment should be conducted by qualified physicians who are familiar with the care the veterans receive. This solution would save taxpayers the millions of dollars it now pays the CEAT social workers, and it would prevent unqualified social workers from evaluating matters too complicated for their scope of practices.
Why would VA spend more to get an inferior product such as a reassessment using social workers instead of physicians to address complicated matters?
How is the agency accounting for records created through the reassessment process where errors are created due to inadequate training?
What are the quality assurance metrics VA is following?
Replacing Caregivers
About #2. There is an apparent conflict going on within the agency concerning the involvement of third parties with policy oversight potentially leading to changing how the Caregiver Program is administered. The agency and certain stakeholders seem to be pushing to replace caregivers with private sector services such as tele-health medication reminders, adult daycare facilities, and in-home nursing services.
For the latter #2 issue, this process seems to assume current caregivers who would no longer receive monetary support and medical insurance will continue to help for free while monies already allocated will be redirected to VISN cost-saving bonus pools and private sector service providers.
Of concern here is the impact of such a displacement on the mental health of veterans who are solely reliant on the presence of their caregivers. Many of these veterans need a person in the home full time to prevent wandering, harm to self, and to address paranoia.
How is VA accounting for these concerns?
Why is VA considering more expensive and invasive options that are not in the veterans' best interests?
What companies and nonprofits stand to gain from displacing caregivers in this manner?
Curtain One & Mainstream Media Spin
To learn who is behind Curtain One should be easy.
Veteran Warriors executive director Holly Ferrel thanked Richardson for her work to craft a rule, "She has done what no prior leader has; she has made it her mission to learn about the needs of those she serves."
Colleen Richardson, executive director of the VA Caregiver Program, worked to publish an interim rule that moves the discharge date to September 30, 2025 from March 2023. The rule referenced a Veteran Warriors lawsuit as the reason for the extension.
The Veteran Warriors lawsuit forced VA to extend the discharge deadline 3 years.
If you read articles addressing the fix from Military.com, Military Times, and Sen. Jon Tester's office, you may come away from the topic with a completely different perspective. In fact, you might think the change was simply the result of good, solid work by "VA officials" implementing "Biden Administration's swift action" using Sen. Tester's characterization.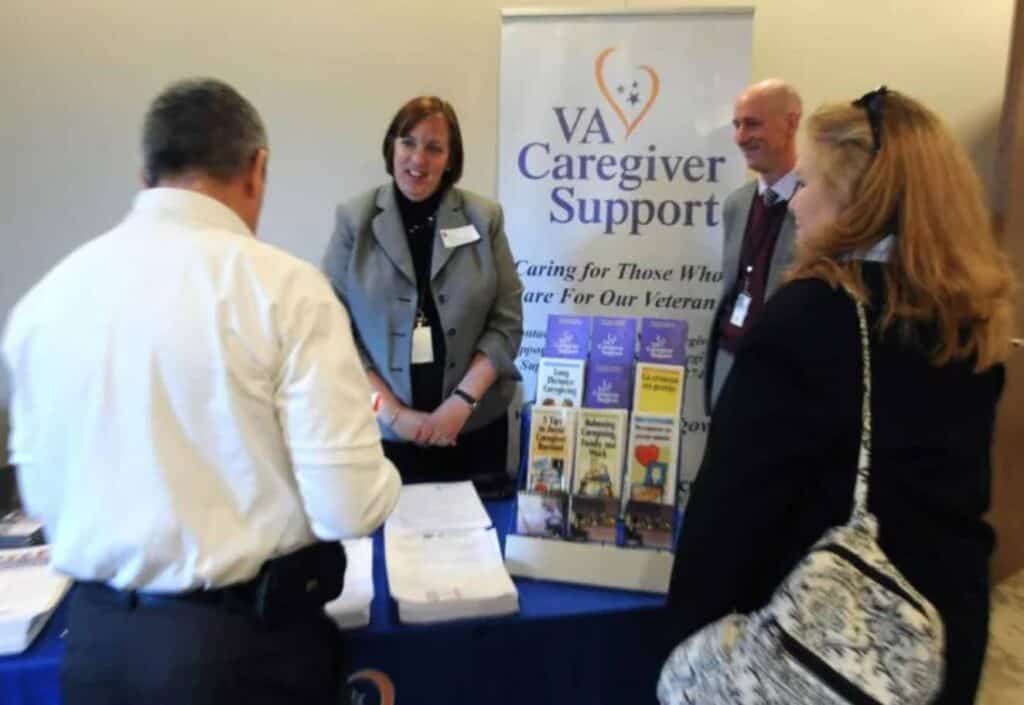 So, Biden and VA officials including Richardson with one picture of Meg Kabat each got a pat on the back. Good for them if deserved. But is it?
Not one reference was made to the Veteran Warriors lawsuit by these publishers showing the coverage lacked context and may serve to confuse veterans needing help from the organization that got it done.
Such a spin via omission with citation to the Biden Administration's "swift action" of the coverage certainly has the odor of an attempt to politicize the policy change just prior to the midterm election. Why didn't the reporters cover what the interim rule said?
If nothing else, it looks like another example of the press playing favorites in an election cycle spin job.
More on this later.
What Lawsuit?
The lawsuit against VA leading to the interim rule submission started nearly 2 years ago.
Veteran Warriors informed VA of problems with the criteria for reassessments well before they were implemented. VA implemented detrimental protocol and definitions not supported by the statute. When VA failed to act to correct the issues, like the veteran organizations of old, Veteran Warriors lawyered up.
NVLSP, one of the law firms representing Veteran Warriors, applauded the agency's extension and referenced the federal court win.
"NVLSP applauds the VA's announcement that it will extend Program of Comprehensive Assistance for Family Caregivers (PCAFC) eligibility for certain Veterans and their Family Caregivers through Sept. 30, 2025, in light of our client Veteran Warriors' recent win in federal court. This is a step in the right direction that will afford veterans and caregivers some very valuable peace of mind as VA reassesses their cases and conducts program improvements," said NVLSP Director of Litigation Renee Burbank. "NVLSP calls on VA to use the additional time to implement new changes to VA's regulations that will ensure all seriously injured veterans and their caregivers get the support and benefits they need and deserve."
Veteran Warriors did not win every issue, but the lawsuit did not need to win on every issue to be a success.
Veteran Warriors prevailed on one issue of many at the current stage of litigation at the US Court of Appeals for the Federal Circuit. That one issue invalidated how the reassessments were adjudicated, noted below. The organization intends to continue litigating the remaining issues at the US Supreme Court.
VA stated, in the rule's submission as published, "[T]he outcome of Veteran Warriors decision has impacted VA's ability to rely on certain determinations made during many of the reassessments that were completed."
The agency continued, "Therefore, VA believes an additional three-year transition period is necessary while VA completes the remaining reassessments and repeats certain reassessments that were completed before the Veteran Warriors decision." Veterans Warriors was referenced at least 30 times in the publication.
If such a statement does not demonstrate direct causation in this context, i.e. "Veteran Warriors decision" changed VA's discharge deadline to add an additional three years, I am not sure what does.
Even if the interim rule's statements are not an example of direct causation, how the agency completes reassessments was directly impacted by the lawsuit's outcome, even if only one issue was decided favorably.
Veteran Warriors deserves the victory nod in this fight given the direct references in the interim rule authored by VA officials and the lawsuits outcome. Again, this rule was authored and published by VA officials. Obvious conclusions based on the plain language of the rule cannot be called misinformation.
Every now and again, I agree whole heartedly with some "VA officials." This is one of those examples, that is, so long as Meg Kabat is not included within the cluster given her history of crushing the caregiver program while simultaneously being lauded as a savior of the program. More on this paradox below.
What do you think? Does "swift action" from the Biden Administration get the win or Veteran Warriors?
Curtain Two: The Meg Kabat Debacle
You may have heard the caregivers reference Meg Kabat repeatedly in the interviews.
Meg Kabat, the social worker and SES currently advising the Secretary on the VA Caregiver Program, largely created the horrific conditions and policies causing major problems that ballooned under the Trump Administration before she resigned.
Briefly, she served as the deputy director in the VA Caregiver Program from 2011 to 2015, national director from 2015 to 2019, resigned from her position after developing a horrible track record, and then was selected to run the program in a new position she appears to have created in 2018 to be implemented under the Biden Administration in 2021, where she has been ever since.
(It seems as if Kabat enjoyed significantly more autonomy as the program's then national director than the current executive director Colleen Richardson, PsyD, of the Caregiver Program based on a comparison of job descriptions.)
Over the past six years, Kabat has successfully blocked and purged thousands of otherwise eligible caregivers using internal adjudicative procedures that resemble legal rational that might make the Star Chamber blush.
In 2017, Kabat was an Obama Administration holdover who left the agency in 2019 after a series of bad management decisions were exposed by VA OIG and aired publicly before Congress.
According to Veteran Warriors, Kabat attempted to restrict access to the Caregiver Program using a rule change initially developed around 2017 and proposed in 2018. Congress blocked the move.
Congress implemented the MISSION Act, in 2018, that authorized VA to draft new regulations.
In April 2019, it was announced Meg Kabat was set to depart the agency to work for Atlas Research. Veteran Warriors was blamed for Kabat's departure alleging the organization published a mean meme to bully Kabat – – though the timing suggests she was allowed to resign and arrange for her next employment well in advance of any meme publication.
Enter the now infamous rulemaking of July 31, 2020, under the Trump Administration, then minus Kabat.
Veteran Warriors believes the 2020 rulechange has Kabat's fingerprints all over it, especially since Richardson was not hired into her position until mid-2021.
Kabat's Pre-2020 Policy Work
Holly Ferrel, Veteran Warriors executive director, has various agency documents suggesting the harmful 2020 rules were the progeny of prior rulemaking work of Kabat as far back as 2017. According to Ferrel, from 2017 to 2019, Kabat put forth proposals containing similar restrictive terminology contested in the 2020 lawsuit.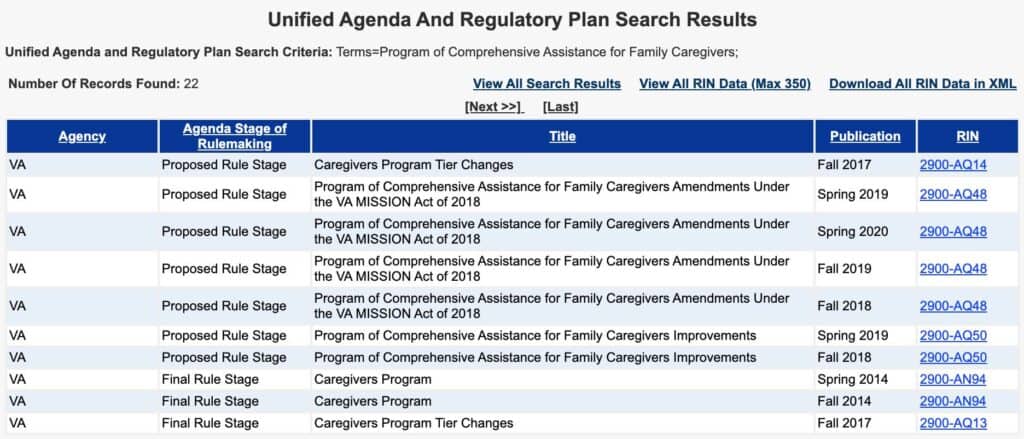 Note that caregivers should not just thank Kabat for all this good will.
These proposals appear to be, at least in part, consistent with recommendations from the Federal Advisory Committee (FAC), titled Veterans' Family, Caregiver, and Survivor Advisory Committee, created in 2017. For some background, since the FAC's inception, it has been chaired by Elizabeth Dole Foundation (EDF) founder and former CEO Elizabeth Dole, wife of the late Robert Dole.
There is evidence suggesting Kabat and other agency officials directly influenced, edited, and drafted recommendations for the FAC that were then sent back to their agency employer for consideration and possible approval as agency policy changes.
Why would agency officials use FAC recommendations as a foil to push through the policies the agency's own officials already want? Could it be that some of the recommendations may result in self-enrichment?
More on this below.
EDF Lauds Return Of Kabat
Kabat was brought back January 2021 by the Biden Administration, with the support and encouragement of EDF. "Kabat is a dear friend to the Foundation and beloved by the veteran caregiver community, and we're thrilled to see her take on this much-needed new position at the VA."
Kabat Quote: 'Social Workers Should Rule The World'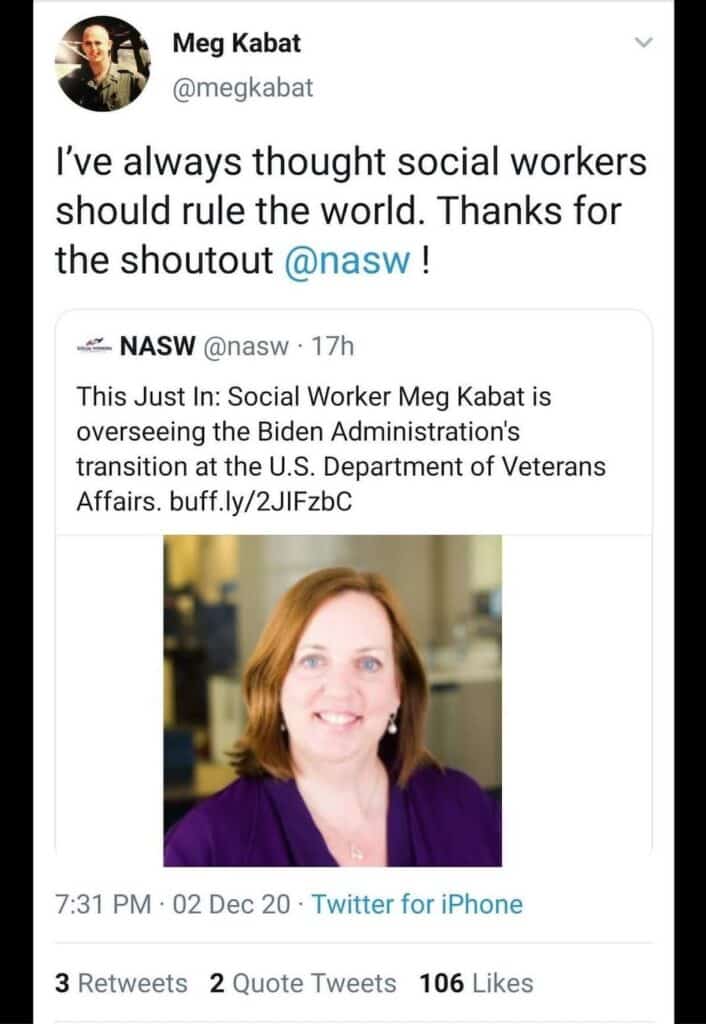 The basis of her return?
She was hired back for cause "unknown and unjustified" if you ask Ferrel of Veteran Warriors.
Kabat now enjoys her SES role with an estimated $40,000 pay boost over her prior GS 15 pay as well as an office on the coveted 10th floor at 810 Vermont. This means she works directly with the executives leading VA.
Did Kabat 2018 Create Her Future 2021 Job?
A FOIA'd email to Kabat sent in 2018 may show Kabat worked to create her future job to which she was hired in 2021, while influencing FAC policy recommendations that are supposed to be independent of agency influence.
Kabat is now a direct report to the Secretary on the program as his senior advisor, a position she apparently worked to create in collaboration with FAC recommendations in 2018. An email between Kabat and the former VA Chief Veteran Experience Officer Lynda Davis reveals these agency officials were steering policy recommendations of the FAC – – to include the FAC's #1 Recommendation.
Who gets the FAC's recommendations? Those recommendations are later presented to agency leadership for consideration and potential adoption.
Not only should VA officials NOT intervene or manipulate policy in this manner, as a FAC should be independent of VA influence in developing its recommendations, but the position being recommended has a striking similarity to the SES position she now holds.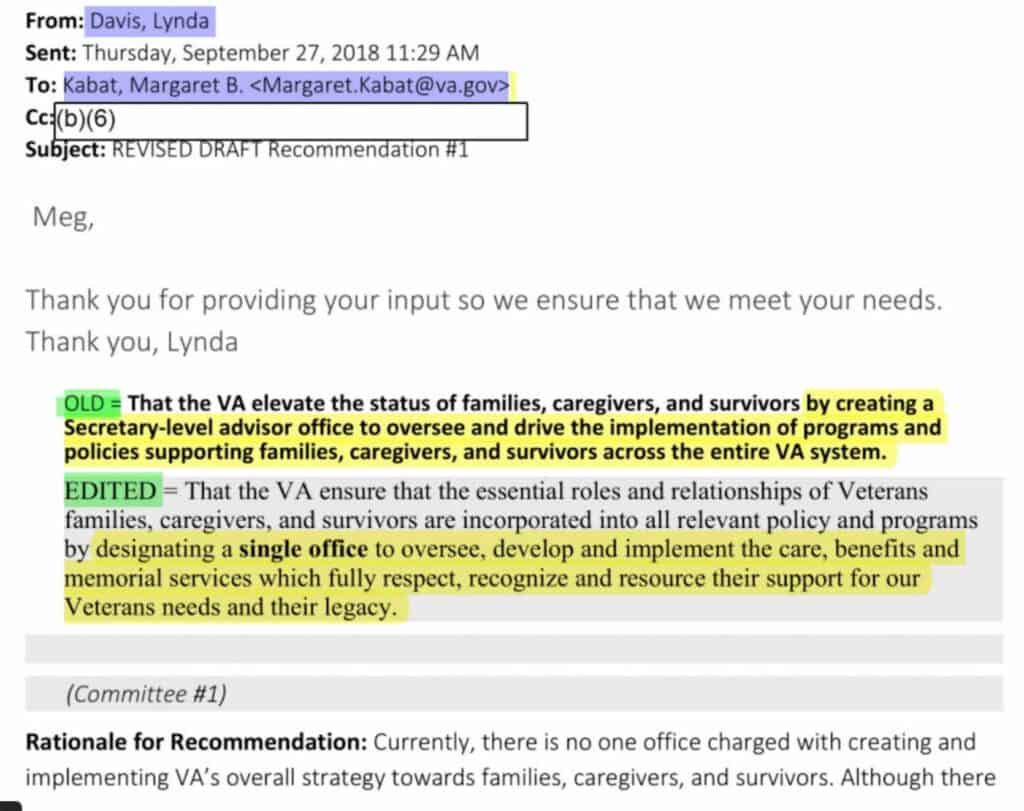 A version of this draft of the recommendation was later listed as Recommendation #2 in the final version dated October 29, 2018. Final draft author of the 2018 FAC Recommendations PDF appears to be an employee of Atlas Research in 2018 based on the document's properties.
Dual Roles Within VA
It is worth mentioning that Kabat not only worked as the National Director of the VA Caregiver Program, 2015-2019, but she also simultaneous served as the Acting Chief Consultant of Care Management and Social Work Services.
Ferrel says, "This gives the perception that Kabat dictated the changes for eligibility criteria – potentially without oversight – impacting hundreds of thousands of past present and future participant eligibility."
Attempts are underway to ascertain the nature of the consultant role.
Accolades On SES Hire
ExecutiveGov provided a summary of Kabat's background when she was selected in 2021:
The Biden Administration has appointed Meg Kabat, Atlas Research senior director, as the senior advisor for Families, Caregivers and Survivors at the Department of Veterans Affairs (VA) Office of the Secretary, Atlas Research reported on Thursday.

"We are thrilled that the administration has called on Meg to advance the care and benefits offered to families, caregivers, and survivors of our nation's Veterans," said Mark Chichester, president of Atlas Research.

"We are thrilled that the administration has called on Meg to advance the care and benefits offered to families, caregivers, and survivors of our nation's Veterans," said Mark Chichester, president of Atlas Research.

Kabat has a wide range of knowledge in health care operations. With Atlas Research, she provided valuable insights that supported the company's clients' and enabled Atlas research to deliver advanced care solutions. Before joining Atlas Research, Kabat served in a variety of roles, increasing in responsibility, with the VA.

In her more than ten year career with the department, she was most recently the national director of the Caregiver Support Program. In the role, Kabat supervised the implementation of Title 1 of Public Law 111-163, the Caregivers and Veterans Omnibus Health Services Act of 2010.
Apparently, her credentials also include getting hired into a role being in charge of the same program you previously tanked – – if there is such a credential. Only this time around, she received greater pay and greater responsibility.
That is, according to Ferrel, after being largely responsible for the past purges in 2017 and 2018. Ferrel suggests the timeline for purges started in Portland, OR, with an informal purge that was rolled out nationwide.
The Einstein Rubric
Einstein's definition of insanity is doing the same thing over and over expecting a different result.
Less than one year after Kabat's SES selection, and after promises to the contrary from the Secretary at the EDF Sixth Annual National Convening October 2021, Kabat's VA Caregiver Program began a heartless campaign to discharge 90 percent of legacy caregivers in a fourth purge.
By the Einstein rubric, either the Biden Administration, who selected Kabat, is completely insane or this most recent purge is part of an orchestrated plan.
Which is it? Does it matter?
"So what?" you may be saying. "The discharges are paused for 3 years."
Multiple veterans were noted in caregiver circles as having committed suicide after learning their caregiver was proposed for discharge.
Those veterans are gone forever. They will not turn back up now that VA is making an adjustment to its policy.
Playing Politics On Veterans' Backs
It is sure handy that Biden has scored a victory less than two months before the midterm via claiming victory through a media boost. But is it moral for Democrats to claim a victory when the leaders Biden picked are the same leaders linked to the bad policies for the past decade under each administration?
Did no one warn Biden's VA leaders about the risk of wrongfully discharging caregivers?
Veteran Warriors sure tried, but it seems the establishment stakeholders failed to take timely and appropriate action. That is until the matter secured the attention of this publication and The Richard Leonard Show.
Mainstream news media did publish stories addressing the purge and congressional oversight. Once Congress scored the headline win for grilling the agency, the Iron Triangle press corps and Congress went dark according to caregivers who tried to get their attention.
No one has yet to explain how the Democrat controlled Congress, Democrat White House, and Democrat-led-VA were unable to timely fix bad rules left over from the Trump Administration after 18 months but instead pressed on with the purge.
What obstacle could have prevented Kabat and friends from rectifying the problems implemented under Trump that put the VA Caregiver Program at risk?
Did Secretary McDonough really mean the words he promised October 2021 at the 6th Annual National Convening for EDF? Per VA's article on the EDF party:
"Our job at VA and EDF is to help those caregivers to find ways to make their lives easier – both because that's the right thing to do, and because supporting caregivers improves outcomes for Veterans," he said.

"We'll move heaven and earth to get caregivers timely access to their VA resources," he said.

"I know that at times, throughout VA's history, caregivers have been overlooked," he said. "Or not included. Or not appreciated for the back-breaking work they do, and the incredible service that they provide. But I'm here today to say, to any caregiver watching, that those days are over. Let me repeat: those days are over."
Are "those days" really over, Secretary?
I thought you said your agency could "move heaven and earth" to get caregivers what they need circa October 2021.
Meanwhile, it would appear Kabat and friends were gassing up the ole' caregiver purge machine ready for another go at these heroic individuals. Six months later, 90 percent of legacy caregivers were set for discharge after running their veterans' through the reassessment gauntlet.
Who Is Who?
While VA and mainstream media refused to timely cover questions like these when policy decision were in the works, such as who is rightly behind Curtain One and Curtain Two, it is sure nice to see them come in with the victory for the Biden Administration less than two months before the midterm election.
What do you think? Is Biden really behind Curtain One as press coverage and Sen. John Tester would have you believe?
Biden had 12 months to fix the Trump Administrations foibles before Kabat's team started its purge machinations. The caregiver purges certainly started under Trump's watch, but he is also no longer in office and often struggled to gain control of VA (though Sen. Jon Tester's press release would have us believe otherwise).
In my 13 years of covering VA, it seems as if VA's senior agency officials are usually more liberal leaning. This would mean the Biden Administration should have an easy time implementing whatever policy changes they want. What Biden wants done, he can get done at VA. The same was true for former President Barack Obama.
Case in point: take a look at the pre-Labor Day abortion policy announcement September 2, the day we issued "The Remy Challenge" to the Secretary about the caregiver issue. Right after the challenge was sent, VA announced it will now provide abortions even in states where it may be illegal.
VA abstained from the topic for nearly three decades before the sudden announcement to provide abortions in response to the June 24, 2022, Supreme Court decision to overturn Roe v Wade. The Congressional Research Service swiftly issued a report on VA's prior ban on abortion July 21, 2022. That same day, VA announced it was watching and assessing whether to provide abortions again for the first time since 1989 in states where it is illegal. By September 2, VA announced its historic reversal of the ban on providing abortions.
Given how hard it's been to sort out the caregiver purges, and how much time has lapsed, one could certainly argue Biden, through McDonough's VA, moved heaven and earth to provide VA abortions despite a federal ban.
This policy flip is not only swift, but it must've taken a considerable lift emotionally for the McDonough who is considered a devout Catholic with two priest siblings – to give you an idea of his eternal considerations on the subject.
RELATED: Pope Francis Respects US Supreme Court Decision And Condemns Abortion
Nothing says "Thank you for your service," more on the eve of Labor Day than VA abortions, I guess. #edfvaboldsteps.
The caregiver purge fix (i.e. interim rule) came two weeks later like a delayed burp after a big meal.
The message?
Abortions were a-go within two months of a Supreme Court decision that made no reference to veterans, but ensuring caregivers get the support they need was handled less urgently, and certainly not swiftly as Sen. Jon Tester and his friends in the press would have us believe. The policy change on caregivers cannot be described as "swift," and suggesting so is a big fat lie, especially after veterans are dead from suicide after learning their caregivers were purged.
No VA officials were "swift," Joe, and no narrative manipulation can make that go away.
Do not pass go. Do not collect $200.
Behind Curtain One: The result of Veteran Warriors' litigation was cited by the agency as the catalyst of the interim rule change. They are behind Curtain One.
Not the Elizabeth Dole Foundation. Not their "dear friend" Meg Kabat. And certainly not "swift" Joe Biden or his Administration.
That leaves Curtain Two.
What the heck? What do caregivers need to do to earn the attention and speedy policy action as what you did with abortions using federal funds?
Is Biden, through his VA officials, behind Curtain Two, standing tall behind Meg Kabat?
This seems like a plausible reality.
Should we be surprised that McDonough, a tough-nosed Irish-Catholic Minnesotan turned senior policy administrator, would let this tomfoolery go on this long into an election cycle? It seems unlikely that he would let something like this go on under his nose.
Kabat is reportedly in direct control of the purge and prior purges. She was a leader on the Biden VA transition team. She was picked for the SES job she likely previously created before leaving the agency.
Who would benefit within the Democratic Party to let Kabat purge 90 percent of legacy caregivers so close to a contentious midterm election?
Certainly not Biden or his loyalists. Perhaps a Team-Harris loyalist thought the Vice President may have something to gain?
Could it be that Kabat is a closet Republican? She would be a unicorn when it comes to VA social workers if that were true. Very unlikely.
We may never know how or why the Democratic Party fumbled the caregiver ball leading up to the March purge or the six-month delayed rule change to delay discharges.
We do know they kicked the can down the road like a hot potato to 2025.
We also know, at least when it comes to optics, that it was more politically expedient for the Biden Administration to use federal resources at VA for abortions than to fix the caregiver dilemma. The fix could have come before the purge harmed veterans or after VA lost the key issue in court back in March. Only after VA overturned a prior federal ban for abortions did the Biden Administration have time to resolve the March 2023 discharge deadline.
Do you agree with Sen. Tester, that "the Biden Administration's swift action" was the catalyst of the September 15 fix? Or, does it seem more likely the interim rule author correctly pointed to the Veteran Warriors as the catalyst?
Based on the timeline, caregivers would have seen swifter relief seeking a VA funded abortion post-Roe than seeking protection from the agency's harmful and hazardous discharge scheme. That's my take.