VA Vocational Rehabilitation Conference Holds First Veterans Panel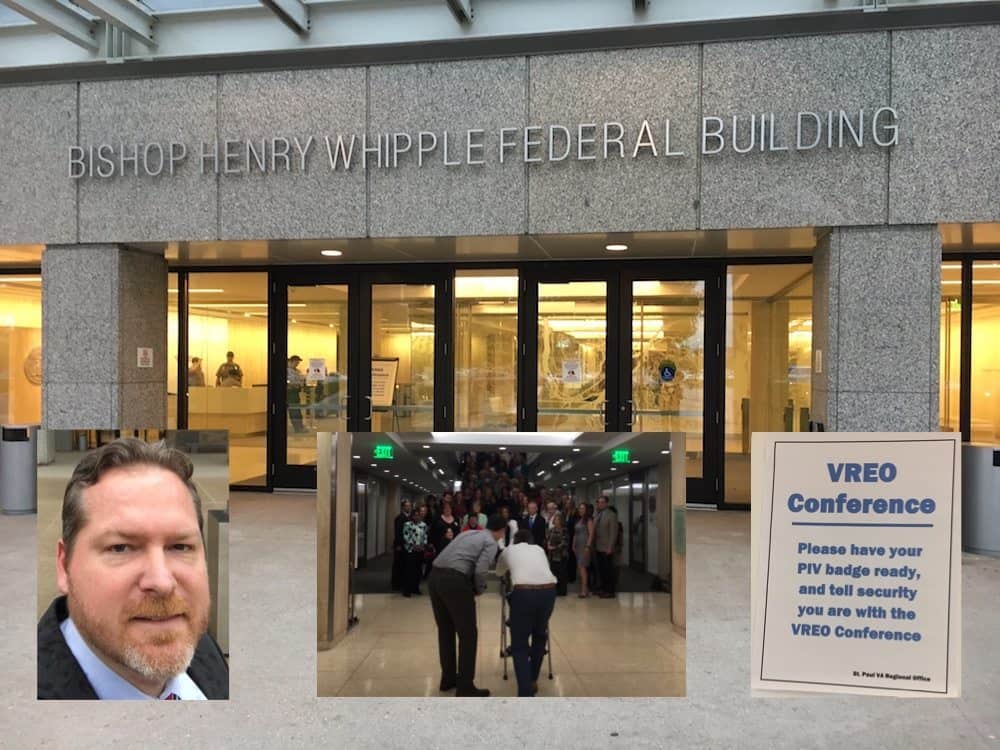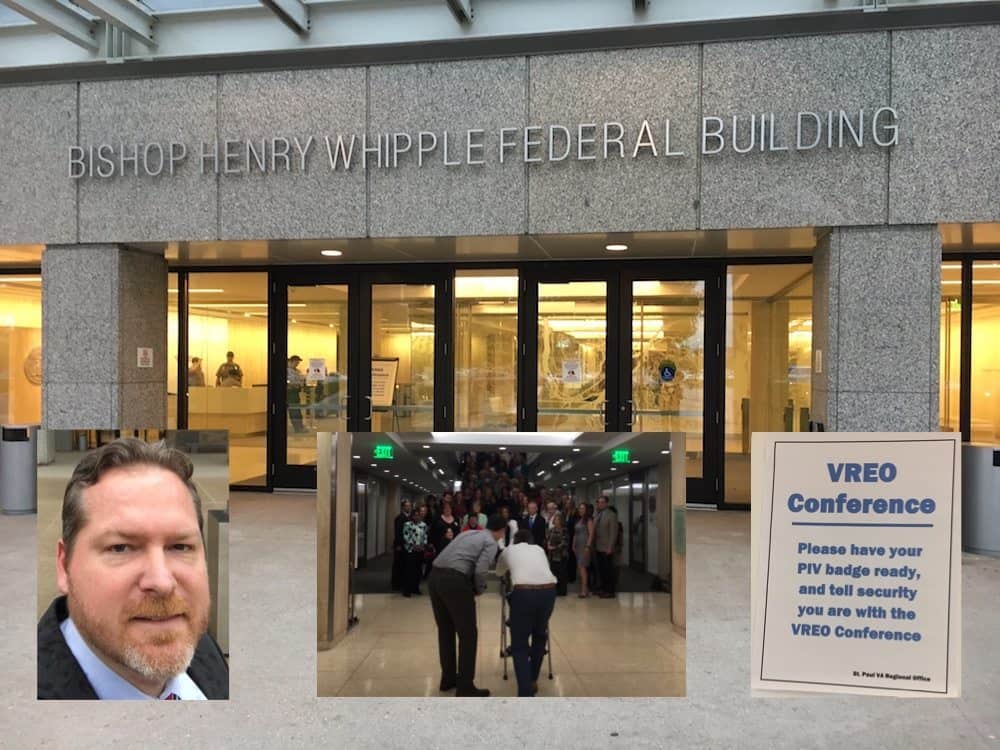 This year's VA Vocational Rehabilitation conference was the first of its kind held at the newly remodeled St. Paul Regional Office, but that was not the only first.
The conference also held the first veterans panel for the benefit of conference attendees, which was made up of senior leadership within Vocational Rehabilitation & Employment (VRE or VocRehab). The veterans panel was made up of five veterans who previously used VocRehab, including Benjamin Krause (me).
The trip started off with a splash as I almost photo bombed the entire group of VRE Officers trying to take a group photo in the main regional office stairwell. VRE Officers are managers of the program in each regional office who came from across the country ranging from Seattle, WA to Togus, ME. Over 80 senior leaders were in attendance.
As for the panel, it consisted of 3 VA employees, one veteran service officer from DAV, and me. Surprisingly, despite being VA employees, the comments were genuine where little was held back. Though, in the future, I would like to see more non-VA employees on panels.
Veterans Panel Questions
Primarily, we were asked to explain our background first as for the first round. The second round question was to explain something positive about VocRehab. The first was to explain something negative about VocRehab that needs work. And last, they asked for any parting comments or takeaways.
The overall takeaway from everyone was that VocRehab needs to do a better job communicating program options and policy before the veteran attends the first meeting.
This is a longstanding area of weakness VocRehab has failed to address, and it is why I sell my guide, the VocRehab Survival Guide, which helps vets prepare for the first appointment or appeal. I have offered to work with VocRehab to create their own version, but the agency refuses to hire me for that purpose stating they cannot give my company preference.
LEARN MORE: The VocRehab Survival Guide
Meanwhile, they will hire other veteran owned companies for a similar purpose. Maybe they are just afraid of getting Ben cooties?
My VocRehab Challenge, 'Put Me Out Of Business'
I should add that at the end of the panel, I challenged the VRE Officers listening to put my out of business by building a better VocRehab guide than what I have created. Or, they could ensure all their counselors follow the law and treat veterans with dignity and respect. Some counselors do this but many do not.
At the end of the day, I am in the cleanup business… cleaning up messy claims where veterans were wrongly denied by lazy or poorly trained counselors. My entire platform, DisabledVeterans.org and my law practice, Krause Law, is focused on help veterans get the benefits to which they are entitled. Benefits they earned.
If VocRehab did that, I would be out of a job, and gladly so, earning big bucks working in business law. But, here I am. Fighting in the trenches.
Again, if they wanted to, with their $1.5 billion budget, they could easy put me out of business or hire my company to create a guide for all veterans. And/or, hire my service-disabled veteran owned business to consult and repair VocRehab's problems.
Such a guide would reduce dropout costs, which are around $4,000 per veteran who starts the process but does not complete it. Tens of thousands of veterans dropout each year. And, such consulting would help VocRehab stop violating the rights of veterans while wasting tens of millions each year in taxpayer funds on pushing veterans into the hampster wheel when wrongly denying claims.
One complaint from one of the panelists who present works inside VRE is that veterans commonly come into the program without a clue what it can do, and then those same veterans make requests that are not reasonable or possible.
Now, after almost a decade of me preaching that message, "You need to inform the veterans well in advance of the first meeting," VRE still refuses to take a common sense approach to the problem of asymmetrical information and dysinfo.
Why is that?
Veterans Panel Answers
As for the three questions after sharing my biography…
1) The best thing about VocRehab is that the benefit can help a veteran radically change his or her life… so long as the program administrators function properly. A veteran can come from a blue-collar background like myself and wind up with a great career as a lawyer. That is an incredible turnaround.
2) Communication in the program needs improvement. Counselors withhold information from veterans and even mislead the veterans about their options at times. Veterans are also ill-informed about how the program works when applying. This results in a huge waste of resources… But VocRehab has continually failed to address the upfront education piece.
3) VocRehab counselors need to develop more cultural sensitivity to veterans; they need to conduct comprehensive vocational assessments; and, they need a deeper understanding of disabilities and how they impact employment.
One-Way Mirror
I still have had limited success really getting into the program to fix it from the inside out. Instead, I am stuck giving Jack Kammerer and his subordinates feedback like what you would expect when being interrogated by police in front of a one-way mirror.
It is not ideal, but better than nothing.
The main difference, at least, is that Kammerer is professional. However, there is a lot of material they do not want me to see.
How do I know this?
Because they have resisted my attempts at getting full access to VRE training materials since 2014. Even when I make requests via FOIA, I still get bizarre denials or the program gives me records that are difficult to make out.
But don't you worry, I will get those records, come hell or high water.
Also, as an after-thought, I should point out that of all the panelists there, and participants in the audience, I was the only one not receiving a paycheck for my time. Everyone else is likely being paid a salary.