VA Announces New "Breakthrough" Painkiller Replacement For Opioids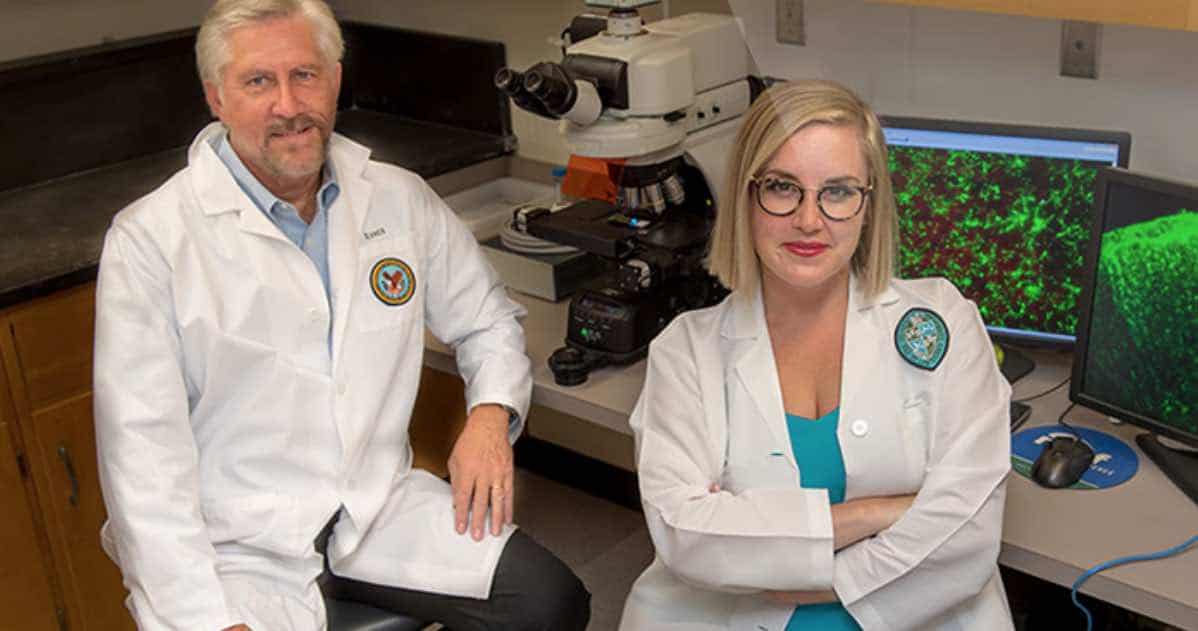 The Department of Veterans Affairs just announced a new "breakthrough" drug it may use to treat pain instead of opioid medications pending future research.
The new drug, called ZH853, was developed by VA scientists out of the Southeast Louisiana Veterans Health Care System in collaboration with Tulane University. The goal of the research was to develop a drug that helps address higher levels of pain without the side effects.
Some of the more concerning side effects of opioids include addiction and depressed breathing. The developer of the drug, James Zadina, PhD, enjoys dual appointments at VA and Tulane. About the new drug, Zadina said, "A drug that prevents the transition from acute to chronic relapsing pain would represent a true breakthrough in drug development for pain management."
Excerpt From Journal
The study Zadina published last week in the Journal of Neuroinflammation explained the conclusions of research on rats that sounds promising should humans experience the same benefits:
As expected, morphine increased and prolonged pain in all experiments compared to vehicle treatment. However, ZH853 treatment reduced the overall time spent in pain and the severity of pain scores compared to morphine. ZH853 not only reduced inflammation versus morphine treatment but also, in some instances, acted as an anti-inflammatory drug compared to vehicle treatment. Finally, ZH853 prevented the development of LS while vehicle- and morphine-treated animals showed robust relapse to pain.
Opioid Withdrawals
Since the Candyland scandal broke in 2015, VA has worked hard to reduce its reliance on prescribing opioids to veterans by more than 50 percent. The agency now supports use of alternative treatments over opioids including acupuncture, yoga, and chiropractic care.
However, many veterans do not agree in how the agency swiftly ran in the other direction away from opioid use toward alternatives without adequately reducing veterans' reliance on the drugs, first.
Instead, many veterans report their providers suddenly refused to prescribe opioids resulting in severe problems with drug dependency and withdrawals.
One commenter on a VA article asserts the agency is not being truthful about opioids and the impact of sudden withdrawals on veterans:
As usual the article failed to tell the truth. The VA mercilessly took every veteran with chronic pain off opioids without any care of what the policy would do to us. Then they insulted us further by giving us nsaids that do not work and cause gastric disturbances as well as liver problems in people like me who have a damaged liver from chronic Hep C. Then because I have a doctor outside of the VA, they threatened my doctor that if he did not force taper all veterans that they would take action to take his license. I have CRPS AND CIDP and am paralyzed and in a wheelchair. I have had it with the strongarm tactics of the VA.
VA allowed additional discourse about the announcement on its public-facing blog. Feedback from VAntage Point is instructive:
Commenter 1
I love how the media now parrots acupuncture, yoga and chiropractic medicine as viable treatment for pain management. Repeating it over and over, even in print, does not make it so. Also, many of us who are on opioids have tried those things as well as many other approaches, including the other now parroted terms mindfulness, meditation and cognitive behavioral therapy.
I'm hopeful for this new drug, however, I'm curious if it rips up one's stomach like NSAIDS do when on them daily. If they could just find a way to make Toradol stomach friendly, what a wonderful discovery that would be.
Commenter 2
Studies have shown that less than 5% of patients become addicted to opioids. Those that do often did so on a stolen prescription and moved onto stronger harder drugs. Millions of compliant chronic pain patients were cut off completely or forcefully tapered down in amount of medicine and are now either suffering and miserable at home or have committed suicide. The VA did the same thing many private physicians did and misread the CDC's recommendations for non pain management doctors prescribing opioids for the first time. Consequently the results were people losing their pain medicine that they had been responsibly using, as well as being subjected to embarrassing pill counts & urine tests for drugs,
Commenter 3
Time for VA Guinea Pig trials
Commenter 4
It is highly premature to suggest that a trial in RATS is in any sense a "breakthrough". There are too many potential pitfalls in the protocols with animal models. The most that can be said for a trial of this sort is that it seems "suggestive" of an avenue deserving further research. What we may have here seems to be an example of self-promotion triumphing over science.
Next Steps?
So what do you think about the new "breakthrough" drug to replace opioids? Is this a flash in the pan or is the drug truly something that will help veterans?
This reminds me of the hepatitis C cure created by a company owned by Ray Shinazi, PhD, a VA employee who developed the drug while working at VA seven-eighths time. Apparently, in the one-eighth left over, the researcher was able to build up a valuable medical research company that was then sold to a major pharmaceutical firm for hundreds of millions in profits to Shinazi.
RELATED: Shinazi Sells Hep C Cure Company For $400 Million
I recall each pill cost around $1,000 with the entire treatment costing around $84,000 per person. Meanwhile, the cost of manufacturing the drug was around $1,400 for the entire regimen. VA supposedly received a discount buying back the drugs, but it still cost a lot.
Now, for most employees, any invention created while employed is usually the property of your employer. However, that is not the case for at least some VA researchers.
I tried to FOIA a lot of those documents related to Shinazi's invention and his award that same year, 2016, for developing the hep C cure that was so expensive. The agency has yet to produce all the records I requested without redactions.
In that context, it will be curious to see how Zadina is portrayed by the agency moving forward. Will he win mountains of awards like Shinazi? Will his invention be sold to Big Pharma? Will VA end up having to buy back the drug once it goes into production?
How Much Is Enough?
On the one hand, I want top researchers developing cutting edge drugs, and I believe – – 100 PERCENT – – that those researchers should receive adequate compensation when they develop lifesaving drugs. If you find a breakthrough that saves lives, you should be able to retire on what you earn from that breakthrough.
Now, does that mean you should be able to make $400 million from an invention you created largely from research resources that were publically funded?
The catch being that public taxpayers generally fund a great deal of that research. So, should the product of that research be privatized to the highest bidder, or should the price of the drug be commoditized as it is in many other countries?
Personally, I think a few million is likely sufficient compensation for any breakthrough – – enough to buy a small island and retreat for an upcoming zombie apocalypse.
I am curious about your thoughts not only about opioids but also the notion of taxpayers funding this research that is very frequently privatized once a breakthrough occurs.