Veterans Twice As Likely To Commit Suicide Says New VA Study On Veteran Suicide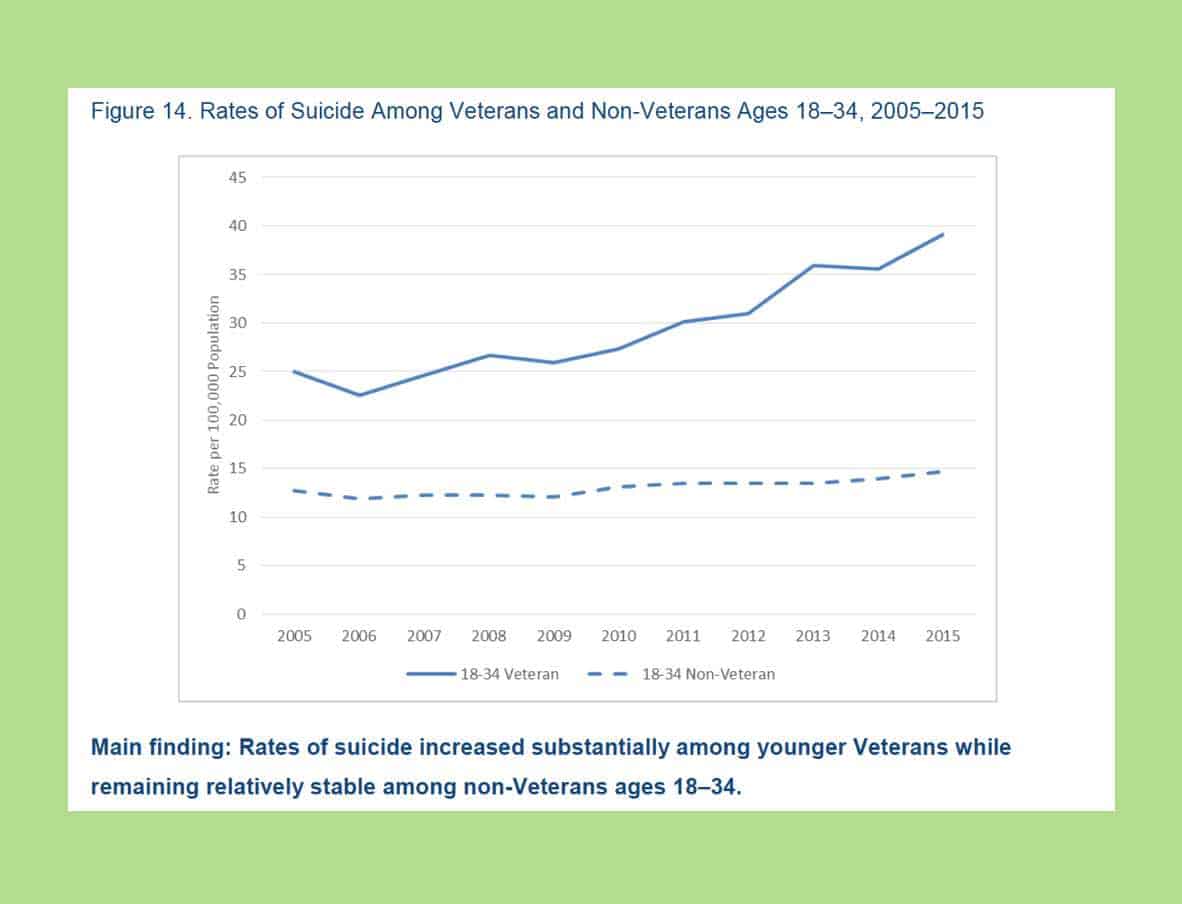 A new Veterans Affairs report with updated statistics on veteran suicide shows veteran suicide numbers are significantly higher than non-veterans and not going down despite tens of millions in spending.
The report, VA National Suicide Data Report, shows veterans aged 18-34 have a suicide rate more than twice as high than non-veterans. The numbers published cover 2005-2015 and contain data not previously published in the agency's rushed 2016 report.
While the agency asserts veteran suicide has remained static at 20 deaths per day, the newer numbers show the agency's spending to reduce suicide has only benefited the government contractors and not the veterans targeted with the resources created.
RELATED: Veteran Commits Suicide By Fire
Who would have thought suicidal veterans would not pay much attention to fancy websites and advertisements about how great VA is at addressing veteran suicide.
RELATED: New Veteran Suicide Prevention Rollout
In 2016, the agency published new numbers that were reportedly more accurate than previous research showing veterans commit suicide at a rate of 22 per day. That number became a tagline for those who believe VA does not care about veteran suicide.
Using then newly calibrated statistics, VA was able to assert the number of suicides was actually 20, not 22.
So, with this new report, the agency asserts the overall number is still 20 per day, but individual breakdowns show the suicide rate is going up – – and it is going up faster than non-veterans despite record funding and VA supposedly.
RELATED: Veteran Suicide On The Rise (2012)
Suicide Report Executive Summary
Below in italics is the executive summary from the report:
This report provides information on suicide mortality for the years 2005–2015. It incorporates the most recent mortality data from the joint VA/DoD Joint Suicide Data Repository and includes information for deaths from suicide among all known Veterans of U.S. military service. Data for the joint VA/DoD Suicide Data Repository were obtained from the National Center for Health Statistics' National Death Index (NDI) through collaboration a with the DoD. Data available from the NDI include reports of mortality submitted from vital statistics systems in all 50 U.S. states, Washington, D.C., and Puerto Rico.
This report builds upon prior analyses of Veteran suicide and provides additional and updated information on all known suicides among Veterans living in the United States from 2005 to 2015. Findings include direct comparisons of Veterans' suicide rates with those of analogous non-Veteran populations, calculations of suicide rates among high-risk subgroups (e.g., Veterans diagnosed with mental health and opioid use disorders), and comparisons of Veterans with and without recent receipt of VHA services. Rates of suicide were calculated by calendar year to facilitate comparison with national statistics and reports from other agencies.
Please note that this report includes data on suicide deaths through 2015 that were not available at the time of the 2016 report. It also incorporates data obtained from the DoD that were unavailable for previous reports. These additional mortality data distinguish Veterans with likely Title 38 status, meaning potential full eligibility for VA care, from those who were active-duty Service members or who were National Guardsmen or Reservists never federally activated at the time of their death. Of note, all of these populations, as well as former Service members, are included as Veterans in this report. These additional data are included for the years 2005–2015 in this report's calculations of the number of Veterans who died by suicide each day. All other findings in the report refer specifically to Veterans who had been activated for federal service and were not currently serving on active duty at the time of their death.
Findings are based on analyses conducted by the VISN 2 Center of Excellence for Suicide Prevention and the VA Serious Mental Illness Treatment Resource and Evaluation Center in the Office of Mental Health and Suicide Prevention. Results were obtained using all available information to identify Veterans who died by suicide.
Key findings include the following:
Overall, general trends in Veteran suicide, previously reported through 2014, remained consistent through 2015.
In 2015, Veterans accounted for 14.3 percent of all deaths by suicide among U.S. adults and constituted 8.3 percent of the U.S. adult population (ages 18 and up). In 2010, Veterans accounted for 16.5 percent of all deaths by suicide and represented 9.6 percent of the U.S. adult population.
The burden of suicide resulting from firearm injuries remains high among Veterans. In 2015, the percent of suicide deaths that involved firearms remained unchanged from 2014 at 67.0 percent.
After adjusting for differences in age, the rate of suicide in 2015 was 2.1 times higher among Veterans compared with non-Veteran adults.
After adjusting for differences in age, the rate of suicide in 2015 was 1.3 times higher among male Veterans compared with non-Veteran adult men.
After adjusting for differences in age, the rate of suicide in 2015 was 2.0 times higher among female Veterans compared with non-Veteran adult women.
In 2015, rates of suicide were highest among younger Veterans (ages 18–34) and lowest among older Veterans (ages 55 and older). However, Veterans ages 55 and older accounted for 58.1 percent of all Veteran suicide deaths in 2015.
In 2015, an average of 20.6 active-duty Service members, non-activated Guard or Reserve members, and other Veterans died by suicide each day. 6.1 of these were Veterans who had recently used VHA services.
After adjusting for age, suicide rates increased for Veteran and non-Veteran populations from 2005 to 2015. However, rates for Veterans who did not receive care in the VHA increased faster among VHA using Veterans.
Considering unadjusted and age-adjusted rates for 2015, Veterans who had recently used VHA services had higher rates of death by suicide when compared with non-VHA-using Veterans, overall Veterans, and non-Veterans. This is similar to information presented in the previous report and is consistent with findings reported elsewhere. VHA-using Veterans are a population that has active health and mental health care needs and that is actively seeking care because those problems are causing disruption in their lives. Many of these illnesses, such as mental health or substance use disorders, are associated with an increased risk of suicide.
Full Veteran Suicide Report
[documentcloud url="https://www.documentcloud.org/documents/4522410-180618-OMHSP-National-Suicide-Data-Report-2005.html" responsive=true]