VIDEO: Was VA Called Out Over 'Psychic' VA Settlement Debacle?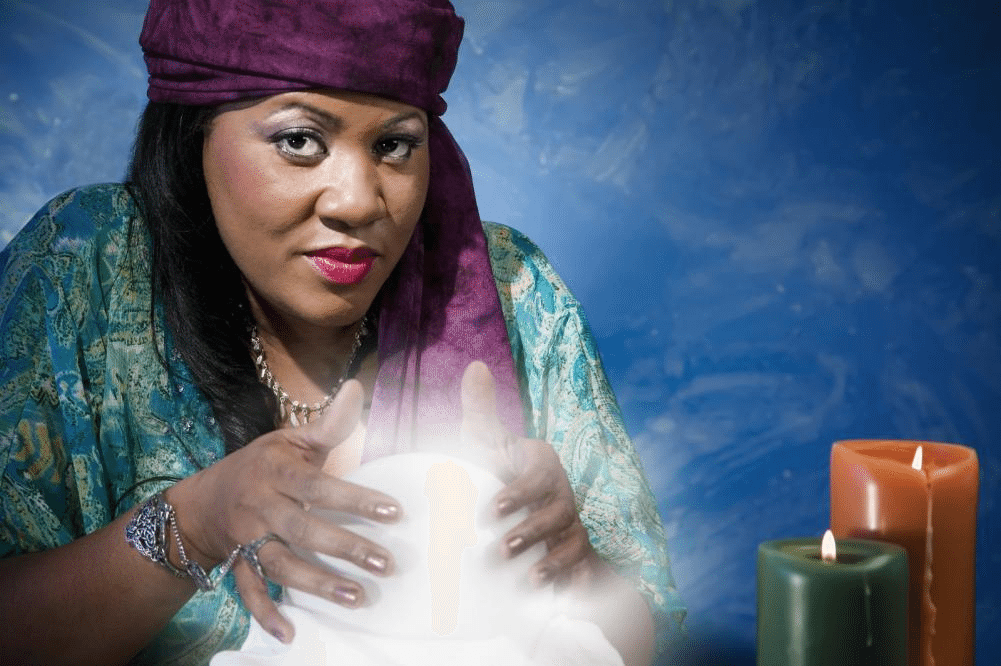 Rep. Jeff Miller called out VA for failing to terminate numerous employees, including Lucy Filipov, an official who pressured subordinates to have psychic readings.
Yesterday, the House Committee on Veterans Affairs held yet another hearing covering accountability failures within VA. Toward the very end of the hearing, Miller exchanged barbs with VA top lawyer Leigh Bradley.
The subject of the questioning is believed to be the refusal to terminate VA official Lucy Filipov despite at least two removal recommendations following agency investigations. Miller questioned Bradley who repeatedly refused to answer the questions. Instead, she provided a VA spin on each that evaded the simple yes or no answer Miller sought.
Notice Bradley's explanation of how she "knows" VA gave the committee all the disciplinary actions sought for review by the agency. Further take note of her rebuke of the Chairman's questioning style and refusal to provide direct answers.
This is probably the new rebuff of accountability we can expect to see going into this election style.
Will we ever see real accountability, at least between now and November? Doubtful.
ABUSE OF VA SETTLEMENT AUTHORITY
Behind the questioning is VA's abuse of its settlement authority to pay off bad employees while also whitewashing their records. So, not only is VA paying off whistleblowers. It is also paying off those who attack whistleblowers to avoid unfavorable court proceedings.
Case in point is believed to be focused on Lucy Filipov. She was the acting Philadelphia benefits director who was accused of abusing her position and being too chummy with subordinates. She was also linked to altering veterans claims records and spying on Congressional staffers.
RELATED: VA Official Pushed Psychic Readings On Employees, Collected Fee
Assuming this is accurate, and Miller was talking about the Filipov VA settlement agreement, I wanted to provide some background to let you all know how exactly baffling VA's behavior is in her situation.
If they refuse to hold Filipov accountable, they will hold no one accountable.
LUCY FILIPOV BACKGROUND
There, she pressured her subordinates to receive psychic readings from another colleague's wife, Gary Hodge. Filipov collected a fee from each of the subordinates and paid Hodge's wife for her services. Hodge was the pension manager at the facility who was also caught making false statements on his annual Confidential Financial Disclosure Reports.
According to coverage from HNGN, the attendees were none too satisfied from the occultist entertainment that evening:
"Attendees told investigators that they paid between $15 and $35 for the psychic services. They left the money in Filipov's kitchen, who then collected it and gave it to Hodge's wife. Most were unhappy with the experience and bickered over who was going to be read first so they could go home sooner.

"The report found that Filipov failed to first check with an ethics official to approve the event, and she misused her authority by encouraging subordinates to attend the readings for the private gain of Hodge and his wife. Further, the report said Filipov failed to maintain adequate distance between herself and the subordinates she handpicked to attend the event, possibly creating "an appearance of preferential treatment" and diminishing "her authority as a senior leader."
LUCY FILIPOV VA SETTLEMENT
According to Miller and insiders linking his statements to the Filipov situation, her likely settlement with VA was as follows despite IG and an AIB report recommended her removal:
Settlement included agreed 2015 performance rating of fully successful with no negative narrative regarding issues addressed in proposed removal.
She would receive 137 hours of annual leave restored into her annual leave account apparently for use or lose time off she accrued while on paid leave during the investigation.
That there would be no disciplinary acts taken against the employee for any known or unknown acts warranting discipline before the effective date of the agreement.
VA agreed to give her a letter of reference.
Most insulting of all, VA agreed to pay attorney fees.
This was the agreement despite OIG concluding she should be removed for her behavior. How could this be? Even Rep. Miller was baffled:
"This is for a person who was recommended for removal. I just don't understand how it could go from removal to all of this. So this person is still employed at the department. This person was charged with retaliating against whistleblowers. It just doesn't make sense that something like this would be allowed to take place."
The most insulting of these agreements are the basic whitewash of her performance report for 2015 and that the agency agreed to use taxpayer money to pay for her attorney fees.
She was recommended for removal, after all. OIG confirmed the reports in part, as you will read below.
OTHER DIRTY DEEDS
Filipov is also an executive linked to attempted to spy on House Committee staffers in 2014. The staffers responded to reports that Philadelphia RO was destroying boxes of files. When the staffers showed up. Filipov allegedly forced them into a room with active recording devices that were switched on.
RELATED: VA Illegally Spied On House Committee Staffers, Wrote Harassing Notes
One staffer, Rory Riley, former head of the DAMA subcommittee (Disability Assistance and Memorial Affairs), found a notepad apparently belonging to Filipov where the executive told her staff to ignore Riley and claimed Riley had a "stick up her ass". Riley took a photo of the notepad she found carelessly left by a VA employee, possibly Filipov, in the women's bathroom at the facility.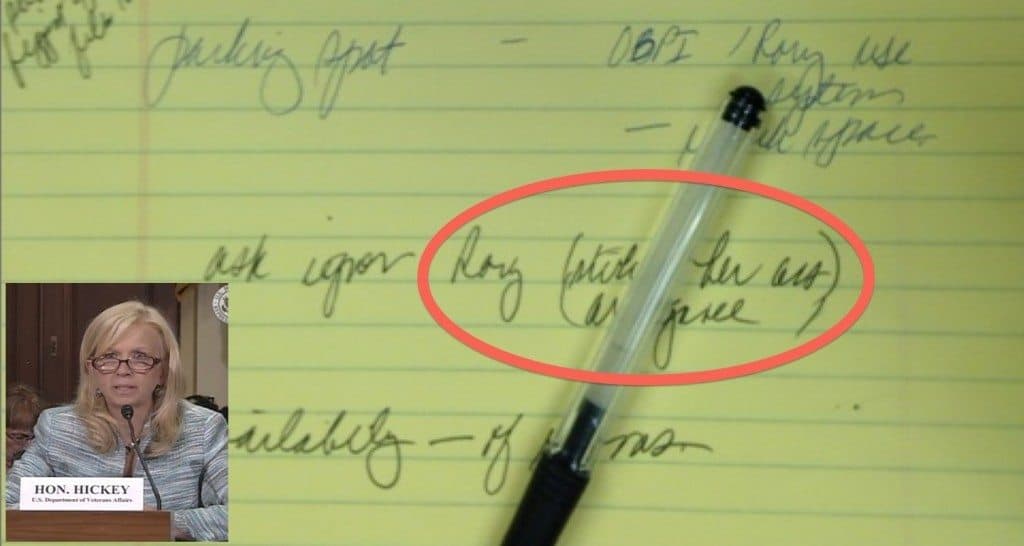 Filipov was allegedly involved in the destruction of veterans claims records. She was also linked to falsification or manipulation of veterans claims data including changing dates concerning claims evidence.
VA OIG ON LUCY FILIPOV
VA OIG made the following conclusions about her behavior.
"We substantiated that Ms. Lucy Filipov, Assistant Director, Philadelphia VARO, while as the Acting Director, misused her position for the private gain of a subordinate and his spouse, misused her title to endorse the private enterprise, and invited subordinates to her home to take part in psychic readings. We also found that she had a less-than-arm'slength relationship with subordinates whom she characterized as friends. As a senior leader, she is held to a higher standard and should set the tone for her subordinates to follow, and establishing personal relationships with a select group of employees within her chain of authority gives the appearance of preference for those few employees.

"Although we found no actual preference, just the appearance of preference diminishes her position and authority as a senior leader. Further, we found that Mr. Gary Hodge, Manager of the Pension Management Center (PMC), failed to report his spouse's income on his 2013 and 2014 Confidential Financial Disclosure Reports, Office of Government Ethics (OGE) Forms 450, which he certified as true, complete, and correct. We made a criminal referral of the false statements to the U. S. Department of Justice (DOJ), but they declined to criminally prosecute in favor of administrative actions. Mr. Hodge also failed to claim that same financial gain on his and his spouse's income tax returns. We referred the failure to report income to the Internal Revenue Service (IRS) and the Pennsylvania State Department of Revenue."
As of this writing, Filipov still is employed at VA. Maybe the psychic told her she had nothing to worry about?
Source: https://www.va.gov/oig/pubs/VAOIG-14-04494-347.pdf
(NOTE: The photo above is a stock photo depicting a "psychic" that I could post here without violating copyright, but it is not the actual picture of the psychic.)