Is VA Dysfunctional on Purpose? I Gave My Opinion on 91.3 KBCS Radio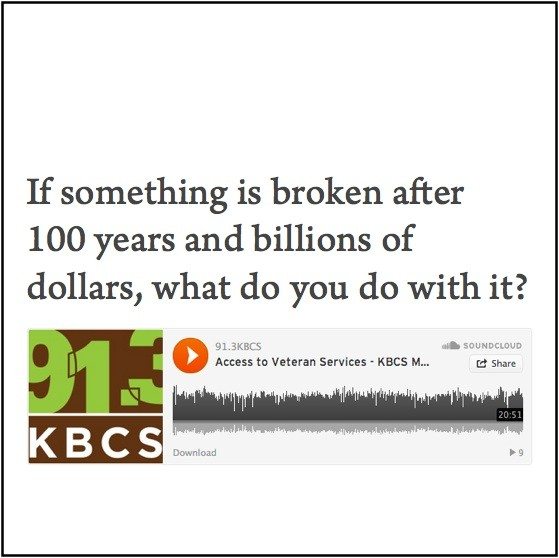 I think the answer is plainly, "Yes, it is dysfunctional on purpose," just based on common sense.
Something cannot be broken for 100 years with the amount of attention and money that has been thrown at it unless it is broken intentionally.
There, I said it.
I provided this position and a brief explanation while interviewed on Radio 91.3 FM KBCS last week. The interview is linked below for those of you who are interested.
https://kbcs.fm/2013/11/15/access-to-veteran-affairs-services/
Here is a quick summary of the issue and other radio guest who was featured on the show. I did a short write up of my main point in a paraphrased quote below.
In March of 2013, The Department of Veterans Affairs reported over 600,000 veteran unprocessed claims.  In November of 2013, the Head of the Department of Veteran Affairs, Eric Shinseki claimed they had cut the number of claims by a third.  In the meantime, the Washington Times reported that despite the improvement in the number of VA claims, 700,000 former servicemen and women remain waiting for medical benefits owed to them because of a backlogged system that takes an average of 300 days to navigate.  We'd like to focus on what veterans in our region and across the country are experiencing as they claim their need for services with the Department of Veterans Affairs.

Guests:

Rick Lawson – He served in Balad, Iraq in 2004 and 2005.  He also served four years in the Washington Army National Guard from 2002 to 2006 before receiving a medical discharge.  Today, he's an veterans' advocate and hopes to work toward a degree in public health.
Benjamin Krause – He enlisted with the US Air Force in 1996 and served in the Air Mobility Command for operations in the Middle East and later with the Special Operation Command, where he participated in operations in Eastern Europe until 2001.  He's the founder of DisabledVeterans.org, an organization that helps veterans navigate the Department of Veterans Affairs to access disability services.  He's also a newly minted attorney this year in Minnesota
Here is the interview link again: https://kbcs.fm/2013/11/15/access-to-veteran-affairs-services/
If you are in a hurry, forward through the first half of the interview to minute 15:45. I took the liberty of typing out the meat of the quote below:
Host:
When you talk about having a fresh perspective, as I'm listening to you and Ben, talk about experiences you have had as well as some of those you have been advocating for, what has been keeping VA from providing the resources veterans need. Is it money? Is it policies?

A. What do you think is keeping veterans administration from providing the services?

B. Are there policies or procedures in place where there can be some improvement upon?
Reply of Benjamin Krause:
Sure, that is a great question. I think it is important to keep the modern VA in perspective. And one of the things a lot of people do not realize is that it has evolved over the past two hundred years through various agencies and missions. Toward the end of WWI, it was referred to as the Bureau of War Risk Insurance… It started out as an insurance company…

So I guess big question really is, is VA really broken? I do not think it is broken. I think it is designed to do this. It has been designed to do this for almost 100 years.

Nothing has really changed since its inception as the Bureau of War Risk Insurance. Then it became the Veterans Bureau. Then it became the Veterans Administration. Then it became the Department of Veterans Affairs. And I don't think anything has changed.
Rather than let the conversation die with this post, why don't you provide your opinion below.
What do you think in light of the historic problems VA has faced?
What should be done?