VA Debt Collection, Attorneys Talk Strategy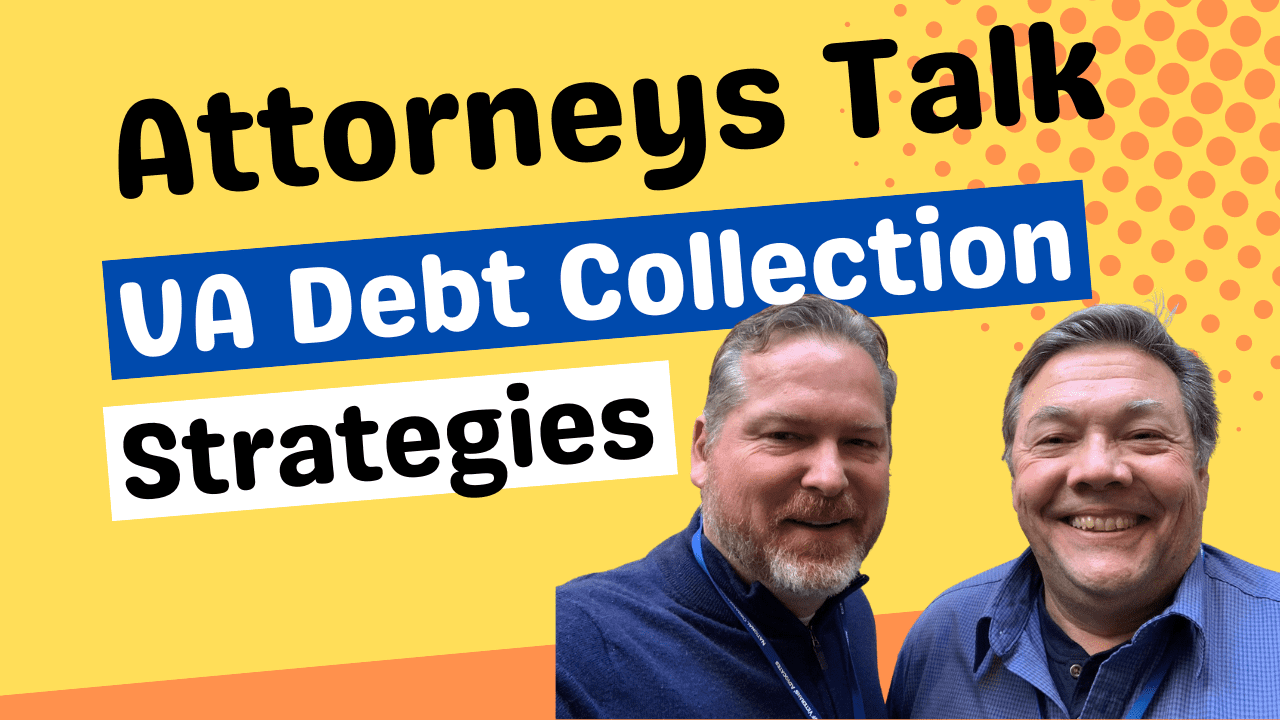 Veteran law attorneys talk strategy for veterans hit by VA Debt Collection when pursing degrees using the GI Bill or Veteran Readiness and Employment. Here are top three tips veterans can use from Attorney Peter Cianchetta.
I ran into Cianchetta at the bi-annual NOVA conference for the National Organization for Veterans Advocates (NOVA) in Cincinnati. He agreed to share two stories of two veterans who had to fight against the VA Debt Collection process while attending collect. The facts are practically identical with two different results.
Subscribe to our weekly newsletter and stay up to date.
If you take nothing else out of this article, be sure to act fast if VA ever sends you a debt notice. You only have 30 days to submit a letter to VA to dispute the debt before the agency starts billing fees, interest, and taking other collections actions.
Even though you have 180 days to dispute the debt amount, VA will start coming after you, which may include hiring a debt collector. VA has contracted with private collections agencies. Information about your consumer rights may be located at the Consumer Financial Protection Bureau (CFPB).
Below is our talk on strategy followed with some information about VA Debt Collection and the transcript of our discussion.
Attorneys On VA Debt Collections
VA Debt Collection Actions
The first important detail is knowing where the VA Debt Management Center (see DMC website) is located.
The debt center is located in the basement of Fort Snelling Whipple Building located in St. Paul, Minnesota. You can try to contact DMC at (800) 827-0648.
RELATED: VA Ignores Need For Debt Collection Reforms
You can learn more about the St. Paul Regional Office Leadership Team here, but note that the Debt Management Center falls under the jurisdiction of the agency's Office of Finance instead of Veterans Benefits Administration (VBA).
St. Paul's team covers unique benefits like Pension and VA Home Loans. The employees there will help you locate the DMC office if you go there in person.
According to the Office of Finance:
The Debt Management Center in St. Paul, Minnesota, collects debts resulting from individuals' participation in VA benefit programs and manages VA's benefit debt portfolio. The centralized debt collection program for VA has been in existence since 1975, with a primary mission of collecting debts as efficiently and cost-effectively as possible while maintaining compassionate, high-quality service to veterans and their families.

As a leader in the Federal debt management community and a complete accounts receivable resource, the DMC oversees the entire collection process for the Veterans Benefits Administration, employing every collection tool available to Federal agencies. The Veterans Health Administration (VHA) uses the DMC's administrative offset services to refer delinquent first-party medical debts for internal offset against active VA benefits. VHA also uses DMC services to refer debts to Treasury for offset under the Treasury Offset Program.

As an Enterprise Center of the VA Franchise Fund, the DMC provides its services on a fee-for-service basis and receives no Federally appropriated funding.
When you look at VA's main debt collection webpage, you may notice links on ways to pay your debt are all over the webpage and easy to find.
Information about how to contest debt or waive the debt are not as easy to locate.
You can learn about which forms to use to dispute the debt here.
Dispute VA Debt Collection Actions Form
VA uses the VA Form 5655 for veterans to request help with their debt, but other forms or letters may be necessary depending on the nature of the debt.
After Getting Debt Notification Letters
VA will usually issue debt notification letters to veterans when a debt is deemed owed. You may have noticed I included "deemed" before "owed."
That is because VA does regularly make errors in its adjudications about debt. First, the debt may have resulted following an erroneous benefits adjudication. Second, the debt may not be owed, at all. Third, the debt may be owed but the amount of the debt may be wrong.
For those veterans who believe the debt is owed and the amount is correct, you may still be able to receive a waiver of the debt or secure a payment plan rather than paying the entire amount up front.
Whatever issue is relevant to you for any outstanding debt, VA officials have created procedures that must be timely followed to successfully address the issues.
Top VA Debt Collection Scenarios
VA divides the subject of debt into various categories: 1) benefits overpayments (compensation, education, pension); 2) health care co-payments; 3) separation pay; 4) attorney fees; 5) Rogers STEM Program; 6) VET TEC Program. The most common I hear about is overpayment of benefits.
There are two scenarios that usually come up when a veteran (or dependent/spouse) may receive an allegation and charge from VA of owning the agency money from overpayment. If a veteran fails to address the issues promptly, any alleged debt, whether correctly assigned or not, they will have to pay the money back.
The payback will usually come through a reduction in future monthly payments until the debt is fully paid.
Sometimes, the debt alleged is the wrong amount or the result of an agency error. There are ways to dispute the debt and ways to seek a waiver if the debt is correctly assigned to the veteran.
Benefit Reduction
Veterans frequently owe money back to the agency when there is a reduction in benefits resulting in an overpayment. This can happen when a veteran's benefits payments are lowered or if there is an unexpected change or challenge when receiving education or training benefits as I'll explain below.
Dependent Removal
This overpayment can happen when a dependent is no longer a dependent. For example, a veteran completes a divorce without notifying VA that she is divorced. Another example is a child becoming an adult or completing college without the agency removing the dependent payment from monthly benefits. A third example is the death of a dependent such as a parent.
The veteran usually has an affirmative duty to inform the agency of a change in status of dependents. For a divorce, if the veteran fails to notify the agency of a change, the agency will seek repayment for monies the veteran should not have received.
Sometimes, even if the veteran informed the agency of a change, the agency will continue to make payments by mistake. In that situation, should the agency seek repayment, the veteran may have some options to seek a waiver.
Class Withdrawal Or Class Failure
The outcome of whether a veteran owes money for monies paid by the agency depends on whether you are using the GI Bill or VR&E.
Veterans using either program, GI Bill or VR&E, are required to successfully complete college coursework they start. If you drop out of a class for any reason where the agency is paying for the course and/or paying monthly subsistence or housing payments, the agency may attempt to recoup the monthly allowance paid during that period.
What If I Disagree With Decision Resulting In Overpayment?
If you disagree with the debt, in any way, it is important to send a letter to the right VA location within 30 days. If you send it within 30 days, VA will not start collection actions, bill for interest and fees, or take other adverse actions until the dispute is resolved.
This question frequently falls into the category of a compensation claim where a disability rating was reduced or where a child is wrongly removed as a dependent, as two of many examples.
If you disagree with the underlying decision that resulted in overpayment, like a disability reduction, you will need to timely submit a Supplemental Claim, Higher-Level Review, or Formal Appeal.
You will also need to submit a dispute letter to VA within the prescribed amount of time to inform the Debt Management Center that the adverse decision is disputed. Do this within 30 days to play it safe.
Such a letter might include your address, claim number, and a brief statement explaining the basis of the contested matter and that you dispute the debt.
According to VA:
You have 180 days from the date you received your first debt letter to request a debt waiver. A waiver is a request to ask us to stop collection on your debt.

If you're worried that we won't complete your appeal before the 180-day limit, you can request a waiver with our online Financial Status Report (VA Form 5655).
What If I Disagree With The VA Debt?
You can express your disagreement in a letter. VA advises that while you have 180 days to dispute a debt, you only have 30 days to submit the dispute to avoid adverse collections actions.
According to VA:
If you think your debt or the amount of your debt is due to an error, you can dispute it. Submit a written statement to tell us why you dispute the debt.

You can submit your dispute statement online or by mail.

– Online: Contact us through Ask VA

– Mail: Debt Management Center P.O. Box 11930 St. Paul, MN 55111-0930

Note: You have 180 days from the date you received your first debt letter to submit your dispute statement. After this time, we can't consider the request.

We encourage you to submit your dispute statement within 30 days. If we receive the statement within 30 days, we won't add late fees and interest, or take other collection action, while we review your dispute.
Will The VA Waive My Debt?
Yes, VA can and will waive valid debt for various reasons. To submit a waiver request or compromise, VA wants the request to be submitted on a VA Form 5655. VA advises submitting the request within 30 days of the date of the notice to avoid late fees, interest, and other collection actions.
The agency is basically looking for any good cause basis to grant the waiver request. Borrowing from a Board decision:
VA law provides that recovery of overpayment of any benefits shall be waived if there is no indication of fraud, misrepresentation, or bad faith on the part of the person or persons having an interest in obtaining the waiver and recovery of the indebtedness from the payee who received such benefits would be against equity and good conscience. 38 U.S.C. § 5302; 38 C.F.R. § 1.963(a). The standard "Equity and Good Conscience" will be applied when the facts and circumstances in a particular case indicate a need for reasonableness and moderation in the exercise of the government's rights. The phrase "equity and good conscience" means the arrival at a fair decision between the obligor and the Government. In making this determination, consideration will be given to the following elements (which are not intended to be all-inclusive): (1) fault of the debtor, (2) balancing of faults between the debtor and VA, (3) undue hardship of collection on the debtor, (4) defeat of the purpose of an existing benefit to the appellant, (5) unjust enrichment of the appellant, and (6) whether the appellant changed positions to his or her detriment in reliance upon a granted VA benefit. 38 U.S.C. § 5302; 38 C.F.R. § 1.965(a).
Information For Waiver
VA will seek information for the waiver to help decide whether the agency will grant a waiver. The agency requests that veterans provide the following information for the veteran and spouse, if married.
Work history for the past 2 years. You'll need the employer name, start and end dates, and monthly income for each job.
Income. This includes money you earn from a job, VA or Social Security benefits, or other sources. You'll find the details you'll need on a recent paycheck.
Assets. These include cash, savings, stocks and bonds, real estate, cars, jewelry, and other items of value.
Monthly living expenses. These include housing, food, and utilities (like gas, electricity, and water).
Installment contracts or other debts. These include car loans, student loans, credit card debt, and other debts or purchase payment plans.
Other living expenses. These include expenses like clothing, transportation, child care, or health care.
If you've ever declared bankruptcy, you'll need any related documents.
Paying VA Debt
Whether you are successful with a debt compromise offer or simply start to pay, VA may suggest you use a benefit offset if you cannot afford to pay off the amount in full.
This means your monthly benefits payment may be reduced partially or in full until the debt is fully paid.
VA Debt Talk Transcript
Here is a transcript of our conversation.
Ben Krause here talking to my good friend Peter Cianchetta California about a debt collection story. Now, I know a lot of you write in frequently, especially Voc Rehab veterans, veterans with the GI Bill.
Anyone really going to college, where VA's paying, where the Department of Veterans Affairs will routinely try to collect on debt if that veteran withdraws from courses earlier, there's some other kind of issue where the veteran doesn't complete the coursework.
And my friend Peter here over lunch earlier today happened to share a couple different stories of veterans that he is familiar with where they had the exact same facts, even the same school and ended up with a totally different result.
So having said that, I'm gonna let Peter take it from here and I'll ask some questions.
I know again, a lot of y'all have questions about debt collection, how to handle it. The, main debt collection location is in St. Paul, Minnesota at the Fort Snelling Regional office underneath director Kim Graves.
And so that's where a lot of the debt collection goes on. So if you happen to have any questions about it, you could reach out to us if you have any kinds of whatever peculiar things may occur with that. But anyway, having said that, Peter's gonna take it from here.
All right, Pete. Hi. So Peter had two veterans approach me with the exact same issue.
They both go to the same school.
Both of them had some issues come up in their lives where they where they failed classes and the school thought they were doing him a favor by marking him down as withdrawn, which does academically help you.
However, the VA took it in both cases that the veteran quit school and sent a debt collection letter to each of the veterans attempting to collect back the tuition and the ancillary benefit, which happens to be the housing allowance.
So for both of these veterans, it was about $18,000 because they're of where they live and where they. So for the first veteran, we applied for a debt waiver. It was granted, the tuition was waived and the ancillary benefit of the housing allowance was also waived. The other veteran, almost the same exact facts except he wasn't married.
The first veteran was married. This veteran was single. That's the only thing I can see. The only difference I can see in between the two cases this veteran's.
Fee waiver was denied or not fee waiver, but their debt waiver was denied and they went back to school and had to drop out a second time because the VA was completely offsetting their housing allowance and they weren't able to live.
So the veteran came to me after we applied for a payment plan and we put 'em in $150 a month repayment. And the veteran is now able to go to school and it gives us time to appeal the the debt waiver and if we're successful, the veteran will get back all of the $150 payments they made. So we had two stories exactly the same.
We got all of the veterans back to school and it was a great great result for both of. One was a little better than the other.
So what if any tips would you have for anybody watching this that's wondering about debt collection issues at the VA? What are like the top three things that they should be doing to make sure they don't end up getting stuck with the bill if they shouldn't have to pay much?
VA Debt Tip 1
First be very careful about what your school reports. If you flunk out of the school and the school reports it as a withdrawal to help you academically, then you need to gather up evidence where you actually communicated with the. Where the teacher told you they were failing and where somebody told you that they were going to give you withdrawal as opposed to failing you because of it the, two are treated differently.
VA Debt Tip 2
The second thing, document everything you can beyond that, all of your housing expenses, all of your food expenses, medical expenses, travel, document, everything, because that goes into the fee waiver, the debt waiver application.
VA Debt Tip 3
And the third thing, don't do this on your own. Get a professional to help you because professionals know what the VA's looking for.
All right. Anyway, you've seen here first we're on site here in Cincinnati.
We're both members of Nova National Organization of Veteran Advocates and are here doing continuing education for veteran law matters. And so we're in Cincinnati hanging out. And again, Pete had a great story and a couple stories.
What happens when veterans ask and have issues with debt collection? And I wanted him to share that with my audience because it's so important to make sure you don't get behind the eight ball and stay behind the eight ball. So again, if you have questions about this, reach out to Peter. Anyone else that's a VA accredited attorney, some VSOs may be able to help with this too.
Some may not, depending on their comfort level dealing with debt collect. But it's definitely important to make sure that you get all the documents available to you and make sure that you pay attention to the timing limitations on any kind of document to contest the debt. So anyway until next time, take care and thanks for tuning in.