Mailroom: How To Know When Your VA Voc Rehab Counselor Is Screwing You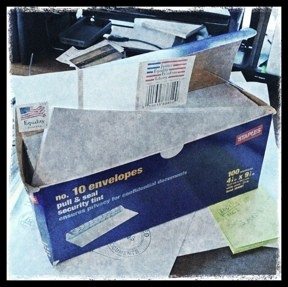 What do you do when you're getting screwed, and how do you know when it's happening?
This week's Mailroom raises a particularly relevant question that almost every veteran asks in his or her email to me: how to fight back when you get screwed.
Here's the drill: I include this for all newcomers. Each week, I take an email from a veteran that would have broad appeal to many veterans. They are usually about the GI Bill, VA Voc Rehab, or Disability Compensation.
I then analyze the benefits issue for a bit and post my input here in our weekly segment: Mailroom. Basically, I take out all the identifying information from the best emails and post them here with my answer.
If you have a burning question about your veterans benefits, sent me an email by selecting the contact tab at the top of this page. If I think your situation will be helpful for other veterans, I will repost it here.
* If you do not want me to write about your veterans benefits situation, please feel free to let me know within the email. I have no problem keeping a lid on the situation, too.
________
From the Veteran:
I am currently trying to return to school under Chapter 31. I am rated 100% PTSD with Individual Unemployability (IU). My VA Voc Rehab counselor wants me to complete a six-month evaluation period doing volunteer work.
He is very evasive when I bring up the idea of returning to school even though I scored highly on their aptitude tests. The counselor placed me with a non-government contractor in [Any Town USA]. (I live 60 miles from [Any Town USA] and the Voc Rehab office is my town.)
This contractor seldom returns calls or emails and has failed to find anything in the three months we have been working together. I wasn't thrilled about having to do the evaluation to begin with, but since I can't even begin the evaluation period my options are getting even slimmer.
Have you heard of any other veterans being placed with civilian contractors, and if so what is a good way to proceed? Also, is there any way I can convince my counselor to do the evaluation period at school? Thanks for any help you can provide.
From Benjamin Krause (me):
I have heard stories about this kind of issue. The veteran usually has a high disability rating. To assess the veteran's ability to work with others, the Voc Rehab Counselor might assign them to a contractor in a temp worker situation.
While this is probably an okay practice, it is not okay when the contractor to whom you are assigned is not fulfilling their end of the deal. It just doesn't pass the smell test.
I assume this contractor is a local rehab counselor? If the answer is "yes," then the counselor needs to do better about getting in touch with you. However, at this point, it sounds like the working relationship is broken since he/she has not helped place you.
Your VA counselor has a duty to ensure you are able to progress at a reasonable pace through your rehabilitative process. If you have problems like you are, your counselor needs to take reasonable steps to ensure you are successful. This could include either skipping this current step or being proactive in helping you complete this 6-month assignment.
I suggest looking at the Commission on Rehabilitation Counselor Certification website. There is a Code of Ethics page. Read through the rules in how a rehabilitation counselor is required to interact with you.
This should give you leverage in your meetings because you will know how the counselor should help you and when the counselor is crossing the line.
Generally, VA employees feel they are above the law. And this may be true. The fact is that it is very difficult to sue a government employee.
Nonetheless, many VA employees are certified professionals in certain career fields. Counseling is one of these. Doctors must maintain their good standing. Lawyers must be members of the bar and in good standing. Psychologists must follow their own rules. You get the drift.
When it comes to any of these types of careers, the rules are written in a somewhat straightforward manner. If the action does not pass the smell test, and seems contrary to a common sense approach to your goal, research their ethics rules.
If the person crosses the line, you can file a complaint. These organizations take their roles very seriously. For example, Bill Clinton did lose his law license because of his comment, "It depends on what the word is is." He was disbarred.
If you do not feel like your training track is working, you can approach your counselor to ask for a reevaluation. In your situation, this seems like the best idea because you are wasting time.
I also suggest getting a copy of your file using a Freedom of Information Act request. That way, you can see what your counselor is really doing. This is the first and most important step. I have a short FOIA page that explains it: Sample FOIA Letter.
Last, contact someone at the DAV or similar to get some insight. These people tend to know very little about Voc Rehab, but sometimes you will find someone with some insight. This way, if you need to file a formal appeal, the veteran service officer can help represent you.
I have written a couple chapters about similar issues within the Voc Rehab Survival Guide. Veterans have used it to fight through problems like these.
I think the biggest area of confusion centers around knowing what to do when the counselor makes an adverse decision.