VA Director Fired For Sending Sensitive Personnel Information To Wife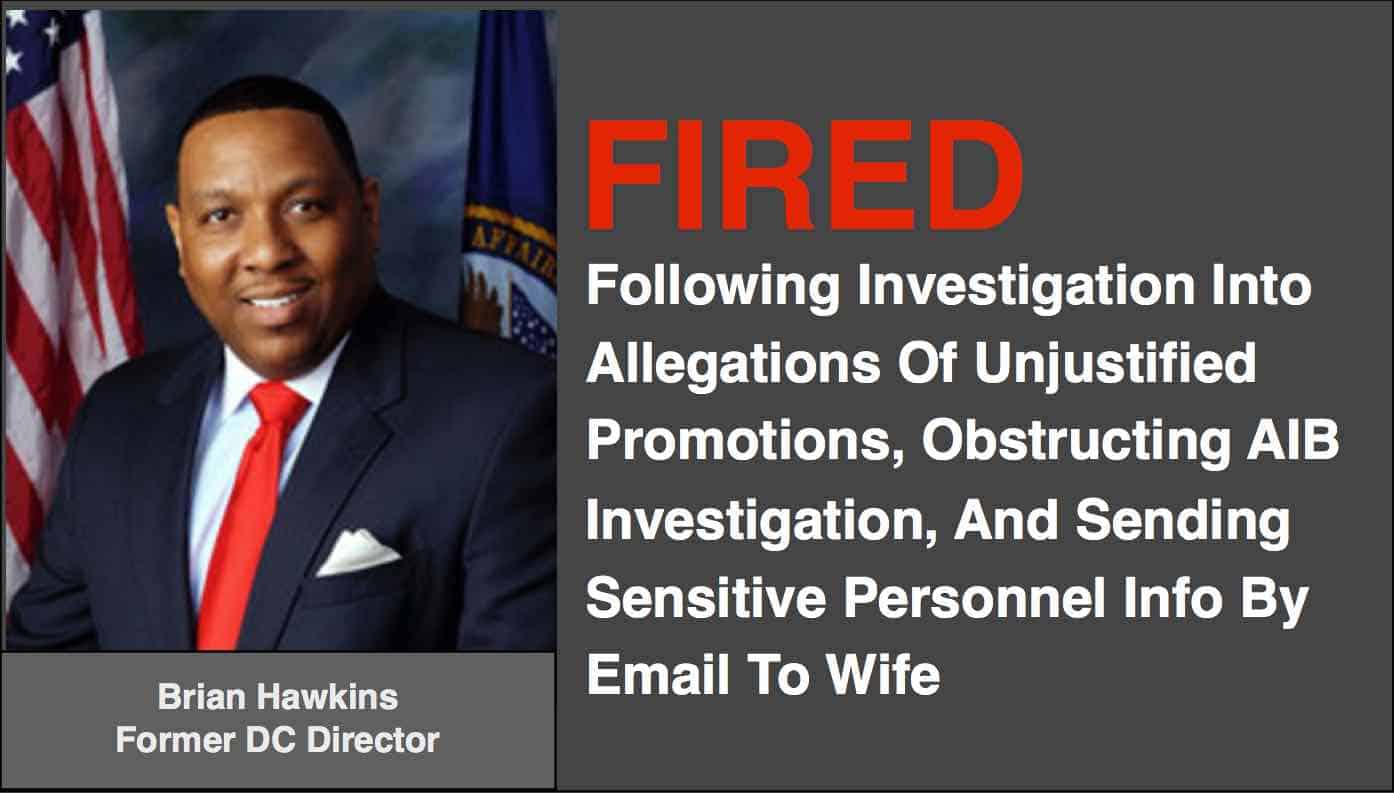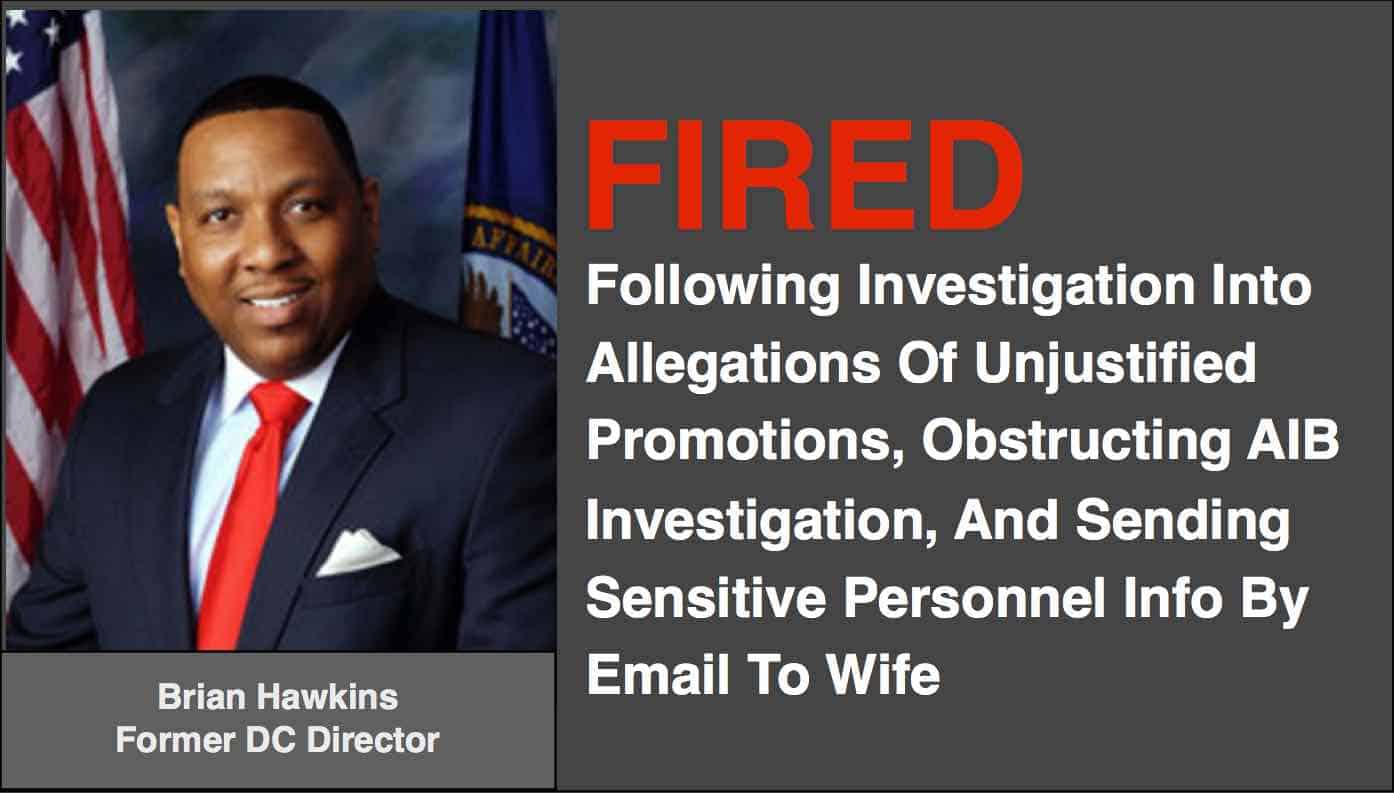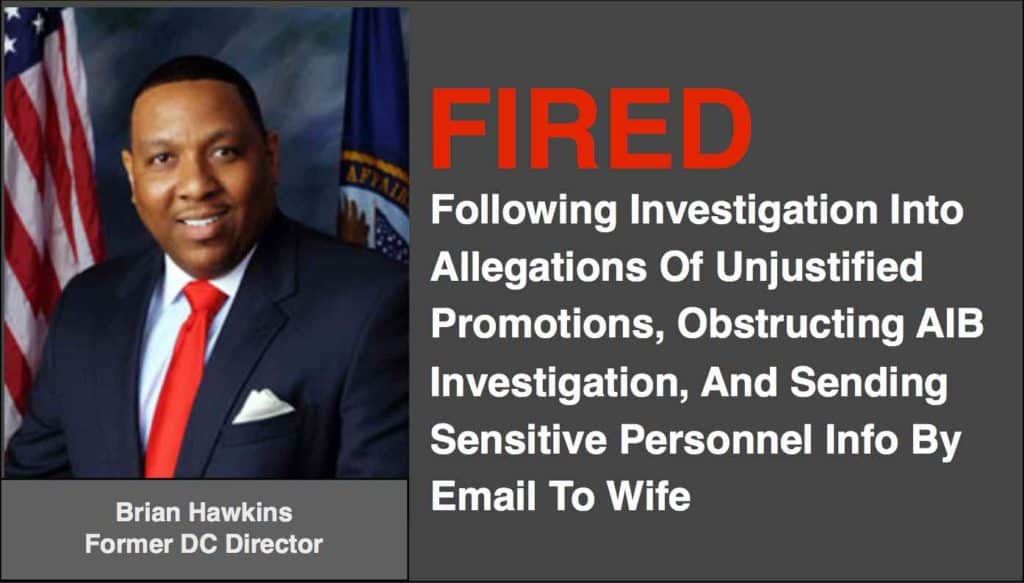 VA terminated one hospital director placed on leave following allegations of giving staff unjustified bonuses, failing to inventory $150 million in supplies, obstructing an investigation, and sending VA sensitive personnel information to his wife via email.
In April, VA reassigned Washington VA Medical Center director Brian Hawkins on leave after receiving numerous allegations into a variety of failures at the facility. Over $150 million in supplies was not properly inventoried. Veterans' lives were placed at risk due to dirty or missing supplies.
A summary of that IG investigation was its focus on how the facility:
Failed to keep a normal supply of required supplies and equipment to perform the lifesaving services expected of all major VA medical centers
Failed to use proper protocol to remove recalled supplies and equipment to not put veterans' lives at risk.
Failed to ensure supplies were sterile but instead using dirty supplies.
And, we now know the investigation also included evaluating how employees at the facility were receiving bonuses without any justification.
Sound a lot like how many VA directors get the job done? Many of the directors who engage in dark practices insulate themselves by promoting only those who will go along with the criminal code set by the boss.
This is how things went down, circa 2013, at Oakland RO, Phoenix VA, Tomah VA, St. Petersburg RO, and apparently Washington DC VA.
It is safe to say the practice of buddy bonuses is rampant.
Brian Hawkins Termination
VA fired Hawkins last Friday after substantiating allegations that he sent sensitive personnel information from his VA email to his wife. The communications, which included confidential information, such as administrative decisions, were unlawfully shared with her.
RELATED: Take A Look At The Massive Misconduct Investigation At DC VA
Hawkins also impeded on another investigation into bonuses he gave subordinates without any justification. He allegedly had his staff obstruct that investigation such that is was not completed.
Ultimately, the only allegations IG could verify was the unlawful sharing of personnel data with his wife, who was not a VA employee. Any efforts to impede the investigation into fraudulent bonuses were successful in their obstruction.
We may never know the extent of the fraud at the DC VA Medical Center, but we at least know one less criminal will be managing a VA facility.
Unlawful Brian Hawkins Emails
IG reached the following and published a few examples worth noting here:
October 30, 2014 – Mr. Hawkins forwarded his spouse an email chain, Subject: FW: Washington DC AIB ([NAME]). The email contained three attachments: 1) Charge Letter.doc; 2) DC VAMC Issue Brief – VISN Response 10-27-14.doc; and 3) [COMPLAINANT'S NAME] Letter to the Under Secretary.pdf. These documents contained the identity of the original complaint against the VAMC, the Issue Brief submitted by Network 5 in response, and the Charge Letter submitted by Mr. Hawkins to convene the AIB. These documents provided Mr. Hawkins' spouse, who does not work for VA and has no official need to know, details of ongoing VA investigations with VA sensitive information into an ongoing AIB.
January 28, 2014 – Mr. Hawkins forwarded his spouse an email chain, Subject: Secretary Office Action: Report of Illegal recording at DC VAMC. The email chain originated on January 27, 2014, Subject: Illegal recording, from a VA employee to the VA OIG Hotline. In the email, the VA employee alleged that a recording device was found in Police Control, and the VAMC Chief and Deputy Chiefs of Police violated Federal law and VA policy by video/audio recording employee conversations. The employee indicated that affected employees retained counsel and were in the process of filing formal complaints. The email chain reflected that an investigation into the allegations was underway, and Regional Counsel was contacted. Mr. Hawkins' email to his spouse included several messages that discussed the allegations and steps VA was taking to address them. The name of the employee complainant was not redacted.
June 4, 2012 – Mr. Hawkins emailed his spouse a document titled: Mike memo.doc. In the body of the email, Mr. Hawkins asked, "How does this read?" The attached memorandum, Subject: Operations oversight and management, was addressed to the Associate VAMC Director. It discussed Mr. Hawkins' disappointment in the Director's performance, a personnel matter. It contained a number of action items for the Director to address, proposed completion dates, and a requirement for the Director to meet with Mr. Hawkins to discuss his progress.
I can only assume Hawkins is not the only VA director to engage in these kinds of violations of the public trust.
Brian Hawkins IG Conclusion
IG concluded:
We concluded that Mr. Hawkins violated VA policy by sending VA sensitive information and SPI to his, as well as his spouse's unsecured, private email accounts. Mr. Hawkins confirmed that he used his VA-assigned email account to send VA sensitive information to his spouse on a number of occasions, but he could not recall the exact number of times he did so. When issued a subpoena instructing him to produce communications he sent from his VA-assigned email account to non-VA, private email accounts, Mr. Hawkins refused to produce those he sent to his spouse's private email account. He claimed these emails were protected under spousal privilege. VA policy states that VA email is for official use only and there is no expectation of privacy or confidentiality. It does not contain any communication exclusions, privileged or otherwise.
I find these kinds of results interesting. It always seems like VA OIG goes for the low hanging fruit when prosecuting senior executes.
Sharon Helman is one that comes to mind. She was the head of the infamous Phoenix VA which was the epicenter of the wait time fraud scandal.
Helman was nabbed for failing to disclose numerous gifts from a lobbyist and not for her involvement in the wait time fraud that resulted in hundreds of veterans being killed by fraudulent scheduling practices.
Many other VA directors were allowed to resign without prosecution of any kind.
Now, we seek Hawkins not get taken down for fraud related to unjustified bonuses or for failing to properly account for $150 million in supplies.
No.
Our trusty VA OIG was only able to catch him red handed sending unauthorized emails to his wife.
I am glad he was pinched, but in light of the overall gravity of the scandal there, he seems to be getting off light with only a termination without jail time.
Meanwhile, we see the veteran in Florida being indicted for possibly receiving $500,000 in disability benefits for possibly misstating how severe blindness is?
If you ask me, between 50 shades of not so gray and Mister Hawkins, it would seem IG has a real fetish for busting disabled veterans while letting senior leaders linked to millions in fraudulent bonuses and malfeasance of $150 million in supplies get off real light.