The VA Emails Heard 'Round The World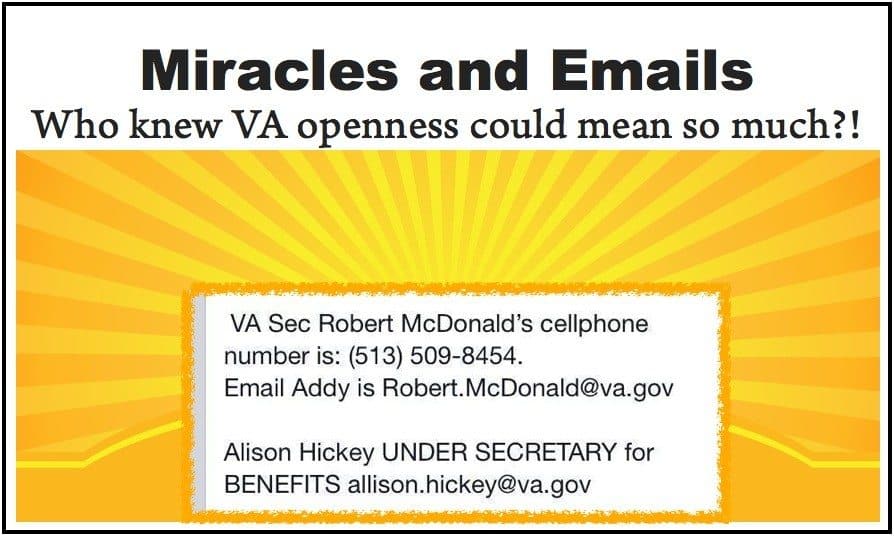 Veterans are super stoked over VA executives finally being responsive to veterans who are really getting screwed by VA employees in the trenches. Veterans now get direct access to two of the biggest execs in VA via email and phone on occasion:
No site has seen more action about this than our Facebook page Disabled Veterans – Chapter 31 Voc Rehab. Many disabled veterans have taken the plunge sending VA Secretary McDonald and Under Secretary Hickey an email when faced with dishonest under handed BS from VA employees. And, this plunge has in some instances resulted in the veteran resolving a 10-year or longer claim.
Here is our most recent example where a veteran got immediate action on a 10-year cock-up with helpful prodding by Allison Hickey following an email.
Michelle Arakaki I told my friend from high school about this. He's been waiting a year and a half for his appeal.
Ramona Alys The vets on this page really have made use of this info successfully!
Leon Beard I emailed her and within 3 days I was crying tears of joy. You wouldn't believe what she did for me after ten years of waiting on my appeals
Thomas Clement a year and a half isn't really that long for an appeal guys
JM Jimenez Leon Beard waited 10 years? WOW!
Thomas Clement that's some back pay now
Jackie Bickford I shared with a friend she has been waiting for over 20 for her appeals to come to a good note.. just hears stand by, on hold. I hope they can help her.
Shaunda So Blessed Bunn-Boulware I emailed her Sunday night…everything completed today…it does work