VA Reverses On Massive $460 Million Homeless Veterans Program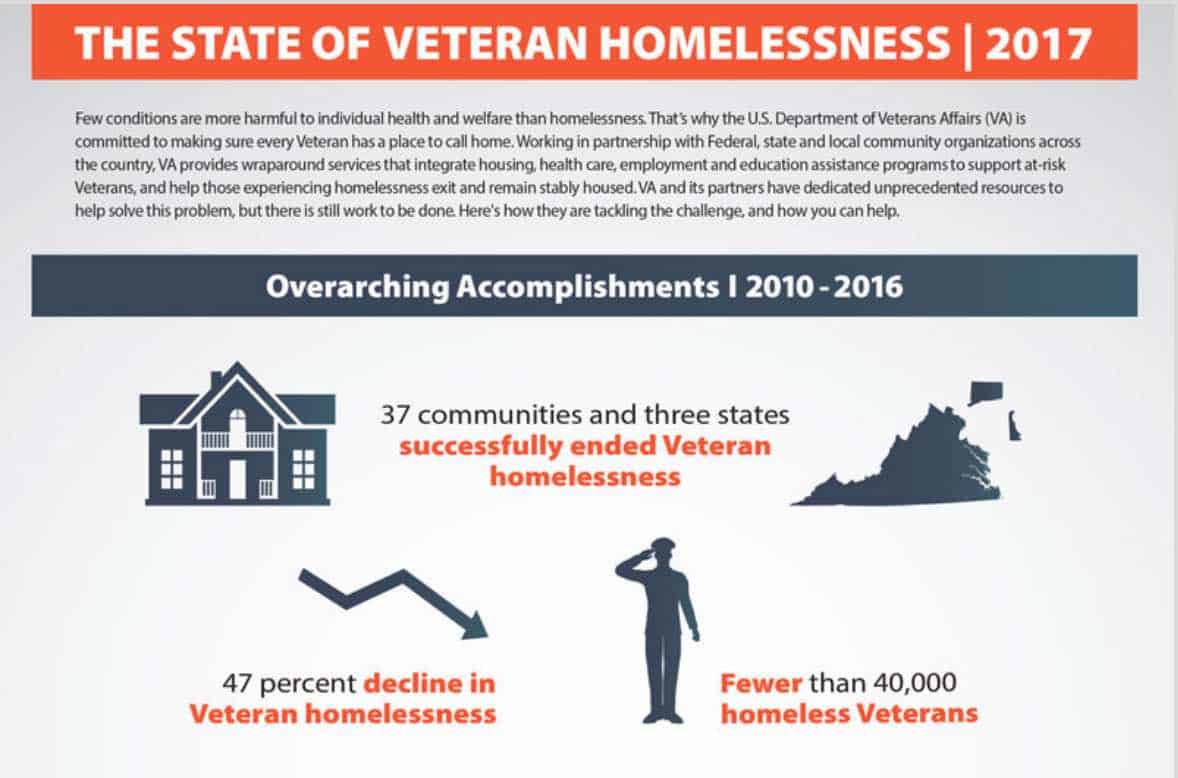 VA plan to redirect $460 million away from its homeless veterans program was reversed instead of letting local hospitals use the funds at their discretion.
The funds were originally set aside for the voucher program VA and HUD jointly run to provide long-term housing for vulnerable and mentally ill veterans. There are presently less than 40,000 homeless veterans, meaning the funds amount to $11,500 per veteran in spending through vendors.
To put this amount of money broken down by veteran into perspective, the agency spends around $200 per veteran for transition assistance out of the military.
RELATED: VA To Spend Shocking $22 Billion On IT Projects
"There will be absolutely no change in the funding to support our homeless programs," Shulkin's statement said. "… Over the next six months, I will solicit input from our local VA leaders and external stakeholders on how best to target our funding to the geographical areas that need it most. Based on that input we will come forward with proposals for fiscal year 2019 on how to improve the targeting of our homeless program funding."
The number of homeless veterans has dropped significantly since former VA Secretary Eric Shinseki targeted that population for additional support in 2010.
According to VA:
Thanks to VA's collaborative efforts with the U.S. Department of Housing and Urban Development, the U.S. Interagency Council on Homelessness, community partner organizations, and local and state governments, there was a 17 percent decrease in Veteran homelessness between 2015 and 2016 contributing to a 47 percent overall reduction in Veteran homelessness across the United States between 2010 and 2016.
VA likely hoped it could take the throttle down a little on spending in this area to instead allow local hospitals access to funds to update its facilities and staff hiring.
What I would like to know is how much of the funds actually to go the homeless veteran when compared to the vendors who provide the services to include lavish online campaigns and awareness events few if any homeless veterans would likely enjoy or benefit from.
At least one example of an online campaign can be seen on the agency's website. These subpages are not managed or updated by VA employees. Instead, VA pays vendors (ie government contractors) hundreds of thousands per year to update content, depending on the topic type.
Here are two examples. One is the dressed up Homeless Veterans landing page with its attached subpages and the other is Vocational Rehabilitation and Employment. The former gives the veteran lodging and the latter gives them skills to find and keep suitable employment.
COMPARE:
Over my years of investigating VA and its spending for online work, for which it pays ludicrous amounts, it seems the web presence value is always much higher for a veteran population the elicits more sympathy.
RELATED: VA Shuts Off $24k Per Month Google Adwords After Exposure
So, spending for veteran suicide and veteran homelessness concerning fancy websites or events is veteran high – – and those monies go to vendors, not the veterans.
According to a FOIA release in 2012, VA paid Booz Allen Hamilton $35,000 for a 10-page PDF to help advertise its winter disability games. Can you imagine being paid $35,000 to create a PDF and write the content?
The agency paid roughly the same for another vendor to update and manage the agency's 6 webpages dedicated to Native American veterans and another $6,000 to create its logo.
Source: https://www.washingtonpost.com/news/checkpoint/wp/2017/12/06/va-tried-to-reallocate-460-million-earmarked-for-homeless-veterans-now-it-says-that-wont-happen/?utm_term=.75d6e04d2b5b