YouTube: GI Bill vs VA Vocational Rehabilitation, Which Is Better In 2018?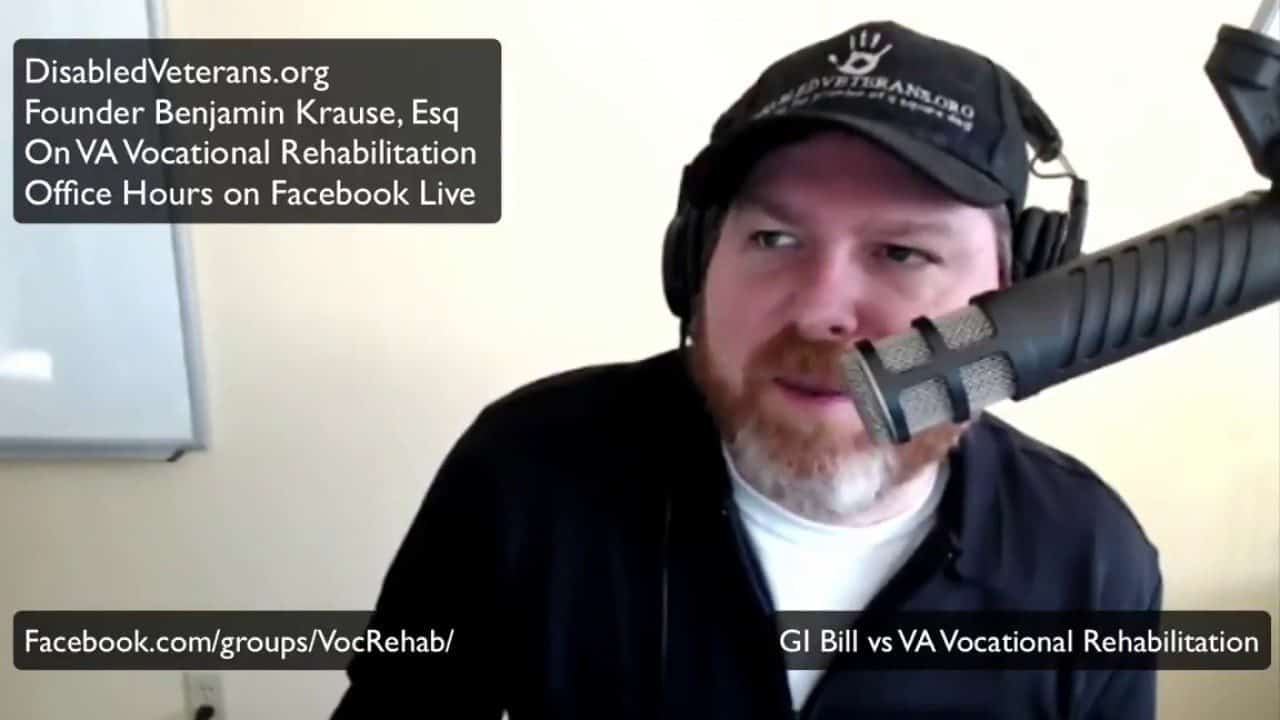 This is the age-old question for disabled veterans, the GI Bill vs VA Vocational Rehabilitation, where the answer tends to change every few years. Here is the answer for 2018.
Veterans in our group, Disabled Veterans – Chapter 31 Voc Rehab, were pressed by Vocational Rehabilitation Counselors to use up their GI Bill prior to receiving benefits from VA Voc Rehab. So, the question was raised as to whether the requirement was true and whether the GI Bill is better than VA Vocational Rehabilitation, to begin with.
Each week we hold "Office Hours" on in the Facebook group using Facebook Live on Friday. Yesterday, we held the session and talked about the pressure some veterans are receiving to opt out of Vocational Rehabilitation in favor of the GI Bill.
This is a huge mistake, and the demand by counselors is illegal and unethical. Basically, these counselors are pressuring veterans to give up benefits to which they have a right. he counselors know or should know that their actions are illegal.
RELATED: What Is VA Vocational Rehabilitation, Anyway?
Yet, this kind of scenario has played out for years where counselors pressure veterans to make decisions that are not in the veteran's best interest. A real tragedy.
Here are the nuts and bolts of the difference. The video contains much more information, so be sure to watch it when you have time.
RELATED: Quick Facts On VA Vocational Rehabilitation
VA Education Benefits Generally
Regardless of the benefits you use, veterans are generally limited to only 48 months of education benefits regardless of the combination. This means, if you use the GI Bill and VA Voc Rehab, you can only use a TOTAL of 48 months of any combination.
The operative word here to focus on is "generally" limited.
Some disabled veterans with more severe or complicated service-connected disabilities will be deemed to have a Serious Employment Handicap by VA Voc Rehab. This means it is harder for them to gain suitable employment than other veterans on account of their disabilities.
Veterans with a Serious Employment Handicap are eligible for the 48-month cap to be lifted. For example, when I went through VA Voc Rehab the first time, I had a 20 percent disability rating and was deemed to only have an Employment Handicap. This means I could only use 48 months of benefits. Years later, my disability rating increased to 40 percent, and I was deemed to have a Serious Employment Handicap and approved for additional training to become a lawyer. My total months of approved education benefits was over 80 months as a result. That is how it works.
Additionally, veterans with a Serious Employment Handicap are also not subject to the 12 years limitation of using VA Voc Rehab.
Post 9/11 GI Bill
Again, generally speaking, the GI Bill is limited to 36 months. The veteran can study practically anything they want to include degree types or career paths that would not be approved by VA.
For example, if you wanted to study Religion to become a Buddhist, that might be a goal VA Voc Rehab would not approve.
You can also receive a large subsistence payment that is higher than the standard subsistence payment formerly allowed by Voc Rehab. However, VA Voc Rehab allows veterans with Post 9/11 GI Bill entitlement to opt for the higher subsistence payment while using VA Voc Rehab. It is a very sweet benefit.
There may also exist some forms of tuition waiver or scholarships for veterans using the GI Bill.
RELATED: The Five Training Tracks Of VA Voc Rehab
VA Voc Rehab Wins
In my mind, VA Voc Rehab wins out over the GI Bill for most veterans because it covers tuition, pays a stipend, and covers associated fees and funding for reasonable accommodations.
Overall, the number of months a veteran can use under VA Voc Rehab is 48 months, period. And, so long as you sign up for VA Voc Rehab before your Post 9/11 GI Bill is used up, you can receive the subsistence payment the entire duration of your training.
Yes.
You could receive the equivalent of your GI Bill subsistence payment for the entire duration of your training. For some veterans, this could be longer than 48 months.
Veterans in the highest cost of living locations in the nation would receive, in the above scenario, $48,000 per year for four years. THAT IS AWESOME.
The program also covers your entire tuition. If you are approved for training at a private university like my alma mater Northwestern University, you would also receive coverage of $52,000 in tuition for four years. Again, that is awesome.
Of course, most veterans would not be approved for a private education, but this hypothetical is used to evaluate what the maximum benefit could be for some veterans.
There are a variety of other issues to consider, but for most veterans, opting to use VA Voc Rehab over the GI Bill is the better option almost every time.
Now, if you want to become an expert basket weaver, then maybe the GI Bill is the way for you. Seriously though, for some veterans seeking training to become pilots, using the GI Bill may be the only option unless they already possess the private pilots license.