VA Chief Of Staff Tanya Bradsher Selected For DINFOS Hall Of Fame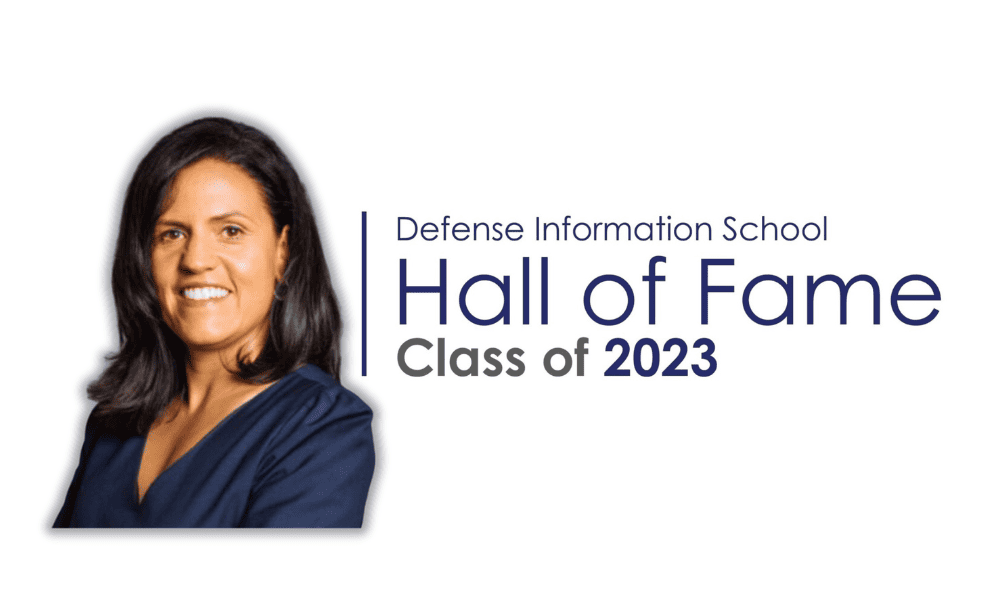 VA Chief of Staff Tanya Bradsher was honored this week by being added to the Defense Information School (DINFOS) Hall of Fame. The induction takes place on August 9, 2023.
The DINFOS announcement about Bradsher's induction will include the late Brig. Gen. H.J. "Jerry" Dalton, U.S. Air Force (ret.), who was the first public affairs officer to attain the rank of brigadier general. The award is given to DIFNOS "alumni who have made extraordinary and lasting contributions at the highest levels in public service, industry, the military or academia for a sustained period."
To be considered for the DINFOS Hall of Fame, post-military nominees should have backgrounds showing:
Superior service and achievement in the nominee's respective field(s); nominations should highlight the merits of the accomplishments and may also highlight previous awards and honors,
The significant impact of professional contributions at the organizational, local, regional, national, or international levels,
Outstanding leadership, character, values & ethical conduct.
DINFOS trains journalists, broadcasters, and public affairs professionals at Fort Meade in Maryland. Well-known alumni of DINFOS include Al Gore and Dan Quayle. Public affairs, or public relations, is the modern evolution of propaganda.
In the book How Propaganda Became Public Relations:
"First, modern propaganda did not originate in the state and was never primarily located in the state; instead, it began and flourished as a for-profit service for businesses. Further, propaganda is not focused on public beliefs and does not operate mainly through lies and deceit; propaganda is an apparatus of government that aims to create the publics that will freely undertake the conduct its clients' desire."
Bradsher's background until recently was almost entirely focused on public relations for the Pentagon and White House while in the US Army and after her military retirement. Outside of her current role as Chief of Staff at VA, her experience mainly focuses on public relations and propaganda:
We created a timeline of her various roles while in the Army and since retiring from the Army using LinkedIn, VA.gov, Wikipedia, and other resources:
US Army Enlisted (1993-1994)
US Army in various roles (1994-2001)
Public Affairs officer for the Joint Chiefs of Staff (Army) (2001-2003)
Public Affairs officer for the US Army (2003-2009)
Public Affairs officer for the Office of the Secretary of Defense, including its Office of Detention for Gitmo (Army) (2009-2011)
Public Affairs officer for National Security Council (2011-2013) (Army)
Public Affairs official for White House (2013-2014)
Public Affairs official for the Department of Homeland Security (2014-2015)
Public Affairs official for Defense Health Agency (2015-2016)
Public Relations official for American Psychiatric Association (2016-2019)
Chief of Staff, Congressman Don Beyer (D-VA) (2019-2020)
National Security Agency Lead, Biden Transition Team (2020-2021)
Special Assistant to the President AND (at the same time) NSC Senior Director for Partnerships and Global Engagements for Strategic Engagement (2021)
Chief of Staff, VA (2021-Present)
Bradsher was recently nominated to become the Deputy Secretary of the Department of Veterans Affairs. Outsiders are not clear what expertise she brings to the table that will help address the growing list of agency controversies erupting in the press during her time as Chief of Staff, including:
Nonpartisan whistleblower organizations have scrutinized her nomination following the failure of her office to timely complete an investigation into cyber securing breach allegations as Chief of Staff.
The Senate Committee on Veterans Affairs may vote on her nomination next week.