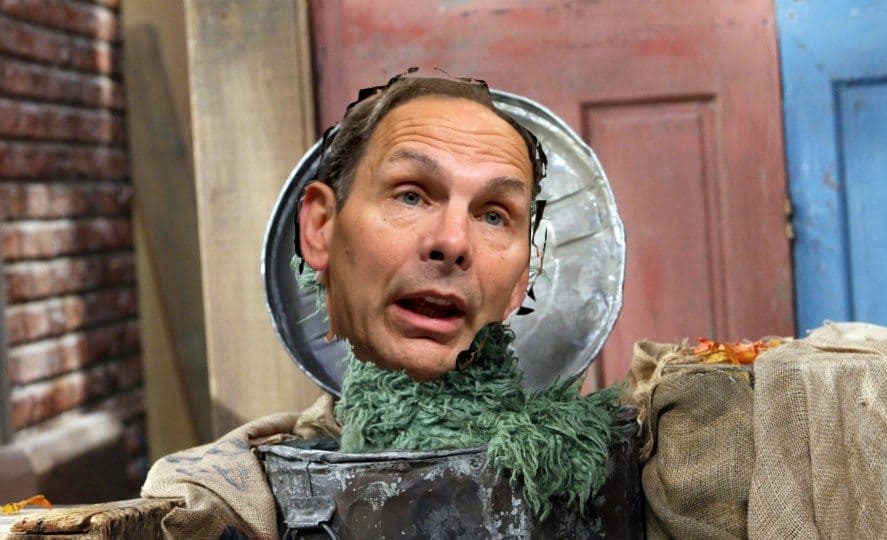 In a clear display of contempt and disgust toward vets, VA was caught insulting veteran in training material to prep VA employees for an upcoming Town Hall meeting. The insulting message? "Vets are muppets" was the message — using a slideshow juxtaposing upset and concerned veterans with the insulting caricature of Oscar the Grouch from Sesame Street.
You may be asking yourself, "Why on earth would they do that and what are they preparing for, exactly?"
What VA knows is that for the very first time in the history of the VA, they are being forced to listen to shiploads of complaints about VA abuses and corruption from likely and hopefully hundreds of thousands of veterans.
They are preparing to get an atomic blast of Free Speech from angry veterans in front of a sea of witnesses and media. They are going to have the truth and facts put on display, and there is nothing they can do to prevent veterans from voicing their concerns publicly. So instead of doing the right thing, they chose to pretend vets are muppets.
"VETS ARE MUPPETS" SLIDESHOW IS UNETHICAL
One slide states, "What to Say to Oscar the Grouch – Dealing with Veterans During Town Hall Claims Clinics." This is totally and brazenly unethical under VA's own ethics rules at 38 CFR 0.600 to 38 CFR 0.735-12. Indeed, VA employees do have ethics regulations they are required to follow so long as someone will hold them accountable.
Will American veterans and legal rights advocates tolerate VA's insult against veterans? I am extremely insulted, and will take a stand against this kind of demeaning and childlike behavior.
But without accountability, exactly how would VA deal with goofy muppet vets who are unjustifiably grumpy? Why would they think the subtext that "vets are muppets" would be useful?
The corrupt suggestion by VA in these unethical town hall training sessions is that abused and angry veterans have no just basis complaining. Their concerns about criminal VA leaders and VA employees who killed our fellow veterans with their pens and bad policies are just silly concerns, after all. This tactic to diminish the importance of this moment for veterans and Americans to observe the First Amendment and to publicly air grievances is a shamelessly brazen. It is a shameless attempt to paint offended veterans as mere dumb stage puppets and to discredit the things veterans will be saying by equating it with kindergarten entertainment.
Did you catch that? They want to change the image of veterans voicing righteous indignation in meetings to that of a make-believe kiddy show.  This lowers the seriousness of the Town Hall meetings to mere entertainment for VA employees. That is the subversive message here.
After all, we all know that Sesame Street is just a fantasy projection for children. The motive is clearly evil and the psychological manipulation is undeniable.
WHAT OTHER THINGS WERE IN THE MUPPET SLIDES?
Take a look at what the other slides reportedly stated according to Stars and Stripes:
Most slides touch on routine instructions, including dressing professionally, being polite, showing empathy, and maintaining eye contact.

But the "grouch" theme is maintained throughout.

About a dozen slides include pictures of the hapless, dopey Muppet in the trashcan he calls home. In one, a sign reading "CRANKY" hangs from the rim. In another, Oscar's face is flanked by the words "100% GROUCHY, DEAL WITH IT." The suggestion being, you can laugh at Grumpy; he's just being grumpy.

The presentation includes tips on how to tell if a claimant is nearing an "outburst," including being accusatory, agitated, demanding, or unfocused. One section on dealing with angry claimants is titled "Don't Get in the Swamp With the Alligator." The imagine of a creepy black swamp vermin is the image being put into VA employees minds is seen clearly here. In other words, don't answer angry questions.
But who will hold these unethical actors accountable?
WHO VA EMPLOYEES SHOULD BE FEARFUL OF
VA employees should be fearful of Secretary Robert McDonald being more of an "Oscar the Grouch" than any veteran they are forced to listen to during these meetings. Veterans should have many legitimate complaints that are going to make VA employees uncomfortable when their lies and corruption are displayed in public. But, Mr. McDonald can fire their butts for this kind of gross ethical violation or for misleading him or his hand-picked executives. We don't see how Secretary McDonald has any real choice on this one but to fire the perpetrator(s). And this reality should have VA employees scared.
In response to the slides, VA spokesperson Marisa Prugsawan said she was not sure whether the training was created in their Philadelphia office or VA Central Office. Prugsawan dismissed entirely angry criticisms by veterans groups when she lied about the actual intent of the slide:
"The training provided was not intended to equate veterans with this character," spokeswoman Marisa Prugsawan said. "It was intended to remind our employees to conduct themselves as courteously and professionally as possible when dealing with veterans and their concerns."
Get real, Prugsawan, VA employees will take us 'muppet veterans' just as seriously as if dealing with Grumpy on Sesame Street. The massage here is nothing short of the reality that VA employees consider concerned veterans to be a joke. They will roll their eyes. They will over speak when we talk. They will interrupt. They will not hear us no more than Oscar the Grouch hears your children talk at the TV.
Do you believe Prugsawan? No one should. This remark is shamelessly dishonest and evasive. The slideshow's motive was to portray veterans as comical, in a kiddy-like fashion for the entertainment of VA employees.
She and VA employees like her are probably thinking, 'After all, puppets are not real. He He He. We cannot take seriously anything that dopey cartoon characters have to say. It is all just fantasy stuff.' So take to few moments to voice your mind to Ms. Prugsawan at her email: [email protected]. Let's have an Electronic Town Hall today and tell Mr. Prugsawan we don't buy her flim-flam explanations.
Read More: https://www.stripes.com/philly-va-training-slides-depicted-veterans-as-oscar-the-grouch-1.300205