VA Voc Rehab Partners With SBA To Help Entrepreneurial Disabled Veterans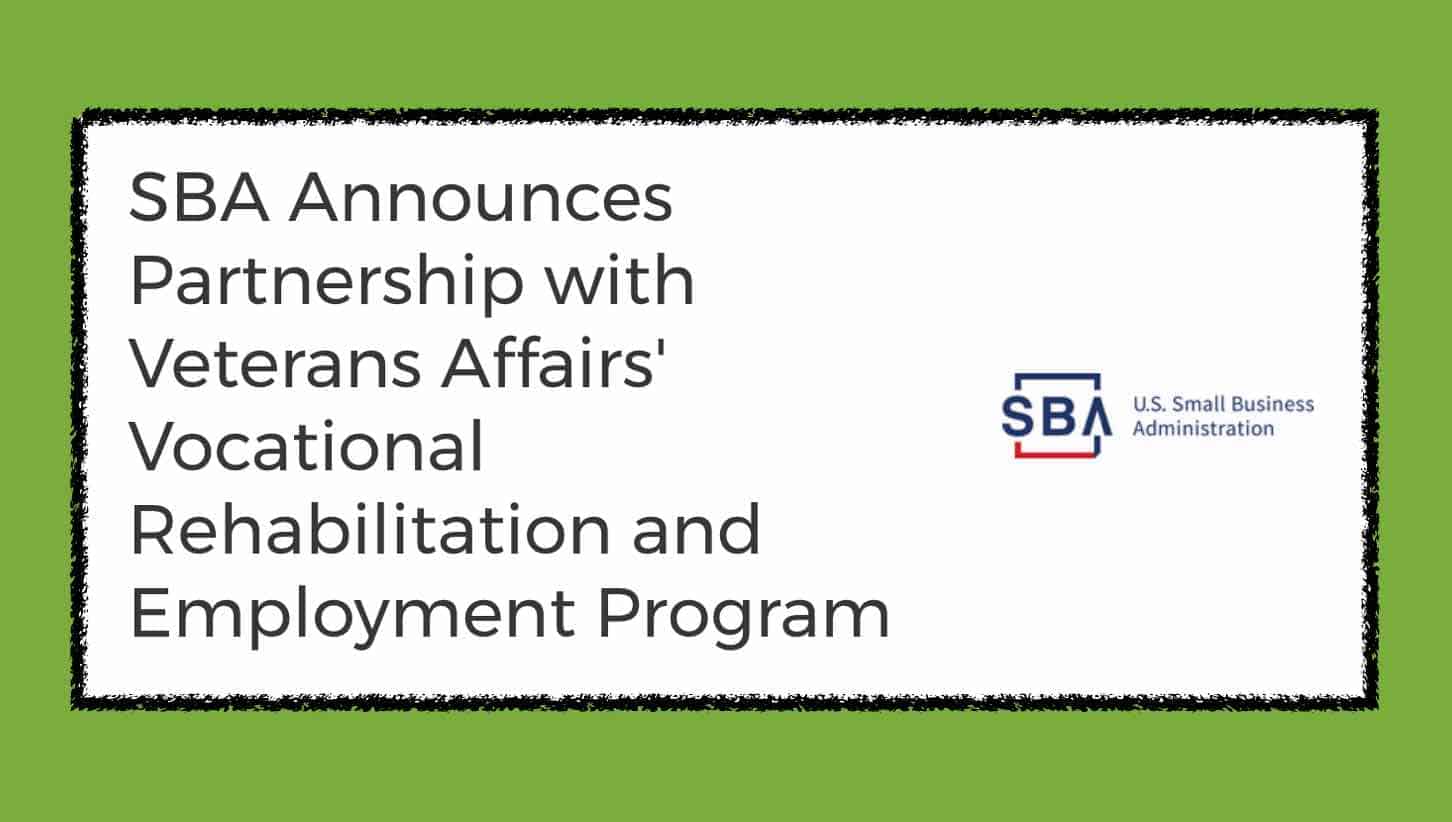 The Small Business Association just pushed out a press release explaining SBA has partnered with Voc Rehab to help disabled veterans seeking benefits in the form of small business start-up.
The question remains, 'How does this new partnership differ from the largely ineffective SBA relationship Voc Rehab previous enjoyed?' For many years, veterans were pushed to use services and resources from SBA when creating a small business plan while using Voc Rehab benefits. Apparently, the new plan pushing deeper integration and training of SBA resources to vocational rehabilitation counselors.
To this point, vocational rehabilitation counselors have largely been clueless about how to start small businesses. This makes sense since becoming a federal employee could not be more opposite to being an entrepreneur.
RELATED: The Five Types Of Voc Rehab Training
As an entrepreneur myself, I can tell you few jobs require more flexibility in thinking and options than running your own business. Voc Rehab has consistently struggled in providing self-employment guidance, so now they are turning to another bureaucracy to help veterans gain access to needed resources.
RELATED: How To Get Around 12-Year Time Limit For Voc Rehab Use
We will see how this partnership will make any dent in the delays still being experienced by veterans seeking self-employment support.
Here is the full press release in italics:
SBA Announces Partnership with Veterans Affairs' Vocational Rehabilitation and Employment Program
WASHINGTON, May 14, 2018 /PRNewswire-USNewswire/ — The U.S. Small Business Administration has entered into an agreement with the U.S. Department of Veterans Affairs, through its Vocational Rehabilitation and Employment program. The partnership will give veterans access to self-employment assistance from the SBA, its resource partners, and U.S. Export Assistance Centers.
The VA and SBA will work together to prepare veterans, service-disabled veterans, and service members for self-employment. Through the partnership, veterans and service members will have access to networking events, job seeking skills, coaching, and entrepreneurship training.
"Veterans are extremely resilient as a result of their time serving in the military," said Barb Carson, Associate Administrator, SBA Office of Veterans Business Development. "This is why they are great candidates for self-employment – and why prepping them to take on the venture is of utmost importance. VA's VR&E program plays such an integral role in veteran business owners' journeys, so I can't wait to see the progress we're able to achieve together."
"We're excited to take this interagency effort to the next level through this partnership," said Jack Kammerer, Director of the Veterans Administration's Vocational Rehabilitation and Employment program. "Both SBA and VA provide important resources for veterans and service members to take on the next step in their career – and their civilian lives. Together, we can set them up for success should they decide self-employment is next for them."
VA and SBA will train local staff on services available through partnering agencies, and also facilitate appropriate referrals and on national, regional, and local levels.
To learn more about the resources offered by SBA's Office of Veterans Business Development and the Veterans Administration's Vocational Rehabilitation and Employment program, visit sba.gov/ovbd or benefits.va.gov/vocrehab.
About the U.S. Small Business Administration
The U.S. Small Business Administration makes the American dream of business ownership a reality. As the only go-to resource and voice for small businesses backed by the strength of the federal government, the SBA empowers entrepreneurs and small business owners with the resources and support they need to start and grow their businesses. It delivers services to people through an extensive network of SBA field offices and partnerships with public and private organizations. To learn more, visit www.sba.gov.
Contact: [email protected] (202) 205-6987
Follow us on Twitter, Facebook, Blogs & Instagram
Release Number: 18-37
SOURCE U.S. Small Business Administration