The Swamp Giveth, And The Swamp Taketh Away: Margarita Devlin (Cocker) Promoted Into Number 2 Slot At Veterans Benefits Administration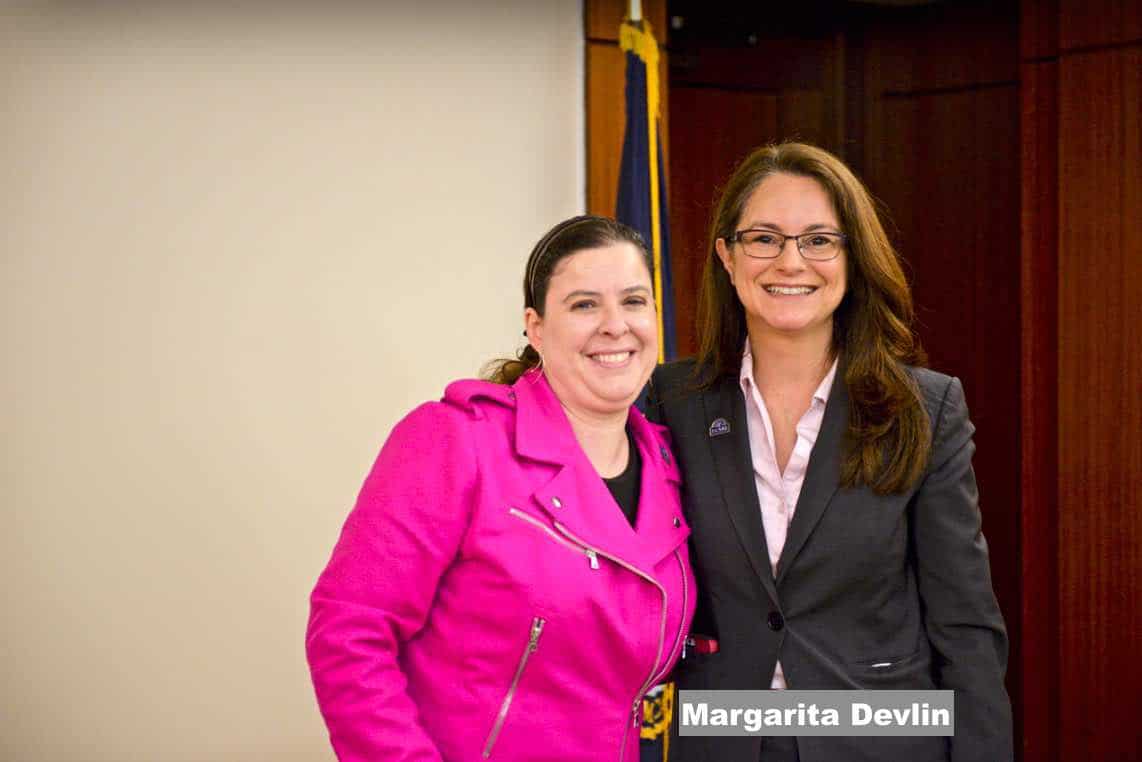 So much for draining the swamp and removing the status quo of cronyism and beltway favors inside the Veterans Benefits Administration (VBA). The newest promotion of Margarita Devlin into the #2 slot at VBA (principal deputy under secretary for benefits) may undermine new Under Secretary Paul Lawrence reforms.
According to an announcement this week, Margarita Devlin, a trained vocational rehabilitation counselor since 1995 was promoted into the number two slot inside VBA. To me, and many other stakeholders, this selection is a big deal and warranted deeper analysis.
What I found, after getting the scoop, is that Devlin is more of a swamp creature than the swamp drainer. She supports the status quo and lacks the out of the box thinking someone like new under secretary Paul Lawrence needs to reform the scandal-plagued agency.
Most recent on the list of accomplishments, something that should alarm some, is Devlin's involvement in the gutting of the agency's Transition Assistance Program through "efficiencies" that reallocated tens of millions of dollars Congress allocated to other projects yet unknown by the public. This reallocation of money seems to be the linchpin tying in Devlin with Murphy and his cronies.
With this history, I can assuredly tell you VBA will not improve regardless of the great programs Lawrence puts out as they will be based on incomplete or inaccurate information from the swamp.
At the core of my questions to insiders as I dug into her selection, I needed to know, 'Why was Devlin selected? What from her track record shows VA leadership she is the right person to serve directly under the new Under Secretary?
Margarita Devlin Background At VA
Devlin joined the VBA in DC in 2008 where she became the #2 to the SES in charge of Vocational Rehabilitation & Employment (VRE) until 2013. Previously, she worked under Ruth Fanning at St. Petersburg VA Regional Office and was hand picked by Fanning to serve as her #2 once Fanning was picked to serve as VRE Service Director.
Then the fun begins.
In 2013, she became the Acting Senior Executive for VRE for about a year.
She was not selected for the position to service as VRE Service Director even though her entire career had been in the VRE world up until that point. Army veteran Jack Kammerer was selected by former VA secretary Robert McDonald, instead.
Devlin was then detailed over to VA Central Office where she worked as the Acting (SES) for Care and Benefits Coordination. There she reported to Mary Carstensen, an Obama appointee. Carstensen was investigated by OIG for violating ethics and conflict of interest standards. The substantiated allegations were referred to DOJ for prosecution, but the agency declined.
RELATED: Thomas Murphy Demoted
A Swamp Creature Emerges?
It is noteworthy that Devlin was hand selected by Carstensen for an SES position and served in that role for about a year, perhaps learning the ropes, from a swamp creature like Carstensen.
After that detail concluded, Devlin was then "encouraged" to support Secretary McDonald by working for Tom Allin the Director for Veterans Experience. So she was moved over to lead the Executive Director of Navigation, Advocacy, and Community Engagement for about 18 months.
Jumping ship, right before the change of Administration back to VBA in early 2017 so she could lead the Benefits Assistance Service organization under Robert Reynolds, Jamie Manker, and Thomas Murphy.
VIDEO: GI Bill vs VocRehab, Which Is Better?
Working Back At VBA
Now, a year after settling into that position she is promoted into the #2 slot replacing the current Acting #2 Jamie Manker. You know Manker; he basically admitted he knows nothing about programs he managed and was grilled for moving money around by the House Committee on Veterans Affairs in March.
What's going to happen to him? Well he's going back to be the Chief Financial Officer so he can … well… move more money around.
After receiving her promotion, Devlin wasted no time in updating her LinkedIn account where it says, "She serves as the second in command in VBA."
Let that sink in.
Devlin will now serve as the principal deputy under secretary for benefits. She is not a Veteran and maybe not aware that "command" means something in military organizations.
RELATED: Key Terms You Need To Know For VocRehab
Will this move prove to be a positive step for veterans struggling to gain benefits in VA Vocational Rehabilitation & Employment?
Insiders want to know, 'How is it she is not back in her old slot at VBA when she was passed over for multiple SES positions she actually had training and experience in?'
With what seems to be a lackluster track record with little experience managing disability compensation programs, how will she run and advise the new Under Secretary on the core business of the agency?
Details, details.
The previously appointed principal deputy under secretary for benefits was Thomas Murphy prior to his selection as acting under secretary for Veterans Benefits Administration after Allison Hickey and then Danny Pummill stepped aside amid the Diana Rubens moving fraud incident.
Jamie Manker assumed the role of principal deputy under secretary when Murphy was picked to run VBA. Reynolds himself was previously investigated for misusing his position while serving as the DAV commander. Murphy was also investigated for inappropriate relations with a government contractor.
A recent OIG investigation showed Pummill, Murphy, Manker, and many others looked the other way when millions of dollars of Transition Assistance Program dollars were misused and given to friends of the VBA leaders.
That story coming later.
But insiders report that when the former deputy under secretary for economic opportunity Curtis Coy tried to fix the problems stemming from the corruption he was shut down as were any staff working to end the corruption with the contractor Calibre Systems.
Remember that name.
The answer by Murphy and Manker was to move the entire Transition Program under Margarita Devlin in the Benefits Assistance office.
What was the result?
TAP Under Devlin Gutted
A program supposedly authorized $100 million was gutted by around $40 million and reported by Manker this year as generating contract "efficiencies."
Well done, Ms. Devlin.
Way to advocate for those veterans counting on you to provide them with programs and services needed for successful outcomes. Devlin is noted to have "killed off programs" helping veterans in order to keep the favor of VBA leaders or their cronies.
RELATED: Wikileaks Emails Show Possible Pay-To-Play At VA
Now, Devlin will essentially run benefits under the newly confirmed Under Secretary Paul Lawrence, PhD. Meanwhile, Thomas Murphy was demoted out of Central Office into the Midwest Area District Office located in St. Louis, a move many insiders say he choreographed himself over many months to ensure he receives a pension rather than being shown the door.
To find out what we can expect about Devlin's new promotion, like I said before, I reached out many current and former employees with direct knowledge of Devlin's performance at work and various IG reports linked to her projects.
One insider commented, "Devlin is known to protect the status quo, a favored choice by those in power to maintain contractor relationships and policies favorable to dealmakers."
If you are curious, I can assure you she is linked to the IG report recently published that exposed wrongdoing related to Calibre contracts. At best she is guilty of being useless and unable to advocate for change to her leadership, at worst she looked the other way allowing corruption and poor performance to go unchecked in fear it would hurt her rise to the top.
You decide.
Also, the Calibre Systems contract was extended several times under Devlin whose team eventually selected a replacement for them. Yet, during the time Calibre was extended and gained tens of millions of dollars in fees/payments, guess what?
They were able to win new work inside VA to orchestrate the massive reform everyone is up in arms about.
Why would Margarita Devlin, a known ally to former Obama appointees, take a passive approach to Calibre Systems? Maybe it landed her the new role?
Does Calibre Run VA?
It is noteworthy that numerous senior leaders now placed inside VA are ex-Calibre cronies running the Office of Accountability and Whistleblower Protection, Peter O'Rourke, for example.
O'Rourke is now the chief of staff of all of VA.
His replacement is Kirk Nicholas who worked for Calibre with Peter O'Rourke before joining the VA. A former Calibre transition assistance program is leading VA transformation efforts inside VA for all of healthcare. And the list goes on and on.
But wait.
She is a woman in a world where women were purged under Murphy and Manker from leadership positions.
Is Devlin The #MeToo Choice?
Is the Devlin pick a sign VA is pushing back against Murphy after his demotion? In other words, is her selection a sign VA is heading in the right direction?
Not so fast according to one source, "Her selection doesn't move women forward or reinforce that women are capable and respected as equals to the male leaders."
She continued highlighting how only certain women tend to be "liked" inside VBA leadership, "They tend to be flirtatious and mild-mannered, leaving conflict aside for more nuanced negotiations. This appointment is the anti #MeToo selection."
Co-workers say Devlin used gender difference to her advantage. Her working theory on men is apparently well known. "Men at the office need to have their egos stroked and respond better if everything is there idea," said one former co-worker.
How patronizing is that?
Apparently, she did that job very well given her promotion after reshuffling funds out of the faltering TAP system.
Other Rumors
I will not repeat various rumors inside VA between Devlin and other coworkers that surfaced through my investigation here. Needless to say her moral conduct has been known and widely discussed inside and outside the VA for years.
But accountability inside VA isn't about conduct or performance is it? Or, the type of conduct and performance being rewarded is not necessarily what other Americans think it should be.
One colleague commented, "What message does this send to women in the organization? Don't try to be an equal. Conduct issues only apply to some employees. Experience, leadership, performance aren't what is valued."
As for her actual performance, over the past she quickly moved between positions in different projects within the agency making the long-term impact of her decisionmaking difficult to ascertain. She moved just before results were expected, and given the systemic failures of many VBA programs she's touched, she will fit right in as the #2.
Reader Challenge
I encourage and challenge my readers to investigate Devlin and report back what you find in the comment section below.
Also note that when conducting searches, you should search under "Margarita Devlin" and "Margarita Cocker." The latter is her former married name during her first marriage. "Devlin" is her name under the second marriage, which recently ended.
SEE IT: Google Search "Margarita Cocker"
SEE IT: Google Search "Margarita Devlin"