Veteran Calls Out MSNBC For Blocking Handicapped Spots At Polling Place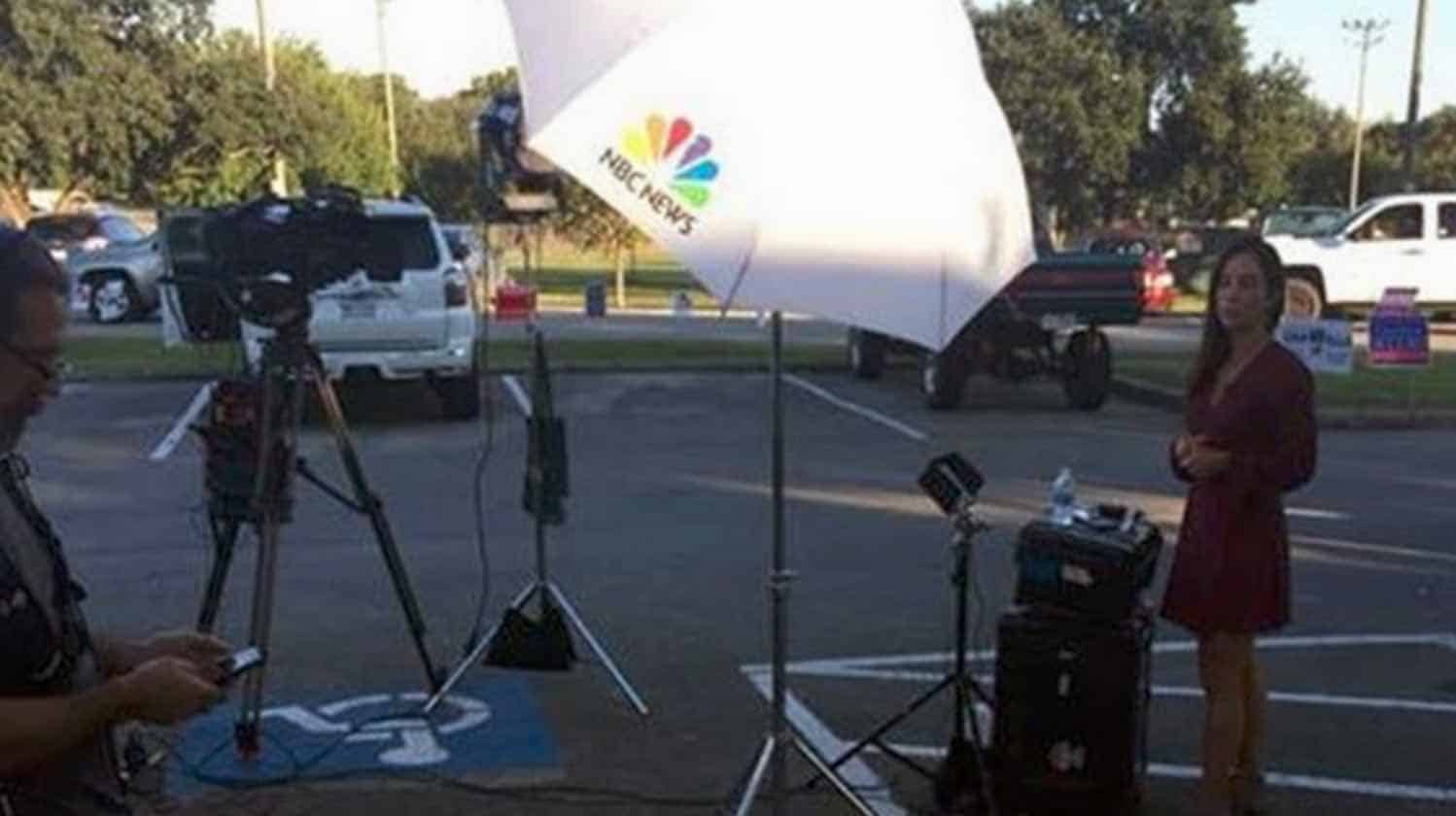 One disabled veteran confronted an MSNBC news crew after multiple requests that the crew stop blocking handicapped parking outside a polling place in Houston.
"They should know better," said the veteran after confronting the crew. James Berrie, a disabled veteran, needed the spot to unload his ramp and power chair so he could vote. Berrie and his wife had to park in a non-handicapped area as a result. The veteran suffers from multiple sclerosis and requires handicapped parking.
Berrie confronted the crew and snapped photos after the news crew refused to move. The news team reportedly agreed to move after confronted but failed to do so after fifteen minutes. He said the news crew blocked off two handicapped parking spots with its equipment to shoot footage with correspondent Mariana Atencio.
"(The MSNBC crew) kept coming back like we'll move in two minutes," he said. "We'll move in like three minutes. We're going live. We've got a shot. We're going live in like three minutes. We gotta do this and we're just like, 'No. You have to move. It's not right. You know it's not right.'"
Later, Atencio apologized about the incident on Twitter.
"We made the wrong call (Tuesday) by using a disabled parking spot for our live shot in (Texas)," she wrote. "There's no excuse. I apologize to the two people who were on their way to vote as it's one of the most important parts of our democracy. We'd never want to jeopardize anyone's ability to do so."
The veteran posted the photo and comment about the MSNBC issue on Facebook.
James Berrie On MSNBC
I took this excerpt from Berrie's Facebook and posted it below in italics:
Different kind of voter suppression.
EDIT: Thank you all for your support. This has gotten bigger than I thought, but that is a good thing. People are talking about this, having the conversation. Please keep going. If you see something, say something.
Went to vote, and found this waiting for us. The only van accessible spot and they're filming in it. We asked them to move, pointed out how it was wrong, then went to vote, because it takes time to load up. But came out and still there. Not even packing up, still getting ready for their shot. Then Sarah made a big scene and did not back down. They claimed they had a live shot, so Sarah walked into the shot. They cut the feed and got pissed. Fortunately other people joined in, plus firefighters who where there for Prop B. We finally left once their van was loaded. But there were plenty of witnesses and pictures/video taken by others.
This is suppression. If I couldn't park I couldn't vote. Their van had no handicap placards. And this happens all the time. Handicap spots are not loading zones for gear and equipment. Figure something else out. Especially at a public event where people are going to need the spots. This is not ok, and the station needs to be made aware. All of them.
EDIT: This is a very big election this year. News will be out in force, now and until the general. The media needs to be aware. Call them out if you see this.
Get Voting
Be sure you get out there and vote. Given the hysteria on both sides of the political aisle, it will be interesting to see how actual voter turnout is when compared to the polls.
In 2016, the major media outlets were obviously dead wrong. And they should be embarrassed for their errors. This year, polls are calling for a blue wave. Like 2016, though, it will be interesting to see how accurate they are this time.
Will we see a flip toward Democrats similar to that of 2010? Or, are we seeing more bluster from pollsters trying to manipulate voters? Will the use of polls as a form of propaganda to manipulate voters finally be exposed?