Some Veterans Suspect Key Senator Holding Up VA Secretary Selection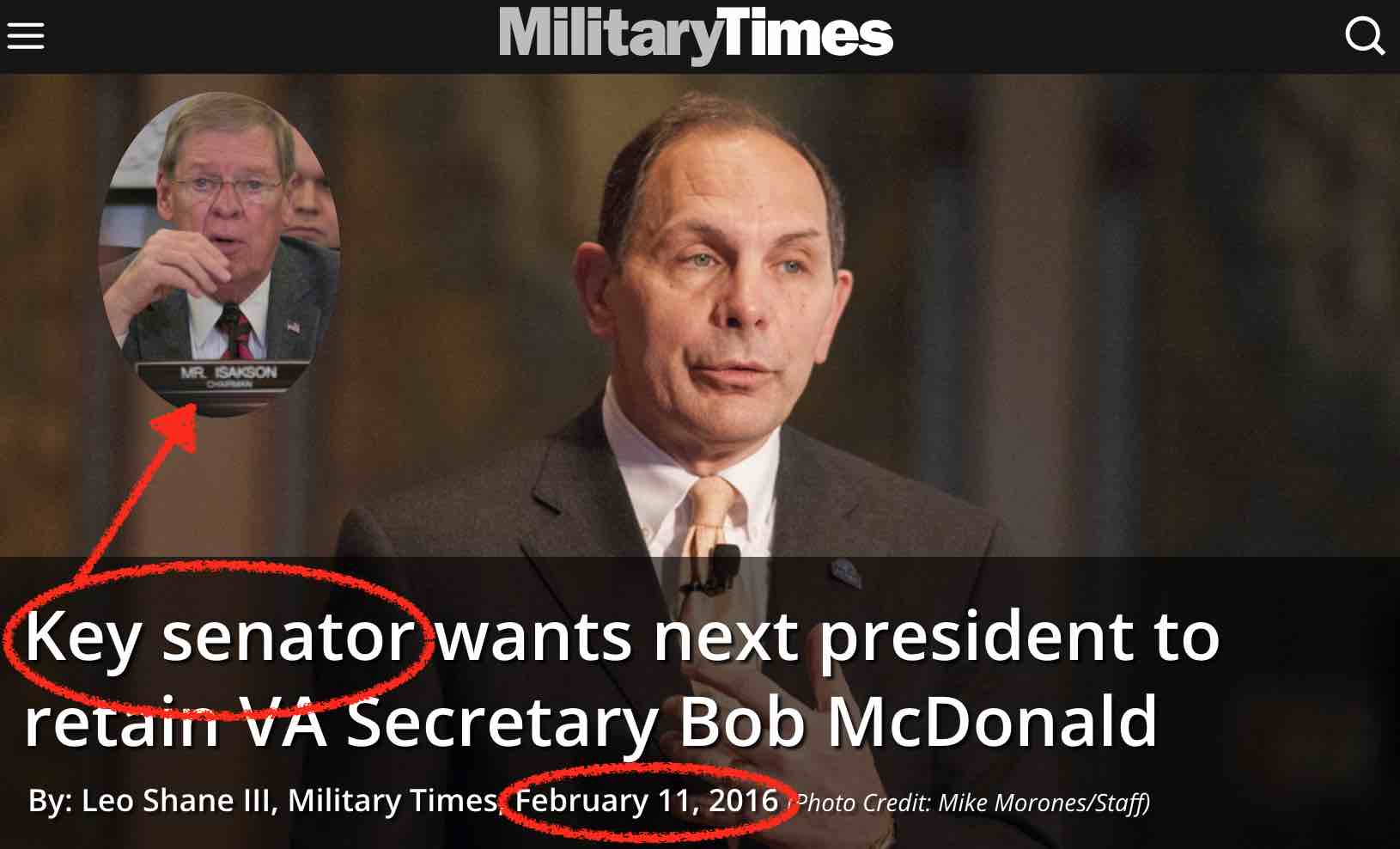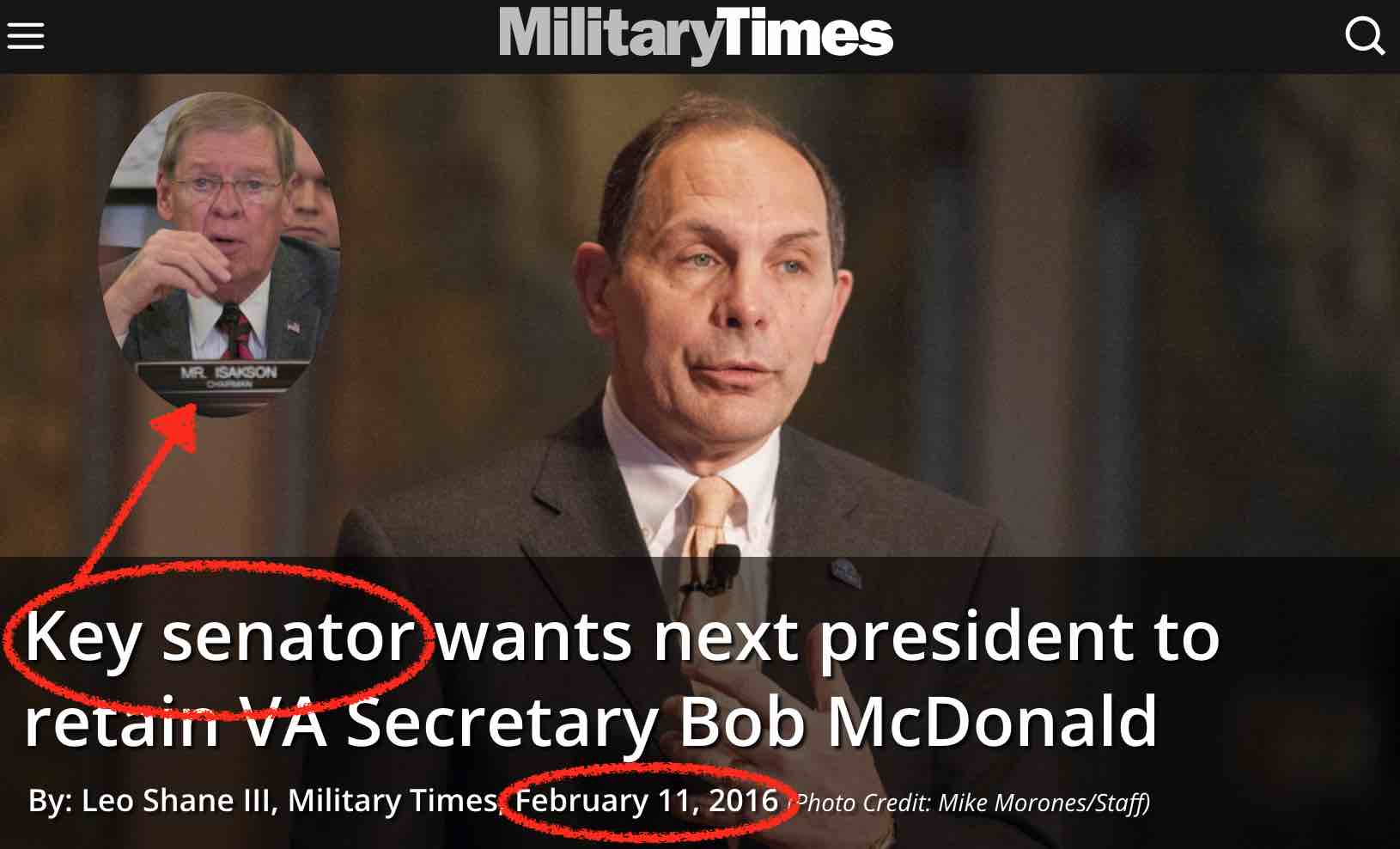 Is Trump's selection of the next VA Secretary being held up by a backroom deal struck last winter by Sen. Johnny Isakson (R-GA) to keep McDonald onboard?
Some of my readers have written in with grave concerns over the present move by our dinosaur Veteran Service Organizations to pressure our new president-elect to keep VA Secretary Bob McDonald.
They referenced back to articles I forgot about back in February-April where Sen. Johnny Isakson, chairman of the Senate Committee on Veterans Affairs, became a huge fanboy of Sec McDonald.
Back in February, Isakson called for McDonald to stay on regardless of who was elected. Isakson also slammed Trump for being critical of VA's persistent frauds and failures.
"I don't know that he has served or used any VA services, so I think he is regurgitating what he's hearing in the press," he said. "A lot of the things being reported are things that happened before I came along or Secretary McDonald came along. … The VA is making substantial changes."
I will explain more below, but suffice it to say that numerous critics of President-elect Donald J. Trump are engaged in a kind of coup to keep Sec McDonald in power. The plan appears to have been struck last February between Obama, Isakson and McDonald.
Does that mean any backroom deal was struck to keep McDonald there?
I am not sure, but it looks like some kind of negotiation was in place to erode accountability reforms by Isakson while he curried favor with the White House / Democrats (ie unions). It really rubbed Rep. Jeff Miller the wrong way.
I promised to look into today.
What Happened To VA Secretary Selections?
In an article by ABC, the delay in selecting a new VA Secretary is receiving pushback in an unusual way. Dinosaur Veteran Service Organizations are now pushing for Trump to keep Secretary McDonald, and the Secretary has made it known he would stay on if asked.
During this transition, the position of VA Secretary has been one of the "most difficult" positions to fill. Despite making veterans issues a cornerstone of his campaign, the selection of a new VA Secretary has been apparently difficult.
Rep. Jeff Miller (R-FL), the former Chairman of the House Committee on Veterans Affairs, was considered the front-runner at least during the election. But sources inside the beltway indicate he has turned down the position.
ABC highlights four remaining contenders:
Former Sen. Scott Brown
Pete Hegseth
Former Gov. Sarah Palin
Michelle Howard
Adding to the mix is the recent inside baseball from some dinosaur Veteran Service Organizations who are pushing for Secretary McDonald to say on to finish the 5-10 year VA transition under his iCare plan.
According to the Task & Purpose article, "Trump Makes Time For Kanye West, But Not Veterans Groups":
Those involved with veterans organizations seemingly don't want to see a Trump nominee at all. Thus far, leaders of the American Legion, Disabled American Veterans, Veterans of Foreign Wars, Vietnam Veterans of America and Amvets told Trump's transition team that they would not support any of the candidates that have been mentioned. They would rather see current VA Secretary Robert McDonald retain the post.
"We all want McDonald," said Joe Chenelly, the executive director of Amvets. "He has a good business mind, he is experienced and we feel we can trust him."
But is there a backroom dealing that is really holding up the selection?
Backroom Deal Between Isakson And Obama
One of my readers found this suspicious and reach out with a reminder of an older articles including one from Military Times that highlighted:
Back in Feb or March of this year ('16) I blogged what I read then about Sen Isakson having talks with Obama and Isakson agreeing to let Obama "creating" some kind of "law" (with more stickiness than an executive order which can be stricken when a new president gets in) to keep McD on indefinitely in exchange for things Isakson got from Obama in return. I remember the article being in military times I believe – or something like that. The article told of McD insisting he needs more time (like 5-10 years or so) with himself at the helm to "get the job done". Isakson bent over before Obama and sealed the deal. So I am thinking maybe this is the hold up with Trump Team recommending a new Sec. thus far. Isakson is a complete sell-out and can't be trusted. The truth will come out soon, but I will not be shocked if McD stays on due to this secret agreement back then. "Several lawmakers, including Senate Veterans' Affairs Committee Chairman Johnny Isakson, (R-Ga.), have publicly urged Trump to keep McDonald." says a current article.
So is there merit to this concern? Possibly.
Taking this in mind, I set out to find the articles to see what happened.
What I Found
Last winter, Military Times published an article by Leo Shane III that was search engine optimized titled, "Isakson-endorse-McDonald-VA-secretary-election". That is why I took a screen shot of the photo at top for this article.
Can you believe how brazen Isakson is to make that statement during an election cycle that is not even complete yet while attacking then candidate Donald Trump?
In that same Military Times article, Leo Shane wrote:
An influential member of the U.S. Senate wants Veterans Affairs Secretary Bob McDonald to stay on in that role next year, no matter who becomes president.
"Everything I've seen with Bob McDonald over the last 16 months, I've been very pleased with," said Sen. Johnny Isakson, R-Ga., in an interview for C-SPAN's "Newsmakers" taped Thursday. Isakson chairs the Senate Veterans Affairs Committee. "I would certainly hope he would stay for continuity purposes, or the next president would pick him to stay.
"The main thing we need at VA is continuity and commitment. Bob McDonald is a veteran, he ran a large business, he's committed to the I-CARE program at VA. I want to make sure that goes through, and I would recommend him."
At the time, President Obama had a pending 2017 budget looming while Sen. Isakson was holding up selection for the new VA OIG head. There was also a row brewing over inclusion of VA Accountability Act within the omnibus bill.
By April, Isakson was cited by Leo Shane at Military Times as pushing back against Rep. Jeff Miller and his reforms aimed at accountability:
On Tuesday, Isakson brushed off that criticism and said he also has concerns with Miller's proposal.
"I'm not going to get into our accountability section until we're ready to unveil," he said. "We've done a much more comprehensive look at it, to target the real problems and the real areas for accountability.
"Anybody can write a letter. We're going to produce legislation and work with the house to get a joint bill together that solves everybody's problems when it comes to accountability."
Isakson also said he's confident he can craft legislation that the White House will support, unlike the Miller bill.
What were those criticisms?
According to the article, "Is Sen. Johnny Isakson too soft on bad VA employees?" the lawmaker was criticized for not being firm on accountability reform:
Since December, Isakson, the chairman of the Senate Committee on Veterans' Affairs, had been part of talks among lawmakers and Congressional staff for a series of bills on veterans' issues, the letter said. But those negotiations, which centered on strengthening the VA's hand to remove problem employees, have broken down, the letter said.
Rubio and Miller accuse Isakson of ending the talks, and they express concern he is trying to reach an agreement with the Obama administration that won't address the real problems at the VA.
"We hope you realize that any piece of comprehensive veterans' legislation that doesn't provide the VA Secretary swift and comprehensive disciplinary authority for all VA employees misses the true mark on what ails the Department," the letter says.
The Rubio/Miller letter, which was posted on the House veterans affairs committee website, is notable because of the public strife within Republican ranks over what tack to take with the VA following the scandal that rocked the agency two years ago over long wait times at VA health centers.
Veterans Rights Reforms
Shortly after this, VA and McDonald were cited as pushing for veterans rights reform dubiously dubbed "appeals reform," a wolf in sheep's clothing. Gibson garnered support from our dinosaur VSOs to reform veterans rights to speed up processing the backlog VA manufactured by failing to ensure accountability and smart policies.
Sloan Gibson IV, VA Deputy Secretary, garnered support from our dinosaur VSOs to reform veterans rights to speed up processing the backlog VA manufactured by failing to ensure accountability and smart policies.
That is right, VA and many VSOs supported appellate reforms at the expense of veterans' civil rights and due process rights because… VA thinks doing its job is hard. And the answer is to limit your rights.
Again, according to Leo Shane at Military Times a few weeks later:
Earlier this week, Senate Veterans' Affairs Committee Chairman Johnny Isakson, R-Ga., said that appeals reform will be included in the pending omnibus, but warned it might not be the comprehensive plan floated by VA officials in recent months.
The omnibus already is expected to include sweeping new changes to hiring and firing rules for VA employees, changes to the department's outside care programs, caregiver provisions and several dozen other pieces of veterans legislation.
Isakson said he is committed to helping overhaul the process this year — either through the omnibus or in separate legislation — but conceded that passing any comprehensive legislation after June 1 will be difficult, given the shift in attention to the fall elections.
Veterans First Act
These deals were building up to Senate's passage of the Veterans First Act in June. But, by the time December rolled around, about a week ago, only a portion of the 400-page act was ultimately passed.
McDonald was disappointed. and my best guess as to why McDonald is being pushed to stay on is to push through the reforms Congress refused to take action on that likely support the limp accountability reforms pushed by Isakson.
My best guess as to why McDonald is being pushed to stay on is to push through the reforms Congress refused to take action on that likely support the limp accountability reforms pushed by Isakson and veterans rights reform.
In the article, "Congress Passes Gutted Veterans Reform Bill," McDonald is cited as saying:
During a public discussion at the Center for New American Security on Tuesday, McDonald said Congress was acting as a "barrier" to reform the process.
"We need that legislation in order to ultimately have the ability to continue the transformation," he said. "I've been told by some members of Congress that my wish to get this legislation passed wasn't going to happen so they could wait for the new Congress to come, so they could take credit."
Is There A Backroom Deal?
I am sure there are always backroom deals in DC politics by swamp creatures lurking in the darkness and behind closed doors. Donald Trump was elected, at least in part, because he promised to drain the swamp of those creatures.
Do I hope Trump makes good on his promise to help veterans and drain the swamp by selecting a competent VA Secretary? I hope so.
Should we trust our dinosaur Veteran Service Officers who care more about maintaining their power and control over the veterans they used to serve?
Rather than answer that question, I'll ask another.
Should we, veterans of the most powerful military in history, accept the mere scraps these VSOs throw us while claiming they are doing us favors, or should we take what's ours? The steak, the potatoes, and the scraps?
Let's give President-elect Trump a chance.
At the end of the day, the VA Secretary has not generally had a huge impact on the agency. It is the underlings including the communist elements engaged in simple sabotage that we need to flush with greater accountability.
RELATED: Is VA Using CIA Guide To Simple Sabotage To Crash VA?
Isakson is a clear enemy of accountability. He needs to get flushed, too.