Why Is VA Secretary Obstructing IG Audit Of Criminal Allegations? Scolds IG Chief Like Petulant Child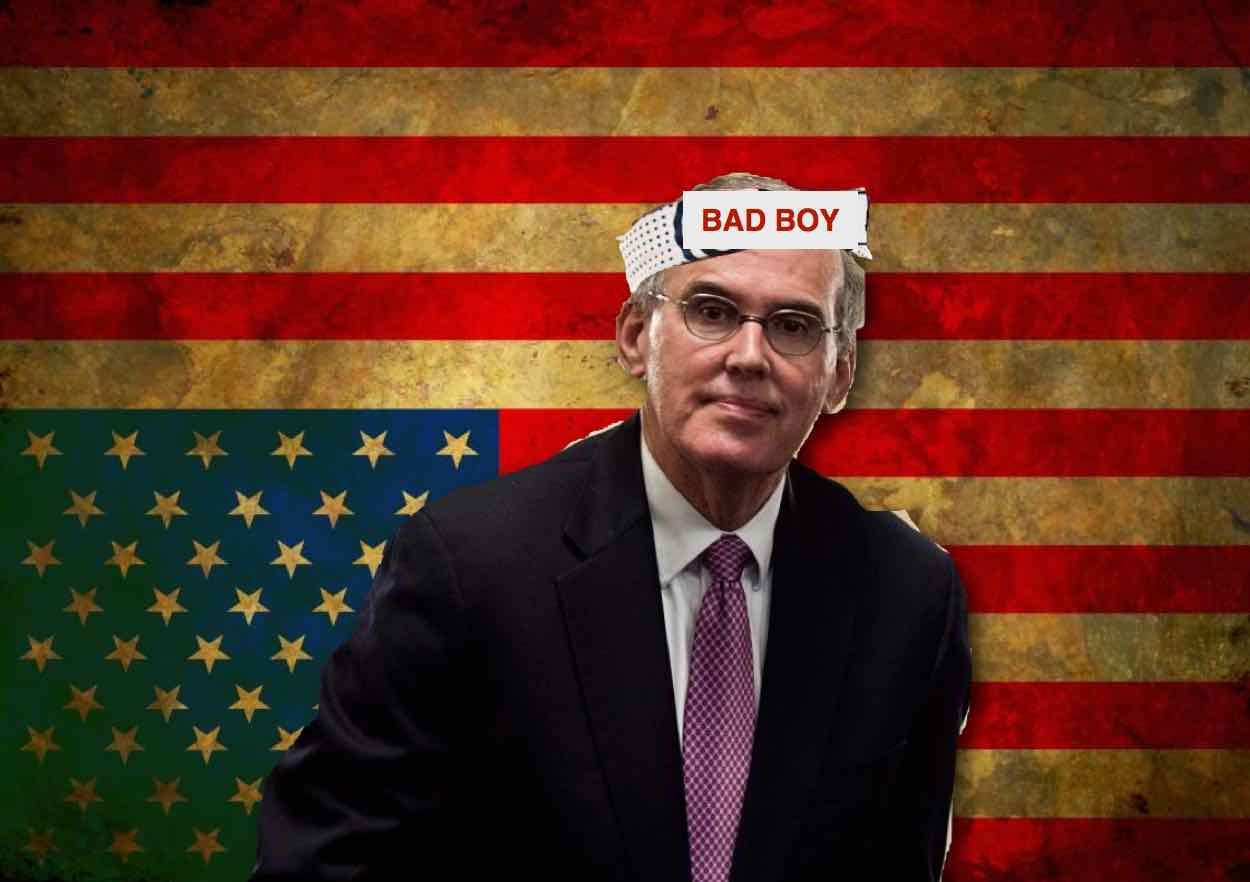 A fight is brewing inside the Department of Veterans Affairs between acting VA secretary Peter O'Rourke and the IG head Michael Missal over access to complaints about the criminal behavior of agency leadership.
At the center of the brewing fight is a thinly veiled conflict of interest claim against the acting secretary that needs to be leveled.
How can the former head of the agency's Accountability Office who just left that role a couple months ago, without conflict, be allowed to make obstructionist decisions about access to records by the agency watchdog?
Given the extreme game of musical chairs at the agency following the successful internal coup against former secretary Shulkin, few at the agency seem to have the chops to intervene and make a choice that is in the best interest of veterans. These veterans need accountability now, and they need the agency move forward with the promised purpose of the Accountability Act – – prosecute bad VA leadership.
So what is the problem unless the office is not following its mandate? Is O'Rourke not far enough removed from his former staff and his former ex-CALIBRE colleague who took over the helm of the Accountability Office?
Background On The Recent Conflict
In lengthy exchanges covered by Military Times, O'Rourke treats Missal like a petulant child over demands from IG to have full access to criminal complaints about agency leaders. Rather than help enforce accountability in the spirit of transparency, O'Rourke ordered a refusal to provide access while blasting Missal for being disobedient to his new boss.
Bad boy. O'Rourke is calling out the IG for allegedly overstepping its mandate and making assertions that "recklessly cast the VA and its employees in an unfavorable light."
Unfavorable light? What happened to O'Rourke and the Trump Administration supporting exposure of wrongdoing and prosecution of corrupt VA leadership? They certainly made hay of the Obama Administration's repeated failures to address corruption and prosecute wrongdoers, and it looks like Trump is unable to make a dent at the top, either.
Swamp 1 – Trump 0
The internal pushback has gone from contentious to ugly in the past week.
O'Rourke, an ex-CALIBRE executive who assumed the helm at VA after an alleged coup against former VA secretary David Shulkin, last week denied complaint access to documents asserting the request is too broad and impractical.
The acting secretary also blasted Missal's office for repeated failure to "demonstrate due professional care" and "not performing its responsibilities in a fair and objective manner" in a series of reports in recent months.
This is curious.
So, O'Rourke, a former Trump campaign insider who then ran the new Office of Accountability and Whistleblower Protection, is angry at how aggressive recent IG reports have portrayed agency wrongdoing?
Last I checked, O'Rourke and those colleagues of his involved in the Shulkin coup were just fine blasting away at the former secretary, especially after IG published its reports slamming Shulkin over the Europe trip. Now, the deep dive reports are apparently discouraged.
Is he nervous IG will find that O'Rourke was working on something other than what his mandate was at the Accountability Office? Bingo!
An IG audit into how O'Rourke managed the Accountability Office may reveal information that could undermine his present role as acting VA secretary. And, since there is no timeline presently for the Trump Administration to submit nominee Robert Wilkie's application to the Senate for confirmation, O'Rourke could be the secretary for good long while, especially if Wilkie is not confirmed.
Perhaps that is the plan? So which government contractors or vendors might benefit from O'Rourke enjoying a lengthy tenure as head of the agency?
Firing Veteran Employees Fetish
AFGE and low-level VA employees are presently upset with the agency's fetish of removing veteran employees after they seek reasonable accommodations or file EEO complaints of retaliation.
Perhaps the real data might reveal the agency is little worried about its corrupt leaders as evidenced by its numbers. Less than 20 leaders have been terminated following passage of the Accountability Act while over 3000 low-level employees were removed.
Some including AFGE leadership believe the discrepancy belies a bait-and-switch by the Trump Administration. The promise with the new law was it would help fire bad VA leaders like Diana Rubens after being exposed for certain fraudulent moving claims and bad dealing.
RELATED: Shamed VA Execs Appeal Demotions
Outrage about the agency's inability to hold Rubens accountable led to massive support in passing a new law to allow easier firing. But those like Rubens are still holding their positions of authority with no noteworthy terminations to speak of.
Again, what American taxpayers now have is a new repeat story coming out of VA. If you are a veteran with disabilities who needs reasonable accommodations or who is the victim of harassment, you better keep your mouth shut or else.
Yet, O'Rourke acts as if there is nothing all that important for IG to see despite calls from Congress to review how the Accountability Office is doing.
Does O'Rourke and the Trump Administration expect Americans to believe that within one year the agency somehow rooted out all criminal leaders and corruption? Are we that foolish with such a short memory?
Swamp 2 – Trump 0
Peter O'Rourke Demands IG Obedience
"You also appear to misunderstand the independent nature of your role and operate as a completely unfettered autonomous agency," O'Rourke's letter stated. "You are reminded that (the IG) is loosely tethered to VA and in your specific case as the VA inspector general, I am your immediate supervisor. You are directed to act accordingly."
Swamp 3 – Trump 0
This is the money quote in my mind as it proves what everyone suspected during the investigation and subsequent whitewash of the wait times scandal investigated in 2014. There, veterans were outraged by an IG report that soft-shoed its investigation and failed to fully address the extent of the wait list fraud or the trail of dead veterans that resulted.
Back then, VA executives were caught profiting via higher bonuses by encouraging a fraudulent wait list scheme that made performance numbers and wait times look better than they did. Veterans who needed urgent care did not get it. Some died.
RELATED: VA Chief Of Staff Orchestrated Wait Time Investigation Stonewall
Once the scandal broke, first at Phoenix VA, the agency disbanded its Office of Medical Inspector within IG. The effect of this decision was each medical center was responsible for its own investigation.
And you can imagine what happened. I can almost hear VA leaders yelling, "Fire up the shredders, boys!"
That is almost what happened after former General Counsel Tommy Gunn broadcast to all local offices that it needed to get ready for a litigation hold, which basically allowed local offices to shred documents under the false assertion they were not relevant to the investigation without parameters previously being set to retain evidence.
Following a disappointing delay, VA OIG issued a poor report that whitewashed the scandal. Americans were promised an FBI investigation which turned into little more than a prelude to the Hillary Clinton bogus email server investigation we see playing out still, after many years.
RELATED: IG Quietly Releases 70+ Reports Into Wait Times Scandal
As for the current pushback that is now spewing into the headlines, Missal is not taking O'Rourke's demands lying down.
"Denying the IG access, or selectively providing access to certain records, is also antithetical to the fundamental purpose of (the whistleblower office) and its stated commitment to transparency," he wrote in a letter to O'Rourke.
"It deprives veterans and the public of the ability to ensure that (the whistleblower office) is in fact holding department officials accountable consistent with its mandate."
What do you think of the lack of information sharing with IG?
O'Rourke says IG does not need unfettered access to conduct its audit. But IG maintains they need the access to verify the Accountability Office is fulfilling its mandate.
Swamp 5 – Trump 0
I can tell you insiders I know are unhappy with the actions of the Accountability Office. Many of them believe the office is more of a data gathering investigations office that reinforces diminishing internal dissent and the impact of whistleblowers.
If you invert the name of the office with how it is allegedly functioning, some insiders believe you get a better idea of what is going on: Office for Corruption and Whistleblower Prosecution.
Mission accomplished boys, mission accomplished.
What Is The Real Story?
There obviously is a reason O'Rourke is obstructing the investigation, but perhaps his reasoning behind the decision is irrelevant given his past involvement in standing up the office following Trump's signing of the Accountability Act.
O'Rourke certainly has a conflict of interest given IG would investigate his role and the role of his immediate and recent subordinates. Let's not forget he ran the office being audited just three months ago. The office is now run by another ex-CALIBRE executive who replaced O'Rourke leading me to wonder, 'What is it about CALIBRE and accountability?"
Think about that question when you ponder why the numbers of terminations related to corrupt executives are so tragically low compared to what President Trump promised.
The acting secretary's refusal to allow the unfettered audit certainly appears tainted.
Would Shulkin have allowed the audit? O'Rourke's career clearly benefited from the orchestrated coup to take Shulkin out. It seems ironic he is not critiquing the same watchdog organization credited with hitting against Shulkin to initiate his removal.
That leads me to believe the pushback against Missal is not just because he is another Obama holdover. His IG did help push out Shulkin with two reports that seemed to include a fair amount of zeal.
With all other options removed, it looks like O'Rourke does not want the watchdog or Congress to know what is going on. And, his conflict of interest in making the determination is likewise obvious.
Will Trump need to intervene to save his Accountability Act legacy by telling O'Rourke to back down and get to work removing bad leaders?
VA'S Reality TV Drama
What I am about to describe might seem more like a boring version of MTV Road Rules, but trust me, the drama and high stakes tension was no doubt even more interesting behind the scenes than anything you'd see on MTV.
FIRING DRAMA
In February, reports surfaced that Tom Bowman would be fired to knock Shulkin down a peg or two. This turned out to not quite be accurate as a coup to unravel Shulkin was revealed in emails.
EUROPE DRAMA
Then more reports surfaced including an IG report confirming that former VA secretary David Shulkin took inappropriate gifts and misused federal resources to take his wife on a trip to Europe summer 2017.
COUP DRAMA
Once the reports surfaced, Curt Cashour and John Ullyot cut off Shulkin's contact channels with the press to effectively prevent Shulkin from defending himself at the direction of the White House. Shulkin went on a public relations blitz to counter allegations, in turn, claiming he was set up as part of some internal coup by individuals attempting to privatize VA at the expense of his career and good reputation.
RELATED: Ullyot On Vacation After Failed Coup Of Shulkin
HACKING DRAMA
President Trump saw to it Shulkin's trusted chief of staff retired / resigned quickly after it surfaced that she may have altered some emails concerning ethics advisements. Shulkin claimed the emails were altered through a hack, but no one has confirmed the allegation.
RELATED: Coup Attempt Allegedly Behind Chief Of Staff Retirement
BABYSITTING DRAMA
Former head of accountability Peter O'Rourke was named as the replacement for Shulkin's chief of staff on a permanent basis. The stated reason was to keep an eye on Shulkin to make sure he implemented the policies the Trump Administration wanted (i.e. Cerner HER deal to replace VistA).
FIRING DRAMA
President Trump complained about the negative press surrounding the substantiated allegations and ultimately fired Shulkin asserting the mess was a distraction to the agency.
RELATED: VSOs Snub Trump, Hold Party For Fired Secretary
What has occurred since is arguably even worse as far as drama goes.
HIRE, SIGN, RETIRE DRAMA
Shulkin put DOD official Robert Wilkie in charge as acting VA secretary, which was a move in violation of standard succession stipulations indicating the new acting VA secretary should have been Thomas Bowman. However, Bowman was noted as skeptical of the Cerner deal. Wilkie obviously was not and signed the contract two weeks ago ahead of schedule.
WITHDRAW DRAMA
The previously nominated replacement for Shulkin, Rear Admiral Ronnie Jackson, MD, withdrew his name from the running after allegations of unprofessional behavior surfaced from Senator Tester's office.
LAWSUIT DRAMA
A group of advocacy groups also lodged a lawsuit against the Trump Administration alleging Bowman was the proper individual to run VA in the interim, and that Trump lacked the authority to selecting his own acting secretary because Shulkin was fired instead of resigning.
That lawsuit could still have massive effect despite Bowman retiring because it could unravel all decisions made by Wilkie since he should not have been in the role to begin with.
RESIGNATION DRAMA
During the interim, Scott Blackburn resigned, likely as a result of the Cerner deal being pushed through, which many VA officials allegedly opposed and some officials from DOD.
KUNG FU CHESS DRAMA
Now, in a final chess move, likely in light of the lawsuit concerning Wilkie's move into the lead spot at VA, Bowman announced his retirement and Trump then selected O'Rourke to serve as acting VA secretary while Wilkie works on preparing for his confirmation hearing.
Trump was able to select O'Rourke for the top slot only because Bowman retired. Had Bowman not retired, he may have taken the top slot and canceled the Cerner deal.
Now, if Wilkie is confirmed, O'Rourke will revert to Bowman's role as deputy secretary of the agency meaning he will likely gain active management over the agency in much the same way Sloan Gibson did under former VA secretary Robert McDonald.
Shulkin claimed his staff and Trump insiders coordinated a coup against him, and it seems likely, if he was right, that the coup is playing out exactly as planned with the exception of the Bowman appointment lawsuit that could undo the Cerner deal.
The Cerner deal will cost taxpayers at least $10 billion but VistA experts believe the real cost will run closer to $30 billion given the massive size of changing the entire platform.
IG Monkey Wrench
Given the present timing of the IG investigation into accountability, I can almost guarantee another element. Some lawmakers are probably aware embarrassing problems exist within the Accountability Office.
The timing coincides with the coming mid-term elections. Blowing holes in how the agency is handling corrupt leaders would undermine the accountability talking point for Republicans this coming November.
That said, I bet it's safe to say problems exist, and that O'Rourke will push back hard to preclude a full audit for political and protectionist reasons.
Swamp Wins – Veterans Lose
Source: https://www.militarytimes.com/veterans/2018/06/19/va-watchdog-accuses-leadership-of-withholding-access-to-employee-complaints/