Wall Street Journal: Peter O'Rourke Soon To Eject From Veterans Affairs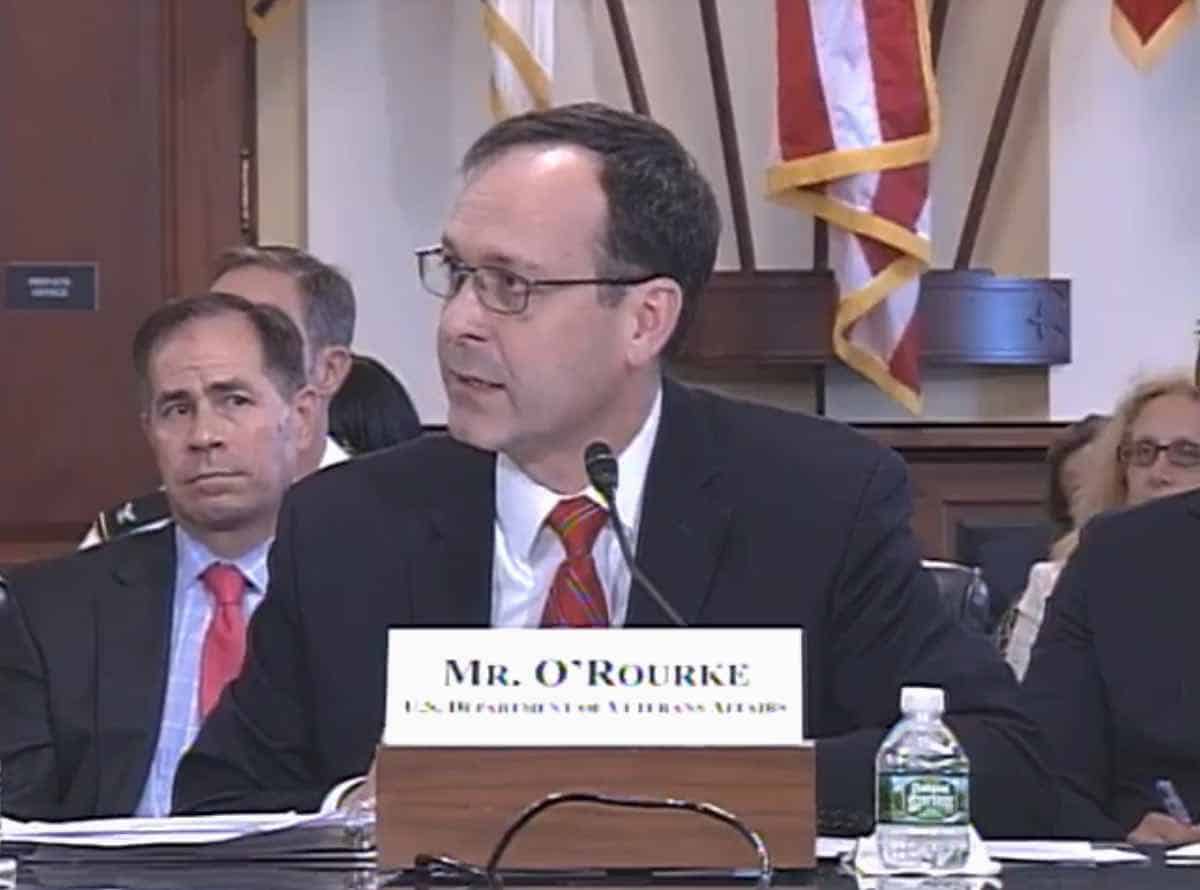 Peter O'Rourke, the former Trump-campaign staffer who became the acting VA secretary after ousting David Shulkin is set to leave the agency as soon as this week.
O'Rourke enjoyed a highly contentious relationship with the agency's Inspector General and Congress while running the agency for a few months earlier this year. He was reported by House Democrats for perjury following a hearing where he delivered likely false statements about the Accountability Act and spurious decisionmaking on the law.
Last summer, O'Rourke helped stand up the agency's Office of Accountability and Whistleblower Protection (OAWP). Whistleblowers believing the offices was actually there to protect them soon reported the office instead investigated whistleblowers and then turned the information over to the same management officials engaging in wrongdoing.
Once current secretary Robert Wilkie was confirmed, O'Rourke became a senior advisor. At the time, I predicted he would be ushered toward the door shortly after Wilkie's confirmation. Well, three months later, O'Rourke is not moving toward the door.
Neither the agency or O'Rourke returned requests for comment.
Why Is OAWP A Farce?
Personally, I have been supremely disappointed with the Accountability Act and how the agency has addressed steeped concerns over corrupt agency employees.
Diana Rubens, the poster child for the Act following multiple hearings and pleading the 5th before Congress, was apparently allowed to retire this weekend. Other senior executes have been allowed to retire rather than being fired for wrongdoing.
RELATED: Will Diana Rubens Get Fired?
Meanwhile, low-level employees including many disabled veterans have been targeted for removal for being disabled or blowing the whistle on wrongdoing. Rather than being protected by the OAWP, they are swiftly escorted to the door.
RELATED: Rubens To Sell House For Profit Despite Earlier Scandal
No one wants bad employees working at VA. However, corruption usually starts at the top and must be removed like a cancer. Instead, for the past 18 months, VA seems to be protecting many leaders we outsiders perceive as corrupt.
Why? Do we have it all wrong?
Another example might be the former acting Under Secretary for Benefits Thomas Murphy. I met Murphy a couple times. In person, he seemed like a good guy. But then he took horrible positions against Agent Orange veterans and presided over the creation of the disability compensation claims backlog… that later became the appeals backlog.
RELATED: Whistleblowers 10x More Likely To Be Punished
Political pressure that mounted as a consequence of the backlogs was used to pressure veterans to give up certain appeals rights in exchange for faster appeals under the RAMP program.
Once Paul Lawrence was named as the nominee to lead Veterans Benefits Administration (VBA) last spring, Murphy was quietly ushered out the door to run the Midwest Division of VBA – – and coincidentally in charge of the Regional Office responsible for my own claims (sigh).
Why does Murphy have a job right now? If he was as corrupt as his actions suggested, why is he still employed at the agency? Or, is something else afoot within VA that we do not understand as a member of the American public?
Someone out there knows the answers to these questions.
Can We Handle The Truth?
Last week, I spent a lot of time in Denver investigating fraud, waste, and abuse. At the end of the trip, I spent a couple hours defragging while watching A Few Good Men.
Like most veterans, the final scene with Jack Nicholson still strikes a chord and makes me wonder how similar VA is to the scenario described by Nicholson at the end before he gets arrested, "You can't handle the truth!" He continues:
In case you have not seen the epic movie, basically, Nicholson plays a high powered Marine Corps Colonel named Nathan Jessup in charge of Guantanamo Bay pre-9/11 terrorists.
One soldier blew the whistle about a mishap and wanted to relocate to a different Marine base. Nicholson ordered a Code Red to teach the whistleblower a lesson. Unfortunately, the whistleblower died during the Code Red by mistake, and the low-level soldiers ordered to carry out the Code Red took the fall.
That is the beginning of the movie.
The rest of the movie involves the mountain of cover-ups the Marines carry out in an attempt to obfuscate the truth. In the end, Nicholson's character spills the truth in front of a jury about how the Code Red was required to save lives and protect Americans to protect the code between Marines, which goes, "Unit, Corps, God, Country."
When asked one last time if he ordered the Code Red, Nicholson as Col Jessup yells, "YOU'RE GODDAMN RIGHT I DID!"
Is this how senior leaders feel when attorneys like me press them about retaliating against whistleblowers? Are they protecting something by pushing back against whistleblowers?
I heard that is how Diana Rubens felt whenever defending her actions against Congress – – she openly complained about it during investigations into her improper receipt of a $288,000 moving bonus.
But how did she reconcile her actions in retaliation against whistleblowers with common understandings of right and wrong? Is there some other code VA leadership follows that is not understood or known to the public?
Rooting Out Corruption?
Congress passed a law that was supposed to root out corrupt VA employees. Many of the decisions by many senior leaders appear to be corrupt from our perspective. Yet, they retain their pay and retirement even after being outted for wrongdoing.
So, is there more to the story? Why are heads of senior leaders not rolling right now?
For the past month, I have written about this. And, during that same month, my Google traffic has tanked. During the 2016 election cycle, I slammed Hillary Clinton with religious fervor, so I assume the slump in traffic is in anticipation I may publish unfavorable information about one party over another this election cycle, assuming search engines bias results deemed political in nature from independent publishers.
Or, maybe Americans are too busy reading about Brett Kavanaugh throwing ice in a bar while drinking in that same bar. Shocker.
(Who hasn't thrown ice in a bar, anyway?)
Enough about Google and SCOTUS. Back to unchecked corruption within VA.
Is VA Corruption Necessary?
Is corruption within VA not only systemic but vital for some other purpose other than helping veterans, like funding other projects necessary to national security that otherwise could not get funding?
Like the Nicholson movie, maybe there are certain truths within VA that the public does not want to know but is necessary for the government to function properly.
Ever since watching Shulkin explain why we need to spend billions on earthquake hardening for facilities in Wisconsin or other areas not at risk of earthquake makes me wonder where the money is really going.
Did Aurora VA really cost more than a billion more than estimates or did the funds go elsewhere? Normally, I would say follow the money. But in Denver, the money trail seems to just vanish into a bunker somewhere beneath the city.
As an aside, while writing this, I checked out Nicholson's wiki page. Did you know he was raised by his grandparents and believed his mother, a showgirl, was actually his aunt? He didn't learn the truth until after both his mother and grandmother died in his mid-thirties.
On learning the truth, he said it dramatic but not all too traumatic since he was well psychologically formed by that time in his life.
Be Honest With Us
Maybe veterans are the same. If the agency would just be honest with us about whatever it is actually doing, perhaps we could all move on rather than hold to antiquated ideas of its role in American society that really does not exist.
From my perspective, veterans are better off once they realize VA is not really a paternalistic organization there to serve us… even though that is what we are told. Instead, I follow the expectation the agency is an insurance company looking out for its stakeholder, the DOD.
DOD wants payouts to be low because lower payouts make the cost of war appear lower. The lower the cost of war, the easier it is to entice Americans into the next war. And the cycle continues, over and over. VA is part of this cycle.
Under that premise, life is easy since you expect the agency is always looking for ways to stick you in the back… like any other insurance company. Veterans, once they understand this premise, are no longer blindsided.
This is especially the case for Allstate, the company that promises to keep us in its "Good Hands" if we need to file a claim. The idea is the company will protect policyholders if issues come up. But, in reality, the company and many like it used block-and-tackle techniques to evade payouts to instead benefit stockholders.
Delay, Deny, Defend
Back in 2007 when the company was caught using the – – and I am not making this up – – Delay, Deny, Defend model to push back against clients seeking payouts for insurance claims. The company used algorithms to predict pushback from policyholders to save money and instead use the money to profit stockholders.
In a lawsuit, Allstate was forced to disclose McKinsey & Co slides revealing the Delay, Deny, Defend model it was following. (Not all too different from the delay, deny, hope that I die mantra VA is known for.) It should also not surprise anyone that McKinsey is also a consultant hired by VA for its business insurance expertise.
RELATED: From Good Hands To Boxing Gloves – The Dark Side Of Insurance
About the delay, deny, defend model, author Jay Feinman writes:
Insurance doesn't work when the insurance company fails to honor the terms of the policy and its promise of security through the strategy that has become known as "delay, deny, defend." The company delays payment of a claim, denies all or part of a valid claim, or aggressively defends litigation the policyholder is forced to bring to get what he is rightfully owed.
Sound like the backlog shuffle between wrongful denials at the Regional Office that then get passed up to the Board only to get remanded back to the Regional Office over the course of many, many years?
Most Americans are not surprised by this kind of model from an insurance company these days, but many American taxpayers would be shocked to know how VA uses that same method of claims adjudication against deserving veterans.
War Risk Insurance
But should we expect anything less from an organization, the Department of Veterans Affairs, that was formerly called the Bureau of War Risk Insurance?
While the name is different, much of its originating framework is still the same, using restrictive regulatory frameworks that pull money away from these programs for other purposes. It is amazing how much we forget about our own government after a few decades pass.
The diversion of funds worked under FDR in the New Deal in the 1930's. There, veterans funds were repurposed using insurance policies to help fund other projects not related to veterans, at all. VA's current regulatory policies are built upon that foundation. Should it shock us if similar, perhaps darker, diversions of funds were still in place right now? Will the $209 billion just approved by President Donald Trump for VA this year actually be used to support veterans?
To Wilkie, if you are reading this, we can handle the truth. We know you guys are not looking out for the little guy with your OAWP farce. Just tell us the truth.
There is a Code Red going on at every Regional Office across the country.
The TRUTH –>For whatever reason, VA likes and promotes leaders who can sidestep problems using any and all means necessary without getting caught by whistleblowers or IG.<–
When the Code Red is ordered, all the subordinates fall in line. Period. And good luck getting through the mountain of obfuscating claims and evidence all subordinates toss out to distract decisionmakers reviewing fraud, waste, and abuse.
That is what VA does. That is what VA likes. The agency could change if it wanted to but even after 38 USC § 714 was passed, there are no signs corrupt senior leaders will be held accountable.
VA will never change.
It is time we veterans get real and develop strategies that work against an agency designed to obfuscate the truth.