CBO Proposes Huge Cuts To Veterans Disability Program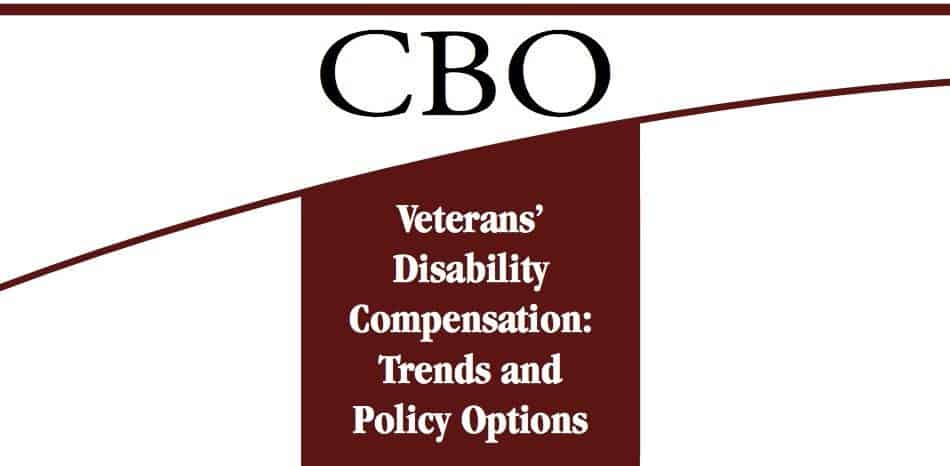 On the back of one of the most disgusting scandal against veterans ever, our government took a first look into cutting VA's veterans disability program.
Yesterday, Washington Times (WT) published a predictable anti-veterans benefits article in a lopsided analysis of VA benefits supported by a Congressional Budget Office (CBO) report to cut benefits. The report notes that payouts for veterans benefits have increased since 2000. In response to the findings of the report, CBO proposed draconian cuts to disability compensation. These proposals from CBO are always a first or second step to cuts proposed by Congress down the road.
While no one can deny that the VA budget is increasing, CBO fails to really address why the increases are happening – and WT in turn conveniently overlooks this shortcoming in its analysis. The reason for the increased payments is paid little tribute. And in light of  the overall disgrace our nation is faced with in light of decades of failure in the acknowledgement of our commitments to veterans, the article and CBO report are little more than shameful trash.
[Read the CBO Benefits Summary Report here.]
WHO REQUESTED THE REPORT?
Congressman Mike Michaud (D-ME) is the lawmaker who requested that the Congressional Budget Office review the increase, and that report was released last week. WT thought it would take a crack at promoting anti-benefits rhetoric on the back of the most treacherous scandal in VA history without digging deeper into the issues.
The article pointed out that disabled veterans are "getting 60 percent more in payments than the average in 2000." Veteran suffering from mental illness are targeted as the leading group causing the jump in payouts.
But what does this mean? Perhaps this move by Democrats will be used to keep VA's budget at neutral despite the current payout to help VA not kill veterans by violating their rights and the law?
Any way you hack it, statements like these are hooks naysayers in Capitol Hill use to justify breaking promises with those who volunteered to protect our country – United States veterans. Their push is to reduce compensatory programs for veterans, and the push has been going on for some time.
In this instance, the push will be fueled on the faulty premise that the increased payouts is somehow surprising or unwarranted. Instead, the change is likely due to an uptick in web technology, general education about benefits, and higher accountability of VA's past failures from the courts. So in reality, America is closer to being accountable for the costs of war.
What did WT not mention in the WT article?
THE HIDDEN TRUTH
WT and CBO failed to highlight the reason for the likely increase in certain types of payouts. It failed to mention VA has been wrongly denying veterans for decades with mental health conditions and complicated disabilities by illegally denying benefits while prohibiting oversight by the courts. It also failed to mention that VA has been largely underfunded for decades and the article did not account for the government finally providing proper payouts to Vietnam veterans exposed Agent Orange after 40 years of false denials.
Why would a journalist or policy analyst omit any form of causal analysis? I am not sure why. I am sure Washington Times generally comes out against veterans benefits, fair military pay and related benefits. They usually support anyone or any position that condones pinching pennies on the back of the little guy while in reality the government is increasing handouts for private business.
The reality is that we as a nation have a requirement to abide by our commitments to all people, including veterans. The reality is that we as a nation have shirked our responsibilities and lied to ourselves about the true costs of war, the cost of which tend to be much more expensive after the war is over.
The CBO report is just another example of what our country through Congress does to shirk its responsibilities. What kind of heartless and dishonorable Americans would support such policy changes?  Will these people ever get shipped out of the CBO? Why does the CBO not focus on encouraging Congress to cut down on fighting wars to save even money?
Oh right, there is a lot of money in banking, weapons and other money pots that in turn recycle the war wealth into the pockets of politicians.
DRACONIAN CBO BENEFITS CUTS
CBO presented eight different options to "cut costs" which in my mind is an insult to the nature of being a disabled veteran. Here are the most insulting suggestions from CBO that it wants Congress to consider:
Prevent veterans' concurrent receipt of disability benefits and retirement. So, unlike Federal Employees, lower paid military members who are injured in service will get screwed. This would save $119 billion.
Veterans would be prohibited from filing disability benefits applications after five years following separation from the military.  This would save $28 million.
Tax disability benefits. This would save $64 billion.
Here is the full list of suggestions for cuts:
Create time limit for initial application for disability compensation.
Require VA to spend more money reexamining veterans to reduce payouts.
Revoke positive association with presumptive conditions.
Restrict Individual Unemployability benefits to those under retirement.
Supplement payments to veterans with mental disorders.
Change the cost of living adjustment.
Eliminate concurrent receipt of benefits.
Tax VA disability payments.
[Download the original full CBO report that CBO deleted.]
[Download the revised full CBO report that CBO reposted.]
What do you think about these proposed cuts?
UPDATE 8/13/14 – CBO deleted the original full report from the below link: https://www.cbo.gov/sites/default/files/cbofiles/attachments/45615-VADisability_1.pdf
Read More: https://www.washingtontimes.com/news/2014/aug/10/government-disability-payments-skyrocketing-despit/
https://www.cbo.gov/publication/45615
https://www.cbo.gov/sites/default/files/cbofiles/attachments/45615-VADisability_2.pdf