FOIA Reveals VA Public Affairs Double Standard On Racism Allegations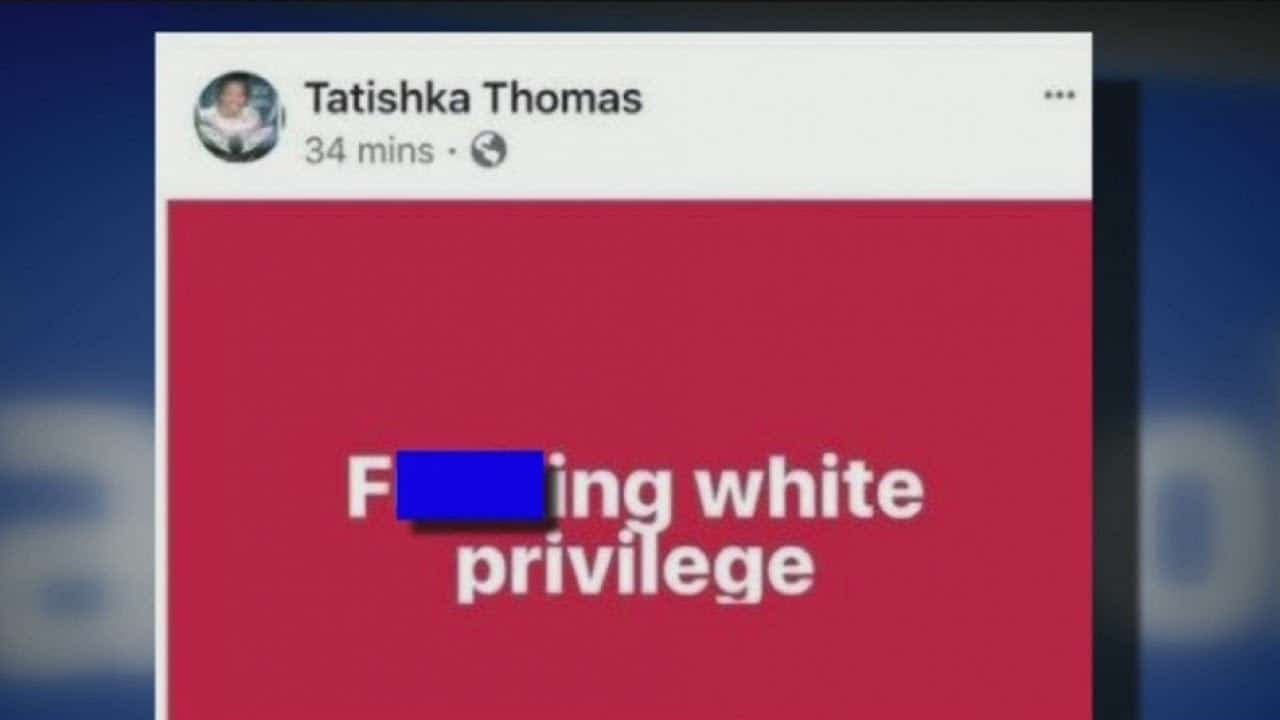 The Department of Veterans Affairs just released numerous pages of documents from its Public Affairs division about how to handle the agency response to a racist "F@CKING WHITE PRIVILEGE" comment on Facebook two months ago.
Tatishka Thomas, a VA employee and union president at Bay Pines VA Medical Center caused a stir in the veteran community and local press when she made her racist comment on Facebook during what appeared to be work hours. This suggests she not only was on the clock but also using agency resources.
According to the FOIA response, Thomas has not been punished for her comment, but she is still supposedly under investigation months later.
In the FOIA documents (see bottom), VA's position at the time was, "The Facebook post is contrary to VA's core values and is unacceptable. review the issue, however it would be inappropriate to discuss potential VA personnel actions. The AFGE is responsible for decisions regarding her leadership status in their organization."
The grassroots Facebook group Bay Pines Exposed first highlighted the post over concerns the union president may be biased against one race of VA employees. The matter was investigated by local NBC affiliate Target 8 News, where Thomas was cited as confirming she made the comment. She further attempted to justify what she said by falsely asserting VA employees should be able to say whatever they like on their personal Facebook page.
Stephen Pina Demotion
Meanwhile, last winter, Stephen Pina another VA employee and combat veteran, made a critical comment against NFL players kneeling before games commenting on his personal Facebook page while at home on the weekend, "dance monkey dance," referencing a commonly used colloquialism jabbing individuals for not being intelligent.
RELATED: VA Demotes Combat Veteran Over 'Dance Monkey Dance' Statement
When news spread of Pina's comment, he was swiftly demoted by VA and labeled a racist even after explaining what he meant.
"It was not meant to be a racist comment, and if it was taken as such that's regrettable," Pina said. "At heart, it wasn't intentional. … It wasn't meant to be that way."
According to Wikipedia, the phrase "dance monkey dance" originally surfaced in a movie called The Cape Town Affair, in 1967.
The phrase was made popular as a catchphrase following an SNL skit "Dance, Monkey, Dance!" in the 1980's.
Since that time, it has been used in numerous movies and skits as a joke making fun of unthinking humans. Zoolander is a recent example where Ben Stiller is playing a dimwitted model dressed up like a monkey with cymbals and ordered to "dance monkey."
VA Double Standard
VA press secretary Curt Cashour was quick to dog pile onto the combat veteran.
"VA does not condone or tolerate such unacceptable and offensive comments from any of our employees," said Cashour in an email to The Enterprise. "That's why we have proposed demoting this employee and removing him from his management/supervisory role."
Press secretary Curt Cashour said Pina had one week from the date of the proposed disciplinary action to respond.
As to "unacceptable" or "offensive" speech, Cashour is apparently referencing some restriction on 1st Amendment free speech enacted by VA that allows punishment statements that are hateful or racist.
So where was the hard-charging Curt Cashour to address allegations against Thomas after dispatching Pina with a mighty tongue lashing to the press? Apparently that Curt Cashour did not show up. Instead, the kinder, gentler Curt Cashour waited for a legion of insiders to provide direction. His responsiveness certainly lacked same zeal for justice when Channel 8 News asked for answers about the Bay Pines matter.
When comparing the two individuals, it is not believed Thomas is a veteran. Pina is a combat veteran. Thomas is a woman. Pina is a man. Thomas did not repent for her insulting and bigoted statement. Pina apologized though his statement is not overtly racist.
You can see where I am going with this.
Pina was punished immediately. Thomas' overtly racist comment is still under investigation months later.
The agency's FOIA response pulls back the curtain on VA's double standard and decisionmaking thus far. A lot of readers and outsiders will find their decisionmaking and rationale interesting as it relates to the AFGE / VA split.
Who is responsible for holding Thomas accountable? VA? AFGE? Bay Pines VA? Noone?
I plan to appeal this FOIA since VA failed to timely submit emails concerning Pina's demotion between the same individuals and the FOIA officer excessively applied the exemption redactions. It is a matter of public interest to know who is in the loop about racism in VA and what decisionmakers could be implicated.
I suspect the differences in attitude are embarrassing and apparent, which is why VA is still holding those records.
[documentcloud url="https://www.documentcloud.org/documents/4488689-180530-Responsive-Records.html" responsive=true]