WashPo Finally Confirms Well Known Parking Lot Suicide Problem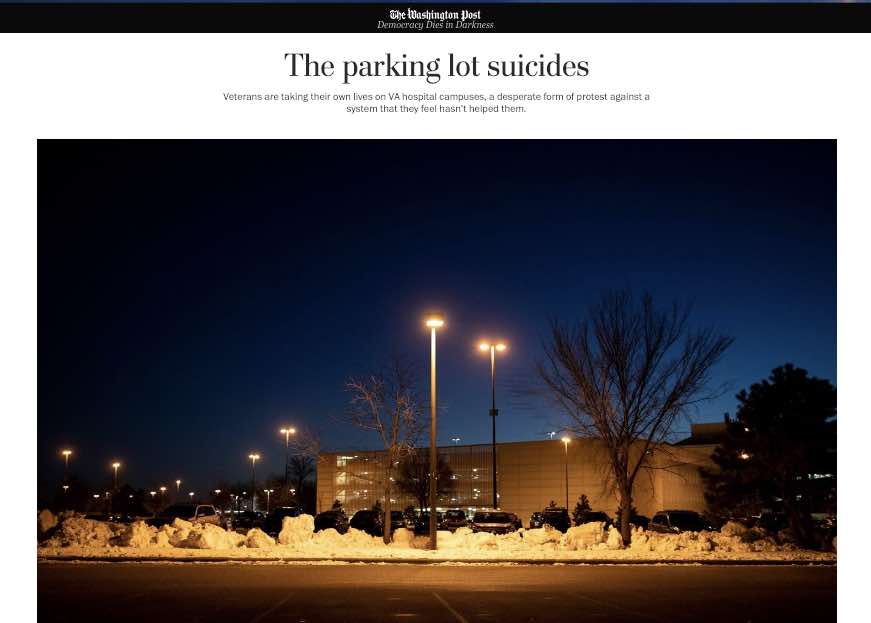 After more than a year working on the story, off and on, Washington Post finally published its article about the high number of veterans committing suicide in VA medical center parking lots.
While the news covered in the story is quite well known among veterans, the public was largely unaware of the trend due to press policies adopted by VA medical centers nationwide to evade providing useful quotes about reported suicides.
You should read the story published by WashPo if you have not read it to keep abreast of the trend and related details. Rather than reinvent the wheel, I wanted to educate readers about the trend to obfuscate reporting on the subject of veterans suicides.
As a veteran, many of us are shocked by the lack of coverage of suicides over the past few years. The lack of coverage is not accidental, and I want to take a few minutes to catch you up on the behind the scenes.
Overall, the DoD is aware that negative news coverage of VA benefits and health care have a negative impact on recruiting. The agency spends a lot on recruiting advertising to entice recruits. Since many newsrooms are dependent on ad dollars from the Pentagon and related agencies, it should not take a rocket scientist to figure out why the overall news trend supports covering positive stories.
Likewise, Internet search engines like Google filter news according to various standards and criteria related to positive vs. negative stories. There is pressure to maintain a national narrative the gives the public the appearance that all is well within organizations like VA.
On suicide, the general public adopted a news gathering position that old styled reporting on suicide, The Who, What, When, Why of suicide is out of vogue. Some US universities, Australia and New Zealand, oppose the use of traditional reporting methods on suicide to avoid a feared spread of copycat suicide.
The website ReportingOnSuicide.org website covers recommendations designed to downplay the seriousness of the incident(s) to conflate the human tragedy with public health issues.
On the one hand, I do not disagree with avoiding sensationalizing certain elements unless there is a crisis or pattern that the public should be aware of such as veterans committing suicide in VA parking lots nationwide.
What I disagree with is skewing reporting away from reporting on the suicide as a news story, which it certainly can be a news story, but instead reporting on it like an obituary. It also encourages not reporting on what a suicide note states but instead stating simply that a note was found that it "is being reviewed by the medical examiner."
The best example of the latter was included in the WashPo piece as well as my reporting on the recent suicide of Jim Turner, a Marine Col., who wrote that VA screw-ups were linked to 90 percent of veterans suicides.
In my mind, that was an important detail my readers would like to know, so I wrote about it. Many individuals in the veteran suicide reporting arena would have us not talk about what Col. Turner wrote in his suicide note. I do not agree.
The pushback against reporting on suicide accurately in favor of milk-toast reporting is the growing trend among reporters, but WashPo chose to buck the trend.
But it does not matter what I think. What do you think? Critics of accurate reporting on veteran suicide frequently float details about what Australia or New Zealand are doing in limited suicide reporting. Now, I believe our 1st Amendment Free Speech rights are more of an issue here than in those countries.
Nonetheless, should we curtail reporting on suicides? One concern I have is that failing to report on suicide prevents us from understanding the problems behind these suicides and therefore retards the process and public outcry helping to target and resolve the problems.
Recently, we have seen a great number of articles chastising VA over not spending its allocated millions on anti-suicide advertising. However, the program over the past few years failed to adequately measure its successes meaning no one could truly assess whether the millions spent on new websites and ad spending on Facebook or Google was resulting in fewer suicides.
We know the suicide numbers did not decrease.
That fact alone did not stop supporters of the ad companies involved from publishing one critique after another once the agency stopped the $50 million annual project.
I would rather see more psychiatrists and psychologists hired by the agency rather than its overpriced advertisements that failed to make a substantive dent in the suicide numbers.
These are some of the details on veteran suicide reporting that I want you to be aware of. Should we curtail our suicide reporting? Does America not want to know if its tax dollars are being spent effectively?