Accountability Fail: Why Is Known Liar Gary Hodge Still Working At VA?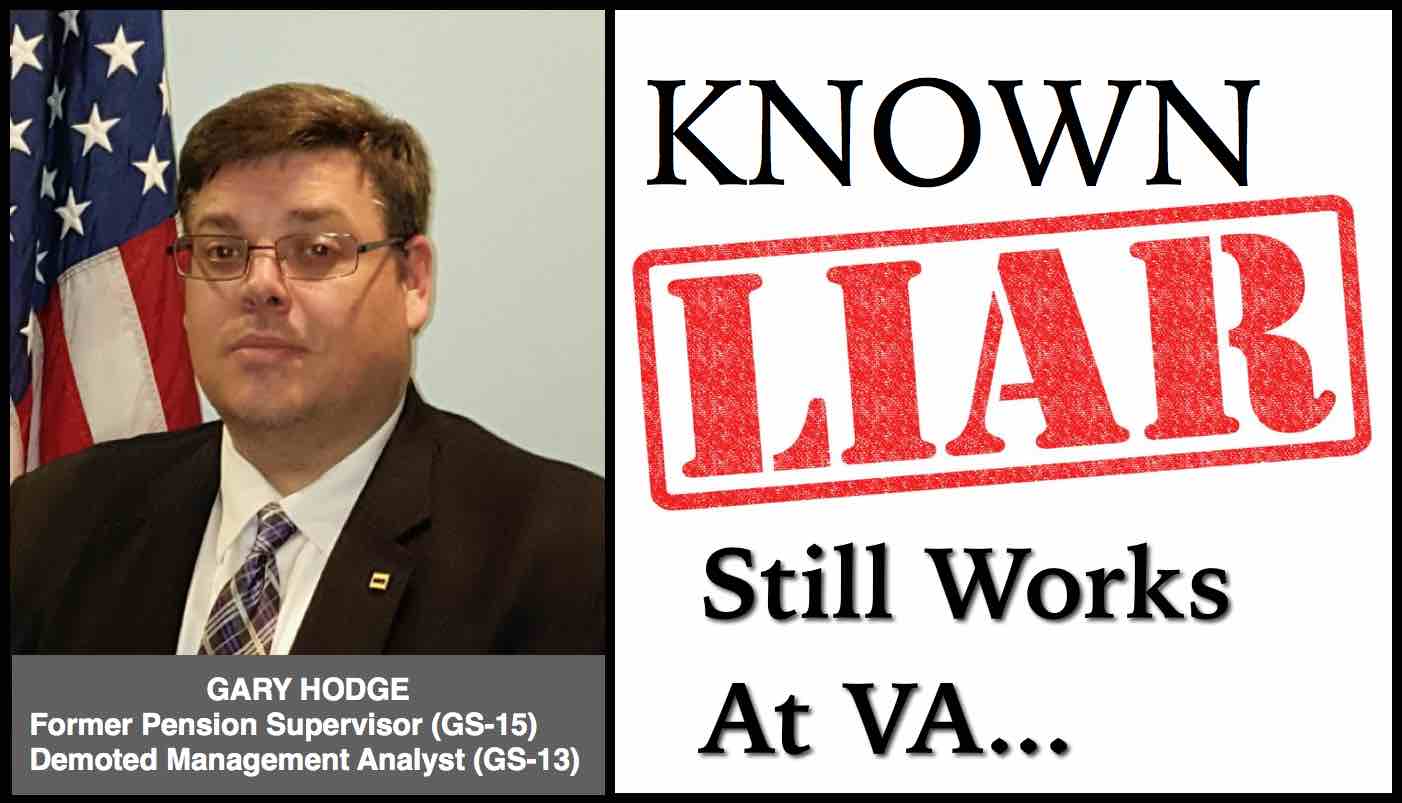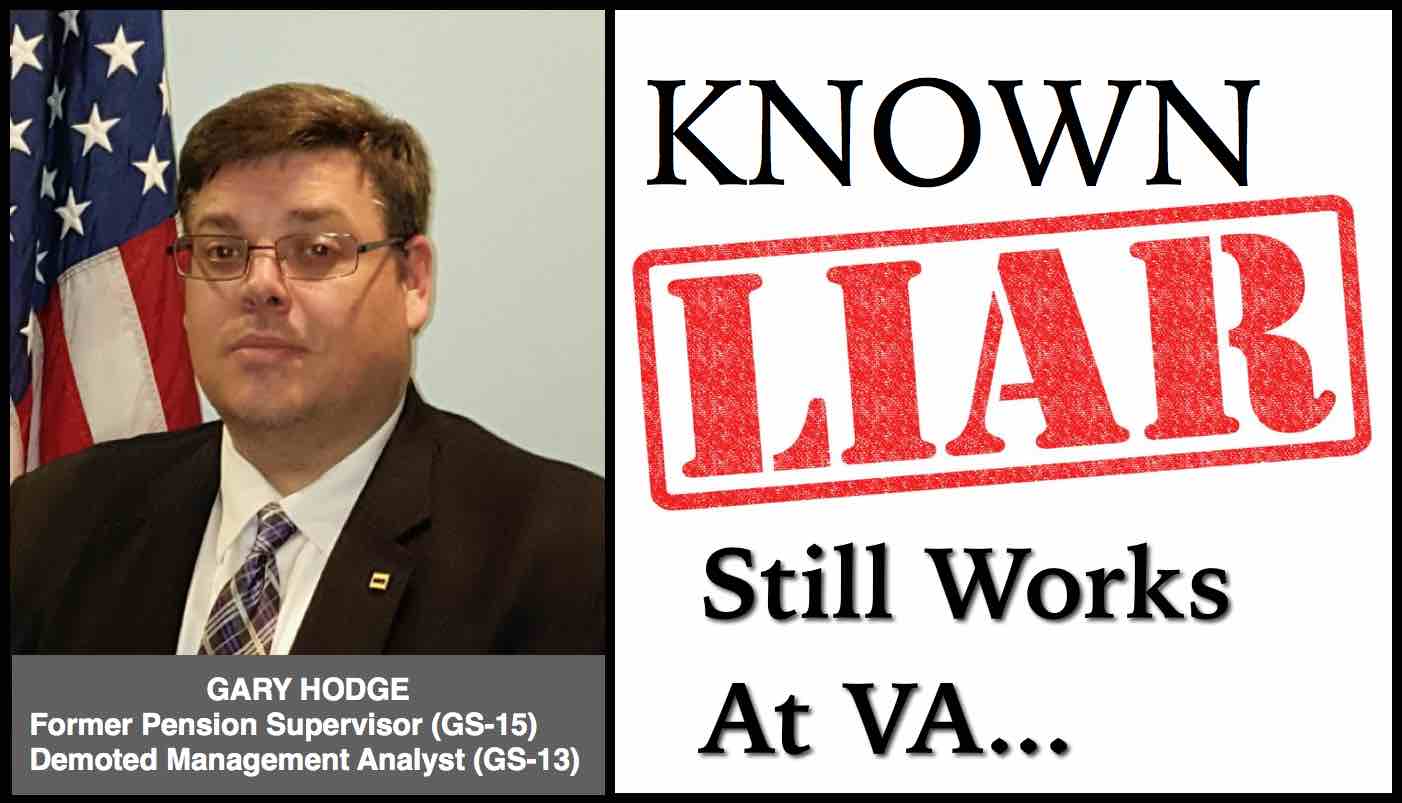 Cases like that of Gary Hodge make me wonder if any American president could be capable of bringing accountability to the Department of Veterans Affairs.
Hodge lost his bid to overturn a demotion following being caught lying to investigators about his psychic medium wife's earnings.
Before an investigation in 2015, Hodge was the manager of the Pension Management Center at Philadelphia VA – – there are only three such locations in the country. After IG slammed his job as manager and the result of his supervision, he was removed and reassigned.
RELATED: Manager At Philly VA Removed After IG Hammers His Office
Three years later, Hodge lost his Merit System Protection Board (MSPB) case trying to overturn a demotion after knowingly giving false information about his wife's earnings with the intent to deceive investigators.
Are you getting ready to break out your tiny fiddle, folks, to play your tune of sympathy for this tragic VA manager turned worker bee?
This story may seem insignificant, but it gets deeper when you realize his "medium" wife was hired by another Philadelphia VA supervisor to provide psychic readings at an unauthorized party in her home.
What you notice from all these cases is VA OIG singles out personal screw-ups it has known about for years but that have little to do with the massive fraud going on under their leadership.
This way, the bad apples get pushed out while keeping quiet without VA's massive frauds being exposed nationwide.
How convenient is that for senior leadership and each presidential administration? None of the problems really get exposed, and no one is responsible?
Gary Hodge Case
The Hodge case was decided August 27, 2017, by the MSPB, where the Board upheld two of three charges against him resulting in his demotion from running Pension at Philadelphia VA (GS-15) to being a mere management analyst (GS-13), whatever that means.
RELATED: VA Officials Pushed Psychic Readings Onto Subordinates
What does a management analyst do, anyway?
Some of you may recall a deeply troubling party held by Lucy Filipov where she pressured agency subordinates into paying around $30 to have their fortunes told by a medium.
RELATED: Two Philadelphia VA Morons Suspended Yesterday
That medium was none other than the wife of Gary Hodge.
When asked, Hodge gave knowingly false information to investigators initially claiming he lacked knowledge of her earnings only later to admit very specific numbers.
An insider forwarded a copy of the unpublished MSPB decision my way for publication for my readers with the hope the Trump Administration will crack down on leadership keeping around known liars.
RELATED: Lucy Filipov Gets Settlement Despite Dirty Deeds
But really, after this kind of example, are we really going to see any accountability in situations like this?
My contact said many agency insiders are really upset about Hodge keeping any kind of job within VA – – and I quote (well, a paraphrase really) – – given that he is a "known liar" who retaliated against countless veterans while a supervisor at Philadelphia VA.
Conduct Unbecoming Charge
The Board substantiated the charge that Hodge's conduct was unbecoming that of a federal employee. The charge is aimed at ensuring the agency's employees are transparent to avoid potential conflicts of interest.
He failed to be transparent or avoid potential conflicts of interest.
I am personally unclear how on earth anyone at the psychic party failed to contemplate the potential conflict of interest in pressuring employees to partake in a fortune telling by Hodge's wife.
Lack Of Candor Charge
Basically, Hodge then went on to deceive investigators by repeatedly and falsely asserting he lacked knowledge of how much his wife made as a medium.
So, the lack of candor charge was also substantiated.
His shifty story was worth noting by the Board and seems amusing on the surface. I can picture him sweating while weaseling his way out of termination.
Here is the twisted road of that questioning, explained by the Board:
"Evidently, the appellant advised investigators that he had no knowledge of his wife's activities or income from the business and suggested it was just a hobby for her with minimal income. As the questioning progressed, however, the appellant stated that "we paid for a vacation." He also admitted it was "the first year she's been consistent with it and so we will declare all that this year." During subsequent questioning, he admitted that his wife earned $6,960 in 2012; $12,850 in 2013; and $13,955 in 2014 for her services as a Medium. To establish that the appellant made the statements attributed to him in the charge, the agency provided a verbatim transcript of the appellant's interview. See IAF, Tab 3, Subtab 4M. Based on the transcript, it is clear to me that initially the appellant failed to disclose to the investigators certain information that under the circumstances should have been disclosed, i.e., that he had paid for a family vacation using his wife's earnings and then he disclosed the exact amount of his wife's earnings over a three-year period which completely undercut his initial statements that he had no knowledge of his wife's activities or income from the Median business and his suggestion that it was just a hobby for his wife with minimal income."
Concerning knowledge, the Board found Hodge intended to deceive investigators when he asserted he had no knowledge that his wife earned money as a medium when she purchased a family trip with that money:
"I simply find it hard to believe that the appellant would certify information on an official government document without even verifying with his wife that she had no income. Nevertheless, during the hearing, the appellant testified that he did not even inquire of his wife about her income before completing the forms. He simply assumed that she was not making any money being a Medium. Next, the appellant testified that he has a special needs child as well as his mother-in-law living with him which can undoubtedly be very expensive. Yet, the appellant never even asked his wife what, if any, money she was making. Finally, and perhaps most telling, the appellant ultimately admitted to investigators that he had paid for a vacation using money his wife had provided."
Cannot Read Fast Letters?
When it came to management, VA failed to substantiate its case that Hodge failed to oversee that employees properly implemented a fast letter.
Fast Letter (FL) 13-10 informs the agency in "establishing dates of claim including guidance for previously unadjudicated claims that are found or 'discovered' in the claims folder."
Former Eastern Area Director Kim Graves testified that Philadelphia VA staff appeared the most confused amongst her regional offices when following the guidance. But, she also testified other regional offices were confused, too.
Filipov and another employee both testified that the guidance "was extremely confusing" and that Hodge never told them to disregard its provisions.
For some background, it was around this time that Philadelphia VA made numerous boxes of improperly processed veterans claims disappear which later became the subject of many House Committee on Veterans Affairs hearings and IG investigations.
RELATED: Hearing Reveals VA Spied On House Staffers
Whistleblower after whistleblower came forward about the missing files. Filipov proceeded to then initiate surveillance on House Committee staffers sent to the location to investigate the missing files.
RELATED: IG Says Philadelphia VA Cooked The Books
Now remember, Fast Letter 13-10 basically addressed how to process claims documents linked to unadjudicated claims in instances, for example, where documents might be found in a claims folder or even in boxes elsewhere in the RO.
RELATED: VA Memo Ordered 'Cooking The Books' In Philadelphia VA
About Gary Hodge And His Penalties
The curious part of the discussion ended with discussion about misconduct and what Hodge deserves for being dishonest about his medium wife's income:
"She believed that the appellant still has something to offer the agency but she also believed that he could not remain a supervisor because of the loss of trust due to his misconduct. That's why she mitigated the proposed penalty of removal to a reduction in grade and placed the appellant in the highest vacant nonsupervisory position."
RELATED: Philly Manager Reassigned, Not Fired
Instead of being terminated for dishonesty, Hodge will analyze management and get paid as a GS-13.
Here is what I cannot figure out.
How did the Board fail to substantiate that Hodge did a poor job supervising his employees to not screw vets out of benefits cooking the books?
How is it that known liars like Hodge stay employed while whistleblowers get the ax?
Keep in mind, folks like Filipov and Hodge generally still retire at their highest pay, so the job the score after getting burned by IG is basically a cake walk until they retire, as if nothing really happened.
Leading me to my last question, if Hodge's wife was so good at fortune telling as a medium, how did she not see this one coming?
Source: https://www.disabledveterans.org/wp-content/uploads/2017/09/Gary-T-Hodge-v-VA-PH-0752-16-0163-I-3-Initial_Decision.pdf
[documentcloud url="https://www.documentcloud.org/documents/4053764-Gary-T-Hodge-v-VA-PH-0752-16-0163-I-3-Initial.html" responsive=true]