Is American Legion Relevant? Veterans Are Divided On NY Times Op Ed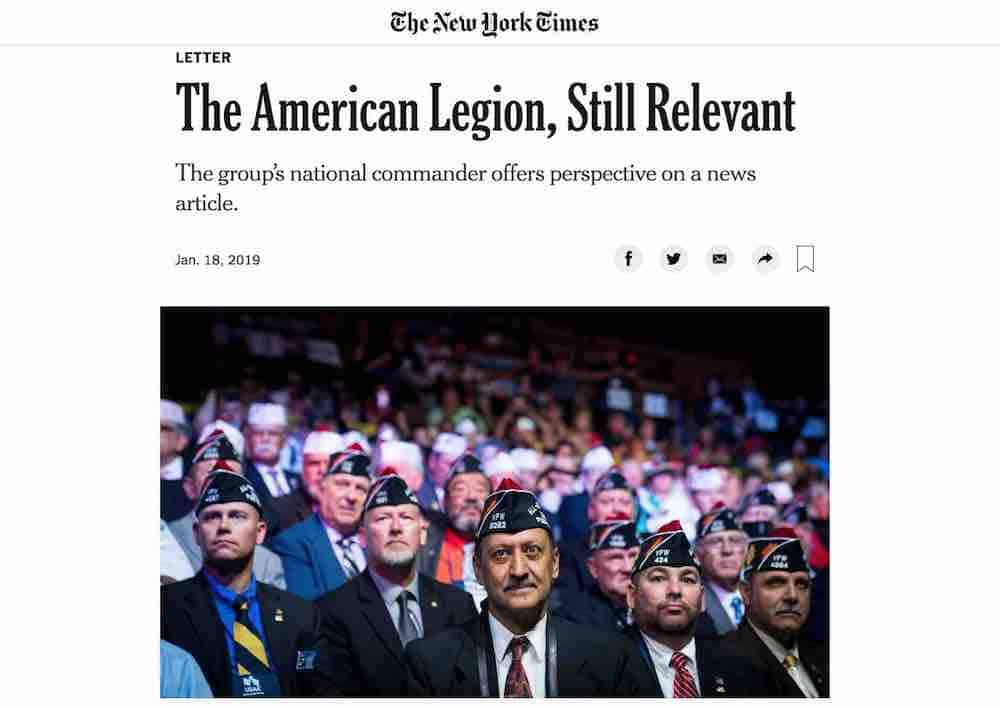 The NY Times published an opinion article by the national commander of the American Legion this weekend that raised some eyebrows, and it was not for the obvious reason.
For the past two decades, older veterans groups like the American Legion have fought declining membership and appeal to younger populations of veterans. The decline was noticed in the early 2000's, and today, the debate on the relevance of older veteran groups has accelerated.
A few weeks ago, NY Times published a story about new veterans groups like Iraq and Afghanistan Veterans of America, and Team Red, White, and Blue, and how they elbowed their way into roundtables previously dominated by the Big Six who "are seeing their influence diluted, as newer, smaller organizations focused on post-9/11 veterans compete for money, political influence and relevance."
American Legion Response
The Legion certainly did not want its "relevance" questioned, so the group responded with its own opinion article titled, The American Legion, Still Relevant. As you can imagine, you can summarize the article in one sentence. Something like, 'American Legion is still relevant because it is involved in current policymaking, processes claims for veterans, and sucks all the oxygen out of the room from any newcomer group.'
The article was very light on rhetoric, which made me wonder why the Legion even bothered writing it. Veterans went back and forth on the topic, and I include that commentary below to keep the conversation going.
But that was not what I noticed.
All VSOs Look The Same To NY Times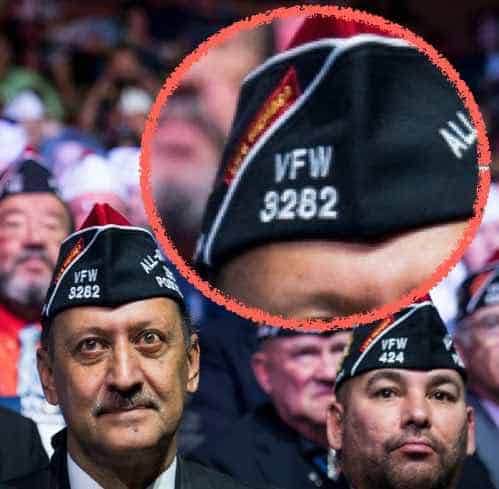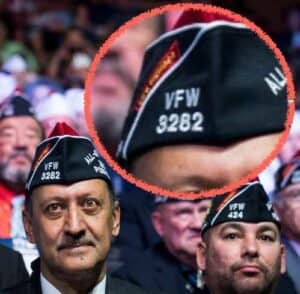 If you take a quick look at the top image of the NY Times post, you will notice something that resulted in a few veterans questioning the authenticity of the article that may reveal what NY Times really thinks on relevance.
Old veterans groups all look the same. So much so that NY Times did not bother using a photo of the American Legion at all. Instead, they simply reposted the VFW image. Again, it's not a major issue, but it struck me as being off.
As to the question, is the Legion relevant?
Yes. Each veteran group serves a purpose. The Big Six did themselves a huge disservice when they failed to include Concerned Veterans For America and other newer groups, and they are now playing catch up.
There is no question the Big Six provide an invaluable service to veterans nationwide in filling out necessary forms for initial claims. As a veterans rights attorney, I can assure you I could not keep my doors open if I had to process the volume of claims veteran service officers fill out on a regular basis.
Feedback From Veterans On American Legion
Here are some comments from veterans about the Legion and what some of us have to say about it. Some of the names were changed to John Smith and Jane Smith for veterans who requested anonymity.
Rodney G. Skinner Why would you put a photo of VFW members & ask that question?
Meri Arc Newspaper goofed that up maybe.
Rodney G. Skinner Meri Arc I am a Life Member of both, just wondering?
Meri Arc Rodney G. Skinner, I wondered, also, but looks like paper placed another group's picture on the article about another group.
Ben Krause You'll have to take up the photo foible with NY Times editors. It's connected with the Legion story… I guess it goes to show you what civilians think of these VSOs… they all look the same.
Curtiss Powers VFW and American Legion are useless in today's world. The members and leaders say they are here to help, but they only helpline there own pickets and don't do shit for is Vets. Both should be ashamed
John Smith There are volunteers that help-I have a very good friend that does his best to help other vets through the DAV. Other VSO's/DSO's are VFW and AL members doing it through posts, respectfully do not paint with a broad brush.
Kerry Cooper Curtiss Powers, I asked the three SOs that I belong to with help to get the VA to stop BS'ing around with my replacement power wheelchair and lift. All three told me to contact the VA Patient Advocate and social worker and health care team that I'd written weren't able to help. I stopped paying dues this year for AL and would request my money returned from VFW and DAV if that was doable.
John Smith Sorry to hear that Kerry. They are limited to what they can do with the VA. Wilmington, DE's patient advocate does not even call back and not the first time. The VA is not even nice to my friend who is the Post Commander for DAV and he, of course, is a volunteer.
Ian J Hudson American legion is among the best VA watchdogs out there with VARO site audits.
Meri Arc My thought is that for claims, anyway, it may depend on the specific certified service officers, not necessarily the service org. We reached out to at least two and they both were wasting space in their office, but others may have had better results…jmo.
Frank Gutierrez VFW and the American Legion are two of the greatest organizations fighting for veterans rights. Younger generations need to get involved or else they will lose their biggest voice.
Curtiss Powers Frank Gutierrez sadly I disagree. Both here are only out to help there friends and buddies. Needs A complete overhaul
Frank Gutierrez Curtiss Powers it's not getting better if more people don't get involved. Plenty of Commanders out there that should be voted out but because of the lack of participation, they can't get voted out and replaced by people that can facilitate change.
Frank Gutierrez People are complaining but not doing anything themselves to change it.
Curtiss Powers Frank Gutierrez I have tried pushed out by the buddy system
Frank Gutierrez Curtiss Powers because the younger veterans that could back you and vote you in aren't getting involved. God forbid their GI Bill goes unpaid. Guess what? The American Legion fought for that and more.
Curtiss Powers Frank Gutierrez look guy both organizations are nothing but shit shows so just stop trying to change my mind won't happen.
John Smith I am not into drinking, smoking, telling war stories, and playing Bingo. Veterans are better off spending their money elsewhere.
Curtiss Powers Jane Smith EXACTLY.
John Smith I like my local AL/VFW post for cold cheap beer and being with other members.
Jane Smith John Smith that's awesome. But as a service organization, the VFW is irrelevant.
Pauline Ali'itasi White They have their place yet are they RELEVANT (or should I say do they RESONATE) with younger Veterans…what makes them appealing to younger Veterans…
Ashley C Hubbard Pauline Ali'itasi White as a younger veteran I don't see a use for them. The service officers are mostly horrible and mess up most of the claims they touch. (In my area anyway). The bars contribute to alcoholism and poor choices. Nationally they lobby Congress for questionable bills where often the veterans lose. I cannot think of one thing this group is good for. BTW I am a combat veteran that has been a member for several years.
Curtiss Powers Jane Smith no way in hell I will stay a member when they are not helping the ones who need it.
John Smith Curtiss Powers that is the challenge. In Texas, there are much better places to turn for support.
John Smith Jane Smith My question is are you doing anything to make it better or just complaining about the VFW? Why are you a member if you do not think well of it? Sure service officers often mess up claims from all organizations and that is what happens when you cannot charge for claims help in an initial filing. You could become a DVO/VSO and make a difference-I've found that the must disgruntled people with an organization could become their best asset implementing changes.
Curtiss Powers John Smith changes? It will never change till the buddy system it has done away with, and that will never happen. So its a shit storm of fuck-ups running the place.
John Smith Curtiss Powers You can get involved to make changes, otherwise, it is armchair quarterbacking no matter what the subject. it is easy to throw stones at things we are not involved in critiquing organizations and we as individuals can be the impetus for changes-especially when we are advocating for causes we believe in. Food for thought and I like helping vets and do so on a regular basis.
Jane Smith John Smith yes I am working to make it better. I work with my local community service officers helping veterans get in contact with the right people. I work with the Texas Veterans Commission to help underserved rural veterans get services. I also coordinate and host clean and sober events for veterans and their families. I am also a facilitator for a PTSD support group for incarcerated veterans.
I am not disgruntled with the VFW. The question posted are they relevant to younger veterans. In my experience helping veterans. The VFW needs to update their platform and stuck in the old ways mentality.
John Smith AWESOME JANE! Terrific response!
Pauline Ali'itasi White Jane Smith John Smith our dads (hubby n I) are with VFW. Mr. Boring who repped me works out of VA Hospital. My aunt works out of Hawaii and us other great folks in their chain of command so they are Aces for us.
Curtiss Powers no armchair quarterbacking I gave my opinion and you keep trying to come at me with more bullshit
Jane Smith Pauline Ali'itasi White that is awesome. I'm glad that some areas have great people in charge.
Frank Gutierrez Jane Smith that's only part of it. A post is responsible for providing services to veterans and improving the communities that they touch. I think many of these posts have gotten comfortable for way too long but there are quite a few that improve the lives of many.
Jane Smith Frank Gutierrez I am not disputing that at all. For younger veterans, that is not what they are looking for. The rapid growth of organizations like Mission Continues and Team Rubicon shows that today's veterans want something different than the old school VFW and American Legion can provide.
I would be lying if I said that I don't work with the VFW in my area from time to time. They are just not what the younger vets want. This making them functionally irrelevant to the younger veterans.
Arlie Hammons Need something that can help the disabled National ADAPT (non-military) and they can help us. I was working trying to get a local veteran elected in Arlington VA. He supported the Disability Integration Act which I support. Disabled here fighting with the paratransit service in Arlington Va. The VA is not here helping with issues like this. So yes something different. Disabled veteran here with a traumatic brain injury.
Curtiss Powers Arlie Hammons complete reconstruction. Get rid of everyone start over. The only way to try to fix the problems
Brian Lewis Pass legislation getting VSO's out of being the only ones who, as a practical matter, can do initial claims work and let's see how relevant they stay.
Jane Smith Brian Lewis VSOs are an awesome advocate for claims. Without their help many more claims would be denied.
Brian Lewis Or, you could seek out service from actual attorneys if such legislation was passed.
Frank Gutierrez Brian Lewis you already can seek legal assistance once you are denied and in most cases, get turned around.
Brian Lewis Exactly. You have to wait until you are initially denied.
Frank Gutierrez Brian Lewis I imagine that initiating claims is not that popular to want to practice or else lawyers would have figured out a way to do it. There's money to be made in contesting denials. That's why there are firms that practice it.
Jane Smith Brian Lewis attorneys charge fees. That takes money out of the veterans Pockets. County veteran service officers provide services for free.
Brian Lewis Better 80 percent of something than all of nothing. Remember also that the fee only comes out of back pay, which would be limited in an initial claims context.
Actually, Frank, it's a rule that lawyers cannot charge for initial claims work.
Frank Gutierrez Brian Lewis that's why it's not done.
Brian Lewis Exactly. Change the rule via statute and see how relevant the VSO stays.
Frank Gutierrez Brian Lewis or provide them better training. I know a few VSOs that can work some magic.
Glenn Watts Brian Lewis way too many vets don't understand the 80% of something vs 100% of nothing. Veterans turning to attorneys don't have money in their pockets as many seem to think. You been denied, get an attorney and get your life in order or go ahead fight with the VA. I got nothing but denied with VSO, same evidence went to 100% with an attorney.
Ben Krause Good debate here. Of most organizations and corporations, a failure to attract new members/ employees is generally a failure of leadership. In the civilian sector, you would get fired immediately for not keeping an organization relevant.
It is interesting that the general focus of VSO leadership has consistently been on younger veterans choosing to not join (it's the lazy youngsters) rather than on leadership failing to attract new members.
Laura Harding It doesn't help when you walk into a VFW post to join as a veteran and their first question is "do you want to join Ladies' Auxiliary or as a social member?"
Mac Zeff Am Legion, yes, VFW NO.
John Smith They are sharing resources and posts, for example, my post in particular. So not only synergies for missions, but resources too.
Kevin Michael Phelps Disagree. Sold out long ago in my opinion.
Norman Walters All they are is a hangout for alcoholics.
AJ Erich They are a waste of time.
Janet Woodworth Jennings It's nothing more than a "good ol' boys" club.
John Smith A bit off topic, I am an X-sailor, was at the VFW/American Legion and there was another guy there who is also a member and we were at the bar having a beer together… I said, "you a squid too?": and he responded "I am a Chief Petty Officer, United States Navy" and I nearly laughed my ass off. He was the post Commander, I didn't know, but I guess he thinks he is still in the Navy – to me I thought it was hilarious. If I was a civilian saying that, I get it, but damn we were all squids and at the VFW/Legion bar so I thought it was, well ?????
Timothy Lee Coffey my take is they were able to identify contaminated Veterans as well as VA, but nobody said a word all these years about Benzene, TCE and PCE until Camp Lejeune class action. they all knew from Reagan's billion-dollar EPA Super Fund Clean up. I don't trust any of them due to this issue. They all sold out Veterans. We still have many sick contaminated veterans, and still, nobody is talking as it was all a big cover-up.
Kerry Cooper It is? I dropped out last year is the last time I'm paying dues.
Mike Vaughn BS! Remember, they fully support the VA HEALTH CARE KILLING MACHINE. That's a clear demonstration of how much they care about our veterans. Lots of $$$$$ to be made from killing vets.
Timothy Lee Coffey When you have as much of a budget as VA has had for so many years, people find ways to rip it off, some legal ways, and some illegal, but most of the money American taxpayers pay for Veterans, never makes it to the veterans. Groups like this all have ways of squeezing the money out of VA, so many cons from all directions. Can't trust people with that type of money, not even Senators, Governors, Lawyers or Judges, as they go in with one thing in mind, and that is to cut off their piece like a pack of hyena's scrounging for a meal. If they were in it to maximize Veterans benefits it would be different. But Americans don't even think that way anymore. 90% of the population is not to be trusted with other peoples money. That is why you must force disclosure, and why every dime must be accounted for and shown to all Americans, so nobody gets greedy and bits off more of the carcass than they should have.