Veterans Affairs Spins 'JAMA Study' It Authored On VA Wait Times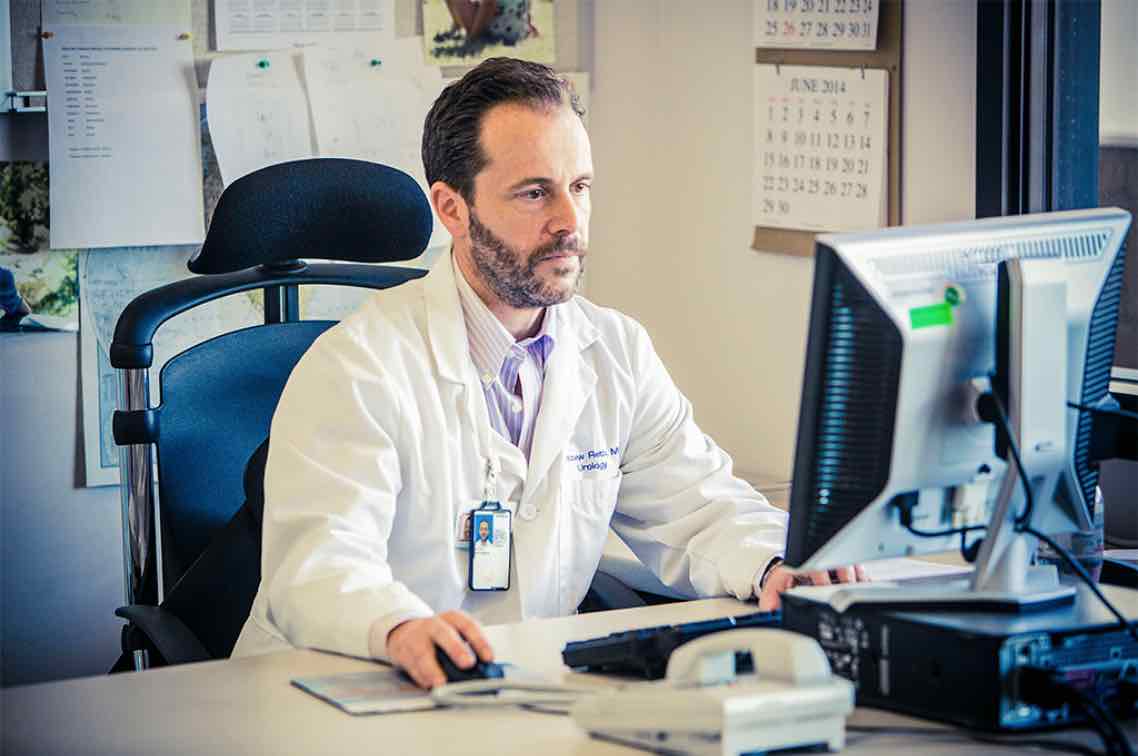 VA hospitals are reportedly improving wait times in a "JAMA study" suggesting VA wait times are less or equal to the private sector, but there is one problem. Well, there are quite a few problems.
Here is my short list of questionable antics and premises lurking in the corners of this alleged study:
VA patients are compared to "secret shopper" fake patients
David Shulkin, Carolyn Clancy, and other agency bureaucrats coauthored the "study" right after exposure of continued wait time manipulations
Neither JAMA nor the press meaningfully connect the high-level authors to VA
No one reported any conflict of interest in the publication
The study fails to account for current wait time manipulations that supposedly evaded previous studies on similar or same evaluations before 2014
Do you think for a second if Shulkin was listed in the press as a coauthor of the study… while he was the Secretary… that anyone would take the study seriously?
Yet, the publications I have seen so far repeating this story have omitted authorship and conflict information of its coauthors.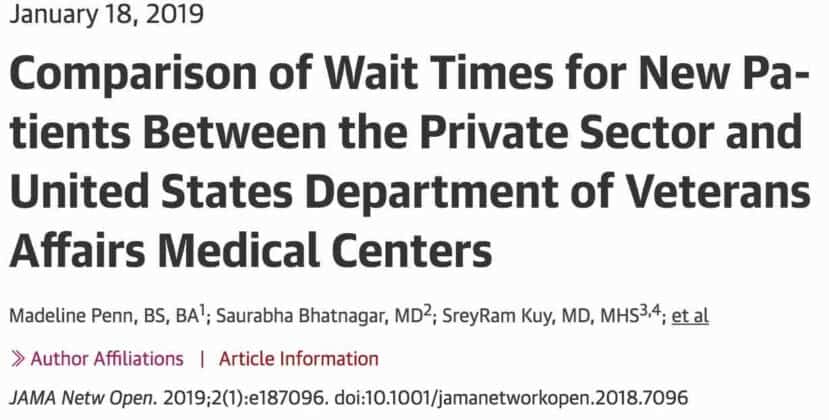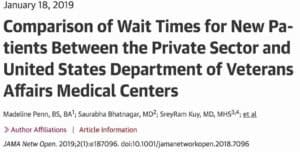 You actually have to click on the "et al" before Clancy and Shulkin's names show up. This means an editor actually made a decision to prevent Shulkin's name from showing up natively on the screen.
But the decision could not have been for lack of involvement based on what the study states. At the bottom of the study, the role of the two seemed rather involved. For example, as you will note below, Shulkin supposedly performed the statistical analysis with only one other coauthor along with practically every other role
Then, there is data integrity.
Data Integrity
The study in question compares VA wait times, you know, the same wait times that were fraudulent in 2014 and confirmed as being manipulated in 2017 by USA Today and VA OIG, to "secret shopper" wait times for actors calling civilian facilities to set up an appointment.
Let's not forget VA committed massive fraud nationwide by manipulating wait times to make it look like veterans received timely access to care when they were not. The fraud was decades old. By 2017, IG confirmed the fraud was still in play.
Now, a study published in JAMA says we should believe the numbers? No, that is not what the study states. Instead, it simply presumes the data gathered on wait times is no longer manipulated.
And what was the manipulation?
Schedulers would put veterans on shadow lists after they sought appointments if the veteran could not get an appointment within 14 days. Once an appointment came up within the timeframe, the scheduler would delete the veteran from the secret list and create a new appointment with a wait time from the day the veteran was moved off the secret list.
Think it is not going on still?
RELATED: Whistleblower, 'Manipulations And Secret Wait Lists' Go Unfixed, Unpunished (2017)
By October, 2017, OSC revealed the agency's bureaucrats got smart on the wait list pressure to conform. In one location, employees created secret clinics to keep wait times down. No one was punished for the fraud.
So, why should we pay attention to this new study?
One word. Amplification.
It's Amplify Time (Modern Telephone Game For Press)
Amplification of the wait time spin is in full swing and will likely accelerate.
One month ago, a study from Dartmouth suggested VA health care was as good or better than the private sector.
Now, a "JAMA study" suggests, "VA hospitals outperform nearby healthcare facilities." That is the current escallation to erase the public memory of the crime VA leadership has worked to brush under the rug since 2014.
"Since 2014, VA has made a concerted, transparent effort to improve access to care," said VA Secretary Robert Wilkie. "This study affirms that VA has made notable progress in improving access in primary care, and other key specialty care areas.
"This progress represents another reason Veterans Choose VA for their health care, following on a recent Dartmouth study that found VA medical centers 'outperform private hospitals in most health care markets throughout the country,' and the Partnership for Public Service ranking VA as one of the top 6 Best Places to Work in the federal government."
So, Wilkie is onboard. JAMA is onboard. Shulkin is obviously onboard since he wrote it. This JAMA study shows VA is better, right?
RELATED: IG Report Shows 100 Veterans Died On Wait List (2017)
But is that what the study really shows? It depends on who gathers the data, and, whether the authors have a conflict of interest that may bias the results. (stay tuned)
First, let's set some context.
What Is JAMA?
JAMA stands for the Journal of the American Medical Association. Studies published in JAMA should carry some weight assuming they are evaluated by peers prior to publication. JAMA says the study's authors have no conflict of interest.
On its face, these three factors suggest the wait times report is above board and credible.
Lately, JAMA has reportedly allowed various agencies to publish propaganda without the same level of scrutiny, which seems to be revealed in the conflict statement below.
VA Blogs On Story
The VA's blog, called VAnatage Point, titles its blog post describing the study, "VA wait times for new appointments equal to or better than those in private sector." The VAntage Point subtitle reads, "JAMA study compared four VA specialty care services with private care."
RELATED: New Interim Chief Of Staff Orchestrated Wait Time Stonewall (2017)
VA's blog discusses the study's findings but does not mention the identity of the researchers who published it or where those researchers work. That is a hint.
You can't rely on VA to give you the full scoop, can you?
Media Amplifies Story Immediately
Reuters published this as, "Shorter waits for new patients at VA than in private sector, U.S. study finds."
UPI published a story titled, "VA hospitals faster than private facilities for some specialties."
"Following the access crisis (in 2014), we focused on ensuring that veterans with urgent medical needs would not be waiting for care," Steven Lieberman, acting principal deputy under secretary for health at the VA and an author on the study, told UPI. "That's why we implemented same day services in primary care and mental health clinics. We also implemented a referral to a specialist for an urgent need."
"Back in the time of the access crisis, it would take about 19 days for a request for a veteran to be seen by that specialist. And through a lot of hard work on this, our wait times are less than two days to a specialist for an urgent need," Lieberman said.
(Remember that name, Lieberman.)
Do these titles and subtitle accurately describe the study? Was the crisis over in 2017?
It depends on some of the premises in the data gathered in the study. It also depends on who actually wrote the study.
First, the study in question is not a "JAMA study" as listed on VA's blog. While the study was published in JAMA, it was not a study written by JAMA, as that subtitle suggests without carefully reading the body of the text.
The Specialties Compared
Further, the study covers only some specialties, not all specialties. The authors selected 4 specialties, collated the data, and found VA wait times were lower in 3 of the 4 specialties selected by the authors. The specialties selected were:
Primary Care
Cardiology
Dermatology
Orthopedics
VA was allegedly faster in the top three but slower in the fourth. But why didn't the authors evaluate all specialties instead of only 4?
Here is a list of all the specialties VA boasts about in other locations:
Anesthesiology
Bariatric surgery (weight loss surgery)
Cardiology – Vascular (heart and blood circulation)
Chaplain (spiritual support)
Critical Care Specialty
Dermatology
Diabetes and Endocrinology
Geriatric Care
Gynecology Care
Infectious Disease
Nephrology (kidney)
Neurology (nerves)
Mental Health
Oncology (cancer)
Optometry & Ophthalmology (eye care)
Orthopedic Surgery
Orthotic and Prosthetic (amputee care and custom orthotics)
Pacemaker (heart)
Pain Management
Podiatry (feet)
Pulmonary (lungs)
Robotic-Assisted Surgery
Spinal Cord Injury
Transplant Surgery (heart, lung, liver, etc.)
Urology
Vascular Surgery
Women's Care
If I were a betting man, and I am not, I would bet VA included the fourth category to create the appearance of impartiality while also allowing it to appear wildly successful in combatting wait time problems.
Veteran Patients vs Secret Shoppers?
You may also be wondering how the authors of the study evaluated wait times between civilian and VA patients since, as you might assume, it is not easy to compare a government system where people are already enrolled with private sector actors who are pretending to be patients who are not enrolled in the private sector system.
To break this down, the authors may have compared apples to oranges.
A company called Merrit Hawkins published a "secret shopper" study where research associates acted like interested patients and called facilities using a script. They would write down the days between the call and the proposed appointment for a new patient.
Meanwhile, VA's numbers allegedly used the amount of time between a veteran calling in and date of the appointment scheduled.
Obviously, if a veteran called in for an appointment at VA, the veteran was likely already in the system and already assigned a primary care provider. Comparing these two may not be accurate since the secret shopper would require additional time to in process at a facility since the individual is a fictional character and not an active patient.
At this point, I hope you are wondering about the authors. Who are they and why did they pick the data?
Who Were The Wait Time Study's Authors?
Well, the authors are listed in the press as… oh wait, no one in the press listed the authors of the study. Luckily, JAMA at least lists the authors as… wait for it… includes Steven Lieberman, MD, the same guy quoted by UPI boasting about the findings of the study.
The full list of authors follows:
David Shulkin, MD, former VA Secretary
Carolyn Clancy, MD, former Acting VA Under Secretary for Health, current Deputy Under Secretary for Discovery, Education and Affiliate Networks
Steven Lieberman, MD, Acting Principal Deputy Under Secretary for Health
Shereef Elnahal, MD, former Assistant Deputy Under Secretary for Health
SreyRam Kuy, MD, MHS, Deputy Chief Medical Officer
Saurabha Bhatnagar, MD, Deputy Chief Medical Officer, EHRM
Madeline Penn, BS, BA, VA Data Analyst
Talk about full dominance message control.
This means the same people who may benefit from a glowing study being published in JAMA also wrote the same study that was in the works before Shulkin was fired. The references show the majority of data was gathered in December 2017.
And, that study is now being amplified across the Internet as yet another proof that VA is not only doing better, but that it is better than civilian care in 3 of 4 specialties reviewed by the crack team of researchers… Or, should we say bureaucrats?
Here is a breakdown of activities these authors performed:
Concept and design: Penn, Bhatnagar, Lieberman, Elnahal, Clancy, Shulkin.
Acquisition, analysis, or interpretation of data: Penn, Kuy, Shulkin.
Drafting of the manuscript: Penn, Bhatnagar, Lieberman, Shulkin.
Critical revision of the manuscript for important intellectual content: Penn, Kuy, Lieberman, Elnahal, Clancy, Shulkin.
Statistical analysis: Penn, Shulkin.
Administrative, technical, or material support: Lieberman, Clancy, Shulkin.
Supervision: Bhatnagar, Kuy, Elnahal, Clancy, Shulkin.
JAMA also lists Penn as possessing "full access to all of the data in the study and takes responsibility for the integrity of the data and the accuracy of the data analysis."
No Conflict Of Interest Reported
Oh, and let's not forget stated conflicts of interest.
JAMA states none of the authors listed a conflict of interest. But, the journal also requires all coauthors to submit a detailed conflict of interest reports. So, either VA was allowed to publish this study without disclosing conflict or JAMA failed to report it to readers.
Which do you believe?
Even JAMA's own editor in chief provided a conflict statement for his own comment on the study in question:
While the VA continues to be under scrutiny and criticism, this study compares wait times in the VA to that in the private medical sector. The VA has clearly made progress while the private sector has not. We all know this when we try to get a primary care appointment for an adult patient or family member- it's not easy.
CONFLICT OF INTEREST: Editor in Chief, JAMA Network Open
Shulkin Performed Statistical Analysis
It's curious that Shulkin and Penn performed the statistical analysis.
Penn lacks an advanced education of any kind. Meanwhile, Shulkin is proving to be a serial liar willing to abuse his position of trust by accepting high-value gifts from vendors and using taxpayer dollars to fund his wife's vacation.
RELATED: NY-Times – IG Says Shulking Culpable For Abuse Of Position
He is currently advocating for cutting veterans benefits after being fired for lying to federal investigators looking into financial malfeasance.
Should we take the results at face value? Why not, everyone else seems to.
In the end, I hope the study is true and not a manipulation. We all want veterans to receive timely access to health care. We also want that health care to be high quality.
As VA increases its speed of processing appointments, it is not difficult to believe the quality of care in the appointments may be on the decline.
And why is that? Because there still exists a massive shortage in physicians. If VA increases the number of appointments, and the number of doctors stays the same, what happens?