Brookings Institute: VA $10 Billion EHR Change 6.4 Percent Odds Of Success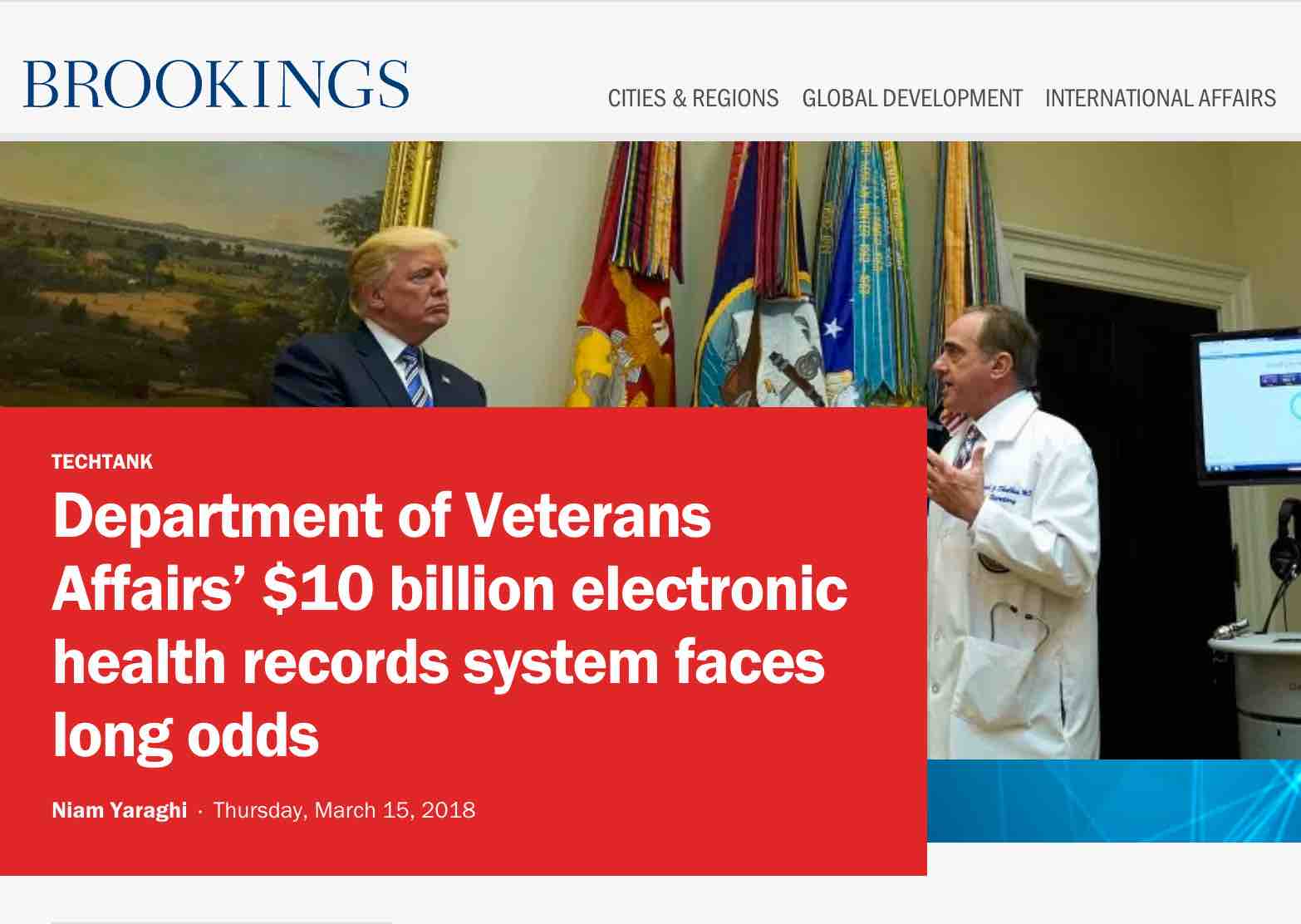 Citing one study, the Brookings Institute critiques the current DOD, VA approach to modernizing its EHR systems because DOD is failing modern exchange solutions.
Get this. According to The Standish Group, in assessing IT projects over $10 million or more in labor costs, found 6.4 percent odds of success:
The VA's EHR project is similar to other government IT projects, but judging from this history, the VA project is also very likely to fail. In addition to the usual causes of failure, the VA adds an extra layer of complexity that increases the odds of failure: its personnel show an immense resistance to change. Year after year, VA's legacy EHR system, VistA, has been ranked amongst the best EHR system by physicians. VA that takes pride in its EHR system and its physicians and nurses have never used another software before. I imagine a large number of those physicians who think VistA is the best EHR system available will have some difficulty adjusting to an unfamiliar system.
The article from Brookings highlights that DOD is presently experiencing problems implementing the change over because, in part, the system does not facilitate exchanging of medical data. This means that even if VA is successful in its change over from VistA, there may not be much data from DOD, which was the point in selecting Cerner as the sole vendor.
Instead, the author supports use of applications like that of Apple or even VA's own Blue Button technology to allow patients the opportunity to secure copies of their electronic records and then share them with whomever they choose.
Presently, the proposed systems to do not allow simple solutions:
Apple's health app is the most recent example of such an approach in which patients can receive their medical records from participating hospitals into their mobile phones and then share those records with other providers as they wish. At the Healthcare Information and Management Systems Society annual meeting, Centers for Medicare and Medicaid Services Administrator Seema Verma enthusiastically announced rolling out new initiatives to enable patients' access and management of health records. Interestingly, VA was the pioneer of patient-mediated exchange solutions: their Blue Button technology allows consumers to access a single, downloadable file with their available health data. It is disappointing to see VA adopting outdated solutions while the rest of the industry is finally implementing the exchange solutions invented by VA many years ago.
Source: https://www.brookings.edu/blog/techtank/2018/03/15/department-of-veterans-affairs-10-billion-electronic-health-records-system-faces-long-odds/