Bay Pines VA Local AFGE Union President Weighs In On 'White Privilege'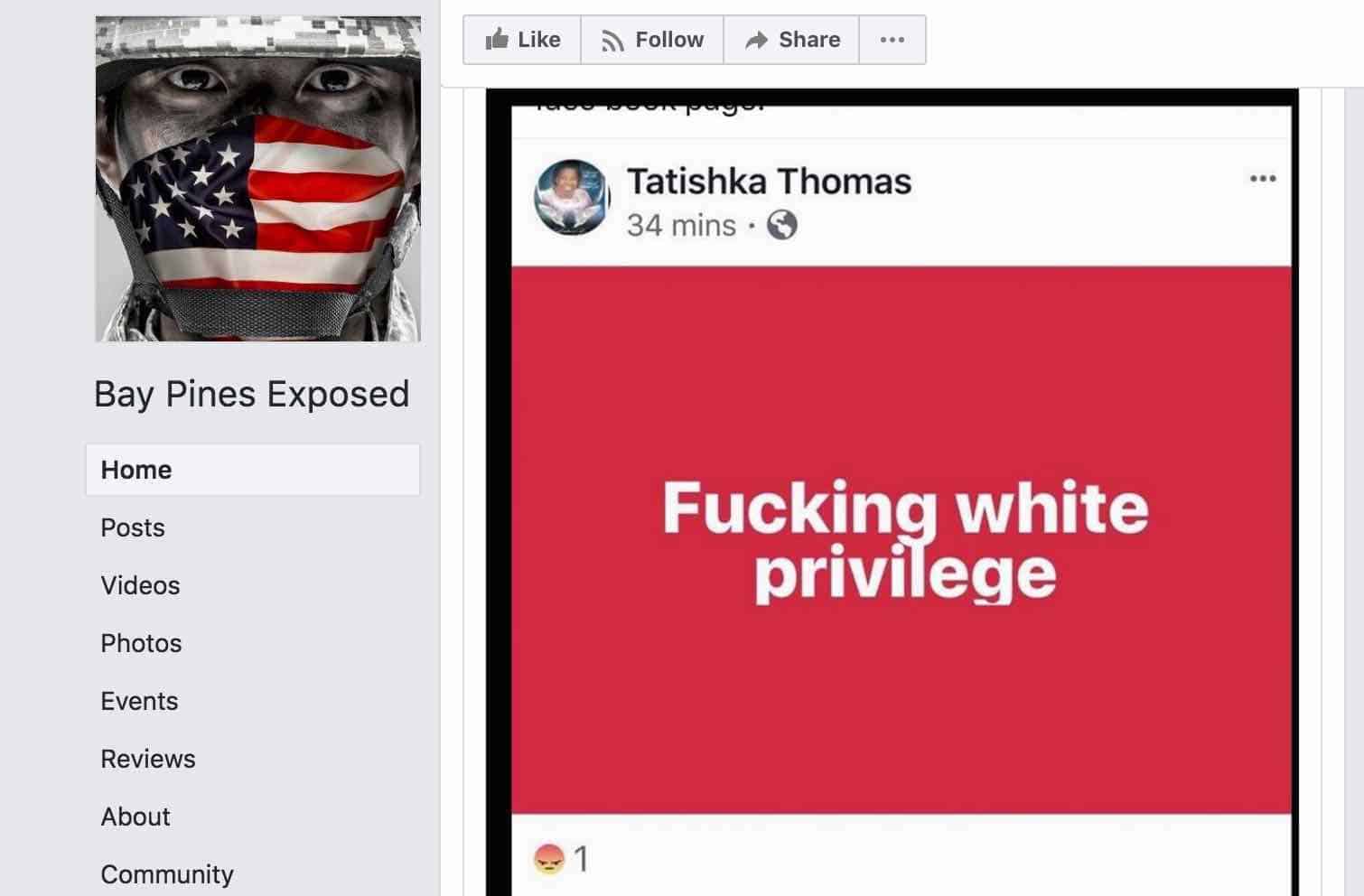 The local AFGE union president working at Bay Pines VA Medical Center decided to weigh in on Facebook regarding her views on "white privilege" during work hours.
According to Bay Pines Exposed, a Facebook group page focused on highlighting problems at the facility, VA employee and union head Tatishka Thomas wrote, "Fucking white privilege" in all red on her Facebook page. Thomas is responsible for Local 548, an AFGE union responsible for representing VA employees of all race and creed against the agency.
Local VA employees and members on the Facebook group page highlighted the example as a signal that Thomas helps non-whites more than whites, "I wonder if that has anything to do with the Union failing to protect such a high number of white whistleblowers? Makes you wonder."
Thomas is both a VA employee and union president located at the Bay Pines facility. UnionFacts.com shows she earns total compensation of $24,072 from union dues paid by VA employees.
FedDataCenter.com shows she also earns a salary of $55,567, as of 2017, as a GS-8 employee of the agency. She is presently trained as a records clerk at the facility.
VA OIG recently exposed that Bay Pines VA lost over 500 requests for medical records from veterans filing release of information requests. As a records clerk, Thomas may have been involved in the practices that resulted in losing those requests.
This is not the first instance of a VA employee making comments perceived as racist that become an issue of public concern.
Toward Christmas last year, one manager at an east coast regional office made comments about NFL football players being "monkeys" and that they should "dance, monkey, dance." The comment, written by Stephen Pina, was posted on his personal Facebook page on off-duty time. Pina, a combat veteran, was swiftly demoted following press exposure of the incident.
RELATED: VA Employee Demoted For 'Dance Monkey Dance' Comment
Last year, various attorneys at the Board of Veterans Appeals were terminated following exposure of their racist and bigoted "Forum Of Hate" where they made disparaging comments about co-workers based on race and gender.
RELATED: Veterans Law Judges Removed For Racist Forum Of Hate
Racism of any kind must be addressed swiftly by the agency and purged from its ranks.
The Department of Veterans Affairs serves veterans of all backgrounds and races. Likewise, it employs individuals from diverse backgrounds and their advocates from within the union must be capable of treating its constituents fairly and equally regardless of race, gender, creed, etc.
Based on the experience of Pina, we should expect a demotion of some kind should the agency confirm the allegations first reported by Bay Pines Exposed.
Here at DisabledVeterans.org, we take racism very seriously, and my hope is that VA addresses any and all allegations of racism fairly so as to protect the veterans served by the agency. And, to ensure that those who are falsely accused are vindicated.
VA press secretary Curt Cashour was contacted for comment prior to publication. He did not respond to the inquiry.