Contractor Chronicles: VA Hires Another Contractor to do its Job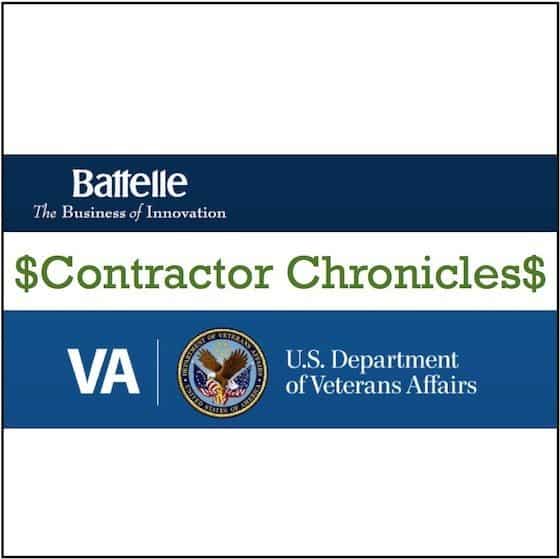 VA recently awarded a 5-year contract to a company that will help VA survey veterans who suffered traumatic brain injuries (TBI). I'm still not sure why VA is unable to do this on its own.
The company, called Battelle publicly but also known as Battelle Memorial Institute, is led by yet another former Lockheed researcher, similar to QTC Management and other contractors hired by VA.
The contracts for the TBI surveys can be found here on USASpending.gov. The surveys cost taxpayers $174,000. However, it is likely this amount is only for the first year or contains options that will cost more down the road.
According to USASpending.gov, the federal government has allocated $1.3 billion to Battelle Memorial Institute over the next years. The leading agency contracting Battelle is the Department of Defense. Battelle has annual revenue of $1.1 billion according to FPDS.gov, another database for government contractors.
VA's CHOIR subsection awarded the contract to Battelle. CHOIR stands for the Center for Healthcare Organization and Implementation Research. If that is not enough of a mouthful in and of itself, this branch of VA is housed within VA Health Services Research and Development Center of Innovation. This center is part of the Veterans Health Administration.
One thing I've been noticing through the past years is that VA has split into numerous sections and even subsections within those sections. This makes tracking government contractor planning and spending rather tricky for people like me… But not impossible.
According to Digital Journal, the contract will be divided into at least two projects:
The objective of the first project (TBI Coordination Patient Survey) is to identify organizational and patient characteristics that drive better outcomes for veterans evaluated for traumatic brain injury. The findings will contribute to health services research, TBI patient care, and organizational literatures. It will inform future implementation studies that health care managers, policymakers, and key stakeholders need to translate research results into policy and practice.

The second project (TBI Subtypes Patient Survey) aims to: (1) identify clusters of persistent post-concussive syndromes and their associated demographic, comorbidity and causative factors; (2) identify VA usage and costs related to each syndrome; and (3) to monitor veterans symptoms over time to coordinate and integrate effective health care. Findings from this study will fill an important gap in the literature and will indicate potential points of intervention for effectively treating post-concussive syndromes and associated comorbidities. It will also allow for improvements in diagnosis, treatment planning and follow-up care for individuals with mild TBI.
The company is led by former Lockheed employee Dr. Jeffrey Wadsworth. Here is a quick summary of Dr. Wadsworth's background:
Jeffrey Wadsworth has been President and CEO of Battelle Memorial Institute since January 2009. He has worked at Stanford University, Lockheed Missiles and Space Company and Lawrence Livermore National Laboratory. In 2002, he joined Battelle and served as a member of the White House Transition Planning Office for the U.S. Department of Homeland Security. He also has served as director of Oak Ridge National Laboratory, the Department of Energy's largest multipurpose science laboratory. Wadsworth studied metallurgy at Sheffield University in England, where he earned a bachelor's degree and a Ph.D. He was also awarded a Doctor of Metallurgy and the highest recognition conferred by the university, an honorary Doctor of Engineering degree. In 2012, Wadsworth, a member of the National Academy of Engineering, was elected to its Chinese Academy of Engineering.
My preliminary research on USASpending.gov revealed the following contracts this year:
Transaction # 1 (Delivery Order)
IDVPIID/PIID/MOD: GS23F8167H / VA101C10020 / P00007
Signed Date:
09-23-2013
Obligation Amount:
$196,555
---
Transaction # 2 (BPA Call)
IDVPIID/PIID/MOD: VA24013A0002 / VA24013J0152 / 0
Signed Date:
08-30-2013
Obligation Amount:
$89,553
---
Transaction # 3 (BPA Call)
IDVPIID/PIID/MOD: VA24013A0002 / VA24013J0153 / 0
Signed Date:
08-30-2013
Obligation Amount:
$85,040
---
Transaction # 4 (Delivery Order)
IDVPIID/PIID/MOD: GS23F8167H / VA101C10020 / P00004
Signed Date:
03-26-2013
Obligation Amount:
$0
---
Transaction # 5 (Delivery Order)
IDVPIID/PIID/MOD: GS23F8167H / VA101C10020 / P00006
Signed Date:
05-17-2013
Obligation Amount:
$0
---
Transaction # 6 (Delivery Order)
IDVPIID/PIID/MOD: GS23F8167H / VA101C10020 / P00008
Signed Date:
08-23-2013
Obligation Amount:
$0
---
Transaction # 7 (BPA)
IDVPIID/PIID/MOD: GS23F8167H / VA24013A0002 / 0
Signed Date:
08-30-2013
Obligation Amount:
$0