Disabled Veterans Now Fly Space-A, Super Cheap Airfare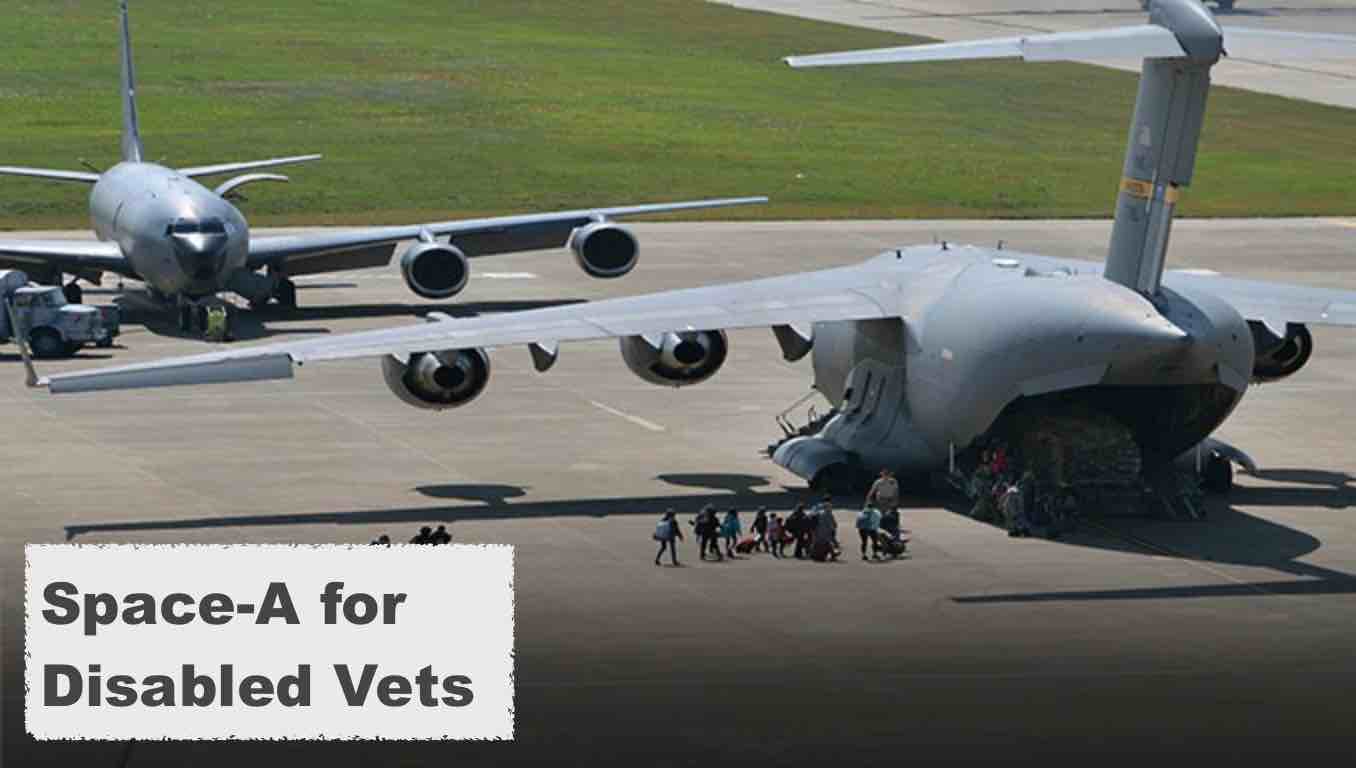 Three cheers for Space-A! Some disabled veterans including myself will be able to fly Space-A, Category 6, on military aircraft when space is available. Space-A is super cheap travel for select individuals including retirees and now certain disabled veterans.
Here is what veterans need to know about Space-A travel, today:
Getting on a Space-A flight is never guaranteed
Veterans must have a permanent and total disability rating
Prepare to pay a nominal amount that may include a meal fee
You can bring two pieces of luggage up to 70 pounds total
Terminals publish upcoming flights and seating on Facebook
Flights registration can be accomplished using email
Travel generally includes flights to the continental United States and Alaska, Hawaii, Puerto Rico, US Virgin Islands, Guam, and American Samoa.
Back in the day, you had to travel to the terminal and wait in line for a spot. Today, the military uses its website, an email newsletter, and Facebook to keep flyers updated. You can sign up using an email sign-up sheet.
What Happened To Allow Access To Disabled Vets
Congress recently passed legislation that allows many disabled veterans to save on travel by flying Space-A on military aircraft like retirees.
The legislation was included in the 2019 National Defense Authorization Act. It allows disabled veterans with permanent and total service-connected disability ratings from Veterans Affairs to travel on available military aircraft.
The disabled veterans eligible for Space-A travel will be assigned Category 6. Yes, this is the lowest priority available, which is what retirees and their dependents generally use. Unlike retirees, it does not look like these veterans will be able to bring dependents.
Space-A flights originate from military bases and some commercial airports. These airports including Seattle-Tacoma International and Baltimore-Washington Marshall International.
The US Air Force manages the program through its Air Mobility Command. Veterans can register for flights via email as noted above. Each terminal has a Facebook page that reportedly publishes upcoming flights and seats available.
You can also sign up using the old school AMC Form 140.
My Own Space-A Experience
When I was on active duty, I flew Space-A a few times.
My most memorable Space-A experience was back in 2000 flying from McChord AFB to Charleston AFB to Dover AFB to Ramstein AB, Germany to visit a girl while I was on terminal leave.
From McChord to Dover on a C-17, I did not have a jacket and remember being very, very cold. But, the flight was very, very cheap.
I was able to get back into England from Frankfurt, Germany without a passport using only my terminal leave paperwork (that was not filled out right) and my military ID.
The distracted customs agency at Heathrow eventually let me in after looking very confused. Of course, that was the pre-9/11 world, back when men were men and giants roamed the earth.
My then girlfriend of two months picked me up from the airport after my two weeks of terminal leave in Portland living the dream trying out my green thumb.
The next day, back in England, my girlfriend came back from work early and fell over onto the bed wearing her BDUs. The rest of the conversation went something like this.
"The doctor called. I'm pregnant… Now what?"
"I guess we should get married."
And, the rest is history.
Your Own Story?
Now that the option has opened up to disabled veterans, I plan on trying to jump on one of those flights to catch a whiff of old JP-8 or whatever they use these days.
Once I get to where I'm going, I don't anticipate my arrival anywhere will have quite the same "pop," so to speak, as it did in 2000.
On this lighter subject, do any of you have a Space-A story?