VA Attacks Couple Who Posted Photo Of Veteran Neglect At VA Emergency Room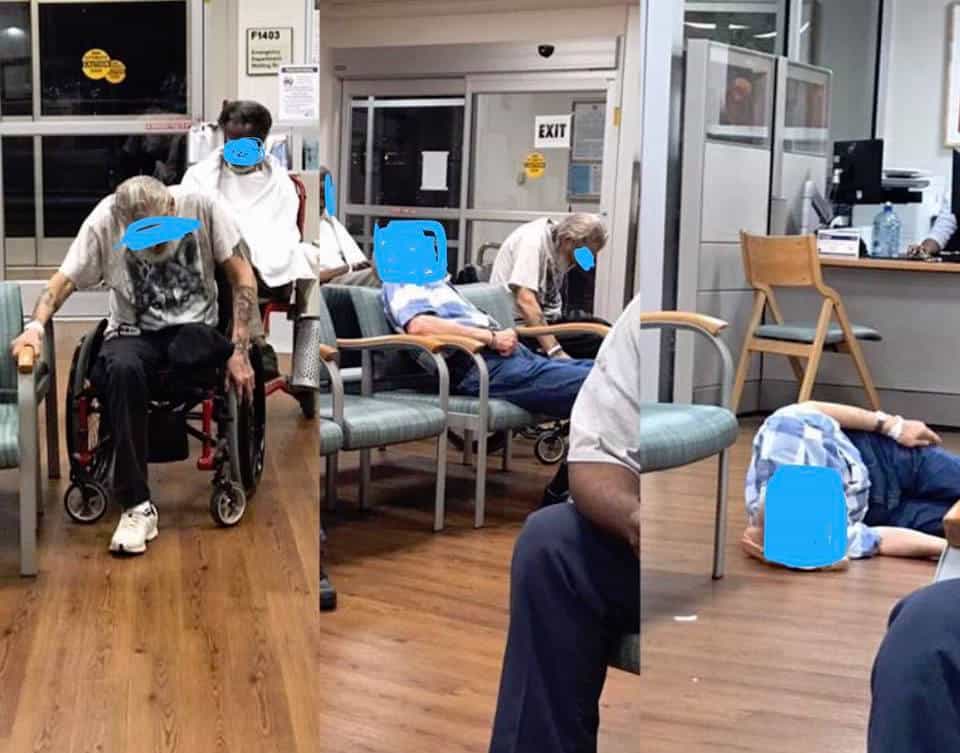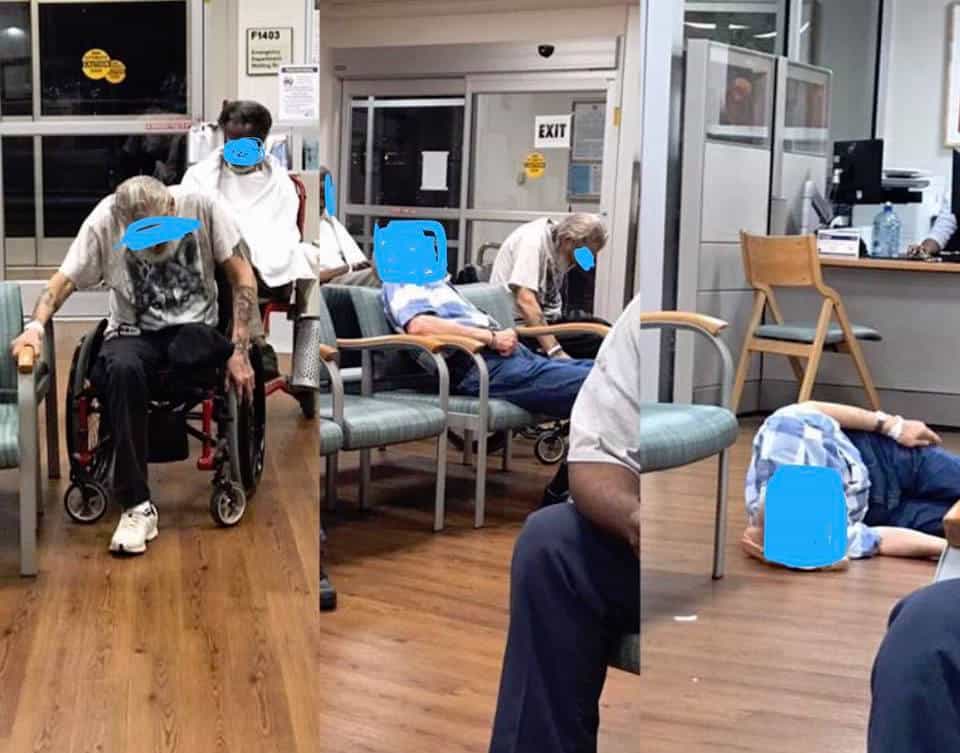 VA is attacking a couple that posted photos of neglected veterans at Durham VA Hospital emergency room claiming the photos misrepresent what happened.
Last week, Stephen and Hanna McMenamin waited in the Durham VA Hospital emergency room for care when numerous veterans were forced to wait many hours waiting for care while in extreme pain.
One veteran eventually resorted to lying on the floor to abate his pain after a nurse forced him to sit prone in a chair despite complaints that the position was painful.
The couple took photos of the incident, which are tragic, as they depict enormous neglect and lack of staffing and proper facilities at a major VA emergency room.
Those photos then went viral and shamed the entire VA facility. The amount of attention garnered by the images show Americans still care about us.
Meanwhile In The VA Spin Room
Rather than repent, VA director DeAnne Seekins doubled down. She said the photos misrepresent what happened.
"I feel very, very good because those veterans received high quality care," Seekins said.
Apparently waiting for a long time and being forced to lay on the floor is somehow negated by getting good care later?
Seekins said the emergency room was very busy that night and seems satisfied despite at least one veteran having to lay on the floor. Instead, according to Seekins, the surveillance footage shows the veterans received reasonably timely emergency care.
Seekins reportedly asked the couple to pull the photos down claiming they violated the privacy of the veterans whose images were captured by VA surveillance footage.
Seekins Facility And Wait Times
It is important to note DeAnne Seekins' facility was implicated in the wait list scandal back in 2014, and while misconduct was confirmed, obviously veteran neglect at the facility went uncorrected. According to a VA OIG audit at the time:
According to a VA OIG audit at the time:
In preparation for this audit, VHA (Veterans Health Administration) Central Office learned on May 12 that a Durham VA Medical Center employee indicated that some employees at that facility may have engaged in inappropriate scheduling practices at some point between 2009 and 2012."
VA takes any allegations about patient care or employee misconduct very seriously. If the allegations are true, the inappropriate behavior is unacceptable and employees will be held accountable.
So what happened? The photos look bad. Did these veterans really get high quality care?
Come on VA, they say a picture is worth a thousand words for a reason.
The McMenamin's Story
The McMenamin family gives us the rest of the story. And let's be honest, VA's reaction is typical spin after being caught with their pants down. Where there is smoke, and photographic proof, there is more than a fire.
According to McMenamin's Facebook page:
Yesterday (2/24/17) while at the Durham, NC VA Hospital, my husband Stephen McMenamin and I witnessed some very disturbing events. The man in the wheelchair on the left, were waiting in that waiting room at least 3 hours. The man bent over grabbing the chair, was yelling in pain and was borderline convulsing and almost falling out of his chair he was in so much pain. No one paid him any attention until I approached a nurse to please check on him. This gentleman sat in the waiting room in extreme pain for hours upon hours with very little attention paid to him.
The gentlemen seen in the two photos on the right, came in extremely sick. He could barely walk, sit up, or breathe. My husband had been directed to a chair just off the waiting area because it reclined (my husband was being seen for extreme lower back pain). Upon this man walking in and telling the nurse he needed to lay down, and her telling him to have a seat (with very little regard for his well being), my husband got up and offered this man the reclining chair. This man sat in the chair for probably about 15 minutes before he was told he had to get up immediately. Upon being approached by the nurse (who was extremely rude to him), he told her he could not sit up and he needed to lay down. She completely disregarded him and demanded he go sit in the waiting room area, leaving the recliner completely empty. Upon seeing this, and seeing how rude the nurse was being, my husband approached the nurse and asked why this man was not allowed to stay in the recliner given that my husband had been sitting in it for 30 plus minutes. The nurse refused to provide any explanation or even her name, and stormed off while this man was still struggling. The man then asked multiple times for a place to lean back or lay down, and was completely disregarded by the nurse. Eventually after being completely neglected, he laid on the floor.
The point of this post is to show the issues that exist at the VA. Yesterday at the VA we did encounter some nurses who genuinely cared about the patients, but after seeing what happened, I had to share this. There are good people that work at the VA and genuinely care, but then there are people like this particular nurse who should not be working with our nations finest. We did end up getting the nurses name who was extremely rude and neglected patients in need. And are planning to go through any means to make sure people know what was going on.
Please share this post. Our Veterans deserve better. And the problems in the VA system are very real.
Thank you.
UPDATE 2/28/17- The VA is very unhappy that we have posted this photo and it has been seen around the country. They have asked us again to remove this photo, claiming on of the participants does not want this posted. They claim to have told him his face is blocked out. I am not sure that they actually told him that, and I am sure they did not mention he is not identifiable. Due to potential legal concerns, John Burk has volunteered to help us continue getting the message out. Please like his Facebook page, I will link it below. Also we have started a page called "Help Put Veterans First", and I will link that below as well. Thank you to everyone for sharing, let's keep on going with trying to make the changes that need to be made.
JOHN BURK'S PAGE:
https://m.facebook.com/johnburk1775/
Help Put Veterans First:
https://m.facebook.com/helpputvetsfirst
What do you think of this fiasco? Did the family do the right thing by outing VA via posting the image on Facebook?
The incident went viral and now that VA facility must explain why its nurse acted with such indifference and diminished common sense.
In instances like this, I think it is important for every veteran negatively impacted to record or photograph the incident and then expose it. This particular incident will get enough coverage to force the Durham VA to reform, at least a little.
Source: https://wncn.com/2017/02/28/durham-va-says-viral-photos-showing-veterans-are-misleading/