Multi-Year Fly Infestation In VA Operating Rooms, 80 Surgeries Canceled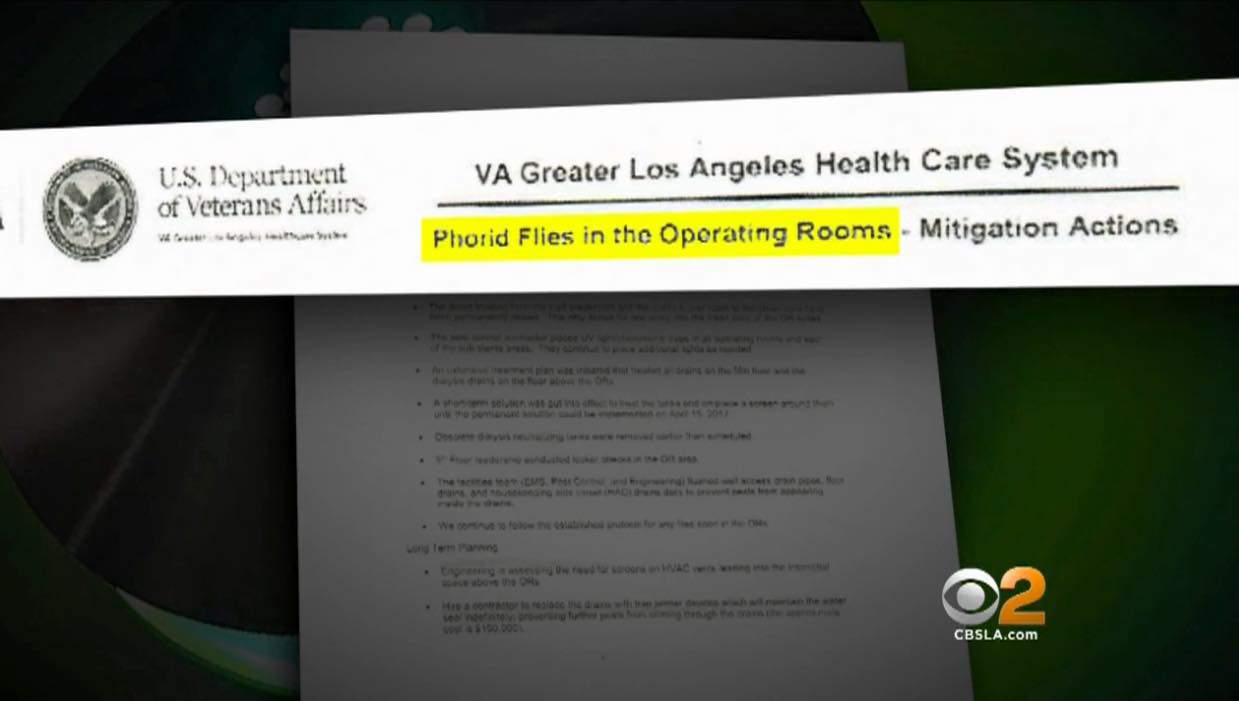 An undercover reporter wearing a hidden camera at West Los Angeles VA found a multi-year fly infestation in operating rooms at the facility. Over 80 surgeries were canceled as a result.
Investigative reporter David Goldstein wore a hidden camera during his three-month investigation into conditions at the facility's conditions. He found hundreds of flytraps all over the facility to deal with an "outbreak" that has plagued the facility for years.
After the story broke, West Los Angeles VA now claims the flies are all gone after years of using the flytraps.
RELATED: VA Falsified Wait Time Records, Thousands Affected
Reporter Transcript
CBS2 Los Angeles posted a transcript of the investigation in italics below:
In the halls of the VA West Los Angeles Medical Center, these may look like decorative lights, but they're really flytraps known as flylights.
CBS2 News has learned that more 200 traps had to be installed because of an outbreak of flies that's gone on for years!
Outside the operating room if you look right above the empty beds, a flytrap.
The same if you look left: more flytraps.
Behind some of the lights our hidden camera found what appears to be insects caught on the glueboards.
We found the traps outside the hallway leading to the operating rooms.
And this still picture shows the traps are even inside the operating rooms. And for good reason.
"The flies have flown into the operating rooms at times requiring cancellation of surgeries."
"How long have you worked at the VA hospital?"
"About 18 years."
Dr. Christian Head is associate director and chief of staff for quality assurance at the West LA facility. He's also a head and neck surgeon at the hospital.
"I don't believe there's any hospital in this country that would find it acceptable to have flies on a routine basis."
We've obtained emails and memos showing the infestation goes back as far as November of 2016.
This one titled "Phorid flies in the operating rooms."
It says that when spot treatments became ineffective, the ORs closed for terminal extermination and cleaning.
We've learned the operating rooms at the veterans West Los Angeles Medical Center were closed a total of 22 days from November of 2016 through February of this year because of fly infestations that could jeopardize surgeries.
"They're predators. Parasites. Scavengers."
Brian Brown is the curator of entomology at the LA Museum of Natural History. Where they study over a million types of dead insects.
"So this is part of the fly collection, including the phorid flies."
He showed us the phorid flies that are so tiny they're kept on pins.
"So you can see where there's thistles and hairs on the body. That's the places the dirt and bacteria can stick to.
But under a microscope, we can see how they can carry bacteria and endanger the sterile environment of an operating room.
"They're attracted to open wounds for the fluids that they need to sustain themselves and also to keep from drying out."
"They can transmit the bacteria?"
"Correct. They could also lay eggs on the open wounds."
The Veterans Administration admits 83 surgeries had to be postponed from November of 2016 through February of this year because of the fly infestation, leaving some of America's veterans having to wait even longer to get the care they deserve.
"When a surgery is scheduled, they may have been waiting 4-5 weeks or sometimes longer and to tell them the case is canceled."
"Tt's a big deal."
"Well, this is a continuation of delayed care for veterans."
Eric Hannel was an investigator for the House Veterans Affairs Committee. We spoke with him from Tampa.
"The fact that VA has waited for more than two years to properly address this, I think underscores leadership failure at the highest levels."
Dr. Head says he and others reported the fly problem but he says instead of addressing it, the VA suspended one doctor and he says they retaliated against him as well.
"I believe there's a culture in the Veterans Administration that punishes people who are willing to come forward."
In a statement, the VA says:
"We found zero evidence of patient harm" but closed the operating rooms "out of an abundance of caution."
They say "currently all operation rooms are open."
And they're working closely with national subject matter experts to ensure this does not occur again.
But the flytraps are still in place, and doctors we spoke with say they have no doubt the flies will remain a problem affecting the care of veterans in West LA.
Just Tuesday, Goldstein fielded unconfirmed reports from a source who says that more flies may have been seen in one of the labs and procedures had to be terminated.
So, the infestation may not be over.
RELATED: Roseburg VA Death Panel Rejects Sick Veterans
Great Timing
This news comes on the back of deplorable conditions at Salt Lake City VA where veteran Chris Wilson's tweet of his examination room shocked the nation.
Now, this is not the first fly infestation to caused problems at a VA medical center. In January, a fly infestation was linked to spinal cord problems.
RELATED: VA Has An $8 Million Sexual Harassment Problem
According to OSC:
WASHINGTON, D.C./Jan. 25, 2018 – The Office of Special Counsel (OSC) today notified President Trump of shortcomings in the Department of Veterans Affairs' (VA) response to disclosures of wrongdoing at the VA Medical Center of Manchester, New Hampshire. Whistleblower disclosures included concerns that a large number of patients at the Manchester facility developed serious spinal cord disease as a result of clinical neglect. OSC found the VA's response largely sluggish until the media covered the problems. Even after that coverage, the agency chose not to review certain serious allegations.
"The VA did not initiate substantive changes to resolve identified issues until over seven months had elapsed, and only did so after widespread public attention focused on these matters," Special Counsel Henry J. Kerner wrote to the President. "It is critical that whistleblowers be able to have confidence that the VA will address public health and safety issues immediately, regardless of what news coverage an issue receives."
Kerner wrote that OSC referred the allegations to the VA for investigation in early January 2017, but the VA did not take any action to remove responsible management officials or initiate a comprehensive review of the facility until after the Boston Globe published an article in July. "This sends an unacceptable message to VA whistleblowers that only the glaring spotlight of public scrutiny will move the agency to action, not disclosures made through statutorily established channels," Kerner wrote.
The four whistleblowers, all medical doctors, brought forward concerns of a higher presence of a serious spinal cord condition known as myelopathy among Manchester VA patients, despite a significant decline in this condition in the general U.S. population. They alleged that transfers to another facility were not performed in a timely manner, against agency policy. They described substandard surgical procedures, leading to one patient who developed a spinal infection and possibly died from complications and another patient who developed a spinal infection after surgery but survived.
The whistleblowers alleged that the prior chief of the Spinal Cord Unit inappropriately copied and pasted chart notes for patients between 2002 and 2012, contributing to the high incidence of myelopathy in the Manchester VA patient population.
The whistleblowers also described a longstanding fly infestation in an operating room.
OSC referred the matters to the VA, which conducted an investigation and sent a report to OSC on June 20, 2017. The report contained internally inconsistent conclusions at odds with the information adduced in the investigation. OSC requested two supplemental reports to address many of these issues and provide updates on external chart reviews. Ultimately, Kerner found that the VA's findings were not reasonable.
Kerner wrote that the agency appears to have chosen not to review allegations concerning dirty and potentially contaminated surgical instruments because they did not appear in OSC's original referral letter. "This position is at odds with the conduct and disposition of prior investigations of allegations referred by OSC," Kerner wrote. "It further demonstrates a myopic approach that could potentially cause harm by ignoring allegations of substantial and specific dangers to public health and safety."
Kerner described the VA's initial sluggish response to the allegations, such as recommending additional medical chart reviews, compared to the agency's immediate and comprehensive response to the Boston Globe article, which included making major personnel changes pending the outcome of a "top to bottom" review of the facility and a pledge to spend an additional $30 million at the Manchester VA to improve patient care.
Given that potentially lengthy chart reviews of patients involved in these matters are ongoing, OSC will request updates on the progress of this analysis as well as findings when the reviews are completed. OSC will request an update in writing every six months regarding the disposition of these reviews and the expected timeline for completion. OSC will also request a summary of the findings upon completion.
OSC sent a copy of the letter to the President, unredacted versions of the agency reports, and the whistleblowers' comments to the Chairmen and Ranking Members of the Senate and House Committees on Veterans' Affairs.  OSC  also filed the letter to the President, the whistleblower ' comments, and redacted copies of the agency reports in its public file at www.osc.gov. 
Next Steps
Whoever gets picked for the top slot at VA has a lot of cleaning up to do, metaphorically and literally.
Source: https://losangeles.cbslocal.com/2018/05/01/va-hospital-flies-surgeries/