Former VA Appeals Head Tried To Steer Contract For Hubby, Allowed Racist Hostility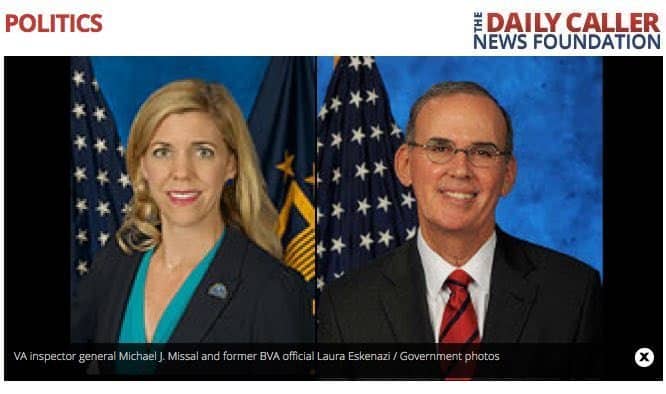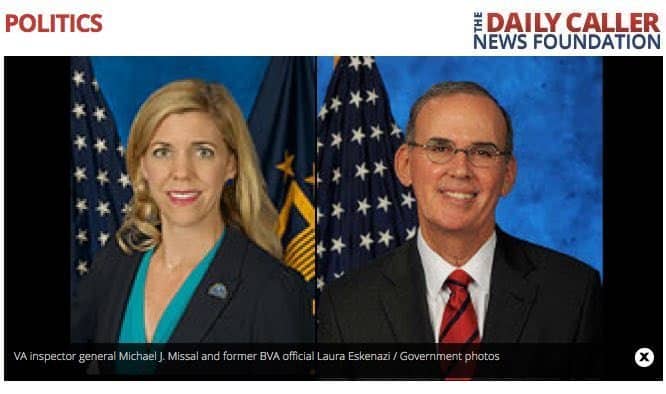 A Daily Caller piece that exposed the racist "Forum of Hate" between VA attorneys also revealed the key reason the former head of the VA Board of Appeals stepped down.
In an investigation, then Board head Laura Eskenazi reportedly lied to investigators about the attempt to steer a major VA contract to her husband's employer, CACI.
Rather than be terminated, Eskenazi was allowed to move to a different part of the agency, Human Resources.
Curiously, under her watch, she not only tried to steer a contract to the company that employed her husband, but she also presided over the subordinates who created the racist Forum of Hate (FOH).
In that forum, federal attorneys badmouthed VA supervision and employees hired through affirmative action.
According to the Daily Caller, some of the excerpts from the FOH were:
Posters on the FOH compared Board of Veterans Affairs (BVA) compared "leadership sexual organs to a food product," and said "ni–ers just gotta nig," according to the same report. They called an obese black female VA supervisor "G-POT"— G is a prefix used by status-obsessed rappers, and POT because they said she looked like a hippopotamus.
"G-POT probably takes notes of who usually stays late before leaving at 3pm and then tips off some thug cousin that some prospective rape 'n' rob victims are to be had that evening," wrote a poster.
"Want G-POT to work her whole tour? Staple gun some chicken wings to the walls of her office. Make them high up so she needs to work for them," another responded.
They altered a picture of an employee receiving an award to say "certificate good for one big bag of weed and an eight ball of coke."
The emails from the FOH is how Eskinazi was caught in an unethical bind. However, in an effort to cover up wrongdoing, VA OIG released a 10-page whitewash instead of the 49-page draft version that exposed Eskinazi for what she did.
According to the Daily Caller:
One week after promising to keep Congress and the public "fully and currently" informed, the Inspector General (IG) of the Department of Veterans Affairs (VA) rewrote a report to remove evidence that a senior VA executive tried to steer a massive government contract to her husband's employer.
Laura Eskenazi, then-vice chairman of the Board of Veterans Appeals (BVA), "misused her public office" by plotting with her husband Jonathan to develop a plan that could lead to a major financial "opportunity" for CACI, a government contractor that employed him. Eskenazi then sought to cover it up with "dubious" claims, according to a 49-page draft version of the IG report that was obtained by The Daily Caller News Foundation Investigative Group (TheDCNF).
But the version given Congress and the public was only 10 pages discussing an unrelated and less serious rumor about Eskenazi, which the IG said it "did not substantiate." Nothing was said in the final version about the contracting issue.
How well do you suppose she did in VA Human Resources? I have heard she is no longer employed at the agency.
Laura Eskenazi Departure Letter
After Eskenazi stepped down as head of the Board, Carol DiBattiste joined the Board as a replacement for the few months before President Donald Trump was elected.
Last August, Eskenazi wrote the following email to her staff about her departure:
Board Team –
"Three years and one month ago, I was appointed as your Vice Chairman and Executive in Charge by Secretary Shinseki. To mirror the words of President Obama last week, I am ready to pass the baton. This will be my last week at the Board of Veterans' Appeals. Carol DeBattiste will head the Board.
The past three years as Vice Chairman / Executive in Charge were phenomenal in so many ways. The challenges we faced as organization, and the resilience we demonstrated could not have happened without a great team by my side – a team that I will miss. I was so proud to represent you all before other great leaders in the Department, stakeholders, members of Congress, and even a few brief handshakes with the President himself. As I move on, others will rise to the occasion with new energy, and the Board's journey will continue to evolve into an exciting new future. The new President, whichever candidate is elected, will successfully name a Board Chairman. Having served for three years in the shoes of the Chairman (or Chairwoman!) while simultaneously serving as Vice Chairman, I think I can safely recommend picking a separate person for each of those big roles! (By the way, I am fairly certain that I am the first woman to have served in either of those roles … we have sure come a long way!!
Thank you for the opportunity to learn with you. As I have said to many of you over the years, leadership is a humbling experience – and if you do not feel humility, you have not truly led. I leave behind some fond memories. I wish you the best, and hope that the tenets of integrity, commitment, advocacy, respect, and excellence always shine brightly as you strive to carry out the mission of giving back to those who gave themselves in the name of freedom for our great country!
Laura Eskenazi
Am I the only one who finds it interesting how all these scandals are being leaked via the press or IG all the sudden?
I literally cannot keep up.
Source; https://dailycaller.com/2017/03/20/exclusive-federal-attorneys-created-a-secret-va-forum-of-hate/