Can White House Fix Veterans Affairs Double Standard On Racism?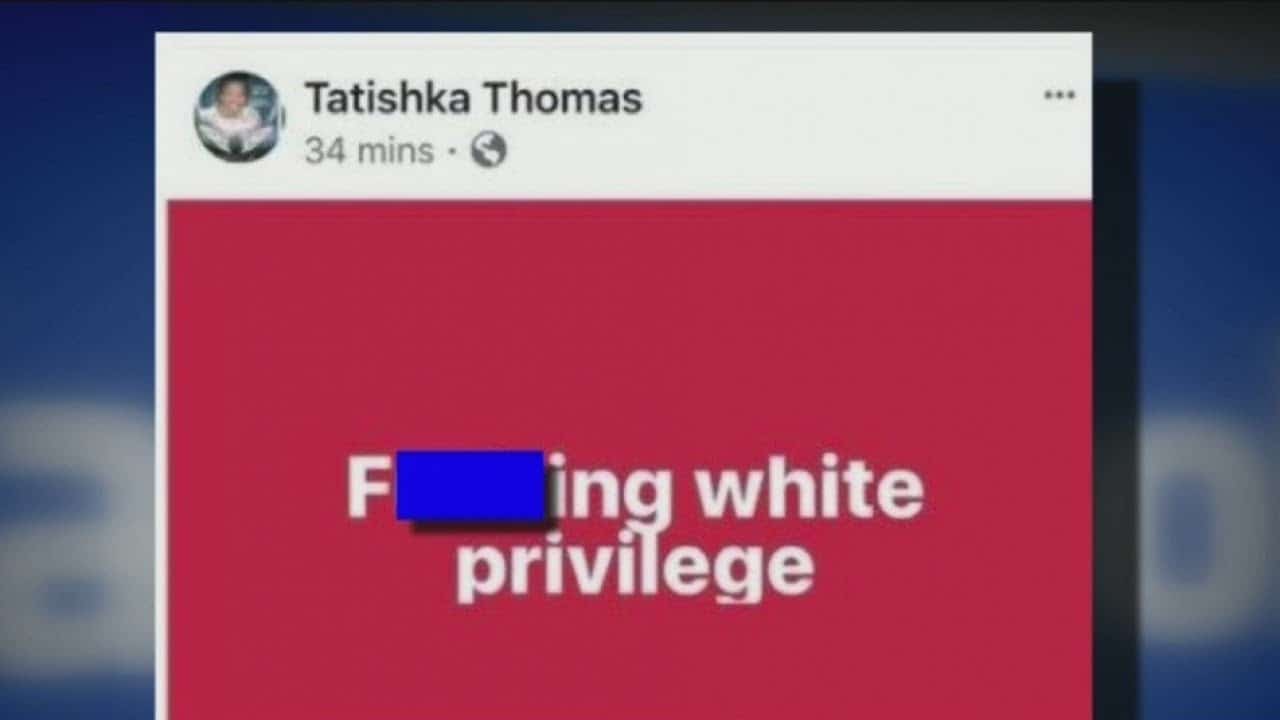 The White House and the new acting secretary of Veterans Affairs have a troubling double standard to address on racist statements made on Facebook by agency employees.
A week ago, VA employee and union president Tatishka Thomas posted a racist statement against "white privilege" while working at embattled Bay Pines VA, located in Florida.
I first reported it here after reports and a copy of the post surfaced at the Facebook group page Bay Pines Exposed. Numerous members of the group page were outraged by the comment and troubled a union president and VA employee would make such a statement.
Shockingly, when asked by local NBC affiliate Target 8 News, Thomas confirmed she made the racist comment and qualified it by claiming VA employees should be able to make whatever comments they want on their personal Facebook pages.
RELATED: Local Union President Weighs In On White Privilege
'Dance Monkey Dance' Demotion
Now, Thomas should say that to VA employee and combat veteran Stephen Pina, a manager who was demoted by VA leadership after making comments on his personal Facebook page criticizing protests by NFL players.
Last October, Pina critiqued NFL players by commenting, "dance monkey dance" in response to his belief the NFL employees should not protest while at work but instead perform the task they are well paid to perform.
The comments resulted in his swift demotion despite explaining he did not intend the statements to be racist.
"It was not meant to be a racist comment, and if it was taken as such that's regrettable," Pina said. "At heart, it wasn't intentional. … It wasn't meant to be that way."
RELATED: VA Demotes Combat Veteran Over 'Dance Monkey Dance' Statement
VA did not care about his intention but demoted him because of the backlash associated with the statement.
At the time, I researched the phrase "dance monkey dance" related to pop culture to see how it was used in history to assess whether the phrase has multiple uses not connected with racism.
According to Wikipedia, the phrase "dance monkey dance" originally surfaced in a movie called The Cape Town Affair, in 1967.
The phrase was made popular as a catchphrase following an SNL skit "Dance, Monkey, Dance!" in the 1980's.
Since that time, it has been used in numerous movies and skits as a joke making fun of unthinking humans. Zoolander is a recent example where Ben Stiller is playing a dimwitted model dressed up like a monkey with cymbals and ordered to "dance monkey."
A similar derivative, "Dance, Monkeys, Dance" was used by author Ernest Cline in 2013 to describe the human race including whites and blacks and everything in between. Cline seems to intend the phrase's use as a satirical critique of the humans.
As far as my recent research, it appears the phrase is often used in a derogatory manner to imply the individuals are not intelligent but instead performing basic tasks. Race, it would seem, is not always implicated, meaning Pina's denial of racist intent is at least plausible.
Instead, had Pina used the "N" word or some other common device used in racist statements, the substantial weight of the evidence might support a demotion.
VA Comments By Curt Cashour
VA was not persuaded by Pina's rhetoric and demoted him almost immediately for the statement.
"VA does not condone or tolerate such unacceptable and offensive comments from any of our employees," said Curt Cashour, press secretary for the Department of Veterans Affairs, in an email to The Enterprise. "That's why we have proposed demoting this employee and removing him from his management/supervisory role."
By implication, Pina was punished for statements that were interpreted as racist even though he, according to him, intended no racism.
Tatishka Thomas vs Stephen Pina
The differences between the two cases seem obvious.
Thomas admitted to making the obvious racist statements but asserts she can make whatever statement she likes on her personal Facebook page, "My post to my personal [Facebook] page are just that, my personal opinions and experiences."
Pina admitted to making the comments but denied they were intended as racist. He instead intended them as a form of political speech as a critique of the political speech of the NFL players while those NFL players are at work.
Another difference is the target of the comments. Thomas targeted whites. Pina targeted wealthy NFL players, mostly black.
Pina, a VA employee, is white.
Thomas, a VA employee and AFGE local union president, is black.
Pina was demoted within one week of making the comments.
Thomas has not been demoted.
I asked Cashour about VA's position concerning Thomas's statement over a week ago. He has not responded nor has VA provided any comment on whether it is even investigating the confirmed allegations.
Local Bay Pines VA told Channel 8 it could not authenticate the post despite Thomas herself telling the news station that she, in fact, made the comment online.
Do you wonder if they even asked Thomas, whose photo and name appear above the racist comment?
AFGE Comments On Racist Statement
A reporter from Channel 8 attempted to get comment from AFGE National to get feedback on its position on the racist comment but the requests were ignored.
Not dissuaded, Channel 8 confronted national union representative Leo Mentio at a local union rally. Mentio refused to squarely address the statement, but Wanda White, local 547 president, called the racist comments "unfortunate" and claims not all union representatives are like Thomas.
Let's hope not.
Thomas promised to sit with Channel 8 News for an interview but has yet to follow up with the news station for that interview.
ABA On Racist Comments By Public Employees
Consider the following examples of punishment of public employees for their public comments that could be perceived as racist from an American Bar Association (ABA) article:
• A Nashville, Tennessee, police officer was fired in February after an investigation into a Facebook comment he made about how he would have shot motorist Philando Castile five times instead of four. Castile died last July after a St. Paul, Minnesota, officer shot him four times during a traffic stop.
• A fire captain in Austin, Texas, was suspended in November after posting inflammatory political opinions regarding Hillary Clinton and President Barack Obama on Facebook.
• A Mount Vernon, New York, fire lieutenant was suspended last August for an Instagram post expressing support for Micah Johnson, who killed five Dallas police officers and wounded seven others in a sniper attack.
• A New Rochelle, New York, police sergeant was suspended in August because of a Facebook post criticizing the Black Lives Matter movement and protesters.
When a public employee's posts create a real fear of backlash from the community, as in the case of Pina, courts often defer to the employer's judgments.
"For example, I think such concerns are especially strong where a police officer's off-duty speech—on social media or elsewhere—undermines a police department's ability credibly to communicate its commitment to evenhanded law enforcement regardless of race," University of Colorado law professor Helen Norton explains. "For example, consider the message sent to the public if a police chief were to march in a Klan parade while off duty—or sends a series of racist tweets."
"Employers have an interest in distancing themselves from hateful speech, racist speech or other speech that would undermine the effectiveness of the workplace," Nashville constitutional lawyer Daniel Horwitz says. "These concerns are also especially heightened for first responders and other public employees who require the public's complete trust that they will discharge their duties faithfully and impartially without regard to factors like a person's race, gender or sexual orientation."
However, Horwitz explains that "problems arise when an employer punishes an employee to promote a personal agenda, when discipline is more severe than necessary, or when discipline is meted out inconsistently for similar offenses."
This is apparently what we are seeing at Bay Pines VA.
An example might be when "an offensive comment about Donald Trump supporters is treated differently from an offensive comment about Black Lives Matter supporters," says Horwitz. "In other words, the onus should be on the employer to demonstrate that the effectiveness of the workplace was actually undermined in some meaningful way as a consequence of an employee's decision to speak out."
Is the "effectiveness of the workplace" at Bay Pines VA undermined by the racist comment of Thomas on her Facebook page? Can she make derogatory comments about "whites" while also representing "whites" as a union president against the Department of Veterans Affairs?
Racism And Sexism Exist At The Department Of Veterans Affairs
Racism and sexism are still major problems at the Department of Veterans Affairs. A new report revealed taxpayers paid victims of sex harassment over $4 million since 2012.
Within the past two years, VA investigated and terminated at least 4 attorneys from the Board of Veterans Appeals for their racist Forum of Hate. There, the attorneys blasted anyone of any race, gender or sexual preference in racist and bigoted rants for over seven years before being caught.
RELATED: VA Still Silent On Victims Of Racist Forum
Personally, I believe in the First Amendment. I also believe federal employees, especially those working in a management capacity, should be reasonably free of racism.
Those managers, attorneys or union representatives engaging in public displays of racism should be let go under the current easy termination platform.
Instead, we see multiple disabled veterans being fired after requesting reasonable accommodations or after reporting sexual harassment.
So what really is going on behind the scenes?
The Department of Veterans Affairs has a morality problem. The much seems clear. Those who display true anti-social behavior are protected or promoted at the expense of everyone else including veterans.
The agency clearly lacks the guts needed to clear up the mess. So can we count on the White House to take action – – to clear up the harassers and racists?